Every time we go to Hawaii, it's so exciting because it's an opportunity to eat at new restaurants and try new foods, but also return to our favorites. After scouring new lists online, making reservations, and finally getting to try many restaurants, bars, and to-go stalls, we've accumulated a list of some of our must-try foods in Hawaii (or just Oahu because let's be real we'd need a larger list for the entire state). Some of these foods we love so much we tried to recreate them at home too.
This list is specifically for Oahu because we've had the chance to try a diverse amount of foods on the island and have visited multiple times. After being asked where to eat by various friends, we decided to make it into a proper list. Below you'll find our list of the best food in Oahu, whether these places are known for famous food, classic Hawaiian Food, or newcomers on the scene.
1. The Hibachi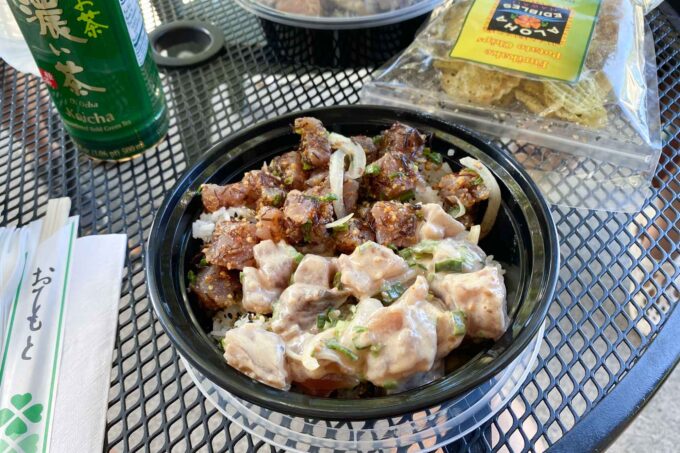 The Hibachi is one of our favorite poke spots on Oahu because it's delicious and super close to one of our favorite beaches, Lanikai beach. What we like about their poke selection is that there are so many different varieties of poke and flavors. Some of our favorites are limu kukui ahi, sesame citrus ahi, spicy Thai chili basil, and traditional shoyu ahi seasonings. Not only do they have fresh poke available, but they also sell plate lunches like BBQ chicken and kalbi plates. One of our biggest regrets is not trying out their grilled plates, which we will definitely rectify in the future! This is a great place to pick up poke or other foods before heading out to Lanikai beach.
Poke is one of those foods Hawaii is known for because it's where it originated. Even now, even though we have poke on the mainland, it's still super different from local Hawaiian poke in the way it's made. After visiting Hawaii for the first time, we realized that Hawaiian poke was pre-made and marinated in the seasoning for longer periods versus made fresh to order on the mainland. We even make ahi tuna poke bowls and salmon with spicy mayo poke bowls in the local Hawaiian way now because it's much more flavorful.
Type of food: Take-out poke
Address: 515 Kailua Road, Kailua, HI 96734
What to order: Shoyu ahi, limu kukui, and spicy Thai chili basil ahi.
Southern California alternatives: 808 Local Hawaiian Grill
2. Helena's Hawaiian Food
If you want to eat good Hawaiian food that feels home-cooked, then Helena's Hawaiian Food is the spot for you. Eating at Helena's makes your heart feel full and satisfied. This restaurant has been open since 1946 and is still run by Helen Chock's family even today. Although it's a rather famous restaurant that's even won a James Beard Award, its unpretentious, homestyle environment makes it one of the best places to try traditional Hawaiian food.
Some of our favorites were the kalua pig, lomi salmon, and the short ribs. The kalua pork was super flavorful and the lomi salmon was one of my favorites because the taro leaves had a nice earthy and fresh flavor to match the fattiness of the salmon. While the short ribs seemed a little on the small side, it was definitely worth it because they were so tender.
One of the things to eat in Hawaii is also poi, a traditional Hawaiian side made of ground taro root that's got a sticky consistency–it's not for everyone, but it's important to try! The staff is also so sweet and helpful for new customers and we felt so at home. There can be long lines and waitlists to dine-in. You can opt for take-out and get your food faster. They also have a handy online ordering system to make it easier to order.
Type of food: Local Hawaiian food, take-out or dine-in
Address: 1240 N School St, Honolulu, HI 96817
What to order: Any of the set menus to get a taste of different types of dishes. If you want a la carte: kalua pig, short ribs pipikaula style, lomi salmon, poi, and haupia for dessert.
3. Giovanni's Shrimp Truck
Garlic shrimp is a well-known dish from the North Shores of Oahu and Giovanni's Shrimp Truck is synonymous with its origin. Just like shave ice, people in Hawaii can be very territorial about their favorite garlic shrimp trucks. There's a running list of places like Giovanni's, Fumi's, and Romy's.
While we haven't had a chance to try Romy's garlic shrimp yet, we have to say between Giovanni's and Fumi's, we prefer the former because they have more garlic and sauce on top of extra-large shrimp than Fumi's. We do recommend visiting on a weekday after lunch, the line is much shorter!
We love garlic shrimp so much, we made our own version of garlic shrimp with classic Hawaiian macaroni salad that we now prefer to the original because we get to customize it by adding more garlic and buttery richness.
Type of food: Local Hawaiian food, garlic shrimp plate lunch
Address: 56-505 Kamehameha Hwy, Kahuku, HI 96731
What to order: Shrimp scampi
Southern California alternative: Mama G's Kitchen OC
4. Leonards
Leonard's Bakery is probably on everyone's list when they visit Hawaii and you hear about these infamous malasadas that are piping hot and filled with different types of cream. If you don't know what malasadas are, they're basically fluffy, Portuguese-style donuts without a hole. They can be made with or without fillings that range from custard, haupia, chocolate, and more. My favorite variety to buy is the cinnamon sugar-coated malasadas with custard filling. They make them fresh to order so you get hot and fluffy donuts, sweet and spicy cinnamon, and a rich custard center–what's not to love.
Leonard's Bakery also makes and sells other goodies that I loved, like the butter mochi–don't skip out on this chewy and rich dessert when you order your malasadas. If you're on your way to hike Koko Head Trail, there's the Malasada Mobile parked at the Koko Marina Shopping Center nearby, and is the perfect after-hike treat. If you want to try other desserts and pastries, head to the brick-and-mortar store off of Kapahulu Avenue.
Type of food: Donuts and pastries
Address: Various (see website)
What to order: Cinnamon sugar malasadas with custard, macadamia nut, or haupia fillings!
Southern California alternatives: Paderia
5. Musubi Cafe Iyasume
Musubi Cafe Iyasume is one of our most visited places on Oahu because they sell so many different types of Spam musubi and onigiri (rice balls). Who doesn't want access to so many varieties of musubi for affordable prices at multiple locations all day? No one. And every variety they have is also delicious–I love them so much, I bought merch.
The obsession is deep at this point and I even recreated some of my favorite Spam musubi and onigiri flavors myself. Some of my favorite flavors are teriyaki Spam; avocado, bacon, spam, and egg; and eel, egg, and Spam. There are multiple locations of Musubi Cafe Iyasume, so make sure to search which is the nearest to you. These are a great snack to buy for breakfast on the go or to save for later in the day too.
Type of food: Take-out, snacks
Address: Various (see website)
What to order: teriyaki Spam; avocado, bacon, spam, and egg; and eel, egg, and Spam.
Southern California alternatives: 808 Local Hawaiian Grill or Marugame Udon.
6. Podmore
We love a good cocktail with an equally bougie setting and Podmore is the exact bar you want when you want to get dressed up for a night on the town. As a sister bar to our favorite restaurant (ever?!), Senia (see our review below!), we had high hopes for this place and they did not disappoint.
The owners of Podmore were inspired by Grant Achatz's gastronomical modern bar Aviary and we loved the influences in their cocktails, like the Chung Chow; Their take on a Pimm's cup with housemade ice bubbles made of strawberry, orange, and lemon. We recommend making a reservation at least 2 weeks to 1 month ahead of your trip to get a spot!
Type of food: Bar and snacks (they also have a brunch option now!)
Address: 202 Merchant St., Honolulu, HI 96813
What to order: The Chung Chow or the Freddie 2.0 if you want a good show
7. Ginza Bairin Tonkatsu & Yoshoku Bistro
One of our friends is a die-hard katsu lover and wanted to try Ginza Bairin Tonkatsu & Yoshoku Bistro out on our latest trip and we were all so surprised at the crispy texture and tender center of the katsu sandos.
We even ordered take-out and with the 10-minute drive to the hotel, our sandwiches and katsu bentos were still super fresh and crispy by the time we brought them back to our rooms. We would recommend the "special pork tenderloin katsu-don" because this place is known for its high-quality Berkshire pork. If you're more of a chicken person, we also made a chicken katsu (or tori katsu) version too.
Type of food: Japanese food, katsu
Address: 255 Beach Walk, Honolulu, HI 96815
What to order: special pork tenderloin katsu-don or fried chicken
Southern California alternatives: Katsu bar
8. Waiola Shave Ice
Shave ice preference can serious territory because it's such a refreshing dessert and everyone has their favorites. Waiola Shave Ice was a nice Oahu alternative to our favorite shave ice spot, Ululani's Hawaiian Shave Ice from Maui. Waiola Shave Ice has served this frozen treat since 1940. It's a no-fuss establishment where you order from a pint-sized general store window and relax by the wooden benches outside the store while eating your shave ice.
We love adding vanilla ice cream to our order because it makes such a rich and creamy dessert. Some of our favorite flavors are mango, lychee, and guava. You can also make similar Vietnamese and Filipino shave ice treats at home like chè ba màu and halo-halo (w/ leche flan, Razon's style).
Type of food: Shave ice
Address: 2135 Waiola St, Honolulu, HI 96826
What to order: Any size with tropical flavors like mango, lychee, lilikoi, or guava.
9. Nisshodo Candy Store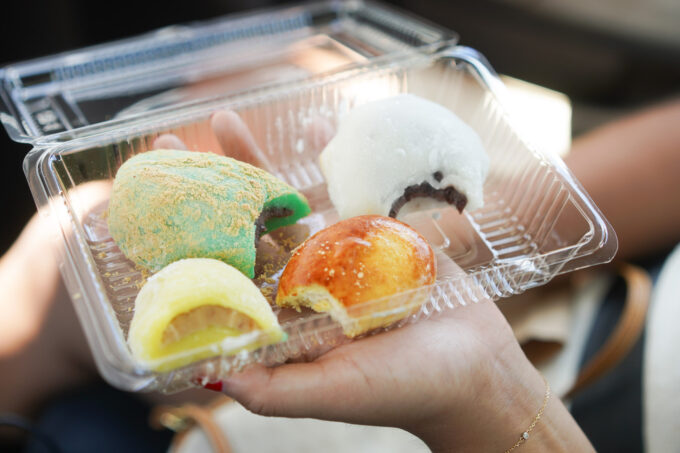 On our first trip to Maui, our local friends introduced us to homemade mochi from Maui Specialty Chocolates and we were hooked. Of course, we found an equally delicious mochi shop on Oahu named Nisshodo Candy Store. This store specializes in traditional Japanese treats like chichi dango (chewy and sticky rice-flour candies made from different flavors), mochi (sticky rice flour pastries filled with flavors like red bean and more), and manju (made with wheat flour and is also a pastry filled with flavors).
When mochi is made with a filling it's also daifuku and some of our favorites from this shop were peanut butter and sweet red bean daifuku. The mochi outer layer was so fresh and soft to the bite and the fillings were homemade. These are perfect for picking up and eating on your next beach trip or to bring as a souvenir.
One good tip is that the building is located in an industrial area, so don't feel like you're lost. There's a sign with their name and parking in the front.
Type of food: Handmade traditional Japanese treats like mochi
Address: 1095 Dillingham Blvd, Bldg I-5 Honolulu, HI 96817
What to order: peanut butter mochi/manju!
Southern California alternatives: Fugetsu-Do
10. Hawaiian Aroma Cafe
One of the amazing perks of staying at the Waikiki Beachcomber Outrigger was being in close proximity to the Hawaiian Aroma Cafe and the pool. While the food was delicious, they also had a fully stocked bar and some delicious drinks, like one of the best pina coladas on the island. This fruity and richly blended drink made laying out by the pool all the more relaxing. Hawaiian Aroma also has other locations in Honolulu like at the OHANA East by Outrigger, Ilikai Hotel & Luxury Suites, and The Gallery Waikiki
Type of food: Full bar, cafe foods, and snacks
Address: 2300 Kalakaua Ave. Honolulu, HI (Waikiki Beachcomber Outrigger)
What to order: Pina coladas while you lay out on the pool deck.
Southern California alternatives: Twisted Tiki
11. Kona Coffee Purveyors and B. Patisserie
Getting coffee at Kona Coffee Purveyors and one (or two or three?) kouign amann pastries from B. Patisserie became a daily morning ritual for us while staying in Honolulu. Kona Coffee Purveyors only get their coffee beans straight from the source on the Big Island. Kona has a special microclimate that allows for coffee cherries to flourish and produce sweet and flavorful beans.
Some of our favorites to order are their lattes, cortados, and most importantly their affogatos. They also sell coffee beans to bring home as a souvenir for yourself or your friends. If you're not a big coffee fan, they also have a variety of teas and wines to drink too.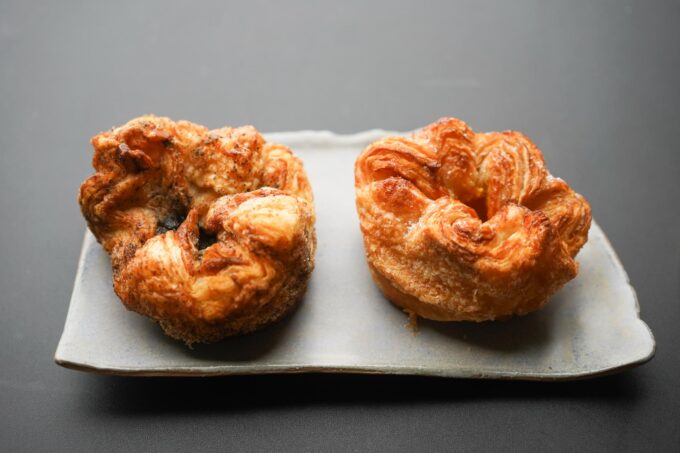 B. Patisserie is hands down our favorite bakery because they're home to the best (and I do mean the best) kouign amann pastries we've ever tried. These are sweet pastries made of laminated dough and sprinkled with caramelized sugar on top. They're completely buttery and flaky with every bite. We've tried possibly upwards of 10 different kinds of kouign amann from other bakeries and they just don't compare to B. Pâtisserie's version. Our favorite varieties are of course the original, black sesame, and seasonal flavors like guava and mango.
Type of food: Cafe
Address: International Marketplace, Kuhio Mall Entrance, 2330 Kalakaua Ave #160, Honolulu, Hawaii, 96815
What to order: Oat milk latte with a kouign amann
Southern California alternatives: La Boulangerie San Francisco
12. Afternoon Tea at the Veranda
If you're a high tea lover, then the tea service at the Moana Surfrider is a definite stop. What we love best about this high tea service is both the various tea choices, island-influenced flavors, and the beautiful location. This tea service is only available during the weekends and you can make reservations by calling the hotel directly or through Open Table.
You have an option of three different tea sets: Moana Classic ($55), First Lady Tea ($75), or Royal Tea ($120). The different price ranges include upgrades to sparkling rose, mimosa flights, and other small additions. We stayed with the Moana Classic and were pleasantly surprised by the rich desserts and large sandwiches in this set. My favorite desserts were the mango panna cotta and the lilikoi custard for the scones.
Type of food: Afternoon tea with savory sandwiches, desserts, and pastries
Address: 2365 Kalakaua Ave Honolulu, HI 96815
What to order: Moana Classic tea set
Southern California alternatives: Morning Lavender Cafe
13. Senia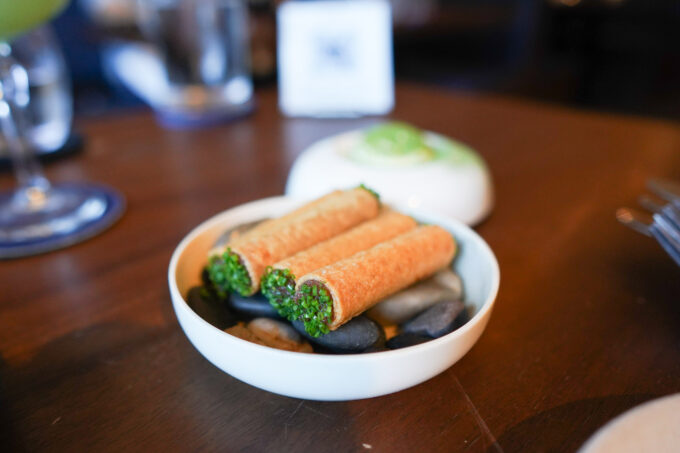 Hands down, Senia is one of our favorite restaurants on Oahu for a fancy dinner. Founded by two Thomas Keller alums from Per Se, this new American cuisine has gastronomical food that's an experience in more than just eating, but also seeing and smelling what's in front of you.
Our favorite dish was the smoked ahi "cigars" that came in a rolled-up crispy shell and filled with ahi tuna. The delivery was awe-inducing because it came in a lidded bowl and once the server lifted the top, smoke released from the "cigars," mimicking the smoky namesake.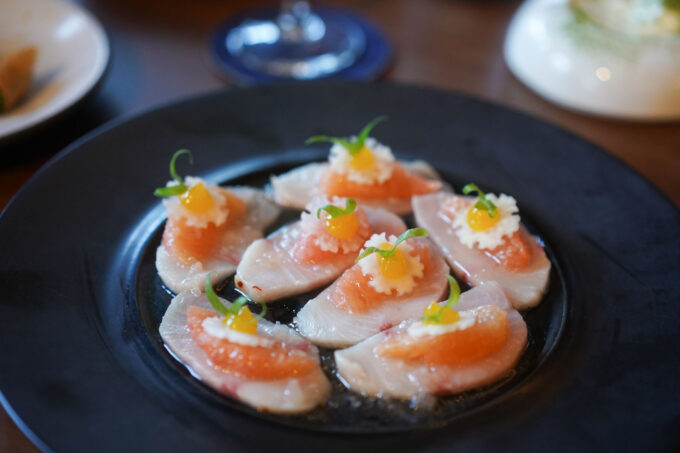 The whole service experience at Senia was a delight, with dish after dish of perfectly executed and delicious food. It needs repeating that this is one of our favorite dining experiences we've had in Hawaii, and anywhere else. We've had many much pricier dining experiences in and outside of Hawaii that still cannot compete with the creativity and finesse of Senia. Make a reservation at least 2 weeks to a month ahead, this place is super popular for a good reason! They also have a private dining room that you can reserve if you have a larger party.
Type of food: American (new) cuisine, trendy restaurant
Address: 75 N. King St., Honolulu, HI 96817
What to order: Smoked ahi cigars, beignets, citrus cured hamachi, porchetta, and the 007 cocktail.
Southern California alternatives: Gem Dining, Mix Mix Kitchen Bar, Playground, and Vaca Restaurant
14. Skull & Crown Trading Co.
For a really cool and authentic tiki experience in Oahu, we would definitely recommend Skull & Crown Trading Co. Located in Chinatown, this up and coming popular bar is decorated with spooky skulls, custom tiki mugs, and an abundance of tiki paraphernalia that will make you feel like you're in a fantasy.
What we appreciated the most was the staff–they had so much knowledge about the drinks they were making, the mugs they were pouring the drinks from, and even the building's historical background. We ordered our go-to tiki drink, a painkiller, and tried out a new drink called Menehune rum punch.
All the ingredients in these drinks were fresh, fruity, and delicious enough that you could barely taste the alcohol. An unexpected surprise for us was one of the bartenders was originally from Southern California too! We definitely recommend making a reservation online. This place is a little small and it's best to be seated at the bar where you can talk to the bartenders.
Type of food: Tiki bar
Address: 62 N. Hotel Street, Honolulu, HI 96817
What to order: Painkiller and Menehune Rum Punch
Southern California alternatives: Tiki Ti, Trader Sam's Enchanted Tiki Bar, and False Idol.
15. Opal Thai
What was once an urgent recommendation from our cousins before heading to Hawaii soon became one of our best experiences. Opal Thai is different from other Thai restaurants (and most restaurants we've eaten at) because we didn't order anything.
Before you get confused, we did eat Thai food, and really really good Thai food at that! If you ever happen to get a reservation at Opal Thai, you get to talk to the Chef and owner and he gets to know you, his diners. You get asked what Thai dishes you've eaten before and your top choices, along with your spice level. It's important to note that Thai food here is far from typical Thai food that you may encounter at traditional restaurants because the chef sometimes adjusts it based on what you answer. One of my favorite dishes is the fried fish cake fritters, which were so crispy and tender all at the same time.
If you've ever eaten Thai food, then you know spice is on a whole other level. We loved the personal experience you receive at Opal Thai and that you get to talk to the Chef and owner about his life and how he started his restaurant. One tip we want to give is to be honest when you talk to the chef about what Thai food you like and what spice level is comfortable for you. He does his best to choose the best dishes that fit your palate, but if you want to challenge yourself or try something new, communicate this too!
Type of food: Thai dine-in restaurant
Address: 1030 Smith St Ste 6, Honolulu, HI 96817
What to order: The chef chooses for you!
Southern California alternatives: Thai Nakorn
If you're an avid travel eater like me and want other recommendations, look at my Austin and Orange County restaurant guide.
See more restaurant travel guides
If you enjoyed my restaurant guide here for Oahu, check out the other cities I have visited and made restaurant guides for!:
Like this recipe? Subscribe to my newsletter!