If you know the joys of bún thịt nướng (Vietnamese grilled pork and noodles), you'll love this recipe. Savory, flavor-packed grilled pork meatballs over noodles, with a medley of aromatic herbs all married together with Vietnamese fish sauce.
Aaand it's easy to make! Let me know you.
There are LOTS of fresh veggies in many Vietnamese dishes, wouldn't you agree? Any time you have a wrap, or something being dipped into sauce, it's almost a given fresh lettuce or herbs will be a part of it.
And in how many other types of soups do you order and pretty much expect a side of bean sprouts or a mountain of mixed herbs to go along with it? Bún nem nướng falls in line with the veggie train here.
Bún nem nướng is actually similar to another recipe I shared with you before–bún thịt nướng. They share the same bed of rice noodles, lettuce and herbs, garnish and dipping sauce, with grilled pork as the protein. The pork may be the highlight here, but this dish would be lacking without the rest of the ingredients.
Ground pork fineness
The texture of the nem nuong is affected by the fine grind of pork, the potato starch and the baking powder added. For a more predictable, fine-sized grind, you should ask your butcher to put your pork through the grinder four times. If you're buying pre-packaged stuff you can wing it and use a food processor at home to achieve a finer pork paste.
Meatball ingredients
As for the potato starch, I got the one pictured below from a Vietnamese market, but you can buy any brand at your grocery store.
For the baking powder, I use single-acting Alsa baking powder. If you can't find this brand, others may work but make sure you use single-acting, as most the stuff in American baking aisles will be double-acting.
Unlike most baking powders, this one is single-acting and not of double. If you find another single-acting brand go for it!
Adding Sodium Nitrate?
If you really want to replicate how restaurants and stores make nem nướng, you have to add some sodium nitrate to the pork, which makes the pork more pink and acts as a preservative. There seems conflicting data about the safety of adding sodium nitrate to food.
To me, the tradeoff isn't worth the unknown risk especially if you have the choice to leave it out.
Different shapes & sizes
Forming these into balls are a lot simpler to do, but if you want to form these into logs for making rolls, you can do that too (another post coming on that!). Basically, you'd want to wrap the pork paste in plastic wrap to hold the log shape while you steam it, to set the shape. Then you can unwrap it to throw on the grill, or into the deep fryer to get some nice caramelization on it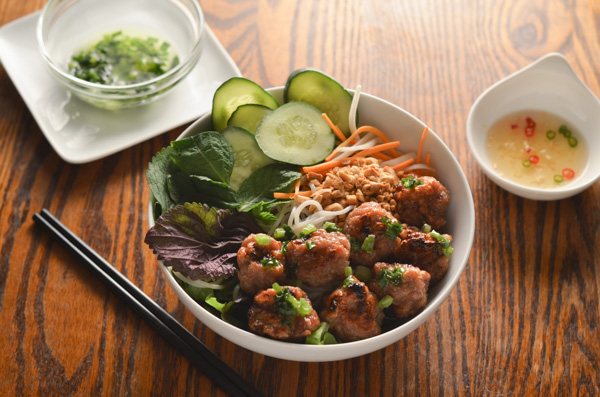 A meat ball shape definitely make more sense for serving with rice noodles. And you'll typically see the pork served on skewers from being freshly grilled. Some "musts" for this dish is the topping of scallion in oil and crushed peanuts.
Just looking at this is makes me crave some cheap, ice-cold lager, to pair it with.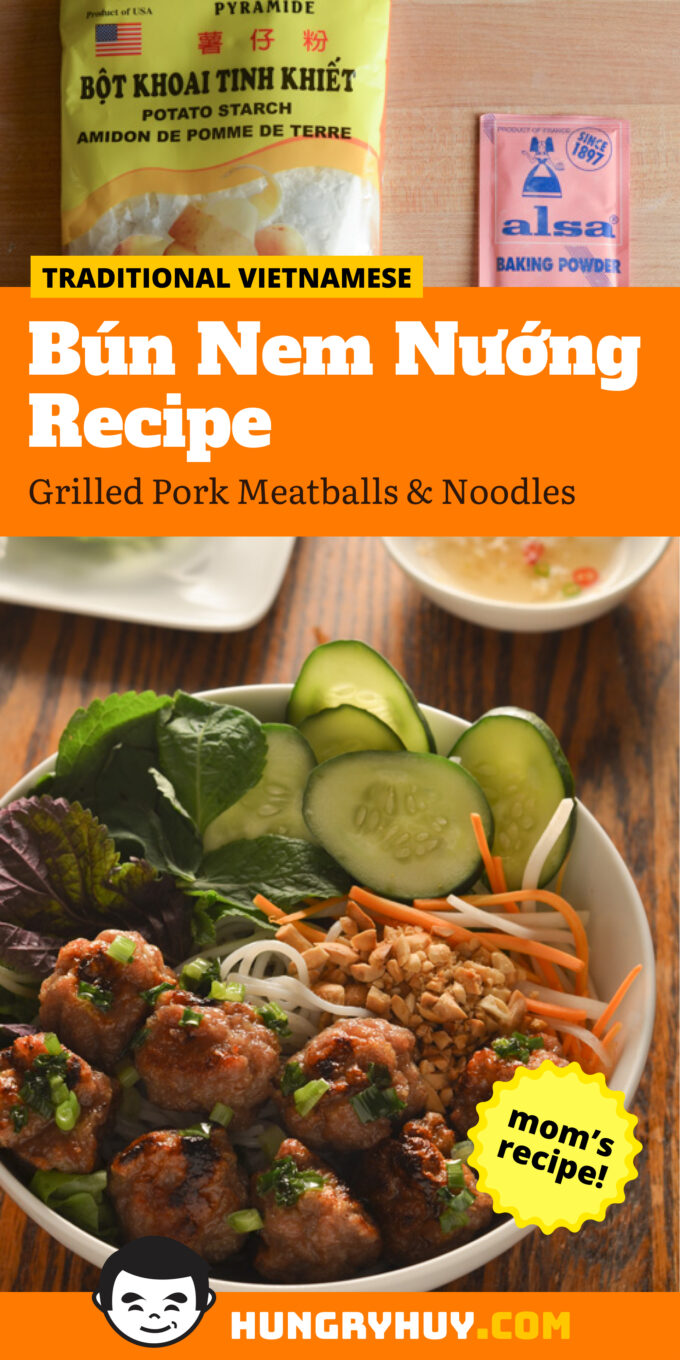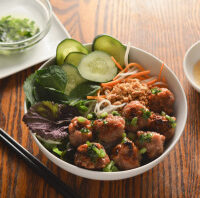 Bún Nem Nướng – Vietnamese Grilled Pork Meatballs & Rice Noodles
Savory, flavor-packed grilled pork meatballs over noodles, with a medley of aromatic herbs all married together with a balanced Vietnamese fish sauce. And it's easy to make!
Ingredients
1

pound

pork

20% fat

1

pack

dried rice noodles

small or medium thickness
Seasoning
2

tablespoons

sugar

2

teaspoons

potato starch

1/4

teaspoon

salt

1.5

tsp

single-acting Alsa baking powder

about 1/2 the bag

1

tablespoon

+ 1 tsp water

1

tablespoon

fish sauce

1

tablespoon

oil

2

teaspoons

chopped garlic

finely chopped (or 1 teaspoon garlic powder)
Vegetables
green or red leaf lettuce

shredded

mint –

rau thơm

Vietnamese perilla –

tiá tô

Vietnamese balm –

kinh giới

cucumbers

sliced
Garnish
Dipping Sauce
Instructions
Combine all seasoning ingredients in a bowl and mix. It will bubble from the baking powder.

After everything is dissolved, add the pork and mix well.

Cover with plastic wrap and refrigerate over night, or freeze for about 1 hour or until slightly firm. The purpose is to thicken it up.

If you chose to freeze your meat, start washing your veggies, prepare the garnishes, and cook the dried rice noodles according to package instructions. If you fridged it overnight instead, begin this prep 1 hour before you pull the meat from the fridge.

Although the butcher ground the pork four times already, blend your chilled meat mixture one final time in a food processor after marinating so it becomes stickier and easier to form shapes with.

Form into desired shapes–usually balls about 1.25" in diameter or larger logs for speed, or to add to rolls.

Steam for about 10 minutes so the shape holds before the final cooking stage. It should not be cooked all the way through at this stage. The final temp would be 145° F, so pull it well before this after it seems like it's holding its shape. Use a thermometer to check.

Deep fry or grill to brown the meat r and finish cooking.
Nutrition Facts
Serving:
0
g
|
Calories:
623.2
kcal
|
Carbohydrates:
56.5
g
|
Protein:
24.1
g
|
Fat:
32.8
g
|
Saturated Fat:
10
g
|
Cholesterol:
81.6
mg
|
Sodium:
827.2
mg
|
Potassium:
439.8
mg
|
Fiber:
1.9
g
|
Sugar:
6.2
g
|
Vitamin C:
1.3
mg
|
Calcium:
127.5
mg
|
Iron:
1.9
mg
Like this recipe? Subscribe to my newsletter!