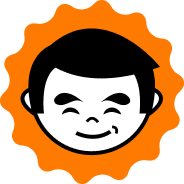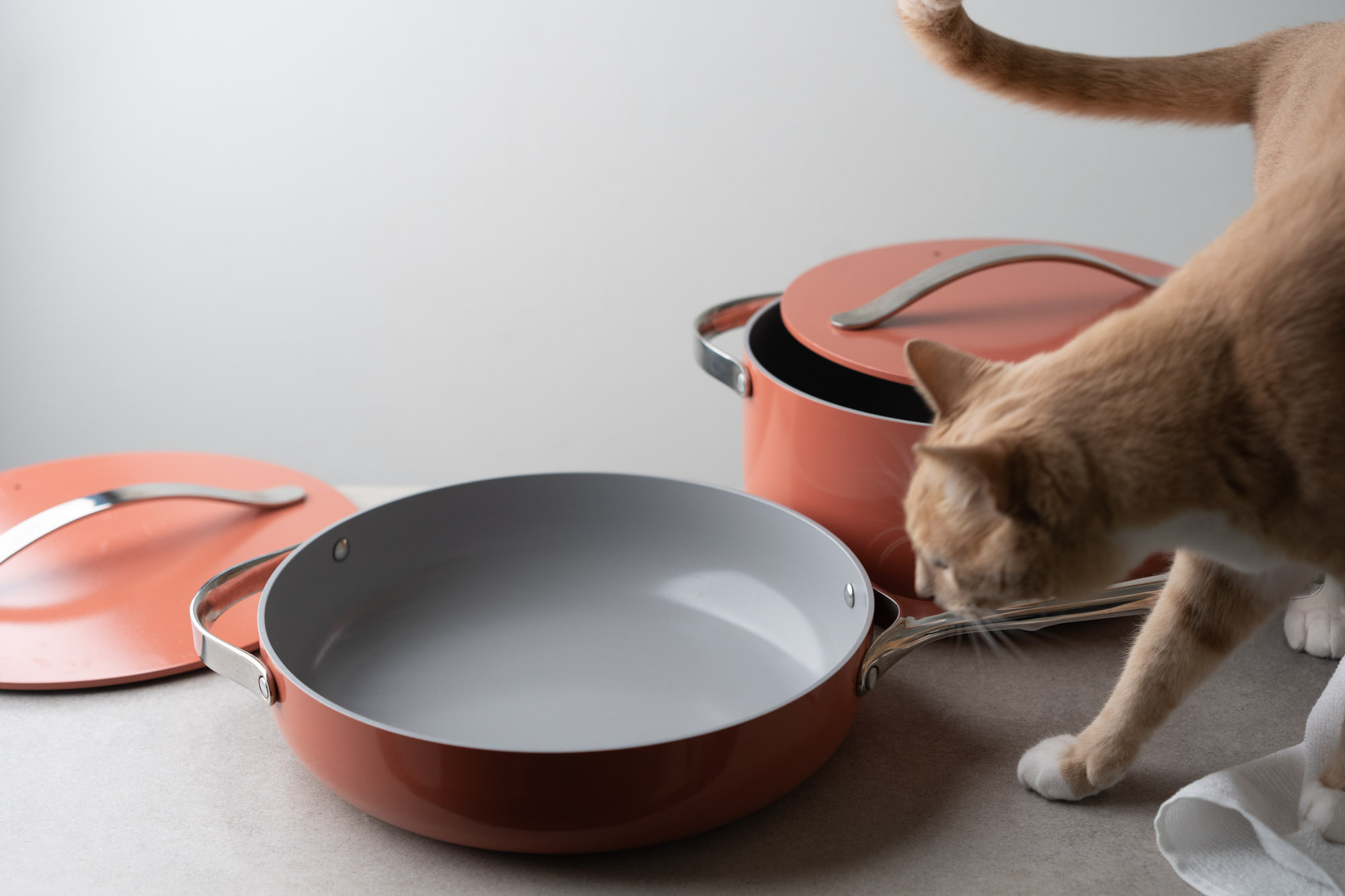 If you're like me, you might avoid nonstick cookware out of concern that its chemicals will leach into the food you consume and take up permanent residence in your body. Caraway Home cookware has been an internet darling since it was introduced in 2019. Eschewing traditional nonstick coatings like Teflon, Caraway's cookware is coated with ceramic made from naturally sourced minerals.

Caraway cookware is heavily promoted by influencers as healthier nonstick, so I bought and tested Caraway's 11.8" sauté pan, and their 6.5 qt. Dutch Oven to prove whether this claim was true.
Featured Product
Caraway Cookware
Non-Stick & Non-Toxic
If you're like me, you might avoid nonstick cookware out of concern that its chemicals will leach into the food you consume and take up permanent residence in your body. Caraway Home cookware has been an internet darling since it was introduced in 2019. Eschewing traditional nonstick coatings like Teflon, Caraway's cookware is coated with ceramic made from naturally sourced minerals. Caraway cookware is heavily promoted by influencers as healthier nonstick, so I bought and tested Caraway's 11.8″ sauté pan, and their 6.5 qt. Dutch Oven to prove whether this claim was true.
About Caraway Home
Caraway Home Founder Jordan Nathan had been the CEO of the successful kitchen brand, Vremi, when one night at home he overheated a Teflon pan and the fumes sickened him. He called up poison control and learned that he probably had been poisoned by inhaling PTFE (polytetrafluoroethylene). Nathan researched Teflon and discovered that at 570℉, it begins to break down and releases toxic chemicals.
This experience prompted him to create nonstick cookware that was also non-toxic. In late 2019, Nathan introduced a ceramic cookware set, and four months later, he launched a kitchen linen product line. The timing of the launch – and the beginning of the pandemic – proved fortuitous, as people were increasingly cooking at home.
Initially, Caraway Cookware was sold directly to consumers through the Caraway website. But thanks to Nathan's savvy decision to market the cookware through social-media influencers, Caraway's sales skyrocketed.
However, the small company struggled with supply-chain issues during the pandemic, but Caraway Home has since partnered with several retailers, including Crate & Barrel, West Elm, Bed, Bath & Beyond, and Target, so it's now widely available and more popular than ever.
Where are Caraway pans manufactured?
Caraway Home cookware was designed in New York by founder Jordan Nathan. According to the company's website, Nathan vetted vendors around the world before settling on factories in China.
The company stresses that their manufacturing partners in China are certified by the Business Social Compliance Initiative (BSCI) and the Sedex Members Ethical Trade Audit and ensure that employees work regulated hours in a safe workplace environment and are paid fairly and receive benefits.
Caraway Home is also committed to eco-friendly manufacturing and does not anodize its cookware due to the toxic fumes and acid waste emitted during the process.
Is Caraway's nonstick ceramic coating safe?
Teflon is the brand name for polytetrafluoroethylene (PTFE) The biggest concern that most people have about Teflon is that it can cause cancer. In 2020, the American Cancer Society debunked this myth.
Before 2013, however, PTFE was made with the chemical perfluorooctanoic acid (PFOA), which can remain in the body, and was clinically proven to lead to severe health conditions and cancerous tumors. By the end of 2015, the eight U.S. manufacturers that once used PFOA had eliminated it from their production. Other than the possible flu-like symptoms from breathing the fumes of an overheated pan, Teflon (PTFE) is no longer the health threat it once was.
New Teflon pans are PFOA-free, but the American Cancer Society suggests alternatives, such as cast iron, stainless steel, carbon steel, and ceramic or stoneware.
Caraway Home's nonstick coating is PTFE- and PFOA-free. It's made of a proprietary blend of minerals (which Caraway Home does not reveal) that doesn't leach toxic chemicals into food.
According to their website, the mineral coating releases up to 60-percent less carbon dioxide than other cookware, so you don't need to worry about breathing in any toxic fumes.
Caraway's cookware line
The four pieces of cookware Caraway offers are:
Originally, Caraway only sold the cookware as a complete set for $395, but they're now selling individual pieces. However, if you buy them all piecemeal, you'll pay $90 more.
Caraway's design
Caraway is named for the seed in rye bread. If you're wondering why, the website doesn't give a reason. But supposedly the cookware's design is inspired by caraway seed's oblong shape. I honestly don't see it since the four pieces of cookware in the full set are round.
The cookware is made of a heavy-gauge aluminum with a stainless-steel plate on the bottom, so it's compatible with induction cooktops. Each piece of cookware is coated with Caraway's mineral-based ceramic, which is light gray. The outer ceramic coating is available in six attractive colors – navy, cream, gray, sage, peracotta (which is a muted peach-pink), and marigold (bright yellow). Currently, there's a limited edition that Caraway calls brick, but it's closer to ruby red.
The Y-shaped stainless-steel handles are riveted to the exterior of each pan. The handles are cool to the touch and have an ergonomic grip. Two-thirds down the handle on the underside is a bump for resting the crook of your forefinger. It also prevents you from reaching too close to the pan when it's hot.
I tested the sauté pan and the Dutch oven. The 4.5-quart sauté pan weighs 4-½ pounds, and with the lid, it's 6.8 pounds, so it's pretty heavy. The handle is only 8-inches long, and the bump where you're supposed to grip decreases the handle length to 5-½ inches long. During testing I found the balance of the weighty pan was off – especially when filled with food – because of the short handle and wished it had been 10 or 12 inches in length.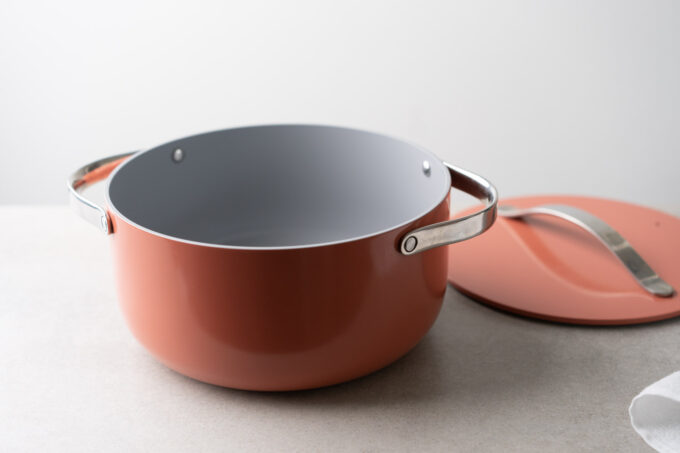 With the lid, the 6.5-quart Dutch oven weighs only 6.2 pounds – 6 ounces less than the sauté pan. The enameled cast-iron Le Creuset Dutch oven weighs in at a whopping 14.9 pounds, so the Caraway Dutch oven is much easier to maneuver in and out of the oven. Its handles are a wide curve oval (caraway-seed shaped?) and riveted to the pot on either side, but they're not meant to be gripped without a pot holder when removing it from a hot oven.
Caraway also has two bakeware sets. They're constructed of the same heavy-gauge aluminum and coated with nonstick, non-toxic ceramic. The 11-piece set sells for $395 and has pretty much everything you need for baking. The 5-piece set is limited to two baking sheets, a baking pan, and a muffin tin for $245, which is pricey for what you get. The bakeware is available in five colors: navy, slate, cream, gray, and perracotta.
Cooking performance
Before I began cooking, I read through the user manual and was surprised by the precautions for use and care, which suggested that the cookware was fragile. This did not turn out to be the case, but I did need to follow a couple of important rules during testing.
According to Caraway's website, ceramic holds heat more efficiently than other pans, so everything needs to be cooked at low to medium heat, or the ceramic coating will degrade. I admit I was frustrated by this precaution because food doesn't brown nor can a sauce quickly reduce at such low heat. (More on that in a bit.)
The ceramic coating is very slick and does not need to be seasoned before cooking. Caraway advises preheating the pans for 90 seconds before adding butter or oil, and since the coating is completely nonstick, you only need a tablespoon or two for cooking.
The cookware (and bakeware) can withstand temperatures up to 550℉, so they can go from stovetop to the oven with no problem. I'm not sure why someone would put the pans or Dutch oven in such a hot oven, but it's reassuring to know that they won't crack or explode.
Even-heating test
I began by testing Caraway's claim that a ceramic coating heats more efficiently over medium heat than a traditional non-stick pan. I pulled out my trusty Calphalon Classic hard-anodized aluminum sauté pan to see how it fared against the Caraway sauté pan by boiling water. I added 2 quarts of cold water to each pan (the Calphalon is slightly larger at 5 quarts, so I compensated by adding 2 additional cups of water) and turned on the heat for both at medium.
After 4 minutes, the Calphalon was 7 degrees hotter, but the Caraway caught up at 6 minutes. At first it appeared that both pans were heating evenly, but when I took the temperature of the water from all sides of each pan, the Calphalon was several degrees hotter at the center and the handle side.
As the water increased in temperature, bubbles formed on the hotter side of the Calphalon but were evenly spaced over the entire surface of the Caraway. The Calphalon came to a low boil at 21 minutes, and the Caraway at 23 minutes.
Obviously, watching water come to a boil over medium heat isn't my idea of fun. But if I were less patient, I could have increased the heat to high on the Calphalon without damaging the pan, which I could not have done to the Caraway.
Fried eggs and omelet
Even with my reliable nonstick pans, I still add a tablespoon of butter when I fry eggs. But I wanted to test just how nonstick Caraway actually was by frying eggs without butter. I like fried eggs to have crispy edges, so I preheated the sauté pan for 5 minutes on medium heat. I added four eggs, one at a time, evenly spaced.
The Caraway pan has a flat bottom, so the egg whites didn't spread, and the whole egg remained uniform and contained. It took 5 minutes for the eggs to cook, and though they were all evenly cooked, the white edges didn't crisp, which is probably because the heat was low and there was no fat in the pan. One of the eggs stuck slightly, but the others slid right out.
A Dutch oven isn't an ideal pot for cooking an omelet, but the surface of the Caraway Dutch oven measures 8.5 inches in diameter, and the surface of my 10-inch-diameter omelet pan measures 7.5, so it wasn't too far of a stretch to think the Caraway might produce a decent omelet.
I preheated the Dutch oven for 2 minutes and poured in two beaten eggs, which immediately began to set. The omelet was ready in 90 seconds, and although turning it out of a Dutch oven onto a plate was, of course, awkward, the omelet slid right out and was nicely browned as if I'd cooked it in an omelet pan with butter.
Pasta sauce and meatballs
For this recipe, I used both the sauté pan and the Dutch oven. The first step was sautéing chopped mushrooms, onions, and garlic in the sauté pan over medium heat. My goal was to get the veggies lightly browned and let the exuded juices evaporate. The veggies exuded lots of juice, but because of the Caraway pan's heat restriction, there was no browning. After 20 minutes, I gave up, increased the heat, and finally, got the result I wanted.
I transferred the sautéd veggies to the Dutch oven, added tomato paste, herbs, hand-crushed tomatoes, and more red wine. Again, I set the heat to medium, and since I wanted this to be slowly simmered, once the sauce began to bubble, I decreased the heat to low and covered the pot with its lid. About an hour later, the sauce had thickened, and I added the pre-baked meatballs for another slow simmer.
Overall, this dish taught me that you need to have patience and the time for cooking your meal in the Caraway pans. They're not great for browning food, but for a soup, stew, or pasta sauce – anything that needs a simmer – the Caraway pans do the job.
Cleanup: is Caraway cookware dishwasher safe?
There are lots of do's and don'ts when it comes to cleaning nonstick pans. One of the worst things you can do is put a hot nonstick pan in the sink and turn on the faucet. The resulting sudden change in temperature can warp or crack the pan..
The second big no-no is putting a nonstick pan into the dishwasher, which, over time, will degrade the nonstick coating. Caraway Home is very clear in their user manual that the cookware should never be washed in a dishwasher.
I found the cookware and lid's nonstick coating very easy to clean with a sponge and dishwashing liquid. The stainless steel plate on the bottom of the sauté pan was spotted after the first use, But I made a paste of baking soda and vinegar and gently cleaned the spots with a scrubber sponge.
Storage
When you buy the full set of cookware, magnetic pan racks and a canvas lid holder are included. The pan racks hold all four pieces of cookware, and they take up quite a lot of space in a kitchen cabinet. But if you're ditching your old pans for the Caraway cookware, there shouldn't be a space issue. The canvas lid holder attaches to a kitchen cabinet door, presumably the same cabinet in which you're storing the pans.
Since I only purchased the sauté pan and the Dutch oven individually, the pan rack and lid holder were not included. The Caraway cookware cannot be stacked without damaging the ceramic coating, nor should any other pan be stored next to it since the exterior coating could be scratched.
Caraway does not sell the racks and lid holder separately, so individual pieces of the cookware need to have their own isolated cabinet space or be stored on top of or inside the oven.
Conclusion: should you buy it?
There is a lot about the Caraway Home pans that I love. The non-toxic, nonstick ceramic coating is the company's marketing bullet point, and I was impressed by its performance, particularly when I cooked eggs in the sauté pan and Dutch oven without butter. The eggs cooked evenly and slid right out.
Caraway Home's claim that the ceramic coating heats more efficiently and evenly than traditional nonstick pans has merit. Aesthetically, the cookware is beautiful, and the chic color tones would make Martha Stewart proud.
On the flip side, unless you have the cabinet space to store individual pieces, Caraway Home forces you to purchase the entire set just so you can get the included pan racks and lid holder. C'mon, Caraway, sell the racks and lid holder separately!
I'm not wild about having to cook at low and medium heat out of fear that this will destroy the nonstick coating. Everything I cooked took twice as long in the Caraway pans. When I'm cooking dinner with a recipe that's supposed to take 20 minutes, I don't want to have to double the time because of the cookware's limitations.
A few outliers on the internet, who don't reflexively gush over Caraway cookware, question its longevity. During my week of testing, the ceramic coating held up, but the stainless steel plate on the bottom of the cookware got scratched by my moving it around the stovetop.
Other reviewers post photos of small chips on the exterior coating or staining on the interior coating. I can't say whether this wearing was a flaw with the cookware or just the reviewer's misuse. The cookware I tested seems well-made, and although it needs some TLC, I think it will hold up for at least a couple of years.
If you have health concerns about nonstick cookware, and want to ditch the old for the new, then, yes, Caraway Home cookware is a worthy purchase. Considering the included storage racks, cork trivet, and reusable cloth bags the pans are shipped in, $395 for the set of four pans and three lids is a fair price.
I'd also recommend Caraway cookware as a starter set if you've moved into a new home or apartment. As long as you stay on top of their upkeep, the cookware is attractive, sturdy, and performs as advertised.