Bánh Xèo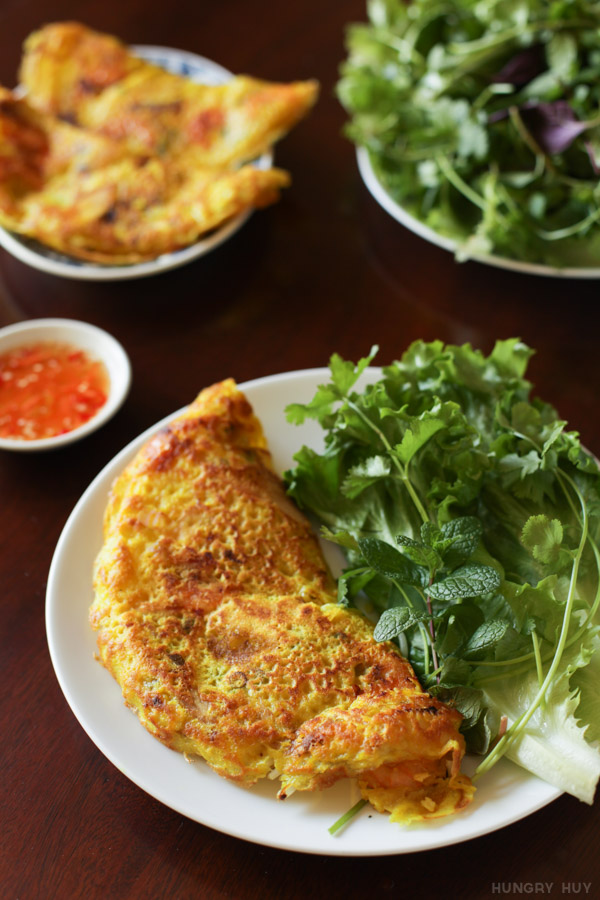 9 ounces rice flour
3 ounces all-purpose wheat flour
2-3 teaspoon turmeric, depending on color preference
3.5 cups water
1 14oz/400ml can coconut cream (or coconut milk, if unavailable)
1 teaspoon salt
1 sprig scallion (~6-7 leaves), chopped small about 1-2 cm long
1 pound shrimp without heads, sized 45/50 or 60/70
1.5 pounds pork belly
1 onion, medium sized, thinly sliced
1-1.5 pounds bean sprouts
½ cup dry mung beans (optional)
mustard greens (caỉ xanh)
mint
cilantro, optional
Vietnamese perilla (tía tô), optional
Combine all batter ingredients except scallions in a large bowl for at least 3 hours, or overnight. Add scallions only right before making the crêpes.
Steam or soak mung beans in water until soft
Boil pork until cooked through. Slice thinly.
Wash bean sprouts and veggies
On medium-high heat add 1-2 teaspoons of oil and some onions



Immediately add a few pieces of pork and shrimp. Sauté, lightly mixing until very lightly browned.


Pour in some batter and quickly tilt & rotate the pan so the batter is evenly spread. Add more batter if it wasn't enough to cover the pan.


Add some mung beans, bean sprouts, and cover with a lid for 2-3 minutes, or until bean sprouts are slightly cooked. The batter should also be slightly cooked and transparent around the edges.


Remove the lid, lower heat to medium and wait for the crêpe to become crisp. Fold in half, transfer to a plate and serve immediately.