Silky smooth custard filling surrounded by a buttery and flaky crust–this is how I want my egg tart experience to be every time. This recipe has gone through multiple rounds of testing to figure out a simple, but flavorful egg tart that won't give you headache to follow.
This recipe is a hybrid of Hong Kong (dim sum) and Portuguese egg tarts to get the best attributes of both styles.
What are egg tarts?
Eggs and dessert? I know what you're thinking, who eats eggs as a dessert? In a very general sense, egg tarts are like mini custard pies. They have smooth and silky centers that are encased in a crisp and buttery shell.
If you've ever eaten at a dim sum restaurant, you've probably seen trays of golden Hong Kong style egg tarts weaving through the crowded dining room along with pork and shrimp shumai and xiao long bao. Or maybe, you've stood in line at the ever popular 85° Bakery where you can make towers of bread and pastries on your tray and hoard vast amounts of silky custard Portuguese egg tarts for the week.
Again, this recipe is a hybrid of both of these styles.
It's also worth mentioning that egg tarts vary and the two most prominent types are:
Portuguese egg tarts: Also known as "pastel de nata," this type of egg tart has a more flaky and pastry puff shell. The centers are much more sweet and have a traditional custard base by using only egg yolks. Many recipes also call for cinnamon in the custard center and sprinkled on top. They are also baked until the centers darken, giving them their signature blackened look.
Hong Kong egg tarts: these are typically found at dim sum restaurants. They have a crust that is a mix of pastry puff and shortbread and therefore has a sturdier shell. The center is also less sweet than the Portuguese egg tarts because they use less sugar and are slightly paler in color due to using the whole egg.
Hong Kong vs. Portuguese style dough
Each of these egg tarts require different techniques in baking. They both have a generalized base of a pastry shell recipe, but the Hong Kong egg tart has a shell that requires laminating two different doughs together: a water dough and an oil dough. There are also long amounts of chill time in between each fold and lamination. The Portuguese pastry shell has a simpler "ruff pastry puff" process that I could start from–it also took less time.
While both egg tarts are delicious on their own, I've realized that I wanted to make a different and simplified version based on my preferences. After years of tasting different egg tarts (both Honk Kong and Portuguese versions), and also trying to bake different variations, I wanted to move away from traditional recipes to simplify the crust and adjust the custard filling. This helped to shorten the time it took to make the tarts, and most importantly, it shortened the amount of headaches I got.
Making the rough pastry dough
This rough puff pastry is super simple to do and makes a flaky and multi-layered crust (like in guava and cheese puff pastries). What's great is that you can easily make it into a crust or a pastry like apple turnovers. Instead of waiting hours for dough to chill and laminate properly, you can have a pastry dough ready to bake in under 1 hour.
In a food processor, add the flour, powdered sugar, salt, and cubed butter and pulse until the butter pieces are slightly smaller than the size of dimes.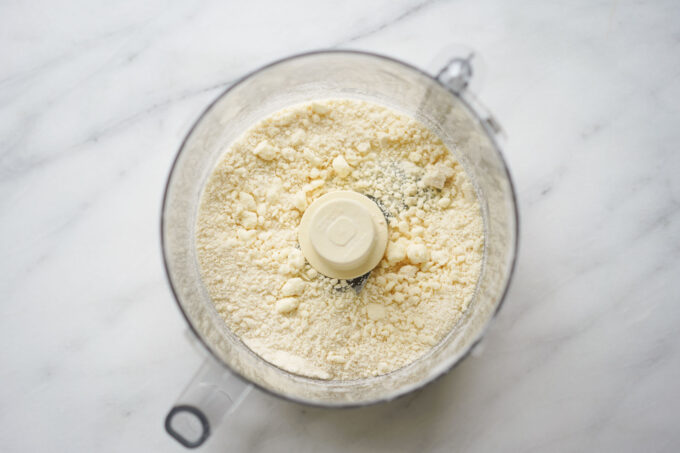 Then in a large bowl, stir in the sour cream until it becomes a shaggy dough.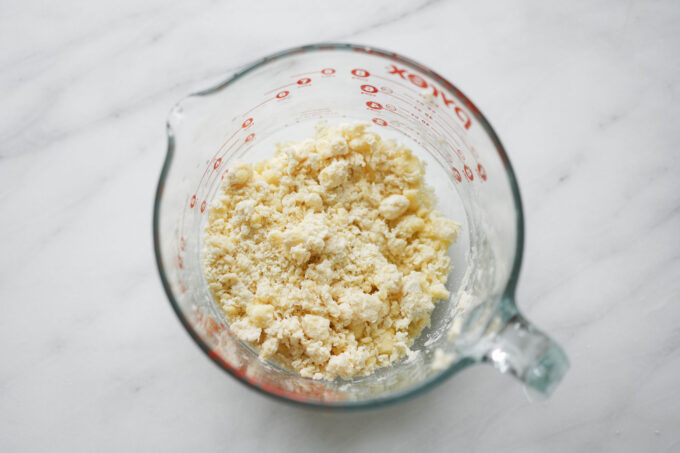 Transfer the shaggy dough onto a clean surface and use your hands to form it into a ball of dough and knead the dough twice to make sure it keeps its shape.
Use a rolling pin to flatten the dough into a rectangular shape with about 1/2 inch thickness.
Then, fold one side towards the center (like a brochure) and then fold the other side over the center. Wrap your dough and place it in the freezer to chill for 15 minutes.
Use your rolling pin again and flatten the dough in a rectangle with one inch and repeat the tri-fold. Then, cut your dough in half and wrap your dough before placing it in the freezer for 15 minutes or until you are ready to use it.
For the tarts, I like to use a cupcake pan because I don't have egg tart molds at home and they're a good size. Roll out the pastry dough to about ¼ of an inch thickness and use a round cookie cutter to fit the shape of the molds you are using. For a standard cupcake pan, I use a 3 ¾ inch cookie cutter.
Butter the cupcake pan to prevent any tarts from sticking. Place the round circles of dough into the cupcake spaces and press the dough into the hold. Prick the bottoms of each tart to prevent the bottoms from rising during baking. Now you're ready for the filling!
Custard filling
For Hong Kong egg tart fillings, you typically use whole eggs and sweeten it with a simple syrup while Portuguese egg tarts include egg yolks, white sugar, and cinnamon. For this recipe, I stuck with egg yolks, evaporated milk, and sweetened with condensed milk to give it a sugary but custard-like body.
To make the filling, combine all the ingredients into a mixing bowl and whisk until it's all incorporated. The most important part of this process is straining multiple times to remove unincorporated parts of the yolk and excess air bubbles. I like to filter the filling with a fine mesh strainer at least two times to get a smooth texture.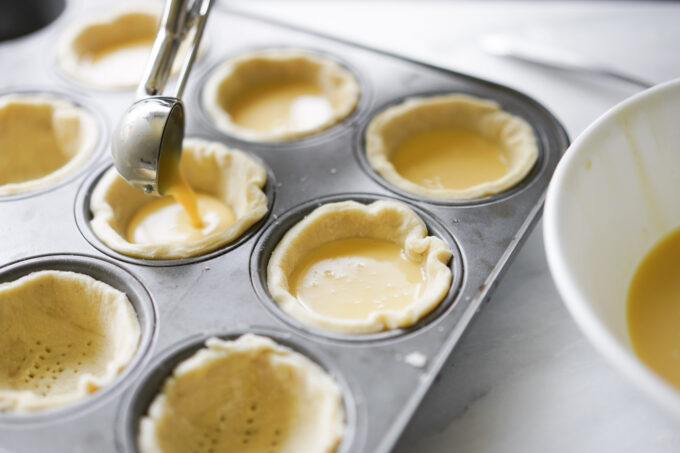 I like to use a tablespoon to fill my tart molds and fill each mold to about 75% with filling. I try to remove any excess bubbles on top by scooping them out and then place the cupcake pan on a sheet pan for easier transportation and balance.
Baking
Preheat the oven to 400 °F to make the puff pastry rise properly when baking. Place the cupcake pan into the oven and bake for about ten minutes. At this point, the puff pastry shells should have risen and begin to brown.
Then, lower the heat to 350 °F and cook for an additional five to eight minutes or until the edges are golden brown to finish cooking the egg tarts. Use a toothpick and prick the center of an egg tart to make sure it's done cooking. If it comes out smooth, you can remove the pan from the oven and rest it on the counter to cool.
Serve the egg tarts and enjoy!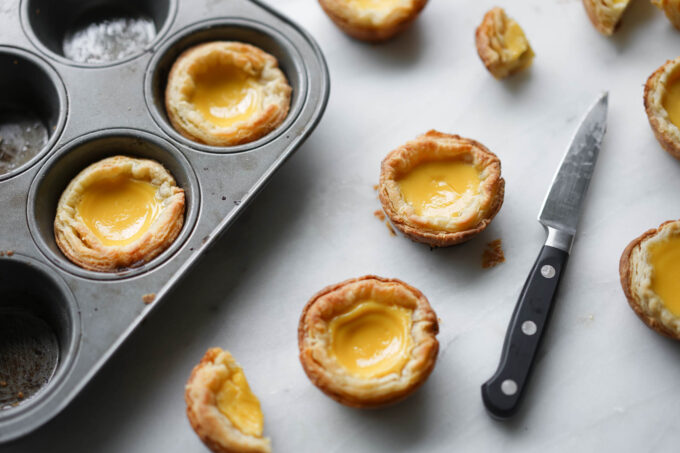 Are egg tarts sweet?
Egg tarts are sweetened with simple syrup, white sugar, or other forms of sweetener, but the sweetness level of an egg tart depends on the variation of egg tarts you are eating. Hong Kong egg tarts are much less sweeter than their Portuguese cousin.
What does egg tart taste like?
Egg tarts taste similar to a silky custard and can vary in sweetness depending on the recipe. Their shells can range from a super flaky crust to a shortbread puff pastry that is thicker, but still delicate and crisp when eating.
Who invented egg tart?
Egg tarts have been around since the medieval times in England (like deviled eggs!), where they were also known as custard tarts. In the 18th century, Portuguese monks had an excess of egg yolks due to using egg whites for starching clothes–they created the pastel de nata to use up all the egg yolks. It wasn't until the 20th century, when Hong Kong egg tarts came onto the scene through the Guangdong influence (which had British colonies in the 19th century). 
What is the difference between Portuguese egg tart and egg tart?
Portuguese egg tarts differ from Hong Kong egg tarts in their filling and crust. Where Portuguese egg tarts have an eggy, brulee custard filling that is sweet and cinnamon flavored, Hong Kong egg tarts use whole eggs and simple syrup, which gives it a lighter flavor and texture. Hong Kong crusts are also a crumbly tart shell that could be described as a combination between shortbread and puff pastry, while Portuguese egg tarts have a flaky and buttery crust.
Egg Tarts (Dim Sum Style)
Creamy custard filling with a flaky and buttery crust–this dim sum egg tart recipe will give you a nice combination of Hong Kong and Portuguese egg tarts at home.
Ingredients
Dough
210

g

or 1½ c all purpose flour

8

g

or 1 tbsp powdered sugar

3

g

or ½ tsp salt

200

g

or 14 tbsp cold butter

cut into 1-inch cubes

110

ml

or 4 oz sour cream
Filling
4

egg yolks

134

ml

or ½ c evaporated milk

78

ml

or 4 tbsp condensed milk

2.5

ml

or ½ tsp vanilla extract
Instructions
Dough
In a food processor, add the flour, powdered sugar, salt, and butter. Pulse a few times until the butter is the size of peas. Transfer to a large bowl and add the sour cream and stir gently so that the sour cream is incorporated. I like to use my hands towards the end so that I know the butter doesn't crumble too much. The dough should begin to take on a shaggy texture.

Transfer the shaggy dough onto a parchment sheet and form the dough into a ball. Take another parchment sheet and lay it on top of the ball of dough and then roll out your dough into a rectangle with about ¼-½ inch thickness.

Unwrap the top layer of parchment and make a tri-fold by taking the right side of the dough and folding it ⅓ of the way to the center. Then, take the left side and fold over the first fold. You should end up with a smaller rectangle. Cover the dough with the parchment paper and chill in the freezer for 15 minutes. Don't leave it in the freezer for too long or it will freeze and become too hard.

Once chilled and slightly hard, roll out the dough again to a larger rectangle and make a tri-fold one more time. Then chill in the freezer for 15 minutes before making your tarts.

To make the tarts, butter your cupcake pan or egg tart molds well to prevent sticking.

Roll out your dough to about ¼ of an inch with a circle cookie cutter that is the right size for your molds. For a standard cupcake pan, I used a 3 ¾ inch cookie cutter.

Carefully move the circles into the molds and press the dough firmly into each mold. Use a fork to prick the centers of each tart to prevent rising during baking. This should make at least 12 tarts. You may have extra scraps of dough that you can reshape into a ball and save this for future pastry puff recipes.
Filling
In a mixing bowl, combine the eggs, evaporated milk, condensed milk, and vanilla extract. Whisky thoroughly.

Run the egg filling through a fine mesh strainer at least twice to remove large pieces of egg yolks and air bubbles. This will give you a smooth filling.

Fill each tart shell about 75% of the way up to make room for rising during baking.
Baking
Preheat your oven to 400 °F.

Place your cupcake pan or egg tart molds on a sheet pan to help balance the tarts and for easy transportation. Place the tarts in the middle rack of the oven and bake for 10 minutes. At this point, the tart shells should rise and begin to brown on the edges, while the centers should be slightly jiggly.

Lower the temperature to 350 °F and bake for another five to 8 minutes or until the centers are firm, and before the edges burn. To test the centers, press a toothpick in the center of a tart. If it comes out smooth, then they're finished. If the centers are still wet, bake for another minute or two.

Remove the egg tarts from the oven, let them rest on the counter for about five minutes, and then remove them from the molds and onto a wire rack for cooling. Serve these egg tarts fresh, but you can also toast them the next day.
Nutrition Facts
Calories:
259.3
kcal
|
Carbohydrates:
19.2
g
|
Protein:
4.4
g
|
Fat:
18.5
g
|
Saturated Fat:
11.1
g
|
Cholesterol:
111.1
mg
|
Sodium:
129.4
mg
|
Potassium:
100.1
mg
|
Fiber:
0.5
g
|
Sugar:
5.7
g
|
Vitamin A:
604.2
IU
|
Vitamin C:
0.5
mg
|
Calcium:
72.1
mg
|
Iron:
1
mg
Like this recipe? Subscribe to my newsletter!