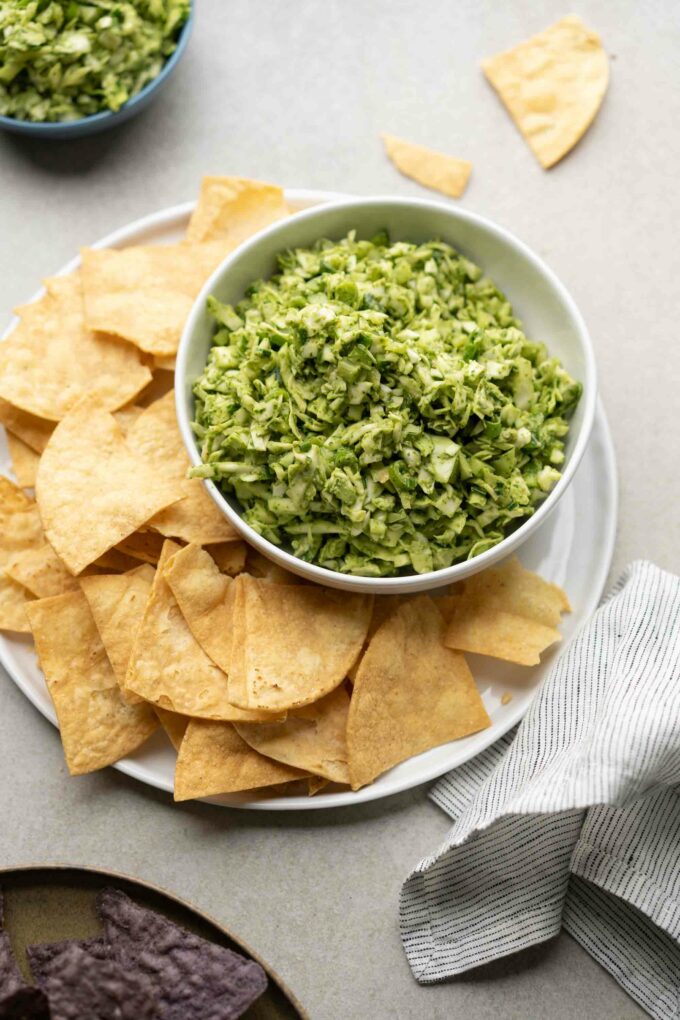 Crunchy, fresh, and tangy, this green goddess salad recently made waves on TikTok thanks to the creator Melissa Ben-Ishay of Baked by Melissa. This salad is full of fresh vegetables like chopped cabbage, cucumbers, and scallions; and it's also mixed with a vegan green goddess dressing!
What is green goddess salad?
What makes a green goddess salad is that it's made with its namesake dressing. Packed with lots of vegetables, green goddess salad can include so many different variations of greens like cabbage, lettuce, cucumbers, romaine, and more.
For the TikTok green goddess salad by Melissa, she uses a base of cabbage, cucumbers, chives, and green onion, but she states you can substitute other ingredients you have on hand like kale or lettuce.
Where did Green Goddess salad dressing originate?
Green goddess salad dressing was popularized by the Palace Hotel in 1923 in tribute to George Arliss' song "Green Goddess," but there are theories it originated from Louis XIII's chef in France who created sauce au verte. Since then, there have been many varieties where people adjust or substitute different ingredients, but one thing remains the same; The salad and salad dressing are green.
Ingredients in Green Goddess dressing
Traditionally, green goddess dressing includes ingredients like mayonnaise, tarragon, anchovies, and dill, but what we love about this salad is that it's healthier. This salad dressing has a base of extra virgin olive oil, basil, spinach, shallots, and nuts which means it's really a vegan pesto dressing. The greens also include green cabbage (or iceberg lettuce), cucumbers, chives, and green onions. 
What does Green Goddess salad dressing taste like?
There are many variations of green goddess salad dressing, but this version of the dressing tastes like a tangier and fresh type of vegan pesto. It's savory, herby, and full of acidity from the lemons and rice vinegar. We love it as a dip with chips or even in a chicken sandwich topping.
Tips for making this viral Tiktok Green Goddess salad
We recommend chopping the cabbage and other ingredients into small pieces so it's easier to eat (especially if you are using it as a dip with chips). Leaving the cabbage in long strips was hard to eat and mix with the dressing.
Clean the cabbage AFTER you chop it. This helps clean out the crevices of hidden dirt. Use a salad spinner to help soak the greens in water and then remove the excess liquid.
Chop the green onions as thin as possible if you don't prefer a bolder spicy flavor from the greens. If you want a stronger flavor, add the white sections and chop them into larger pieces.
Taste the green goddess dressing as you go so you can make adjustments based on your preferred flavors. To make it spicy, add some jalapenos. To make it tangier, add more lemon juice or rice vinegar. If you want a fattier flavor, add more olive oil, nuts, or even add avocados.
What is nutritional yeast?
Nutritional yeast is a deactivated yeast that is often used for its vitamin B nutrients, protein, and cheesy flavor. Many people who have dietary restrictions or are vegan like to use nutritional yeast as a cheese replacement. For this specific recipe, we also use nutritional yeast to add a cheesy, savory flavor instead of adding parmesan or other dairy cheeses.
It's important to note that nutritional yeast is NOT a substitute for active dry yeast or baker's yeast because it's deactivated and will not leaven dough. But if you are sensitive to yeast, you should refrain from eating it. You can easily find nutritional yeast in your spice or baking section. We typically buy this at our local grocery stores like Albertsons, Sprouts, or Trader Joe's.
If you loved this viral TikTok recipe, you should also try other popular recipes like baked feta pasta, crinkle dessert, TikTok ramen, grated egg avocado toast, pesto eggs, and the tasty salmon rice bowl.
TikTok Green Goddess Salad
Fresh, herby, and garlicky, this vegan green goddess salad has a pesto dressing base and is the best snack to go with chips. Discover what this TikTok salad craze is all about!
Ingredients
Salad base
1

small head

green cabbage

chopped

2

baby cucumbers

chopped

¼

c

minced chives

6

stalks

green onions

sliced thinly
Dressing
1 ½

c

fresh basil

packed

1

c

spinach leaves

packed

2

cloves

garlic

1

small

shallot

cut into quarters

½

c

chopped walnuts

⅓

c

nutritional yeast

2

tsp

kosher salt

3 ½

tbsp

juice of a lemon

2

tbsp

rice vinegar

6

tbsp

extra virgin olive oil
Equipment Used
knife

blender or food processor

strainer or salad spinner
Instructions
Slice the cabbage in half and remove the bottom stems by cutting them off in a V shape. Slice the cabbage into thin strips (about ⅛ inch). Then, chop the strips into bite-sized pieces. Put the chopped cabbage into a salad spinner or a strainer and rinse with running water to wash.

Wash all remaining veggies then dice the cucumbers, mince the chives, and cut scallions into 1/8" pieces.
Dressing
In a food processor or blender, combine all the dressing ingredients and blend until it's completely processed. The consistency should be thick and viscous. Taste the dressing and adjust if necessary. Add more lemon juice for more acidity, add more oil for more fat and less acidity, or add more salt.
Nutrition Facts (per serving)
Calories:
183.31
kcal
|
Carbohydrates:
9.88
g
|
Protein:
3.93
g
|
Fat:
15.55
g
|
Saturated Fat:
1.94
g
|
Polyunsaturated Fat:
4.62
g
|
Monounsaturated Fat:
8.34
g
|
Sodium:
603.42
mg
|
Potassium:
327.91
mg
|
Fiber:
3.99
g
|
Sugar:
3.99
g
|
Vitamin A:
838.6
IU
|
Vitamin C:
41.84
mg
|
Calcium:
69.56
mg
|
Iron:
1.34
mg
Nutrition Facts
TikTok Green Goddess Salad
Amount per Serving
% Daily Value*
* Percent Daily Values are based on a 2000 calorie diet.
Like this recipe? Subscribe to my newsletter!