Tender steak strips, fresh rice noodles, crunchy gailan, and fluffy eggs all stir-fried in a dressing of savory soy sauce, sweet oyster sauce, tangy white vinegar, and nutty dark brown sugar. This Thai homemade pad see ew recipe is an easy and quick dinner any day of the week!
Is there anything more satisfying than enjoying a hot stir-fried noodle dish like pad see ew and an iced cold glass of Thai tea? I don't think so either.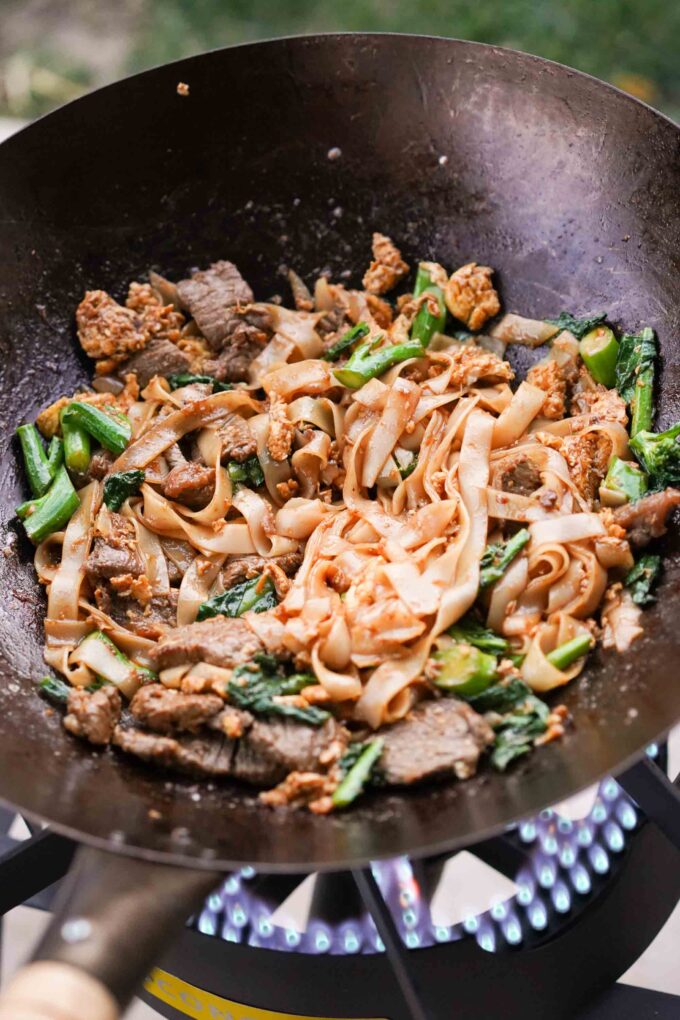 What is pad see ew?
Pad see ew translates to "fried (with) soy sauce" and is a Chinese-influenced stir-fried noodle dish popularized from Thailand. Just like pad thai, pad see ew is a street food staple and you'll see many Youtube videos featuring Thai cooks whipping up these flying noodles in a quick flurry.
Pad see ew sauce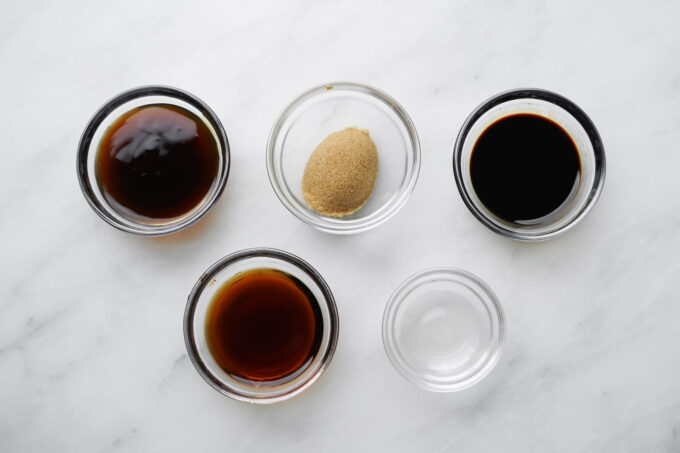 Pad see ew is seasoned with a soy sauce base in addition to oyster sauce, vinegar, and sweetened with sugar. It's a very simple seasoning that is easy to stir up and adjust to your personal preference.
While you can use any type of soy sauce, there are also Thai brands for both that are a little different from traditional Chinese brands because they're not as salty due to the added sweetness. For this recipe, I used Healthy Boy brands of thin soy sauce and dark soy sauce. I also used Maekrua brand oyster sauce.
Pad see ew ingredients
Rice noodles
The noodles for pad see ew is one of the most important parts of this dish. Traditionally, pad see ew noodles are wide, flat rice noodles that have slightly crispy edges from stir-frying. You can use "fresh" or dried rice noodles for this recipe, however, it's best eaten with wide noodles.
The type of "fresh" noodles I use for this recipe are pre-made and pre-cooked rice noodles from the grocery store that don't require boiling to eat and they are typically in a non-refrigerated aisle or section. You can eat them straight away out of the bag. Please note, there are "fresh" noodles that STILL require boiling, but these are not the same type of noodles. Make sure to read the labels on the package before buying.
They come in different sizes (from full sheets to pre-cut noodles) and are similar to the rice paper sheets you eat at Korean bbq or cheung fun. I prefer buying the full sheets of fresh rice paper because I can cut the noodles how wide I want them. You can find these pre-made rice noodle sheets at H-Mart, 99 Ranch, and other Asian grocery stores.
Meat and other ingredients
Authentic pad see ew typically includes beef cuts of steak, but you can also use different types of protein-based on your preference: chicken, pork, shrimp, or tofu. For this recipe, I used flank steak because it was affordable and I was able to marinate it to give it extra flavor.
The other ingredients include gailan (or Chinese broccoli), eggs, and garlic.
How to make pad see ew
To make pad see ew, it's best to use a wok because it's great for stir fry and leaves enough room to combine all the ingredients, as well as give you enough heat to sear the noodles and steak to get crisp and crunchy edges.
Here are some tips to get flavorful pad see ew at home:
Marinate your steak while you prep your other ingredients, this will give you extra flavor
Separate the stems and leaves of the gailan and cook them separately. Since the stems take longer to cook, this will prevent you from overcooking the leaves. 
Set aside the cooked meat and gailan while you cook and season the eggs and noodles. This will prevent you from overcooking the meat and properly coat the noodles. 
Let the ingredients sit on the wok for about 30 seconds after mixing it together to allow the noodles to get a crisp sear. 
If you want more Thai dishes with your pad see ew, I would recommend a flavorful bowl of Panang curry, Thai basil fried rice, and finish it off with a tasty mango sticky rice dessert.
Common questions
What's the difference between pad Thai vs pad see ew?
Pad Thai is also a famous Thai dish that is made with meat and rice noodles, however, it's made with a tangy tamarind-based sauce, whereas pad see ew is made with wider rice noodles and includes a soy sauce-based seasoning.
Is pad see ew the same as drunken noodles?
Drunken noodles (or pad kee mao) differs from pad see ew because it's made with lots of chili peppers and holy basil, which makes it much spicier than it's milder cousin.
What does pad see ew taste like?
Authentic pad see ew is mild in spice and has a salty, savory, and sweet flavor from the soy sauce, oyster sauce, and brown sugar seasoning.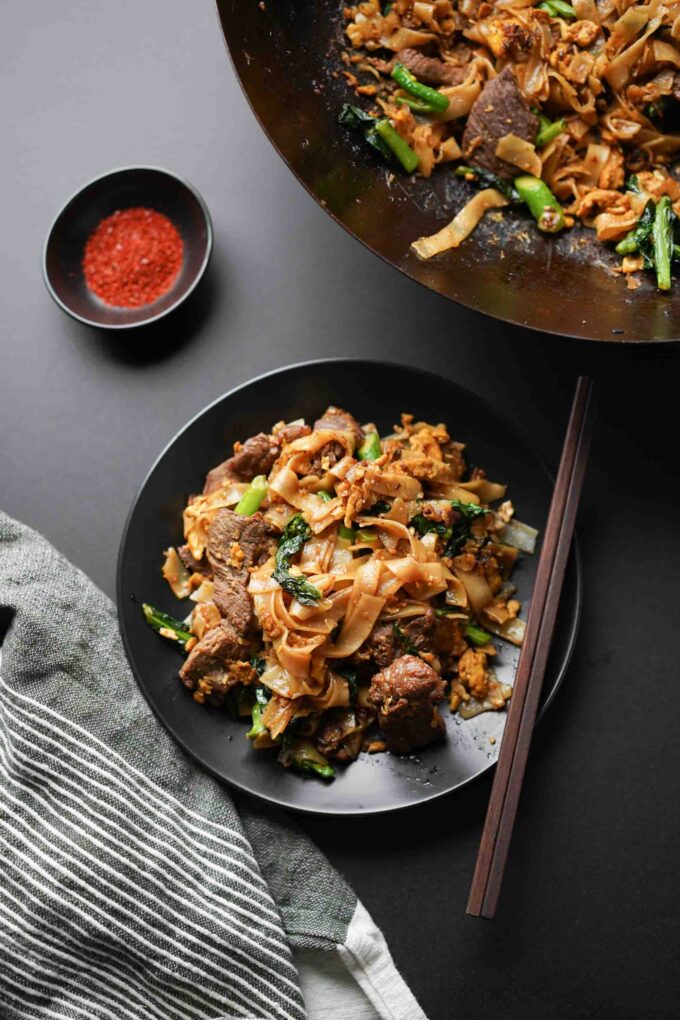 Pad See Ew (Thai Stir Fried Rice Noodles)
Slightly seared rice noodles, tender steak pieces, and crisp gailan in a savory soy and oyster sauce–this pad see ew recipe is easy to make at home and is just like your favorite Thai restaurant dish.
Ingredients
Vegetables & assmebly
156

g

(

6

stalks

)

gailan

chopped into 2 inch pieces & separated stalks from leaves

15

g

(

1

tbsp

)

garlic

minced

3

large eggs

350

g

(

12

oz

)

fresh wide rice noodles

170

g

(

6

oz

)

OR dried wide rice noodles

25

g

(

2

tbsp

)

vegetable oil
Equipment Used
saute pan or wok

wok spatula

large bowl
Instructions
In a bowl, combine the meat and soy sauce. Mix until all parts of the meat are covered and marinade for 20 minutes while you prep the rest of the ingredients.

Sauce: Combine all the liquid ingredients (dark soy sauce, light soy sauce, oyster sauce, and white vinegar) and stir together. Set aside the liquid. You will sprinkle the brown sugar in the wok directly.

Vegetables: Clean the gailan by submerging it under water and drying it off. Chop the gailan into 2 inch pieces and separate the stem from the leaf pieces. Mince the garlic.

Noodles: If you purchased fresh rice noodles in sheets, cut to your desired width and separate noodles by hand. If you purchased dried wide rice noodles, follow the packaging instructions and cook the noodles. Once cooked, drain them from the water and set them aside.

In a large saute pan or wok over medium-high heat, add half of the oil and all the garlic. Cook the garlic for about 30 seconds or until it becomes fragrant. You only want to lightly brown the garlic since it gets more fry time later.

Add the marinated meat and cook for about 1 minute or until it's slightly browned, but not completely cooked (aim for about 75% cooked).

Add the gailan stems and cook for about 30-60 seconds so they almost reach complete doneness.

Then add the gailan leaves and cook until they're wilted. Then transfer the meat and gailan into your large bowl just to stop these ingredients from cooking.

Add the rest of the vegetable oil onto the wok and crack the eggs into the wok. Use your spatula to whisk the eggs until they're almost fully cooked and scrambled.

Add the noodles into the wok. Add the sauce and sprinkle the brown sugar. Gently toss all the ingredients in the wok to fully coat the noodles in sauce, and to slightly break up the egg pieces.

From your large bowl on the side, add all the cooked meat and gailan, but do not add the liquid that has settled at the bottom of the plate. Toss all the ingredients.

Crank your heat to high and lightly toss a few times occasionally, aiming to get some browning on the noodles. Make sure not to burn the pad see ew, and take care not to break the noodles when tossing since they are very fragile.

Taste test the noodles, add additional seasoning if needed and serve immediately.
Nutrition Facts
Calories:
546.11
kcal
|
Carbohydrates:
81.85
g
|
Protein:
22.99
g
|
Fat:
12.87
g
|
Saturated Fat:
7.48
g
|
Trans Fat:
0.01
g
|
Cholesterol:
158.01
mg
|
Sodium:
1455.35
mg
|
Potassium:
321.21
mg
|
Fiber:
2.06
g
|
Sugar:
4.19
g
|
Vitamin A:
866.77
IU
|
Vitamin C:
36.97
mg
|
Calcium:
88.57
mg
|
Iron:
2.81
mg
Like this recipe? Subscribe to my newsletter!