This Panang curry recipe is one of Thailand's most popular dishes and it's known for its bright and zesty makrut lime, fatty coconut milk, and various other seasonings.
With this recipe, you'll learn how to make Panang curry paste from scratch using a mortar and pestle (or a food processor) so you can make a flavorful and tender beef Panang at home anytime.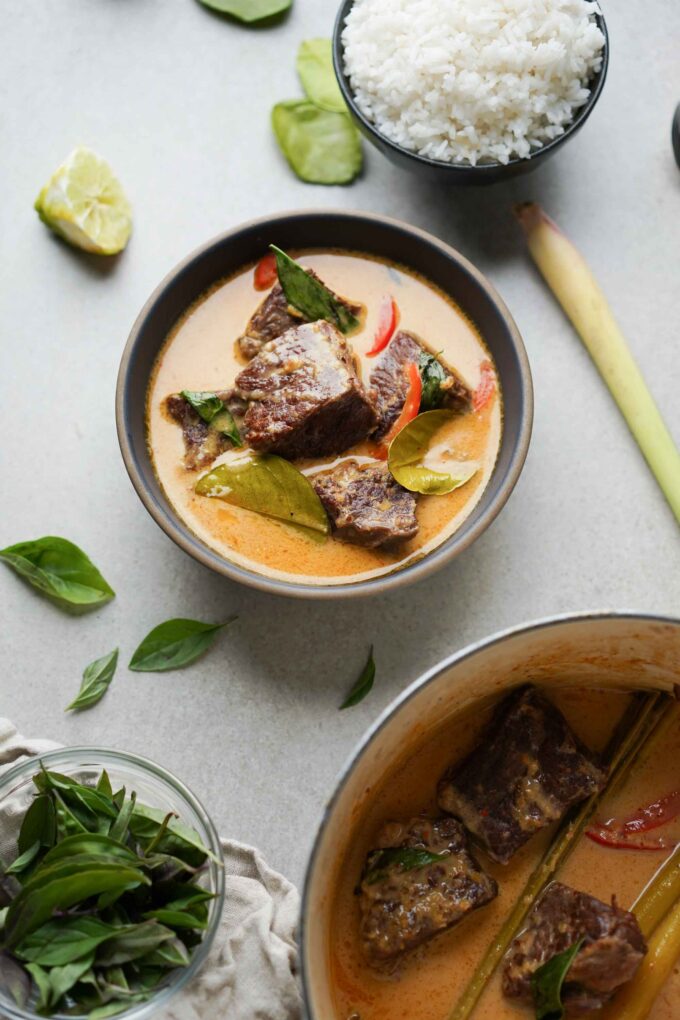 What is Panang curry?
Panang curry, or sometimes called phanaeng, originates from central Thailand and dates back to the 19th century. This authentic red curry is made with chile pepper, makrut lime (also known as Thai lime) juice and leaves, coconut milk, and other seasonings. All of these ingredients give it a zesty, sweet, salty, and nutty flavor. Although it's red in coloring, it can be significantly lower in spiciness than other Thai red curries.
The type of Panang we're making here
My favorite beef Panang is from a local restaurant, Thai Nakorn, and it's hands down the best in meat tenderness and flavor. This version of beef Panang is somewhat different from any other versions I've tasted from other restaurants, but stick with me.
I love the way this restaurant does it because it uses thick and tender braised cubes of meat. The large cuts make for a more impressive presentation. And they include veggies and herbs you don't really see in other Panang curries, like slices of bell peppers slightly cooked but still crunchy (instead of chile peppers), and they top it with amazingly aromatic Thai basil. I love getting some of the basil in with each bite since its strong flavor and aroma, like in phở, goes so well with the dish.
Ingredients in Panang curry
In traditional Panang curry, there are various different ingredients in both the paste and the overall curry. I like to make Panang paste from scratch and use shallots, red chile powder, lemongrass, roasted peanuts, garlic, galangal, makrut peels, cumin powder, coriander, and shrimp paste. For the curry itself, I combine the paste with coconut milk, palm sugar, fish sauce, makrut lime leaves, and juice.
The curry paste to use
While there are obviously a lot of different ingredients to make the Panang curry paste from scratch, you can also use premade Panang paste from the grocery store.
Premade curry paste
If you don't have time or resources to find the ingredients, you can easily find premade Panang curry at your local Asian grocery store. A popular brand is Aroy-D – Panang Curry Paste.
Homemade panang curry paste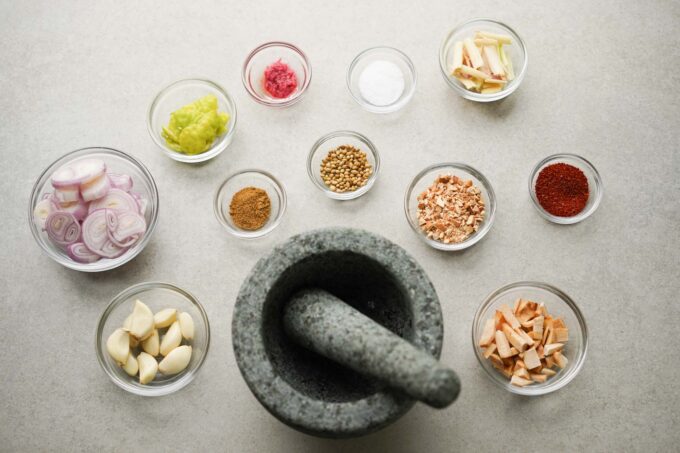 I like to make the paste from scratch when I have time so I can customize different flavor profiles. To make the paste, I use a traditional mortar and pestle to make sure all the ingredients are fully combined. I've previously used a food processor and this works too, you may have to scrape the sides down and process a dozen times to get a thick paste consistency.
This recipe makes two separate servings for Panang paste so you can have some for a future date and save time!
Protein options
My favorite type of Panang curry includes beef, but you can also use chicken, fish, or tofu if you prefer. Traditionally, beef Panang has strips of beef cuts like chuck roast (or really any type of beef you prefer), but I found that most strips of beef were not tender enough and dried out.
Cuts of beef to use
For this recipe, I'm using beef short rib and cutting it into large cubes, searing them, and braising it in a seasoned coconut milk/water mixture for over an hour to make sure it's super tender and flavorful. I've made this with leaner cuts of beef, but even after braising for a while it does get soft, but I miss the fattyness. Beef short ribs (there's no bones in this) get super soft and are more tender due to the higher fat content–it's not a cheap cut but I love it for this.
How thick to cut the meat
The thicker you cut the meat, the longer you'll have to braise. Thicker cuts look nice for presentation in my opinion and braising it still gives you super moist, tender, and flavorful pieces of beef.
If you don't have time to braise the meat you can also cook the meat traditionally by cutting it into thin strips and cooking it in the curry towards the end of the cooking time. However, I would make sure to watch over the meat while cooking to prevent it from overcooking.
How to make Thai panang curry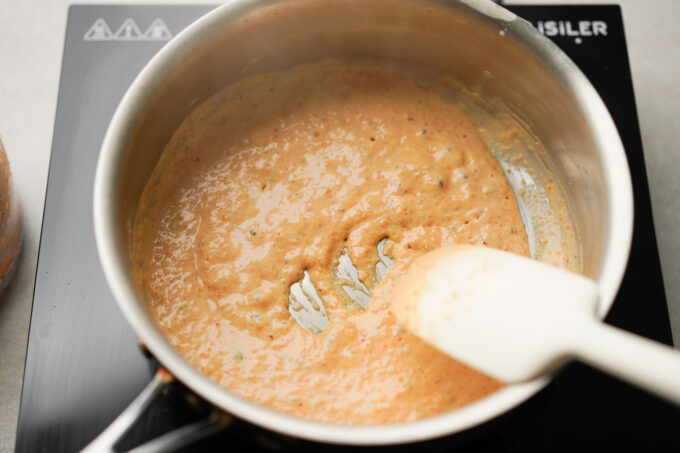 Once you have your Panang paste and braised meat, you can start making the curry! What's interesting about making Panang curry is that you actually cook a portion of the coconut milk and paste down to get an even more concentrated flavor. Then, you add the palm sugar, fish sauce, red bell peppers, and makrut leaves, and juice to mix.
I then add all this curry liquid to the braising pot with the meat in order to keep all those flavorful juices in the curry. I simmer for an additional 10 minutes to make sure all the flavors marry together. Top with Thai basil and serve.
Serving and storage
I love serving beef Panang curry with jasmine coconut rice because it's a light and mild flavor to pair with the curry. These taste so good together–you'll definitely want to make it again and again. If you prefer, it goes just fine with plain jasmine rice too.
Panang curry is best served with an iced cold glass of Thai iced tea and if you love dessert, you'll love to end your night with mango sticky rice, too. If you have any leftovers, I keep them in an airtight container for about 3-4 days and reheat using a microwave.
For other types of curries, you can also make butter chicken or Vietnamese chicken curry (cà ri gà).
Thai Panang Curry w/ Beef & Vegetables
Buttery, zesty, and savory, this beef panang curry recipe is one of Thailand's most popular curries and it'll be yours too!
Ingredients
Meat braise
660

g

beef

short rib preferred, or chuck, etc

salt

for seasoning beef

vegetable oil

for searing

946

g

(

32

fl oz

)

filtered water

113

g

(

4

fl oz

) coconut milk

full fat

3

g

(

1

tsp

)

salt

for seasoning braise

lemongrass stalks

just the greens from leftover panang paste
Panang paste (this makes 2 recipes worth of paste)
2

g

(

1

tsp

)

coriander seeds

17

g

(

2

tbsp

)

roasted peanuts

16

g

(

1

stalk

)

lemongrass

yellow center pieces

83

g

(

2

)

shallots

sliced

25

g

(

1

inch

)

galangal

peeled and chopped

4

g

(

½

tbsp

)

dried chile powder

22

g

(

7

cloves

)

garlic

11

g

(

1

medium

)

makrut lime peels

2

g

(

1

tsp

)

cumin powder

7

g

(

1

tsp

)

shrimp paste

3

g

(

1

tsp

)

salt
Curry
282.5

g

(

1 ¼

c

) coconut milk

full fat

22

g

(

2

tbsp

)

palm sugar

5

g

(

1

tsp

) fish sauce

3

makrut lime leaves

9

g

(

1

medium

)

makrut lime juice

add more if necessary

red bell pepper

optional (julienned)

Thai basil

optional
Equipment Used
mortar and pestle or food processor/strong blender)

knife and cutting board

stock pot or dutch oven

saute pan
Instructions
Panang paste
In a mortar and pestle (or food processor), grind the coriander seeds and peanuts. Add each ingredient one by one to the mortar until all the ingredients form a thick paste. I had to open the food processor lid and scrape down the sides about a dozen times until everything was processed evenly.
Nutrition Facts (per serving)
Calories:
717.21
kcal
|
Carbohydrates:
19.7
g
|
Protein:
34.76
g
|
Fat:
56.89
g
|
Saturated Fat:
31.73
g
|
Trans Fat:
2.03
g
|
Cholesterol:
137.1
mg
|
Sodium:
926.6
mg
|
Potassium:
854.78
mg
|
Fiber:
1.77
g
|
Sugar:
5.4
g
|
Vitamin A:
304.56
IU
|
Vitamin C:
4.63
mg
|
Calcium:
98.47
mg
|
Iron:
7.96
mg
Nutrition Facts
Thai Panang Curry w/ Beef & Vegetables
Amount per Serving
% Daily Value*
* Percent Daily Values are based on a 2000 calorie diet.
Like this recipe? Subscribe to my newsletter!