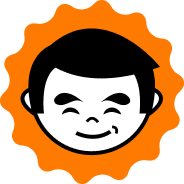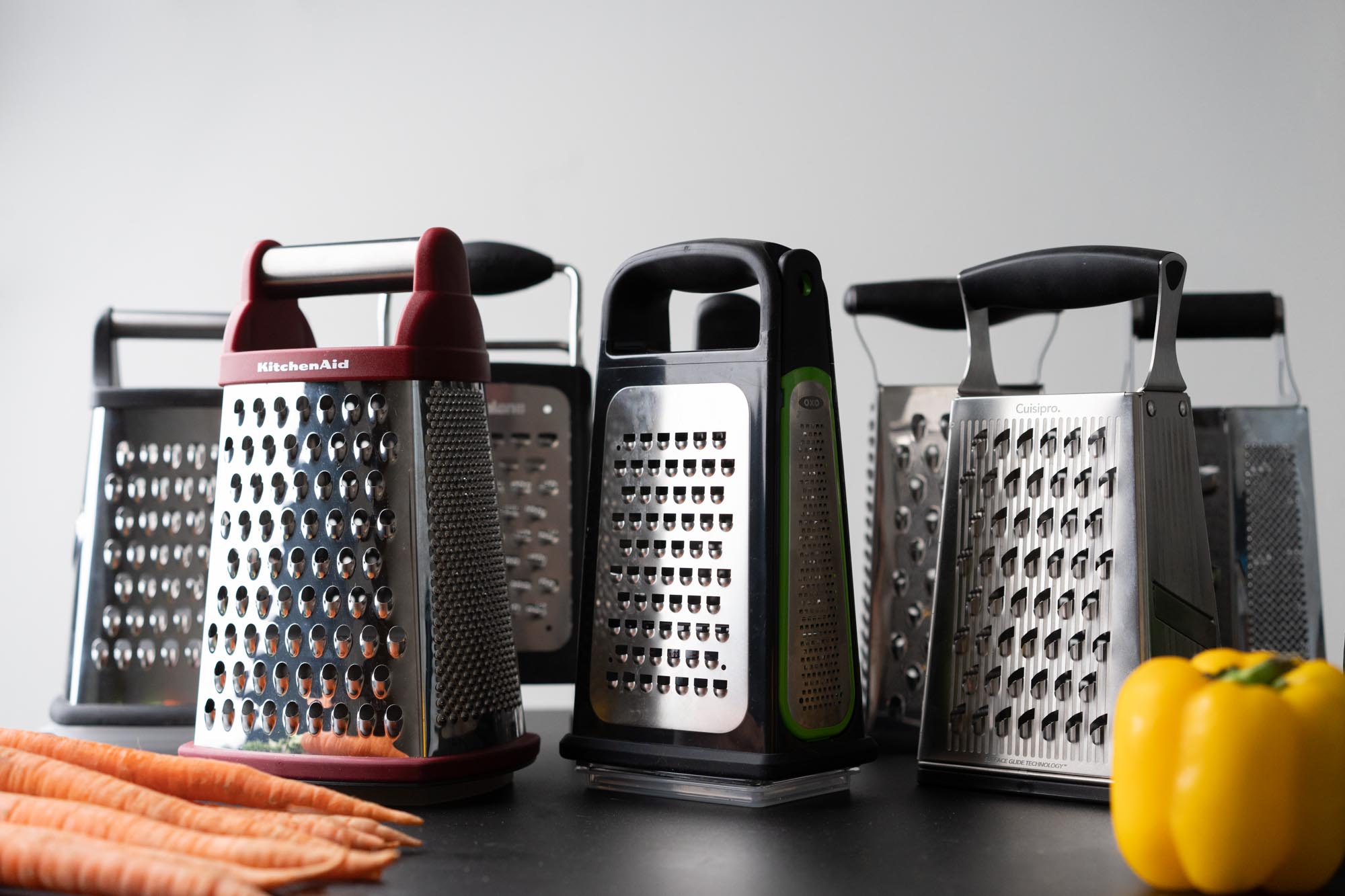 After testing eight box graters, I was surprised by the notable differences between them. A few were made of a high-grade stainless steel and had razor-sharp grating blades that could easily rip half your finger off. This better type of box grater – like KitchenAid, OXO Good Grips, and Cuisipro – could also turn out slices, discs, half-moons, and curls of vegetables. You don't have to spend a lot of money on a good box grater. But I recommend not buying the under-10-bucks variety, which are cheaply made and have dull grating blades.
Grate Expectations
KitchenAid
This one hit all the marks
One of the kitchen tools that everybody thinks they need is a box grater. You've seen it in your mom's kitchen, your grandma's kitchen, and it's been passed down anecdotally for ages as a must-have since – believe it or not – the 1540's when a wily Frenchman invented it for shredding rock-hard cheese.
Box graters are often simply called cheese graters because that's mostly what people use them for. The design of the box grater hasn't changed much since the 16th century, but it's definitely been improved upon, so you can do a lot more with one than shred Parmesan.
The eight box/cheese graters I tested
How I tested
I tested each box grater with bell pepper, carrot, zucchini, and, naturally, Parmesan. I ran them through every side of the grater – usually, a slicer, coarse-, medium-, and fine-grating – and three box graters were clearly the top performers, while the five others delivered mixed or terrible results. I noted how sharp each was, how much each grater yielded, and how easy each one was to clean.
Box graters are notorious for cutting fingertips and knuckles, so you should also invest in a pair of cut-resistant gloves. They're not expensive and will protect your hands from injury.
See below for a ranking of how each box grater performed.
1. KitchenAid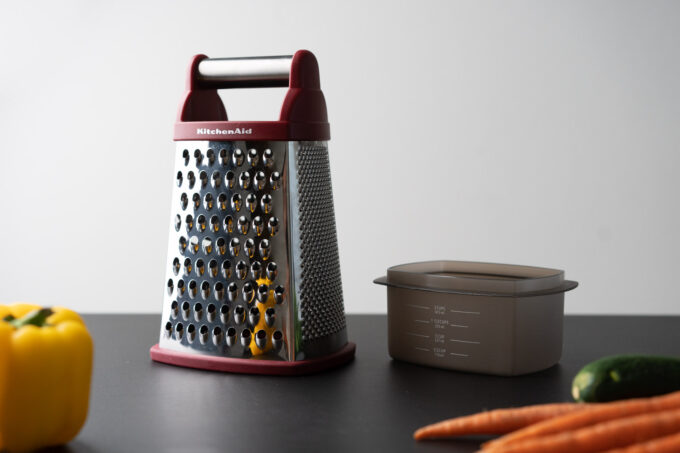 As box graters go, the KitchenAid hit all the marks and made slicing and grating vegetables and Parmesan incredibly easy. The KitchenAid is one of the largest that I tested, standing at 10-inches tall and 6-inches wide, so it takes up a bit of cabinet space. But that's the only gripe I have about this terrific box grater.
It's made of a sturdy, high-grade stainless steel and has a substantial stainless-steel handle that allows for a firm grip. The KitchenAid has four sides – a 3-inch-wide slicer and coarse, medium, and fine grates – all of them exceedingly sharp. (So wear those cut-resistant gloves!) The KitchenAid was one of the few graters that could slice red bell pepper evenly and slice carrot and zucchini into perfect thin discs.
The coarse grater made beautiful thin ribbons of zucchini, and the Parmesan grated on the extra-fine blade was effortless. A durable plastic 2-cup storage container is included, and it can be snapped into the bottom of the grater to catch what you're grating.
I had to use a fine-tipped knife to pick out grains of cheese from the fine grating blade, but other than that, the grater rinsed clean in seconds. The KitchenAid box grater is one of the highest-rated on Amazon and for good reason.
2. OXO Good Grips
The OXO Good Grips box grater is slightly smaller than the KitchenAid, but because it's only 3-inches deep, it's much easier to store away in a cabinet or drawer. The grater is mostly made of hard plastic, but its four grating blades are brushed stainless steel.
The blades have an interesting design; instead of the usual holes, they're tiny rounded squares. Aesthetically it's quite attractive (who knew a box grater could be pretty?), but don't let its good looks fool you, the grating blades are surgically sharp.
The slicer is just 1.5-inches wide, so though it could slice through bell pepper like paper, it just isn't wide enough to get long strips. But the grater was excellent in slicing the carrot and zucchini with precision. A nice feature is that the fine grater is actually a removable zester, which gave me powdery citrus zest and ethereal wisps of Parmesan that would melt on contact with hot pasta. The OXO box grater also comes with a container cup that stays secure when you're grating.
3. Cuisipro
The Cuisipro box grater is almost entirely made of a high-grade, brushed stainless steel. It's attractively etched with what the company calls "surface glide technology," which I'm not sure actually affected how the grater grated.
I liked the design choice of etching cup and milliliter measurements on opposite sides, but it's doubtful whether I would grate anything to the top. The removable base – which doubles as a ginger grater – stabilizes the grater and collects what's grated.
The slicer is 2.25-inches wide and made cut paper thin (⅙-inch) slices of all the vegetables. The three grating blades are very similar to the OXO, and I got almost the same results but with a little more effort, which is why I question whether the surface glide technology works.
The ginger grater is a hard-plastic oval with tiny raised pins that was designed to shred ginger and leave the fibers behind. I was pleasantly surprised that this nifty add-on did what it was supposed to. The Cuisipro is pricey for a box grater, but it was one of the best that I tested.
4. Cuisinart (large)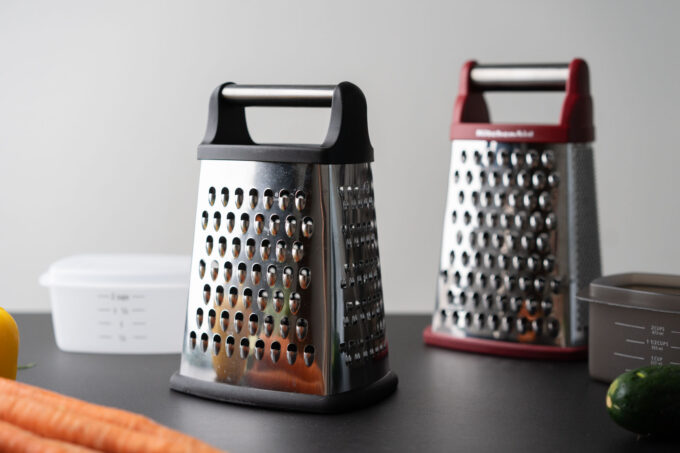 At first glance, the Cuisinart large box grater looks pretty identical to the KitchenAid model, and although it was a decent performer, it doesn't seem to be as well-made. The Cuisinart is approximately the same size as the KitchenAid and also has a wide slicer and three grating sides.
The Cuisinart differs in that its medium grating blade has up and down ridged holes that allow you to grate faster by running the vegetable or cheese up and down. This medium grater is for fine shredding, which is what it did to the vegetables, turning them into a chunky puree. It did a better job, though, in grating the cheese. The slicer made mincemeat out of the bell pepper, but it cut the zucchini and carrot into even ⅛ -inch slices.
The coarse grater pulped the bell pepper but made nice zucchini julienne and carrot shreds. It took a lot of effort to grate the Parmesan on the fine grating blade, and I preferred the texture and consistency of the cheese shredded on the medium grater, which was much easier to use.
The Cuisinart comes with a 2-cup container for capturing shreds, but it made the box grater unsteady, so it's better for storage. Because the grating blades aren't as small as other graters, the Cuisinart was very easy to rinse clean.
5. Spring Chef
The Spring Chef is another large box grater, but just by the feel of it I could tell that it's cheaply made. The wide slicer did a good job with slicing carrot and zucchini 1/16-inch-thick discs, but the rather dull blade couldn't even handle the skin of the bell pepper.
Both the coarse and medium graters were good for shredding zucchini and carrot, but grating cheese on the fine grating blade was hard-going. The biggest issue I had with the Spring Chef is the rubberized non-slippage bottom, which, instead of keeping the box grater flat, made it rock back and forth.
6. Microplane
One of the most expensive box graters I tested was the Microplane model. Its best feature is the removable fine grating blade that makes cleaning the box grater easy. Weirdly, the fine blade doesn't have a handle so it can't be used independently, like the OXO Good Grips fine blade.
The first problem I noticed is the grater's pronged, rubberized feet, which gave no support, so I could only use the grater by holding it at an angle. The Microplane grater is basically three microplane zesters and a slicer. The slicer didn't seem sharp enough because it destroyed the red pepper, and the sliced carrot and zucchini had ragged edges.
The medium blade is supposed to cut zucchini ribbons, but it was difficult to use and just produced thick shreds. All three grating blades were great with the Parmesan, so essentially, the Microplane box grater is just a pricey cheese grater.
7. Cuisinart (small)
This inexpensive Cuisinart box grater – or "boxed" grater as Cuisinart oddly calls it – or a similarly cheap version, is the one found in most people's kitchen cabinets that they rarely use. It has a good size handle that's easy to grip and a rubberized non-slippage base that keeps the grater steady on a cutting board.
I'm not sure why this Cuisinart model has three slicing blades because it made a jagged mess of the vegetables.The coarse grating blade is supposed to render julienne, but that didn't happen – I just got long shreds. The medium grating blade pulped everything and proved useless. The fine grating blade was okay with the Parmesan, but wow, it took effort to get a tablespoon out of it.
Worst of all, this box grater was truly a pain to clean. I had to use a fine-tipped knife to pry stuck cheese bits out of the grating holes.
8. Utopia Kitchen
Utopia Kitchen probably went with the "more is more" philosophy by creating a six-sided box grater. Instead of one slicing blade, you get a second with ridges for making crinkle-cut slices, like bread-and-butter pickles, and it has four grating blades, which were mostly ineffectual because the blades are quite dull.
Like the standard-size Cuisinart grater, the Utopia Kitchen also has three slicing blades per side. Since only the uppermost blade was usable, the other two are superfluous. I liked the idea of the wavy slicer, so I was disappointed that it didn't cut evenly.
The three grating blades performed well without too much elbow grease, but I couldn't even get a ¼ teaspoon of zest from the zester blade. You can pick up the Utopia Kitchen box grater for under 10 bucks, but honestly, this one's definitely "you get what you pay for."
Conclusion
After testing the eight box graters, I was surprised that a few of the name brands weren't that great. After all, they've been in the kitchen-tool business for decades, so you'd think they would have perfected something as simple as a box grater by now.
Cuisinart disappointed me the most. The higher-end model was middle-of-the-road in slicing/grating vegetables, and although it had a couple of the same features as the much better KitchenAid, the Cuisinart seemed like a pale copycat. The cheaper Cuisinart was even worse: poorly made and difficult to use.
The other name brands – KitchenAid and OXO Good Grips – did what a box grater is supposed to do. I had a minor issue with each one, but overall I'd use both on a daily basis.
A relatively new kid on the block is Cuisipro, a Canadian company that markets itself as an innovator of kitchen gadgets. I really liked this box grater; it's pricey but well-made and aesthetically pleasing as well.
There are a few things to look for when buying a box grater:
It should be made of sturdy, high-grade stainless steel, which is durable and can withstand regular use.
Cutting blades need to be extra sharp so it slices with ease and precision. As I said earlier, get a pair of cut-resistant gloves. Without them, you'll be prone to getting cut, especially by my top three picks.
You don't need two or three slicing blades. A wide, single slicing blade will give you very thin slices of any vegetable in seconds.
You want a box grater that stands flat and doesn't rock back and forth.
Finally, avoid the cheapo box graters. They're poorly designed and constructed, and you'll only get frustrated by the mess they'll make of your organic veggies and aged cheese.