Let's be clear, like most ideas with my family, this all started as a joke. We would daydream about all the elements we'd need to make the joke or dream happen. On this rare occasion, the planets aligned and we turned joke into reality. The Costco party seed was planted.
This is NOT a sponsored post, unfortunately. This post is NOT endorsed by or in any way affiliated with Costco, this entire post and party we threw as a parody for fun, and to celebrate our inability to avoid shopping at the warehouse.
Props: creating the Costco warehouse vibe
Over a few weeks while we discussed the props and food needed for this party we kept getting sidetracked for a little-big party (another party for another time). We slowly accumulated props for this party at World Market, a restaurant supply store called Chef's Toys, and of course, Costco.
We knew we needed to recreate the pillars of the Costco experience with the food sample station. This meant
red plastic lunch food trays
mini plastic and paper food sample cups
wooden toothpicks
mini wooden spoons
disposable cups for drinks or soup
disposable plates and bowls
aluminum foil for wrapping hot dogs
restaurant style spring-loaded napkin dispenser
Chef's Toys came in clutch stocking most of this stuff, and we got the rest at the other two stores!
To add some more authenticity to the whole experience we scored some Costo nametags. You'd have to work there to get these OR do like we did and find a friend who kept all his name tags (thanks Drew!).
We printed new names and taped them over Drew's nametags for a relatively clean look.
If you were so inclined, you really could get custom ones made as the design is pretty simple!
Signage: product price and info printouts
Buying the props wasn't enough. What would a Costco party be without the product price signage you see next to every product in the warehouse? We joked about putting up signs for the random items around the house and tasked our cuzzo designer Ham with the job.
On the day of the party, there was radio silence on whether or not she was going to make them. Little did we know she was trying to keep it a secret and we soon found out why.
Ham painstakingly created a template based on photos at Costco but with a twist. Each one of the signs was poking fun (or releasing communal pent-up rage) at the ridiculous items in the house. What good party gets thrown without dishin some dirt?
Even the baby got a sign–this leads us to the outfits!
Outfits: sweatshirts & foodservice uniform
There are very specific attire Costco employees, and the people working the food sample stations wear. Here's everything we got for the party:
black, white, gray sweatshirts mostly from Target
BYO t-shirts to iron on logos
red kitchen apron
make-shift hair net with a plastic bag
plastic foodservice gloves
We tried getting the official Kirkland/Costco sweaters but planned this party way too last-minute. For some reason, these were sold out everywhere, and being sold at a premium on 3rd party sites. What!!
Luckily our generous friend lent us a Cricut machine and we made our own! We found a free vector file of the Costco Wholesale logo online and imported it into the Cricut software. We did some test cuts and test iron-ons and we were off!
A week prior we ordered a bunch of black sweatshirts online at Target for this. Wrangling a big group for their specific sizes is quite the task lemme tell ya…
A bunch of us brought our own clothing to iron-on the logo too, cutting down costs.
Food: only appetizers and food sold at Costco
The rules we laid out for the food were to only serve things sold at Costco. Whether it's in the warehouse or the food court, it was fair game. So obviously to do this part you'd need a Costco membership. We think its worth it obviously, but you can read my other post to find out if getting a Costco membership is worth it for you.
We knew we had to do sample cups. Something savory, something sweet, something soupy. But we also had larger plates and bowls, so we didn't have to waste dozens of cups per person just to enjoy a full meal!
Here are all the appetizer ideas we considered getting for this party:
Royal Asia Vegetable Spring Rolls – my aunt regularly uses these in her Vietnamese rice noodle bowls
smoked salmon sampler pack – I tried this recently and they are RICH and smoky–quite amazing.
cold cuts and cheese party pack – for minimal effort and high quality snacks
pre-cut fruit – because I'd rather eat this than the veggies 🙂
roasted chicken & Swiss cheese rollers – in the deli section
sushi or poke – also in the deli section
6 or 7 layer dip – in the deli section with a big Costco sized bag of tortilla chips of course
Here's my sampler platter of almost all the food we ended up serving. See below for all the food we got!:
Trays of samples ready for the taking.
The price here may be off by a dollar or so, but the Costco rotisserie chicken was a must-have.
We got standard foil and not the fancy paper-lined foil they use at Costco, but it did the trick.
Even served them in drink cups, with a buncha condiments on the side. Ever since the pandemic started they nixed their onions at the food court, which I sorely miss.
Who else does loops to come back for seconds on their favorite samples at Costco? At this party though, samples can be taken guilt-free.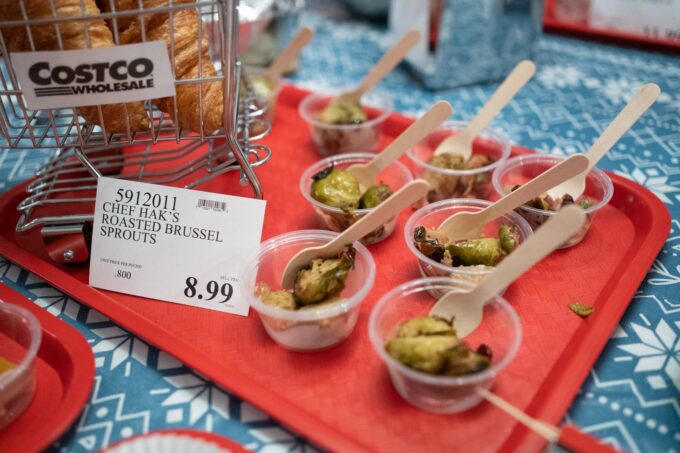 How do they sell their massive pumpkin pie for five bucks? I'm not sure either but it's more fun to eat it in a sample size.
Tiramisu samples, WAY cuter, where's the tea?
Conclusion: the party was a smashing success. Despite not following through on making people show membership cards to enter the house, and despite NOT getting Costco pizza or chicken bake (we threw this on a holiday and would have had to buy and eat days old foodcourt food!) we had a blast.
This was a massive group effort, and even relative to other parties we've thrown where we cook the food from scratch, this pre-made food party was a lot of work, but a lot of fun! Tell your friends, and please share with me your next Costco party :).
Like this recipe? Subscribe to my newsletter!