This is love in a bowl. If you've had bún thịt nướng you know what I'm talking about.
You have your sweet bits, sour bits, caramelization, some crunch, and aromatic herbs in a single, colorful arrangement. This was one of the more popular dishes at my mom's restaurant back in the day!
Depending in which restaurant you order your grilled pork with noodles (bún thịt nướng), you'll find that it's presented in different ways.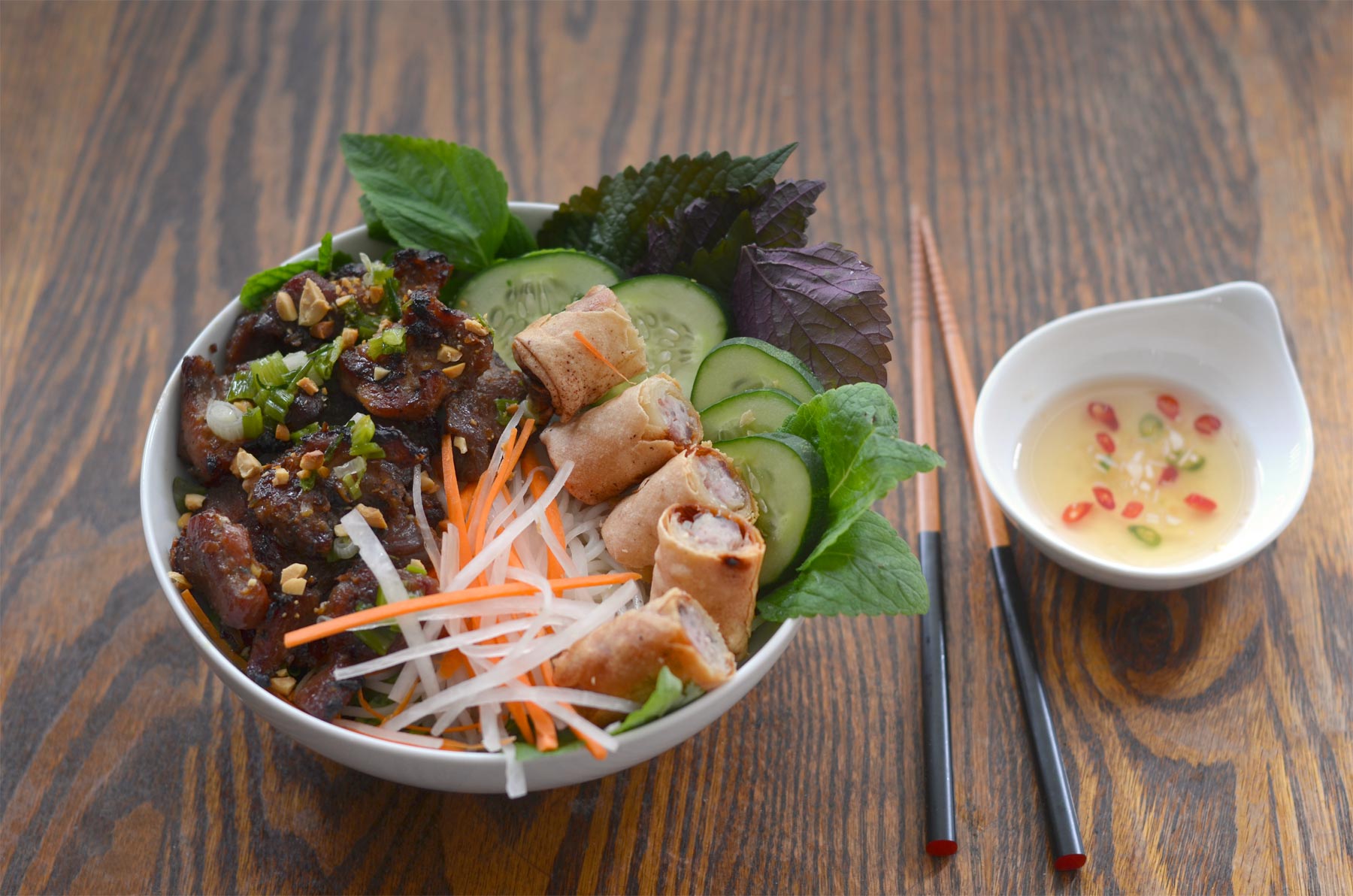 For the most part, ingredients are the same, and they're both eaten with prepared fish sauce (nước chấm).
Thịt nướng litererally means baked or barbecued meat and in this case it's traditionally barbecued, and the meat is always pork. You could probably do this with beef or chicken if you prefer and it would work too.
Bún (pronounced like boon) means noodles, and for this dish it's a rice vermicelli noodle which is sold in small packages as dried rice sticks.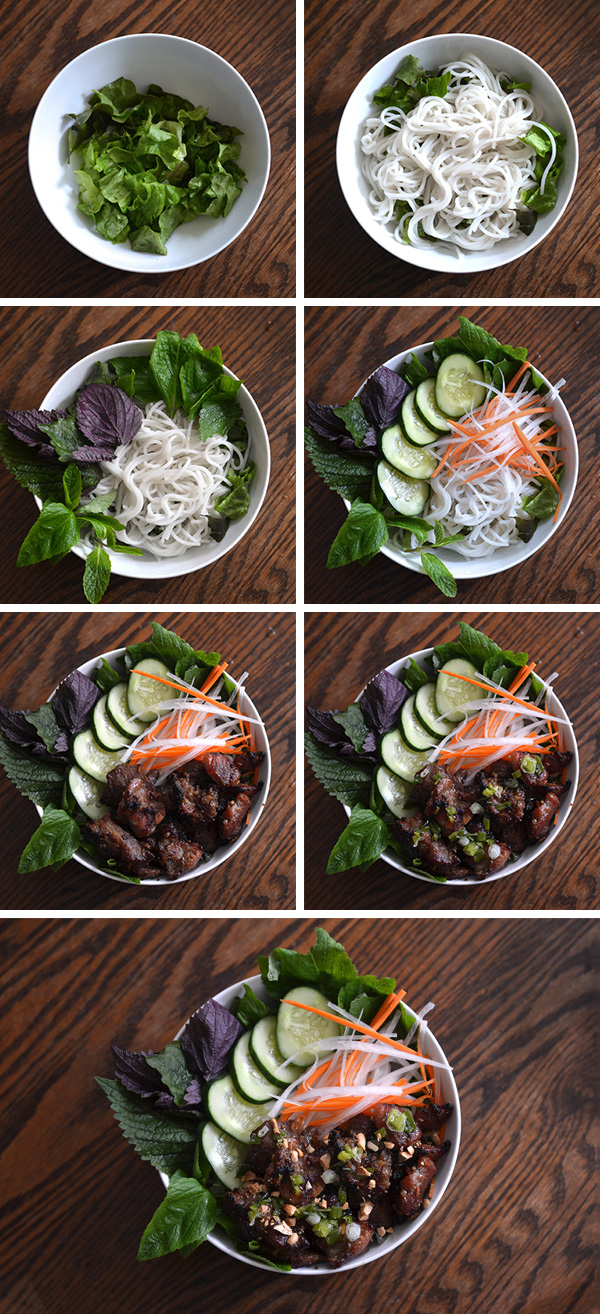 Presentation Variations
Southern Vietnam
The presentation of bún thịt nướng in the pictorial above follows the Southern Vietnamese style. You usually eat it by mixing everything including the fish sauce. I like to keep the dipping sauce separate, so there isn't a pool of the sauce at the bottom.
It helps to control the amount of sauce per bite, cuz ya know, I'm crazy like that. I do the same thing with my salads, desserts (chè), or whatever foods that come in layers. Why mix it all up when you can make little combos of your own to enjoy the flavors more?
The bowl is finally garnished with chopped peanuts and then scallions onions in oil (mở hành which is tempting to just dump a ton of it on). I like mine with egg rolls (chả giò) on top too if you have the time to make em! I also like adding cucumbers, which is a Southern ingredient.
Northern Vietnam
In the North, the presentation is slightly different. The rice noodles and vegetables each arrive on their own plate. The meat is put in a small bowl, swimming in prepared fish sauce.
The meat is additionally paired with a pork sausage, called cha (the dish is called bun cha instead). Đồ chua (pickled carrots and daikon) is added on top of the bowl of meat. Northerners eat this by building each bite in their personal bowl, which I guess is more in line with my eating philosophy..
Thịt nướng in Huế, the central region, is a whole other beast for a whole otha post.
However you decide to serve yours, you're in for a treat!
Some differences in the marinade also really affect the flavor of the meat. Only Southerners use lemon grass in the marinade.
Some recipes for this dish also call for sesame oil, or sesame seeds, but those do not follow Northern or Southern tradition (it's possibly influenced from the central region).
Marinading Tips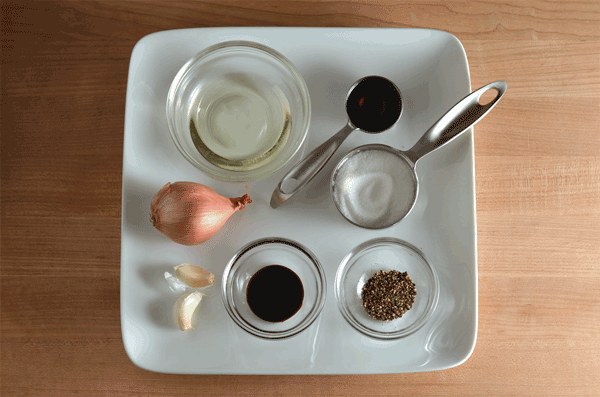 Chop and prep all of your ingredients and combine in a bowl before adding the meat. This makes sure it mixes more evenly.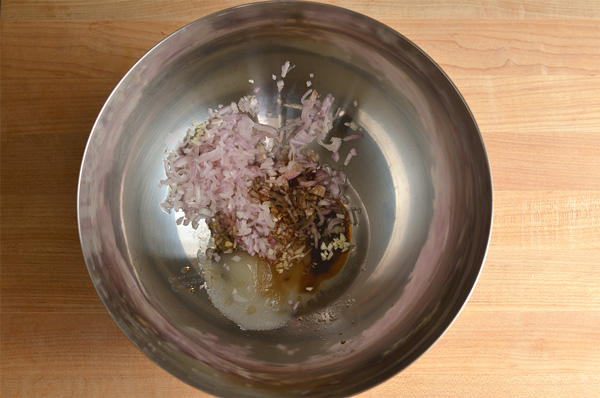 Add the pork to the mixture and mix. Pork shoulder has a nice balance of fat for this, but may vary by piece so the ratio of fat is up to you! Marinate for at least 1 hour, but for better results marinate overnight.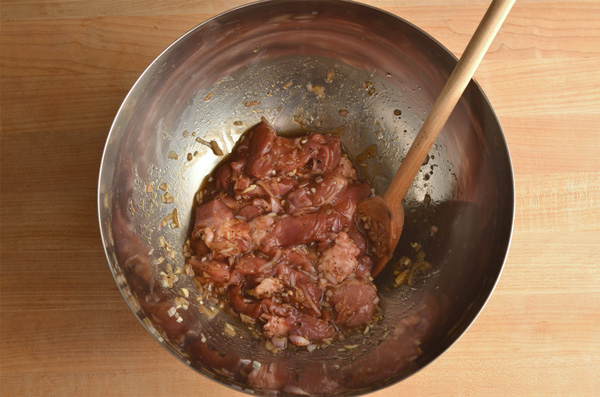 Cooking the Pork
Thịt nướng is usually barbecued, with a wire grilling basket like this one. If you want to make it traditionally, grill it over charcoals. I made this in the oven because it's a lot easier and it is still delicious. If you have time, barbecuing it is worth the extra effort.
Rice Noodles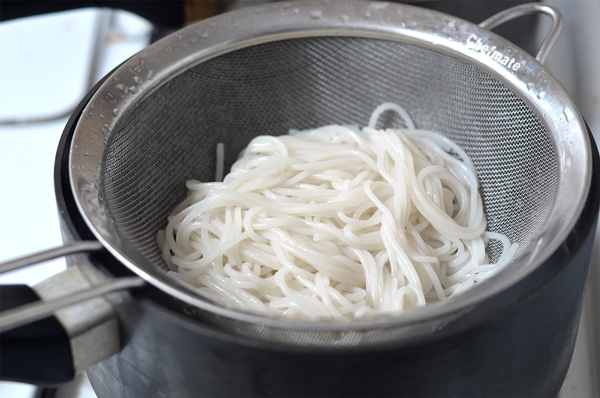 The noodles come in small, medium, and large noodle thickness for about $1.50 per pack. I prefer small and medium thickness for this dish–these thinner ones also cook much faster.
You can find these noodles at many Asian supermarkets, but I don't think I've seen these at any American ones. American ones will have pho noodles, which aren't what we're looking for here. Simply boil the dried rice vermicelli (bún) according to the package instructions.
The large thickness ones will work if you have no other option, but isn't ideal for this dish.
Dipping Sauce
Don't forget to prepare some super simple fish sauce for this bowl too. The meat is marinaded but the veggies and noodles still need seasoning–the dish is simply incomplete and underseasoned unless you add this!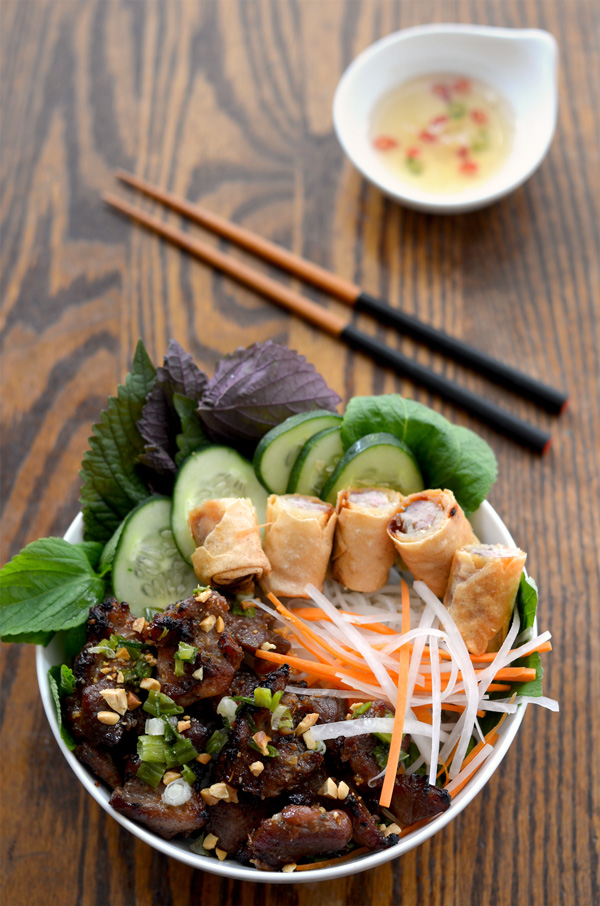 Lots of people will drizzle this over the bowl before eating, but I like to have control over each bite and dip the meat in befor each bite. I eat slower than most folks and I don't want the noodles to get all sogged up :).
Now that you've had an earful of information, time to eat!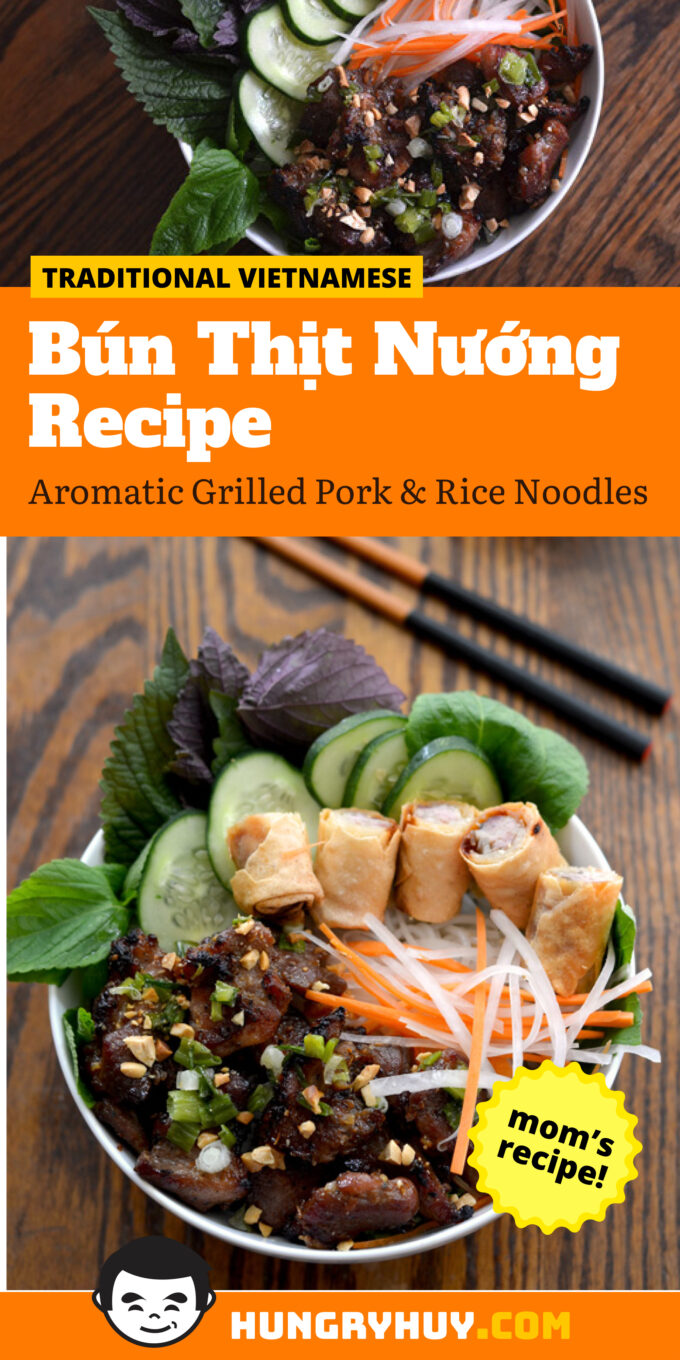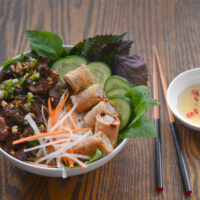 Bún Thịt Nướng Recipe (Vietnamese Grilled Pork & Rice Noodles)
Vietnamese bún thịt nướng is a delicious combination of grillled pork, noodles, veggies, and fish sauce.
You have your sweet bits, sour bits, caramelization, some crunch, and aromatic herbs in a colorful bowl. And it's easy to make
Ingredients
1.5

lb

(

680.4

g

)

pork shoulder

sliced (any cut will do)

1

package

rice noodles

small or medium thickness

4-6

egg rolls

optional
Vegetables
green leaf lettuce

mint

rau thơm

Vietnamese perilla

tiá tô

Vietnamese balm

kinh giới

cucumbers

sliced
Garnish
Dipping Sauce
Instructions
Slice the uncooked pork thinly, about 1/8". It helps to slightly freeze it beforehand.

Mince garlic and shallots. Mix in a bowl with sugar, fish sauce, thick soy sauce, pepper, and oil until sugar dissolves.

Marinate the meat for 1 hour, or overnight for better results.

Bake the pork at 375 F for 10-15 minutes or until about 80% cooked. Finish cooking by broiling in the oven until a nice golden brown color develops, flipping the pieces midway. Don't take your eyes off the broiler!

Assemble your bowl with veggies, noodles, and garnish. Many like to mix the whole bowl up and pour the fish sauce on top, but I like to make individual bites and sauce it slowly.
Nutrition Facts (per serving)
Serving:
0
g
|
Calories:
215
kcal
|
Carbohydrates:
15
g
|
Protein:
21
g
|
Fat:
7
g
|
Saturated Fat:
3
g
|
Cholesterol:
70
mg
|
Sodium:
434
mg
|
Potassium:
414
mg
|
Fiber:
1
g
|
Sugar:
13
g
|
Vitamin C:
2
mg
|
Calcium:
26
mg
|
Iron:
1
mg
Nutrition Facts
Bún Thịt Nướng Recipe (Vietnamese Grilled Pork & Rice Noodles)
Amount Per Serving (0 g)
Calories 215
Calories from Fat 63
% Daily Value*
Fat 7g11%
Cholesterol 70mg23%
Sodium 434mg19%
Potassium 414mg12%
Carbohydrates 15g5%
Protein 21g42%
Vitamin C 2mg2%
Calcium 26mg3%
Iron 1mg6%
* Percent Daily Values based on a 2000 calorie diet.
Like this recipe? Subscribe to my newsletter!