It has that crispy, crunchy, golden brown exterior to allure. And inside the bánh xèo is filled with savory slices of pork, shrimp, mung bean, and bean sprouts.
This crowd pleaser is a hot-off-the-pan, hands-on food meant to be wrapped in veggies and dipped in a flavorful sauce. Lets get to sizzling!
Bánh xèo seems to be designed to be eaten as a family. The batter, filling ingredients, and veggies aren't complicated to prepare, but they don't make sense to be bought or made to be eaten by yourself.
You don't just buy 1/4 pound of pork, 8 shrimps, or buy 1/4 head of lettuce. You kind of have to bump the volume to make each step worth the prep and to me, meals that are shared are a lot more fun anyway.
These crêpes take a little bit of prep time and organization, then you can just keep knocking these guys out faster than people can eat them.
What does Bánh Xèo mean?
I always found the name of bánh xèo interesting because the "xèo" refers to the sizzling sound it makes when you cook the batter. Its name loosely means "sizzling cake." The sound is much more obvious when the batter hits a hot pan, but here's some footage of one hissing from the heat (turn the sound up!):
I've heard many folks refer to bánh xèo as that "Vietnamese egg dish" and it always took me a while to figure out what they were talking about, until they mention the filling has pork, shrimp, mung bean, bean sprouts and some green onion.
These crêpes are yellow and kinda look like omelettes–but! There are actually no eggs in here. It's just turmeric powder that colors em yellow!
How to eat Bánh Xèo
Bánh xèo is food meant to be eaten with your hands. You'll always find a big plate of greens with a mix of herbs to go with it. You can substitute green leaf lettuce for the mustard greens in a pinch, and mint is the only must-have herb here with cilantro and Vietnamese perilla being the other commonly used ones. However you can really throw in whatever you like.
Early versions of bánh xèo were probably made with rice flour without the use of wheat flour. It can work for you too, but using wheat flour helps these fellas develop that nice browning color as it crisps up in the pan.
I usually get rice flour pre-made in bags at Asian grocery stores. If that's not an option for you, health food stores like Whole Foods carries it. As a last resort, you can make it yourself if you have a nice blender, but we'll save that for another post.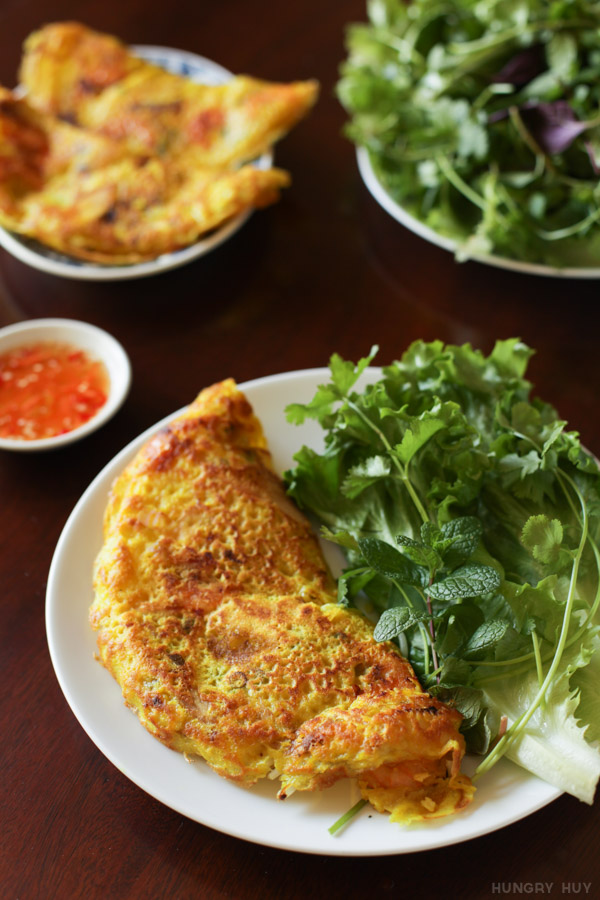 This dish is always a treat to me since I rarely get to eat it. It's also an awesome choice to cook for a group because it's affordable. You can spend $20 for enough crepes to satisfy 4-5 bellies!
How do you pronounce bánh xèo?
Bánh xèo is pronounced as "ban say-oh." Phonetic spelling will only get you close, but need to hear it spoken to get the intonation spot on.
How do you make bánh xèo from scratch?
Bánh Xèo is basically a crepe made from a basic blend of rice flour, turmeric, and coconut cream, along with other ingredients. The filling includes shrimp, pork belly, and bean sprouts. You can learn the best technique to make these Vietnamese crepes using my recipe above.
How do you eat Vietnamese crepes?
Bánh xèo is food meant to be eaten with your hands and comes with a big plate of greens and herbs. You can break the crepe into smaller pieces and wrap it in the greens and herbs, and dipped into nước chấm.
What is bánh xèo in English?
Xèo is onomatopoeia for the sizzle sound when the batter hits the hot pan, so bánh xèo loosely translates to "sizzling cake."
Where did bánh xèo originate?
There are two types of bánh xèo. The central Vietnam style is smaller, broken into pieces, and wrapped in a rice paper. This larger style of bánh xèo originated from southern Vietnam and can be wrapped with leafy lettuce.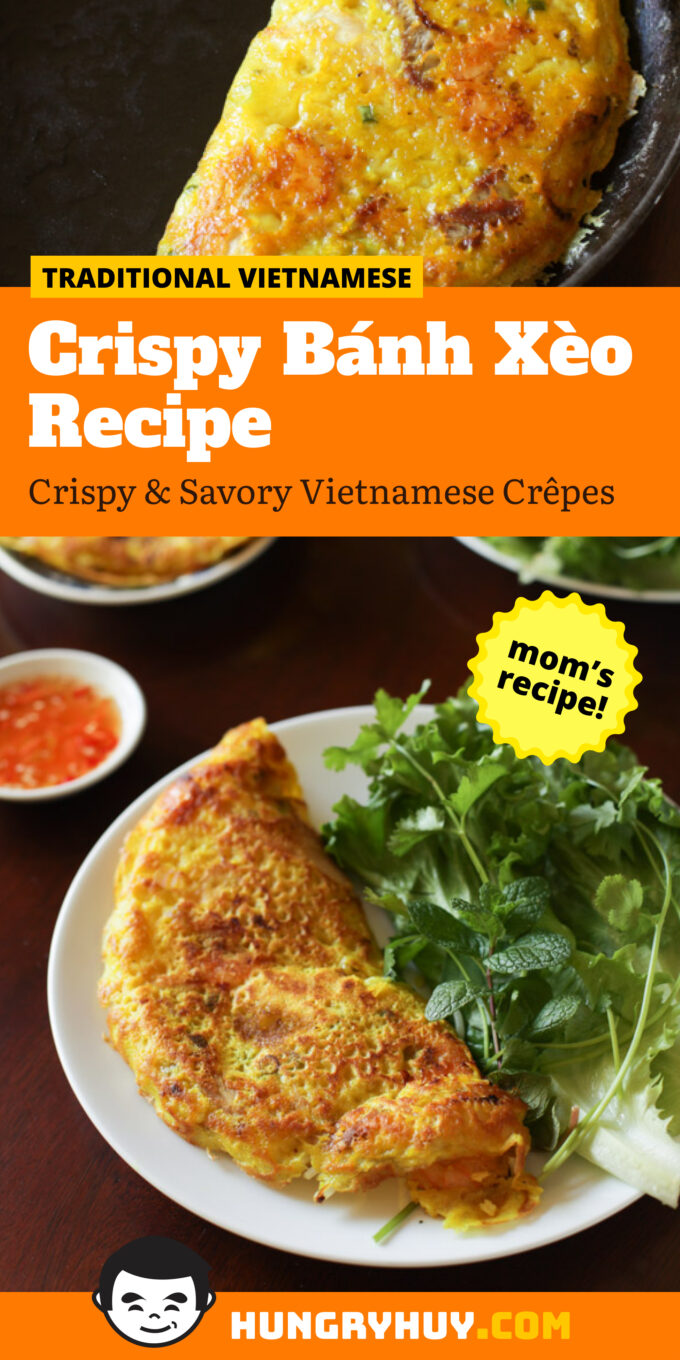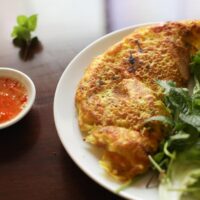 Bánh Xèo (Vietnamese Sizzling Crepes)
Here's a time tested recipe from Mom herself! Nothing like the satisfying crunch of these sizzling crepes, wrapped in veggies and dipped in perfectly balanced fish sauce.
Print
Pin
Calories Per Serving:
588
kcal
Ingredients
Batter
9

oz

rice flour

3

oz

all-purpose wheat flour

2-3

tsp

turmeric

3.5

c

water

1

can

coconut cream (14 oz / 400 ml)

if unavailable, use coconut milk

1

tsp

salt

1

sprig

green onion

~6-7 leaves, chopped about 1-2 cm long
Filling
1

lb

shrimp without heads

sized 45/50 or 60/70

1.5

lb

pork belly

1

medium onion

thinly sliced

1-1.5

lb

bean sprouts

1/2

c

dry mung beans

optional
Vegetables
1

head

mustard greens

caỉ xanh

1

bunch

mint

1

bunch

cilantro

optional

1

bunch

Vietnamese perilla

tía tô, optional
Instructions
Prepare Batter
Combine all batter ingredients except scallions in a large bowl for at least 3 hours, or overnight. Add scallions only right before making the crêpes.
Prepare Fillings
Steam or soak mung beans in water until soft

Boil pork until cooked through. Slice thinly.

Wash bean sprouts and veggies
Making Bánh Xèo - Each crêpe takes about 5-7 minutes
On medium-high heat add 1-2 teaspoons of oil and some onions

Immediately add a few pieces of pork and shrimp. Sauté, lightly mixing until very lightly browned.

Pour in some batter and quickly tilt & rotate the pan so the batter is evenly spread. Add more batter if it wasn't enough to cover the pan.

Add some mung beans, bean sprouts, and cover with a lid for 2-3 minutes, or until bean sprouts are slightly cooked. The batter should also be slightly cooked and transparent around the edges.

Remove the lid, lower heat to medium and wait for the crêpe to become crisp. Fold in half, transfer to a plate and serve immediately.
Nutrition Facts (per serving)
Calories:
588
kcal
|
Carbohydrates:
34
g
|
Protein:
20
g
|
Fat:
42
g
|
Saturated Fat:
21
g
|
Cholesterol:
136
mg
|
Sodium:
580
mg
|
Potassium:
452
mg
|
Fiber:
4
g
|
Sugar:
3
g
|
Vitamin A:
93
IU
|
Vitamin C:
9
mg
|
Calcium:
85
mg
|
Iron:
3
mg