Vietnamese cuisine is a treasure trove of options so you could literally eat something new everyday for weeks without running out of options! If you're visiting Vietnam or a Vietnamese restaurant and wondering what food you should try next, let me help.
I've been cooking Vietnamese food on this blog for ~13 years and eating Vietnamese food my whole life. I've been lucky enough to visit Vietnam only a few times, but wishing I could go again! I thought I could help clue in you adventurous eaters about the most popular Vietnamese dishes you should know to help you find something you'll like to eat.
So in no particular order, here are some of the most delicious and most popular Vietnamese foods you need to know.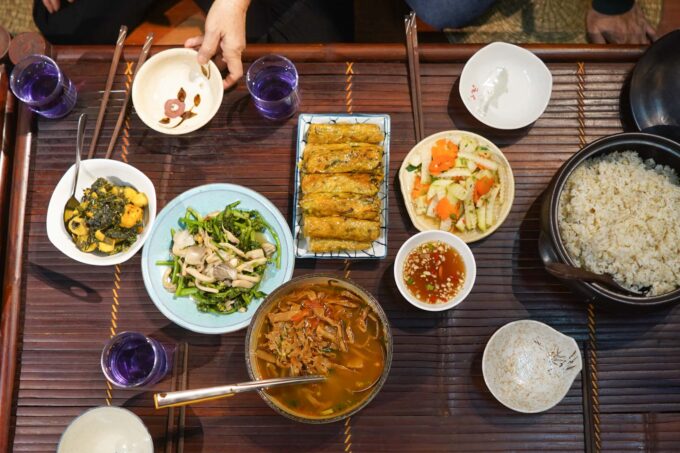 Bún bò Huế – spicy beef & pork Huế soup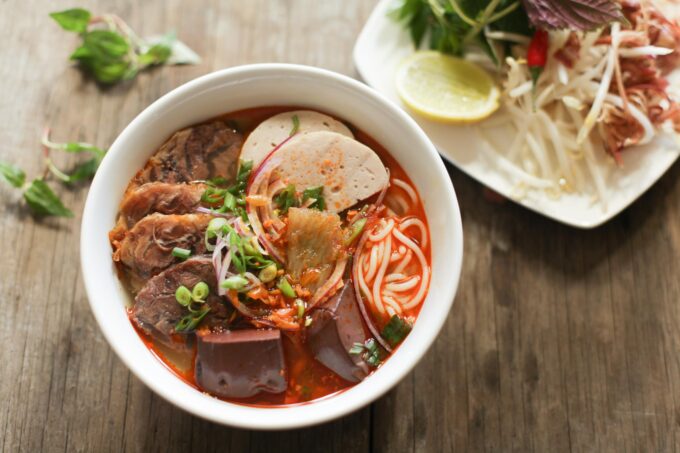 Phở is a welcome, and delicious staple, but don't overlook bún bò Huế, a spicy pork soup from the central Vietnamese city of Huế, if you haven't tried it yet. This is a potent, porky broth with round rice noodles and a wide variety of meat.
Bún bò Huế is packed with so much flavor and aroma, and fresh herbs on the side to add as you please. These veggies are a welcome addition to mellow out its temps as well as the flavor.
In classic Huế style, you know this soup will be spicy! You'll typically be served a side of sate or spicy chile paste to add as you please to spice things up even further.
Bánh cuốn – rolled rice sheets with pork & mushroom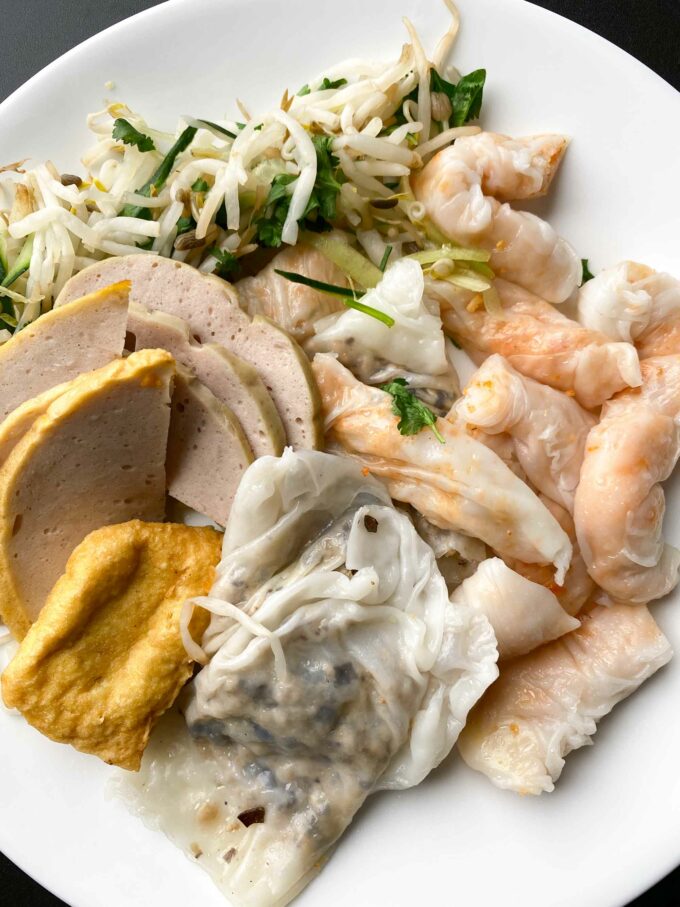 When you crave Vietnamese food but don't want a rice or noodle dish, bánh cuốn is a perfect choice. Bánh cuốn are steamed sheets of rice flour, typically filled with pork and mushroom, or shrimp mixture, and drizzled in a Vietnamese dipping sauce.
These lil wrapped goodies are super fun to eat, and all the accouterments that come with it give it a vibrant and fresh vibe too: shredded cucumber, bean sprouts, fried shallots. These are commonly served with cha lua, or fried egg rolls too.
I typically order a serving along with my takeout bánh mì orders. I LOVE eating bánh cuốn and it was a treat when mom would cook up a batch–it can be pretty labor-intensive. There's only one dedicated restaurant near me that makes legit bánh cuốn, so you bet I'll have a recipe for this one coming soon.
Beef phở & chicken phở
There's no avoiding this one, and for good reason. Phở is a delicious, soul-warming Vietnamese rice noodle soup that you must try. It comes in mainly chicken or beef versions. Each is topped with the meat used for its broth. My favorites are shredded, dark meat chicken, or meatballs, brisket, and tendon for beef phở. Top with cilantro and onions, a hit of lime, and you're good to go.
Phở is what put Vietnamese cuisine on the map in America and globally. Phở is the name of the soup but actually refers to the exact type of noodles used in this soup.
At my mom's restaurant back in the 90s, phở was one of the top menu items people ordered. But truth be told I loved eating it at home the most, whenever she would put on a big pot. When mom wasn't cooking though, we loved Beef Noodle #1 in San Jose (which is sadly now closed). Check out the chicken phở recipe I learned from my mom.
Bánh mì – Vietnamese sandwiches
If you want to know Vietnamese food you must also try bánh mì. Bánh mì is also one of the most popular Vietnamese foods, with its popularity still growing. These sandwiches are the perfect to-go food, with seemingly endless varieties of cold cuts, but pork dominates here.
I love the combo meat sandwich to get a little bit of everything, and when you find a shop that does just the right amount of mayo, pate, and daikon and carrot pickles, on a perfectly toasted loaf, it's like the stars are aligned.
If you have the ability to try anything other than the large chain Lee's Sandwiches make sure to give them a try–there are so many other amazing places offering these sandwiches. At my fav spots, I like to buy 1-2 extra sandwiches to rebake the next day. 300°F on convection for 3 minutes from a cold start (after removing the veggies) = amazing leftovers.
Vietnamese sandwiches not available near you? Check out my bánh mì recipe, and the pork recipe for it too.
Gà xào sả ớt – spicy lemongrass chicken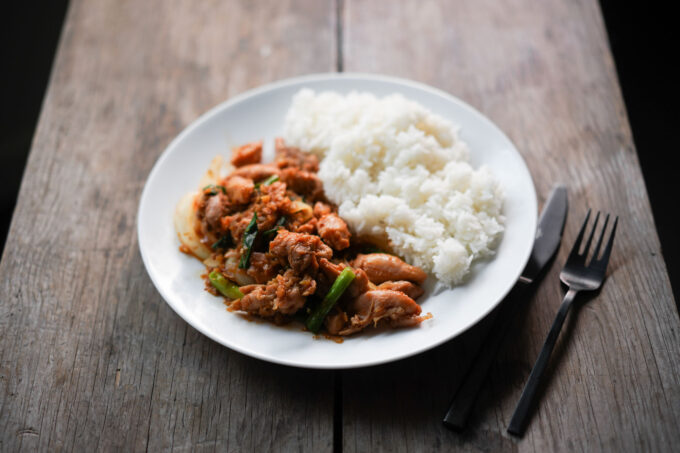 A strong hit of chilis and fish sauce gives this stir-fried chicken dish loads of flavor. I love the lemongrass flavor in this too. Pair it with a large serving of rice and you have a deeply satisfying meal. No wonder this recipe was in the top three Vietnamese dishes ordered at mom's old restaurant!
This spicy lemongrass chicken recipe is great to make in batches and to reheat for the next few days too.
Cá kho tộ – 'clay pot' braised catfish
Cá kho tộ is a popular braised fish dish known for its intense caramelized fish sauce-based glazy sauce. It's thick. It's rich, it's super potent. If you're you've never had fish sauce, this is how you dive right in.
If you're down with the chilis, this can be made pretty spicy as there's so much boldness for them to latch onto. Needless to say, this sauce means you'll need to pair the fish with lots of rice.
Bánh xèo – Vietnamese savory crêpes
Have you known a recipe with fried crispiness that doesn't draw a huge fanbase? Bánh xèo are Vietnamese savory crêpes, typically filled with sliced pork, shrimp, bean sprouts, and mung bean.
You break off a piece of the folded "crêpe" wrap it with lettuce and herbs, then dip it in fish sauce. These are a hands-on kinda food and really fun to eat with a group since it's an interactive meal.
These are great to make in larger batches to make the batter rest time worth it, and since you gotta buy ~4 types of herbs to eat with this you don't want the bunches to go to waste. The popularity of bánh xèo is on the rise though, and I'm happy to see it!
Gỏi cuốn – fresh spring rolls
Another traditional and very popular Vietnamese food is gỏi cuốn. These are fresh spring rolls filled with rice noodles, lettuce, and herbs, typically with some version of pork and shrimp all rolled up in sheets of rice paper.
These spring rolls are so fun and easy to eat 4-5 in a single sitting, especially if you've got a tasty hoisin/peanut dipping sauce for it. The rice paper gets stale/hard once fridged though and reheating gets tricky since there are fresh veggies inside. So only make or buy enough to eat on the same day.
Bánh cam – fried sesame balls
Bánh cam are crispy little treats you can find at dessert shops, selling for about 2-4 for $1 depending on if you get the small or larger sizes. These are deep-fried, crispy rice flour-based balls, covered in sesame with a chewy and crispy texture.
Inside you have a sweet and soft mung bean filling that goes with the outer shell's texture perfectly. These lil guys are super addicting to eat, and a great dessert to prepare for a family gathering.
You haven't had proper bánh cam unless you've had them fresh, either from the shop or if you make the bánh cam at home. They are ok reheated or a few hours old, but they have a certain magic that doesn't last too long out of the fryer!
Bánh chưng – savory sticky rice cakes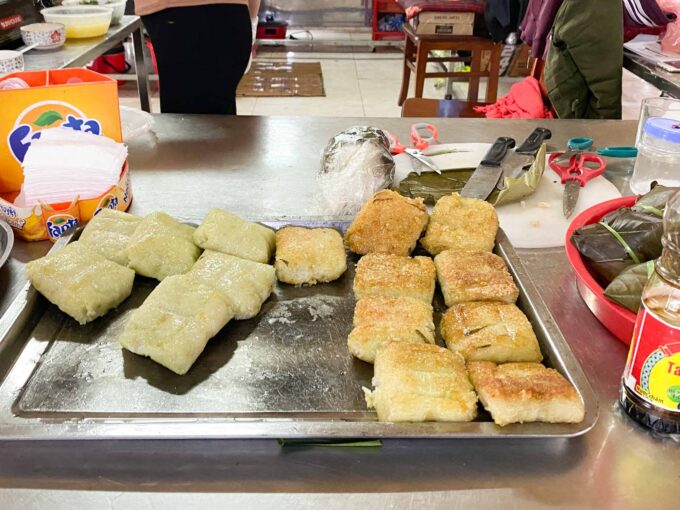 When Lunar New Year rolls around, you start seeing bánh chưng popping up everywhere. Not really something you can buy at restaurants, but these savory sticky rice cakes pop up at supermarkets, storefronts, and Viet takeout spots everywhere.
They are banana leaf-wrapped bricks of sticky rice, with a mung bean and fatty pork center–these totally make me think of home. You slice off rectangular sections of these and serve with cha lua, or my favorite way is to pan fry these up (or waffle iron!) for a crispy, browned exterior.
Gỏi – salads
Vietnamese cuisine is loaded with fresh vegetables, so you betcher booty that straight-up salads are going to be popular too. A popular one is a green mango salad with shrimp, peanuts, lots of herbs, shrimp crackers, and seasoned with fish sauce.
Another one you may see is green papaya salad with beef jerky. Green papaya is fresh with a light flavor and a crunch, so this salad is great with little bursts of flavor from the intense beef jerky and soy sauce-based salad dressing.
And if you haven't had enough yet, Vietnamese spring rolls are technically salads too–salad rolls if you translate gỏi cuốn.
Cơm tấm – broken rice
Cơm tấm literally means broken rice, but is the name of the entire dish. This is a very common, and modest Vietnamese dish that feels like a home-cooked meal to me. I used to eat this all the time at restaurants, particularly for late-night meals when most other shops have closed.
Cơm tấm is typically served with a protein like a grilled pork chop, or thịt nướng, and comes with sides like egg rolls and steamed egg cake. For veggies it's paired with sliced cucumber, tomatoes, pickled cabbage, and even some scallions in oil on top of the meat and veggies.
More often than not you get the option to add bì on top of the rice which is shredded pork and pork skin–you don't really see this in many other Vietnamese dishes.
Cháo gà – chicken rice porridge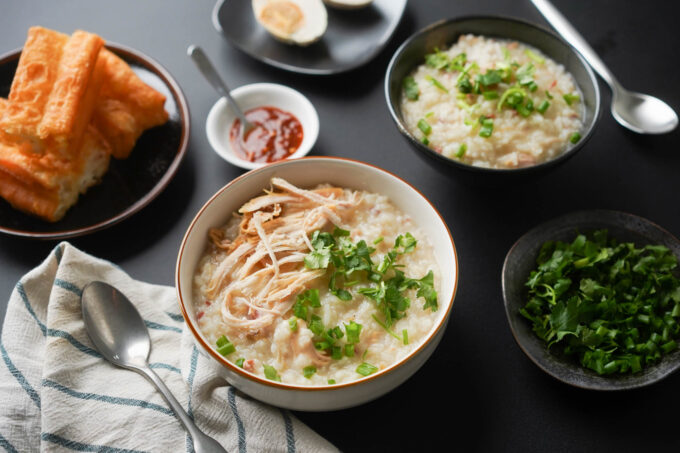 A super tasty and humble dish of rice porridge is what the Vietnamese call cháo gà. The rice porridge dish that every Asian culture seems to have. I'm sure these countries all happened upon this recipe because it's a simple, and super cost-effective way to stretch what they had on hand and because it's delicious.
You can get by with a whole or half a chicken, load up on very affordable rice, and then you can even stretch a pot even more by using as much water as you'd like. There are some restaurants that make this but you can easily make cháo gà at home–it's what we actually make with leftover turkey the day after Thanksgiving too!
Chả cá thăng long – herby turmeric fish with noodles
Chả cá thăng long is a bit of a treat to me since it's not really an everyday food and it's more fun when you can gather a group to share this. It's fish with a super aromatic marinade, with its strong yellow color coming from turmeric. This fish is quickly sauteed in a pan with lots of dill and green onions, a neutral oil soaking up all the goodness from the veg, and marinade.
Once the fish is done, they leave the heat on low or kill the heat and it's ready for the group to dive in! You take a piece and add it to your small bowl. Add the noodles, peanuts, any herbs, and sauces to season and alternate bites of fish and noodles. This is was one of the most fun and most delicious meals we had in Vietnam!
Bún chả – grilled pork patties with noodles
A specialty of Hanoi, bún chả is a traditional Vietnamese dish of grilled pork patties and sliced pork with noodles and veggies. It's a delicious dish that seems very much like bún thịt nướng, but with some specific differences.
The meat is typically ground pork patties, served in a warm version of fish dipping sauce, and instead of having all the veggies and noodles in the bowl, they are served separately.
For all you foodies who followed Anothony Bourdain's travels, this is the food Tony and former President Obama shared in 2016 in Hanoi. This trip and TV episode has since launched Bún Chả Hương Liên into fame even up until when I had a chance to stop by Hanoi in late 2020.
Rau muống – morning glory
Rau muống, otherwise known as morning glory, kang kong, or on choy, is grown across Southeast Asia and seen lots of cuisines there. This tropical plant is something I had all the time at the dinner table.
At just about every homemade meal, you'll have rice, a meat dish, and a soup or vegetable dish. We had a simple side dish of boiled rau muống all the time, and I loved it. This veggie cooks so fast, it's more like blanching, but there was also a big plate of it, with a big bowl of the green water from boiling it as a palate cleanser, or "soup" afterward.
Of course, there would be a big shared bowl of dipping sauce for this that you would portion out into your own dipping bowl. A more watered-down and lemony version of nước chấm goes perfectly with boiled morning glory.
Chè – liquid-based hot or cold desserts
Chè is an all-encompassing term for the popular category of liquid Vietnamese desserts. The variety feels pretty vast, with the most common chè is arguably chè ba màu. Chè can be iced, fridge temp, room temp, or even hot, with each ones being typically served in specific ways (e.g. there really isn't hot chè ba màu).
Since it's a dessert, these will be sweet. Chè is commonly paired with coconut milk or some kind of flavored syrup. On a recent trip to Vietnam, we found some shops translating chè to English as "sweet gruel," which for some varieties gets the point across, but is a terribly offputting way to describe these desserts.
Yes, they can be thick and soupy, like one of my favorites: chè bắp (less common at stores). The taro version of this is much more popular at chè shops. When in OC's Little Saigon, make sure to check out my favorite spot: Thach Che Hien Khanh or Bambu.
Cà phê – Vietnamese coffee
The popularity of Vietnamese coffee is exploding and for good reason. This stuff is very strong and packs a super sweet punch. It's definitely a treat. At home, Vietnamese coffee is caringly drip-brewed using a dark French roast, 1 cup at a time with a metal filter called a phin (pronounced 'feen').
Then a thick and sweet condensed milk is added to suit your taste and mixed to combine. This coffee can be served as is hot, but since it is so strong, it can easily be added to a large glass of crushed ice and enjoyed slowly as the ice melts.
It's so strong that it replaces my typical twice-daily espresso / latte / cortado routine. Learn how to easily make Vietnamese coffee at home!
Nước chấm – Vietnamese dipping sauce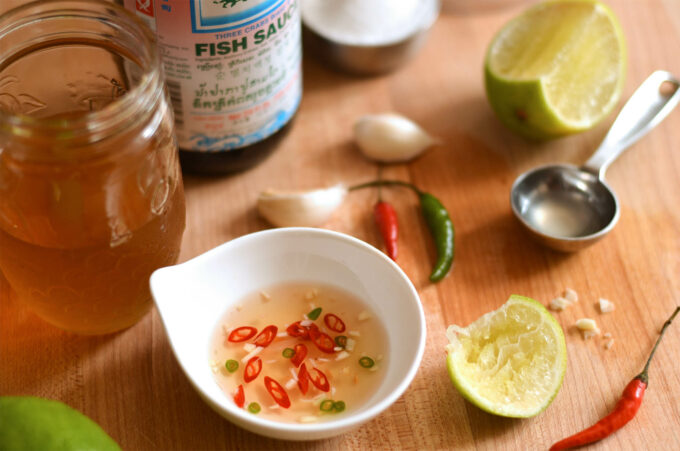 Nước chấm is technically not a dish, and not simply pure fish sauce neither. It's a dipping sauce. It's the dipping sauce you need to know. Learn to master this fish sauce and you'll no longer be at the mercy of whatever a restaurant happens to serve you because it can completely change the outcome of a dish.
It's really a dipping sauce you see used for all sorts of Vietnamese food, like grilled pork with noodles, bánh xèo, sườn nướng (grilled pork chops), and for all kinds of rolls like fresh spring rolls, fried spring rolls, and salads too.
Bò kho – Vietnamese beef stew
Tender, fall-apart chunks of slow-cooked beef paired with hearty chunks of carrots, and savory braise liquid, perfect for dipping with a fresh loaf of Vietnamese bread.
Bò kho is comfort food, and it's a very easy and relatable stew for first-timers to try. I love piling on the Thai basil with this and dipping bite-sized pieces of beef into a pasty salt, pepper, and lemon juice mixture.
Bún thịt nướng – grilled pork with rice noodles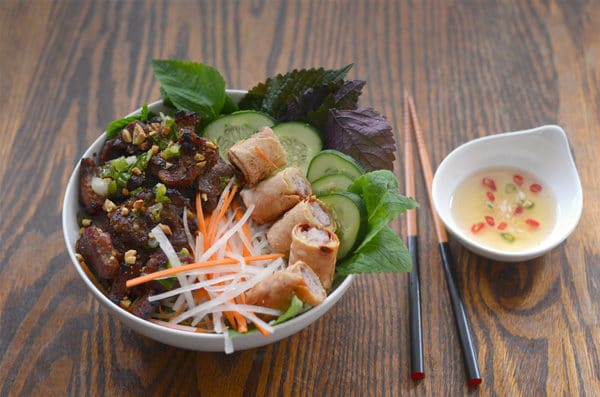 This is just one of those Vietnamese dishes that bring a feeling of joy to me for some reason. It feels light and fresh, with bright notes from the pickles and lemony fish sauce, contrasted with the savory crispy caramelized pork.
Of course, it has a huge veggie and herbs component typical of Vietnamese dishes, and they are a welcome addition for variety in this dish. While typically presented a bit organized, I love mixing everything together but dipping the pork before each bite. Bonus points for charcoal grilling the pork at home.
Bún thịt nướng is one of those dishes that draws a strong connection to Chipotle restaurant-style ordering to me for some reason. You could easily have alternate meat options, sub noodles for rice, pick your own herbs, and do a few sauce variations. It would be like a way better version of Flame Broiler–why doesn't this exist here yet?!
Patê sô – meat-filled puff pastries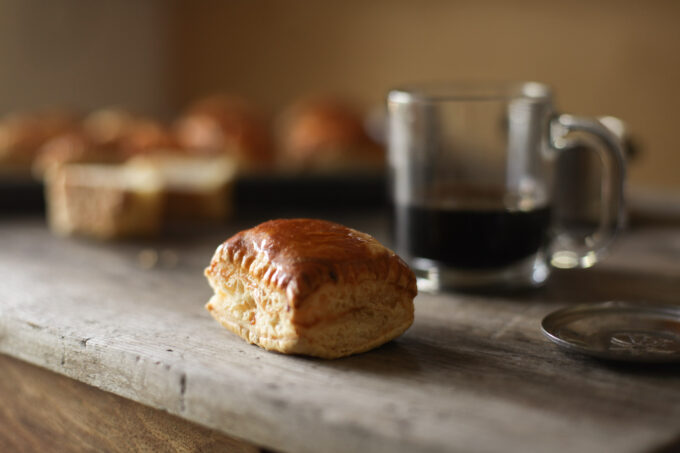 These are buttery, flaky, rich pastries filled with pork or chicken, that are so so good right out of the oven. Clearly labeled with all sorts of French influence, this has been happily integrated into Vietnamese cuisine, typically sold at sandwich or grab-n-go shops.
I love having a few of these with a Vietnamese coffee, or even after finishing a bánh mì. Patê sô is amazing when fresh but if you make or buy some, get some extra to reheat since they are still really good the next day too!
Cà ri gà – Vietnamese chicken curry
Vietnamese chicken curry is something I love eating at home, and a dish I saw being sold on the streets of Vietnam occasionally. This one's specifically made with chicken and loaded with potatoes and carrots, and a relatively liquidy broth meant for sopping up with a crusty baguette or even pouring over some rice.
The curry marinade in the chicken brings loads of flavor and keeps the chicken tender too. And the Asian curry paste, with lots of fresh stalks of lemongrass in the pot, makes this stand out from other countries' curries.
If you didn't catch it, "cà ri" is a Viet translation of the word "curry"! Due to its relatively low popularity, you won't find it at most restaurants, but it is a lovely dish to try, and easy to make at home. I love having a big pot of it that lasts me a week.
Sườn nướng – Vietnamese pork chops
This is another one of those super easy to try dishes if you're a newcomer to Vietnamese food. These pork chops are often served with broken rice (com tam), but you can serve it with regular rice too!
The marinade is packed with aromatics like lemongrass, garlic, and shallots, and the chops are swimming in soy sauce and fish sauce, to get super flavorful and stay juicy when ya cook them. The grilling caramelizes the pork for a lovely finish and keeps you coming back for more of this classic Vietnamese recipe!
Like this recipe? Subscribe to my newsletter!