This egg drop sandwich is your next brunch favorite with light and fluffy eggs with melted cheese and crispy bacon pieces sandwiched between two thick brioche slices spread with a sweetened mayo sauce. Learn how to make this famous Korean toasted sandwich at home with tips and tricks to get ultra-tender eggs in a pocket of golden brown toasted bread.
What is a Korean egg drop sandwich?
An egg drop sandwich is made up of thick brioche bread, eggs, meat, and a sweetened mayonnaise that can sometimes be spicy with sriracha. Egg drop sandwiches are named after the Korean restaurant that popularized the breakfast scrambled egg sandwich.
Egg Drop first opened their stores in 2017 and stated that they were the first to make this premium gourmet egg sandwich. Now, many restaurants are selling the same snack like Flippoly and Egg Tuck in the USA.
The brioche bread
What makes this an egg drop sandwich is the extra thicc brioche bread. Egg Drop actually has a proprietary recipe for their brioche bread. This variety of bread has a slightly sweetened flavor and airy texture that crisps to a golden brown when toasted. It holds up the sandwich's contents really well because it's so thick. 
Egg Drop is known for their extra thick slices. I recommend buying a whole brioche loaf and cutting your own bread. This way you can leave the bottom ~1 inch attached creating a sort of a pocket instead of having two individual bread slices. This makes it so ingredients don't drop to the bottom.
If you can't find brioche loaves at your grocery store, you can also use thick-cut brioche bread from Trader Joe's. If you can't find any brioche nearby, try using white bread loaves instead, although the flavor might differ.
The sweet sauce
In between each thick slice of brioche is a sweetened mayo sauce that combines two parts of mayonnaise with one part of condensed milk. There's also an optional spicy-sweet sriracha mayo sauce too. The finished egg drop sandwiches are also drizzled with this mayo sauce on top and sprinkled with fresh herbs like dried parsley or fresh minced chives.
Sandwich filling variations
At Egg Drop and the many spinoff restaurants, they also have other popular Korean TikTok egg sandwiches. Some of my favorite fillings are kimchi bulgogi, ham and cheese, spam, and avocado.
Tips for egg drop sandwich success
To get the tastiest egg drop sandwich at home, here are some tips:
Put the sauce in a squeeze bottle to help spread the sauce on the sandwich and top.
Buy a brioche loaf if possible to cut the slices yourself and create a "pocket" by cutting a two-inch-thick piece and slicing it in the center from the top, and stopping one inch from the bottom. The pocket helps hold together the fillings. It's also faster to toast on a pan instead of a toaster oven.
After toasting, assemble the sandwich with sauce, cheese, and meat. It's much harder to put the other ingredients in if you start with the egg.
Add heavy cream when beating your eggs to get light and fluffy eggs. Once you put it on a pan with melted butter, take a spatula and slowly drag it across the pan from the outside of the pan towards the middle so the uncooked egg can flow out towards the bare pan. Continue to do this around the scrambled eggs and stop cooking once it's opaque but still a little wet. This process is relatively quick and takes only about one to two minutes. Eggs will continue to cook after you transfer them, so if you cook them until they're super firm, the residual heat will overcook them.
Why is it called an "egg drop" sandwich?
Egg drop sandwiches are named after Egg Drop, the Korean restaurant of the same name. They popularized this variety of egg sandwiches that feature thick brioche slices and light and fluffy scrambled eggs and cheese fillings, with a sweet mayonnaise sauce.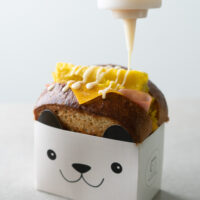 Egg Drop Sandwich
This ultra fluffy egg sandwich is full of sweet and savory flavors because it's packed with crispy bacon, melted cheese, airy brioche slices, and topped with a sweet mayo sauce. You'll want to make this for your next brunch snack!
Ingredients
Sauce
4

tbsp

mayonnaise

2

tbsp

condensed milk

sriracha

optional
Sandwich
4

slices

bacon

or ham

2

slices

cheddar cheese

or American, Swiss, Provolone

1

loaf

brioche

or 4 thick slices

2

tbsp

unsalted butter

4

large

eggs

beaten

1

tbsp

heavy cream

¾

tsp

kosher salt

chives

minced
Equipment Used
pan

turner and tongs

butter knife or squeeze bottle

knife and cutting board
Instructions
In a small bowl, combine the mayonnaise and condensed milk. Whisk until incorporated. If you want a level of spiciness, add sriracha to the sauce. Start with about ¼ teaspoon and taste as you go. You can put the sauce in a squeeze bottle for easier assembly. Place this in the fridge until you're ready to assemble the sandwich.

Make your bacon on a pan or in the oven, and place it on a paper towel on a plate to remove excess oil. If you have ham, you can also pan-fry them and warm them up for about 10 seconds on each side. Set the meat aside until it's time to assemble the sandwich.

Cut the brioche loaf into about two-inch-thick pieces. Then slice the center of the brioche from the top and stop about one inch from the bottom. The bread should look like a pocket, and you will put the fillings inside. Repeat this with the other slice.

Toast the brioche slices in the toaster oven or pan. I prefer using a pan because it's easier to keep track of the toasting due to the thick size of the slice.

Using a pan: add ¼ tablespoon of butter to a pan over medium heat and toast one side of the slice until it's golden brown. Lift the bread, add another ¼ tablespoon and toast the other side until golden. Repeat with the next slice. (You don't need to toast the inside). Using a toaster oven: each toaster oven has different settings, so use the appropriate timing based on your toaster oven to get a golden brown color on both sides—spread butter on the outsides of the toast. (You don't need to toast the inside).

Take one sandwich and squeeze (or spoon) the sauce in the center. You can use a butter knife to spread it evenly in the insides of the sandwich or use the nozzle of the squeeze bottle.

Place a slice of cheese in the sandwich. Add two slices of bacon (folded in half) or two slices of ham to the sandwich. Set aside to make the eggs.

Cook the eggs. In a bowl, whisk together the large eggs, heavy cream, and salt. I like to cook two eggs at a time for better control, but you can cook them all at once. Heat a pan over medium low heat, add half a tablespoon of butter (for every two eggs), and allow it to melt. Add the egg mixture and gently stir until slightly opaque but still wet.

Split the eggs and transfer into the sandwiches.

For easier handling, you can wrap the sandwich in parchment paper or ues a sandwich holder. Optionally, you can squeeze more sauce on top and sprinkle on minced chives. Serve immediately.
Nutrition Facts (per serving)
Calories:
1505.62
kcal
|
Carbohydrates:
90.66
g
|
Protein:
43.68
g
|
Fat:
108.43
g
|
Saturated Fat:
47.47
g
|
Polyunsaturated Fat:
18.07
g
|
Monounsaturated Fat:
21.42
g
|
Trans Fat:
0.61
g
|
Cholesterol:
765.88
mg
|
Sodium:
2400.18
mg
|
Potassium:
328.68
mg
|
Sugar:
11.7
g
|
Vitamin A:
2715.23
IU
|
Vitamin C:
0.57
mg
|
Calcium:
343.35
mg
|
Iron:
3.77
mg
Nutrition Facts
Egg Drop Sandwich
Amount Per Serving
Calories 1505.62
Calories from Fat 976
% Daily Value*
Fat 108.43g167%
Polyunsaturated Fat 18.07g
Monounsaturated Fat 21.42g
Cholesterol 765.88mg255%
Sodium 2400.18mg104%
Potassium 328.68mg9%
Carbohydrates 90.66g30%
Protein 43.68g87%
Vitamin A 2715.23IU54%
Vitamin C 0.57mg1%
Calcium 343.35mg34%
Iron 3.77mg21%
* Percent Daily Values based on a 2000 calorie diet.
Like this recipe? Subscribe to my newsletter!