This Korean-style potato salad is a balance of fluffy mashed potatoes, crunchy carrots, fresh cucumber, and fatty egg pieces in a sweet and savory seasoning of rice syrup and mayonnaise.
Gamja salad is one of the most popular and new banchan (side dishes) at many different Korean restaurants, and now you can learn how easy it is to make at home.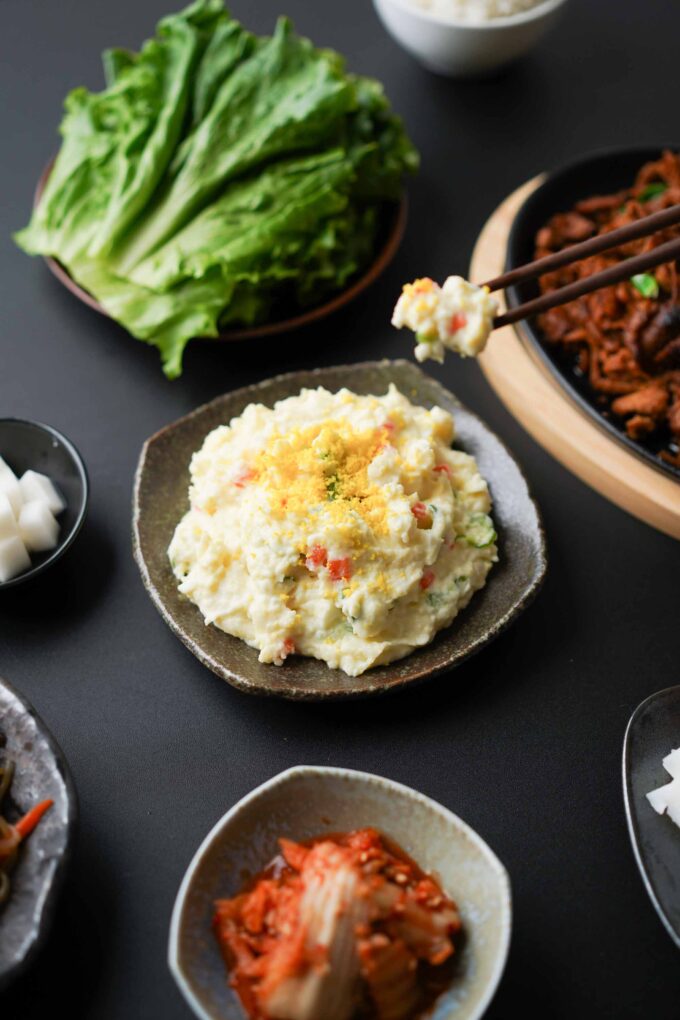 What's Korean potato salad?
Gamja salad is "potato salad" in Korean and it's one of my most favorite banchan (or side dishes) to eat with Korean bbq alongside japchae. Potato salad is something you typically hear at American BBQs or parties, but it's been gaining popularity in Korean cuisine.
Some say that gamja salad may have been influenced by the American version due to the ingredients of potatoes and mayonnaise. What makes this different is the addition of rice syrup for sweetness and ingredient add-ons like cucumbers, carrots, eggs, raisins, or apples.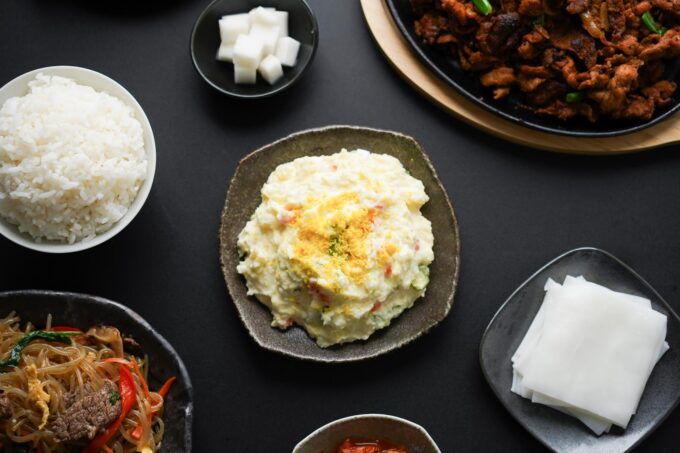 Whatever its origin, I'm just happy to eat it whenever Korean restaurants or KBBQ spots serve it. You can find this Korean-style potato salad at many restaurants like Morangak or BCD Tofu House. Sometimes they run out of this particular banchan so I like to make this at home to satiate any cravings.
Ingredients in Korean potato salad
The best types of potatoes to use in this type of potato salad are actually the same potatoes you make regular mashed potatoes with–russet potatoes! You want a very starchy potato that won't overpower the flavor of the seasoning and mayonnaise.
I know that many well-known chefs say that Yukon gold potatoes are best for mashed potatoes, but we don't need the intense buttery flavor of Yukons in this recipe. Russet potatoes provide a nice base for the rest of the ingredients and aren't too buttery in flavor like Yukon gold potatoes that we use for smashed potatoes.
My favorite ingredients to eat in my gamja are fairly simple: carrots, cucumbers, and eggs. However, there are other types of ingredients you can add too like sweet apples (think Fuji), raisins, or onions. Depending on the Korean restaurant, these ingredients may differ, but the best part about making this dish at home is that you can add whatever you prefer.
How to make Korean mashed potato salad
The ideal consistency of gamja salad is fluffy but still holds its shape. It shouldn't be too creamy where you can't use chopsticks to eat it–I prefer my potato salad to be a little thicker and chunky. You can get this consistency by using a potato masher or fork and stopping when you see small lumps of potatoes. Do not use a food processor to mash the potatoes.
When you are making the potatoes, make sure to transfer the potatoes out of the water and into a strainer and let them rest on the counter for about 5 minutes before mashing. Since russet potatoes have a tendency to soak in too much water while boiling you want to dry them out on the counter a bit. This also allows the potatoes to soak up the mayonnaise seasoning.
I like to use a potato masher to break down the potatoes so that I don't over-process or cream them. Don't try to use an immersion blender or food processor for these potatoes because you will end up with sticky and over-processed potatoes.
After prepping the rest of the ingredients and mayonnaise seasoning, mix everything in a large bowl and taste to make sure your seasoning fits your needs. To make it sweeter, add more rice syrup, or to add more eggy flavor, add more mayonnaise.
How to serve and store gamja salad
Before serving, it's best to chill the gamja salad in the fridge for at least 30 minutes or until it's nice and cold. This is the BEST way to serve it because it's typically eaten with spicy or hot and bbq'd foods like grilled spicy pork bulgogi, tteokbokki, Korean dipping sauces, Korean fried chicken, Korean purple rice, or other easy Asian recipes. 
What's great about this dish is that you can make it a day ahead of time and serve it when you want! If you have extra servings after your meal, it stores great in an airtight container in the fridge for up to 4-5 days.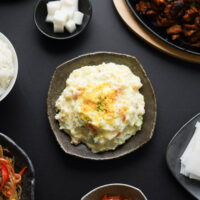 Korean Potato Salad (Gamja Salad)
This fluffy Korean style mashed potato salad is a great banchan (or side dish) because it's great to make a day ahead and is best served chilled–it's easier than ever to make for your next dinner!
Ingredients
Potatoes
642

g

(

1 ½

lb

)

russet potatoes

peeled and cubed into ½ inch pieces

water

for boiling and iced water bath

17.5

g

(

2

tbsp

)

kosher salt

for boiling

ice

77

g

(

1

medium

)

Persian cucumber

sliced as thinly as possible

2

g

(

¼

tsp

)

rice wine vinegar

2

large eggs

30

g

(

1

medium

)

carrot

peeled and cut into ⅛ inch pieces

2.5

g

(

¾

tsp

)

kosher salt

for seasoning

65

g

(

⅓

c

)

mayonnaise

15

g

(

1

tbsp

)

rice syrup

or honey
Equipment Used
Pot

Strainer

Masher or fork
Instructions
Potatoes: Clean, peel, and cube your potatoes into ½ inch pieces. In a large pot of water over medium-high heat, add the potatoes and the salt for boiling. After the water reaches a boil, continue to boil for about 10 minutes or until you can pierce the potatoes easily with a fork. When the potatoes are done, transfer the cooked potatoes into a strainer and allow them to dry off on the counter while you start the cucumbers, eggs, and carrots. NOTE: Don't throw away the water. You will be using the water for the eggs and carrots.

Cucumbers: Slice the cucumbers as thinly as possible and salt them with ⅓ of the seasoning kosher salt. Mix until the salt coats all of the cucumbers. Set aside for 10 minutes to disgorge all of the excess water in the cucumbers. After 10 minutes, place the cucumbers in a strainer and run the cucumbers under running water to remove the salt. Using your hands, squeeze out as much water from cucumbers as possible, but don't damage the cucumbers. Place them into a bowl and mix in the rice wine vinegar to season.

Eggs: Place the eggs into the boiling water and boil for 11 minutes. Make an iced-bath of water to cool down the eggs in a mixing bowl filled with enough water to cover the eggs and about a handful of ice. Transfer the eggs into an iced-bath for 2 minutes. Remove the eggs, then peel them. Slice them in half and remove the egg yolks. Julienne the egg whites and then cut them into smaller ⅛ inch pieces. Crumble the boiled egg yolk pieces in between your hands. Reserve about ¼ of the egg yolk crumbles in another bowl.

Carrots: Peel and cut the carrots into ⅛ inch pieces. Put the carrots into the boiling water and blanch for 2 minutes or until the carrots have slightly softened, but still have a bite. Remove carrots and run them under cold water until they're at room temperature.

Add the cooked potatoes into a mixing bowl, use a masher or a fork to mash the potatoes until the pieces are broken up, but not smooth. Try not to over-mash them or they will become too sticky or gloopy.

In a small bowl, combine the mayonnaise, ⅔ leftover of the kosher salt, and rice syrup. Mix until it's fully incorporated.

Sprinkle the reserved ¼ portion of egg yolk crumbles.
Nutrition Facts (per serving)
Calories:
284.63
kcal
|
Carbohydrates:
33.44
g
|
Protein:
6.64
g
|
Fat:
14.42
g
|
Saturated Fat:
2.64
g
|
Trans Fat:
0.04
g
|
Cholesterol:
88.67
mg
|
Sodium:
2088.58
mg
|
Potassium:
755.6
mg
|
Fiber:
2.4
g
|
Sugar:
4.29
g
|
Vitamin A:
1404.13
IU
|
Vitamin C:
10.13
mg
|
Calcium:
43.77
mg
|
Iron:
1.89
mg
Nutrition Facts
Korean Potato Salad (Gamja Salad)
Amount per Serving
% Daily Value*
* Percent Daily Values are based on a 2000 calorie diet.
Like this recipe? Subscribe to my newsletter!