Chewy and bouncy sweet potato glass noodles, tender and juicy ribeye pieces sprinkled with sweet carrots and bell peppers, earthy spinach and mushrooms, and flavorful onions–this japchae recipe is more than just a Korean side dish, it's a full-on meal.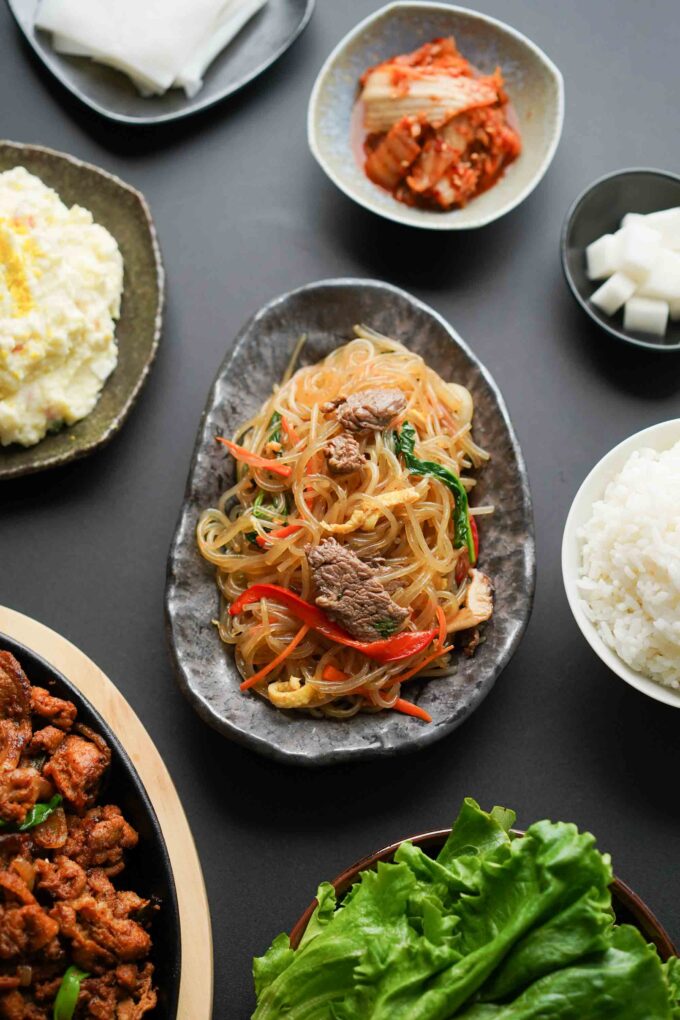 What is japchae?
Japchae is a type of Korean noodle recipe that is made with a special type of glass noodles. It's a very popular banchan (or side dish) eaten at Korean restaurants and at home. My favorite restaurants to eat japchae are MoRanGak or Baekjeong.
The word "japchae" is translated to "mixed vegetable" in Korean and it's a fairly basic dish. It's typically made with a variety of ingredients like mushrooms, spinach, and carrots and seasoned with soy sauce and sesame oil.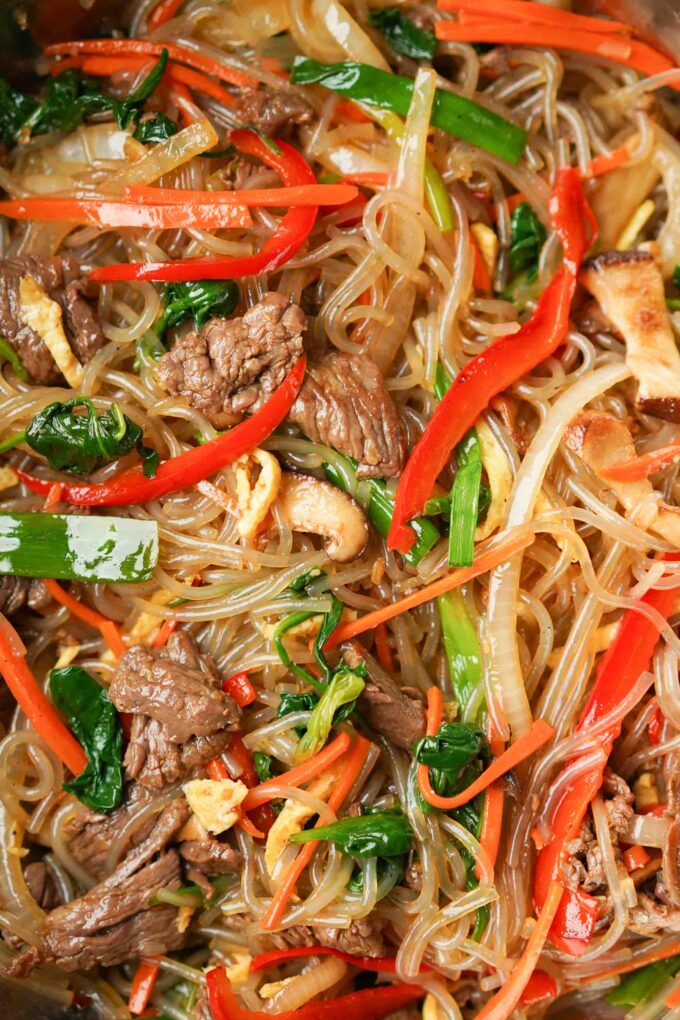 Ingredients in japchae
Noodles
My favorite part about japchae is the clear noodles of course! These noodles are made of sweet potato and they turn translucent when they're cooked. In Korean, they are called "dangmyeon," which are specific cellophane or glass noodles that are made with sweet potato starch.
Glass noodles are also made with other ingredients like mung bean or purple sweet potatoes. The texture of Korean sweet potato noodles is best described as slightly chewy and bouncy. They don't really have a particular flavor and stick to whatever seasoning you use on them.
To find the correct type of noodles at the store, try to look for these names that glass noodles also are labeled:
sweet potato noodles
yam noodles
glass noodles
cellophane noodles
dangmyeon
clear noodles
Vegetables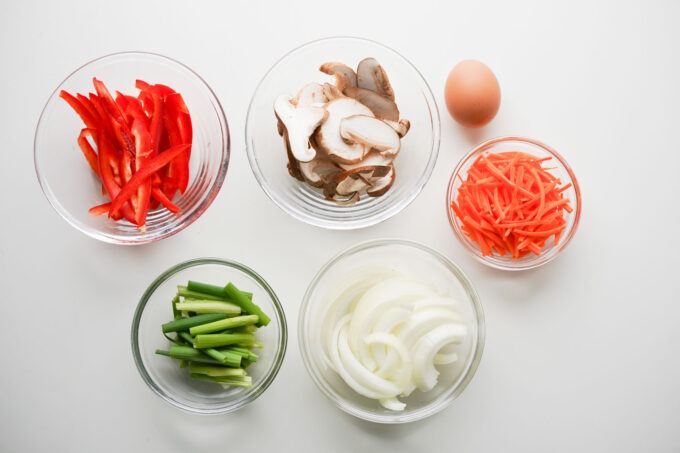 To make japchae, there are various vegetables you can add or substitute. It's similar to yaki udon where you can add vegetables you prefer, but the main ingredients typically are carrots, onions, dried mushrooms (shiitake or wood ear), bell peppers, spinach, green onions, and garlic. You can also add cucumbers, chili peppers, or other ingredients too.
Meat / protein
You can also add protein into japchae, and my favorite to add is ribeye because it's tender, fatty, and flavorful. Personally I love ribeye cap the BEST. Costco doesn't always stock prime ribeye caps so when I saw it, I had to go with it for this recipe!
It's around $20/lb so it's not cheap–you can definitely go with less expensive cuts and still make delicious japchae. Since they're sliced pretty thin, even skirt steak, or other lean cuts would work well too.
Alternatively, you can also choose to make this vegan by omitting the protein and just using vegetables–it's just as tasty.
There is also an optional topping called jidan, which is an egg garnish made of egg yolk that's beaten lightly, cooked on a pan like an omelet, and then cut into very thin strips. This is similar to the egg strips we add to Vietnamese bò bía, and bún thang.
Japchae sauce
Japchae sauce is a very simple and easy seasoning that includes soy sauce, sesame oil, black pepper, and dark brown sugar. It's got a nice balance of saltiness from the soy sauce, nutty aromas from the sesame oil, and sweetness from the sugar.
How to make japchae
While making japchae is relatively easy, sometimes noodle dishes with lots of ingredients that have different cook times or processes can become quite confusing if you don't keep an efficient timeline. This dish is similar to pancit canton or pancit palabok where you may need to cook things separately before mixing it all together at the end.
Here is the timeline I use for making japchae as efficient as I can without overcooking or undercooking ingredients while saving time:
Combine the seasoning sauce ingredients.
Marinate the meat.
Blanch the spinach & season.
Cook the noodles & season.
Cook jidan (or egg topping).
Saute the onions & green onion.
Saute the mushrooms.
Saute the carrots & bell peppers.
Saute the garlic & meat.
Combine all the ingredients in a large bowl with the seasoning & mix.
How to serve and store Korean glass noodles
Japchae is served either hot off the pan or cold from the fridge. I like it semi-chilled from the fridge when I eat it with my hot and steamy Korean BBQ at home or at the restaurant because it's a nice balance. I love eating this with Korean potato salad, kalbi, Korean purple rice, and spicy pork bulgogi. If you have leftover noodles, you can store them in an airtight container and place them in the fridge.
These noodles will last for up to 4 days in the fridge. To reheat japchae, place it in a microwave-safe bowl and add a damp towel over it so it doesn't dry out. I like to do 30-second intervals to heat it up.
Japchae Recipe (Korean Glass Noodles w/ Ribeye)
This japchae recipe is a Korean dish full of bouncy glass noodles with an array of colorful vegetables and tender ribeye. You'll want to make a large batch of this banchan so that you can keep it for leftovers because it's such a filling dish.
Ingredients
Seasoning
52

g

(

3

tbsp

) soy sauce

12

g

(

1

tbsp

)

dark brown sugar

9

g

(

2

tsp

)

sesame oil

.4

g

(

¼

tsp

)

black pepper
Meat
290

g

(

10

oz

)

sirloin or ribeye

sliced thinly

30

g

(

2

tbsp

) soy sauce

15

g

(

1

tbsp

)

garlic

minced

vegetable oil

as needed
Spinach
60

g

(

2

c

)

spinach

water

for boiling & rinsing

2.8

g

(

½

tsp

) soy sauce

1.2

g

(

¼

tsp

)

sesame oil
Noodles
225

g

(

8

oz

)

sweet potato glass noodles

9

g

(

2

tsp

)

sesame oil
Other vegetables & assembly
1

large egg

130

g

(

½

medium

)

yellow onion

julienned

28

g

(

3

stalks

)

green onions

sliced into 2-inch pieces

60

g

(

1

c

)

shiitake mushroom

sliced thinly

50

g

(

1

medium

)

carrot

julienned

72

g

(

¼

medium

)

red bell pepper

julienned

vegetable oil

as needed

salt

as preferred
Equipment Used
pot for boiling water

Strainer

scissors

saute pan

large mixing bowl
Instructions
Nutrition Facts (per serving)
Calories:
470.85
kcal
|
Carbohydrates:
61.33
g
|
Protein:
20.08
g
|
Fat:
16.44
g
|
Saturated Fat:
5.64
g
|
Trans Fat:
0.01
g
|
Cholesterol:
85.15
mg
|
Sodium:
1269.64
mg
|
Potassium:
554.46
mg
|
Fiber:
2.73
g
|
Sugar:
6.66
g
|
Vitamin A:
4199.98
IU
|
Vitamin C:
32.83
mg
|
Calcium:
72.31
mg
|
Iron:
4.02
mg
Nutrition Facts
Japchae Recipe (Korean Glass Noodles w/ Ribeye)
Amount per Serving
% Daily Value*
* Percent Daily Values are based on a 2000 calorie diet.
Like this recipe? Subscribe to my newsletter!