Miến gà is a super simple and delicious Vietnamese chicken soup with cellophane noodles. Topped with an herb mixture of cilantro and onions that always reminds me of Vietnamese food–we'd always have a plastic container of this stuff when soup was on for the week.
This is an excellent recipe for new cooks to start with since it's pretty hard to do it wrong. It has a comforting, mood-lifting effect anyone can appreciate.
You may think this recipe is so simple it's almost one of those non-recipe recipes but if you've never cooked it's super helpful to have a measurement guide and reasoning behind that method.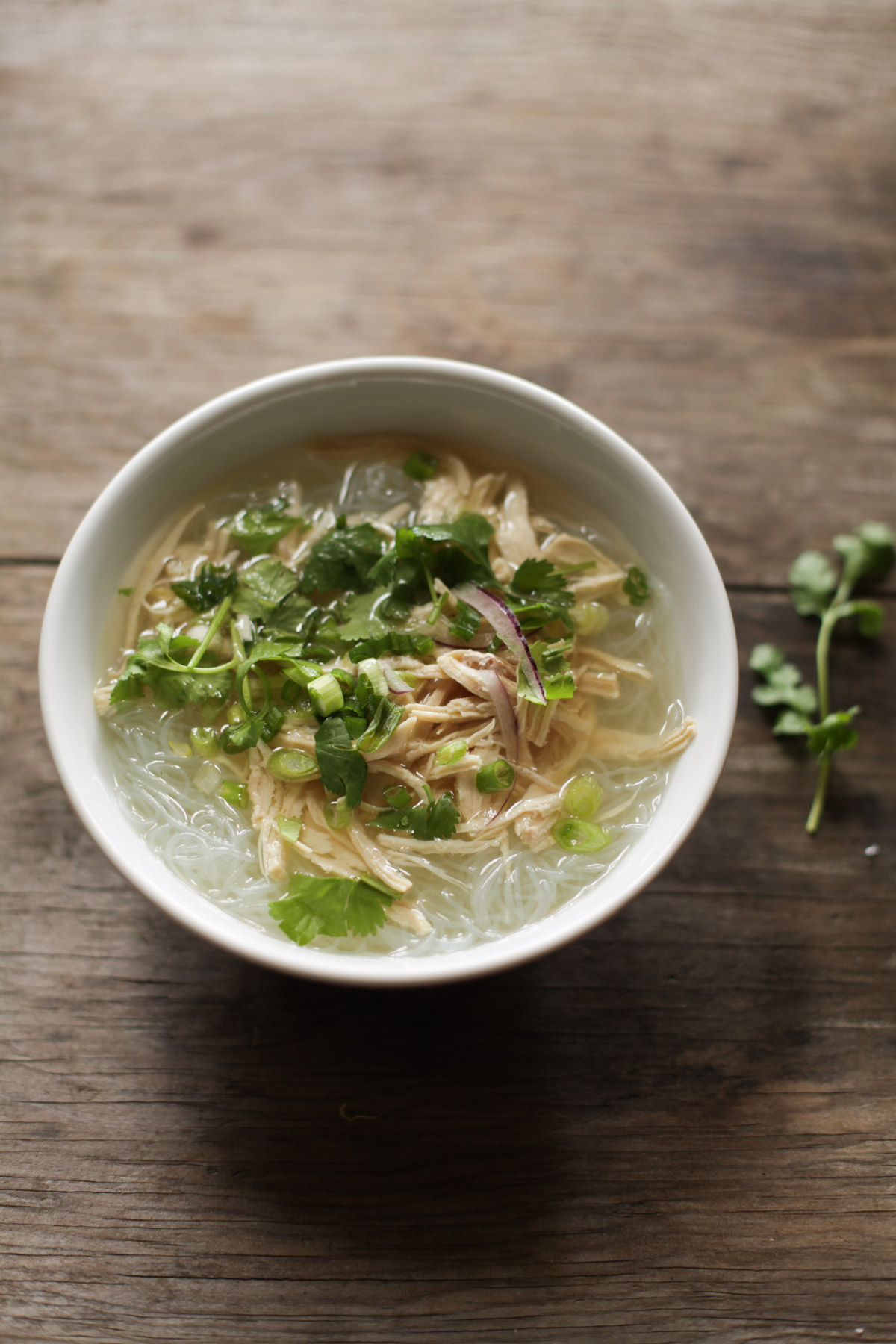 This is one of those soups my mom or grandma could throw together in less than an hour before dinner. I'd probably not order this in a restaurant since I'd rather go for something too fussy to make at home. But it's available at places that server chicken, or chicken broth based soups!
It's one of those super simple dishes that feels like home. Maybe I'm lucky to have multiple dishes that give this feeling, like thịt kho or cá kho tộ does.
Miến gà is, in fact, identical to the other nui ga (Vietnamese chicken soup with macaroni) except we swap out the macaroni in one for cellophane noodles in the other.
The noodles
These cellophane noodles are called miến in Vietnamese. Also referred to as glass noodles, mung bean noodles, or mung bean threads. It's the same ones we add to Vietnamese egg rolls (chả giò).
These look clear or transparent, not solid white like the noodles in bún bò Huế (spicy beef & pork noodle soup), and not like the one in bún thịt nướng (Vietnamese grilled pork & rice noodles) or pancit palabok.
They aren't always made of mung bean noodles, so make sure you read the ingredients list to know what you're getting. This recipe uses mung bean noodles.
All ya gotta do to prep them is soak them in hot water!
The chicken broth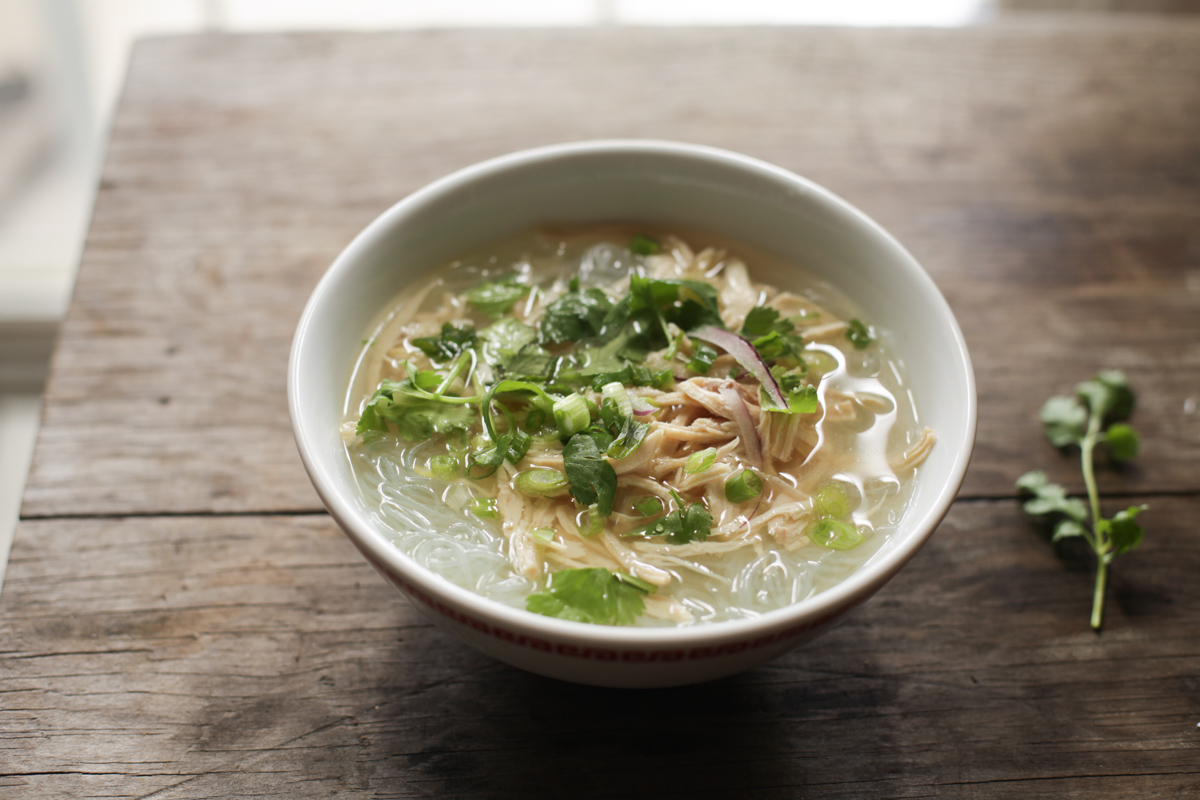 The broth is versatile, and I like that you can make it in many ways to suit your own tastes: mixed with pork bones, or mixed with canned broth when you don't have enough chicken.
In this recipe we'll do it with only chicken. You need roughly two pounds of chicken. I prefer bone-in, skin on wherever possible.
And I used to shy away from dark meat as a kid because it was weird to me (what was I thinking). But the meat you use here will be shredded and added to the soup later, so choose the cuts of meat you want to eat.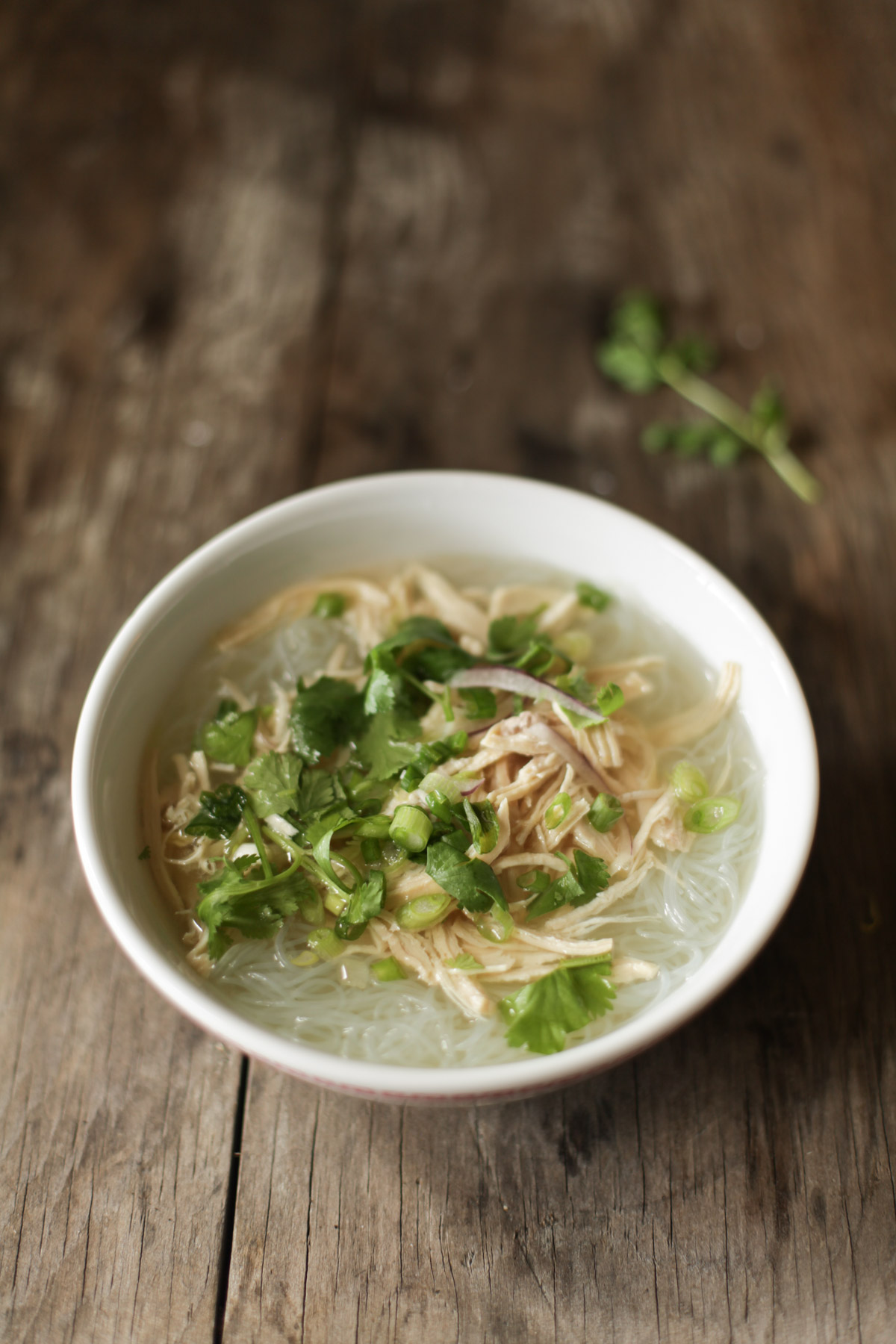 Dark meat is fattier, and tastes much better IMO, and adding bones makes the broth taste better too. But I get it if you prefer leaner cuts, or want more meat to eat in the soup too.
More meat and more bones as a general rule will make the broth taste better, but if you want to keep it more affordable, or won't eat all the meat you put in the broth, it's better to scale back the amount of chicken used.
What are glass noodles made of?
Glass noodles are made from mung beans, potato starch, tapioca starch, or other ingredients. They're also known as cellophane noodles, or mung bean noodles. These noodles are particularly slippery, so make sure to read my chopstick tutorial to learn the best grip.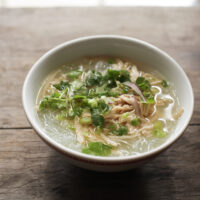 Miến Gà – Vietnamese Chicken Soup w/ Glass Noodles
A comforting Vietnamese chicken soup with clear glass (mung bean) noodles. Originally from northern Vietnam but now found throughout, and available in restaurants in the US too.
Ingredients
2

lb

organic, free range chicken

leg and thigh (or any cuts you prefer)

1

tbsp

salt

for cleaning

tap water

for cleaning
Noodles
~12.5

oz

glass noodles (dry weight)

aka cellophane noodles, mung bean noodles, bean thread. Each bowl needs about 2.5 oz dry weight.

filtered water
Soup Broth (scale seasoning as needed proportional to water)
Garnish
1

bunch

cilantro

roughly chopped

1

bunch

green onion

roughly chopped

.25

red onion sliced paper thin

optional

5

tbsp

deep fried shallots

optional
Instructions
Clean the chicken. Bring a pot of tap water and 1 tbsp salt to a boil, using enough to cover all the chicken you're using. Once it hits a boil, add the chicken for about 2-3 minutes. Discard the water and scrub the chicken under running water in the sink with your hands.

Fill the pot with enough filtered water to cover the chicken and turn the heat to high. Add salt, sugar and MSG to the pot proportional to how much water you used and of course, adjust to your taste. Once the water hits a boil, turn the heat down so its just high enough to maintain a low boil. It's done when the chicken when cut, is no longer pink inside. About 30 minutes.

Soak enough glass noodles for five bowls, in warm filtered water Approximately 10 minutes. You can use hot water to soak, and it will cook faster, but you have to monitor it more closely for the doneness you'd like. I like them slightly chewy / al dente, but some folks like them super soft. Rinse and drain once done.

Wash your cilantro and green onion, roughly chop into 1/3" long pieces and add to a garnish bowl. Thinly slice red onion if you're using it and add to a separate bowl.

Once the chicken is fully cooked, remove it from the broth and either rinse it or cover with plastic wrap in a bowl to prevent it from discoloring. Once it cools you can shred or chop it.

Assemble your bowls in this order: noodles, chicken, boiling hot broth, and top with garnish.
Nutrition Facts
Calories:
457
kcal
|
Carbohydrates:
66
g
|
Protein:
17
g
|
Fat:
13
g
|
Saturated Fat:
4
g
|
Cholesterol:
65
mg
|
Sodium:
2881
mg
|
Potassium:
235
mg
|
Fiber:
1
g
|
Sugar:
4
g
|
Vitamin A:
278
IU
|
Vitamin C:
4
mg
|
Calcium:
46
mg
|
Iron:
3
mg
Like this recipe? Subscribe to my newsletter!