This is perfect, simple cold weather soup. If you haven't built up the courage to try the bitter melon soup I posted the other week, Vietnamese chicken soup with elbow macaroni might be a simpler start :).
What's that you say? Elbow macaroni isn't Vietnamese?…hmm. You're right, you'd probably never find this soup served in Vietnam or in any Vietnamese restaurants. This is strictly some homemade chicken soup you'll find in Vietnamese-American homes.
Vietnamese chicken noodle soup, if you will, or súp nui gà.
This is another dish I grew up with as a kid, and I was so excited whenever mom or grandma was making it! In the original Vietnamese version of this, you'd use mung bean noodles instead–the macaroni is simply a switch made out of convenience in the US and it tastes great too!
I think this soup is an easy sell for those not yet comfortable with Vietnamese cuisine. It's incredibly simple, fairly tame (no weird bits), and not too far a stretch from American chicken noodle soup. The few hints of Vietnamese especially come through here with the addition of cilantro, scallion, and a smidge of sambal for kick.
This is one of those simple foods you can make a big ol' pot of and eat for a week.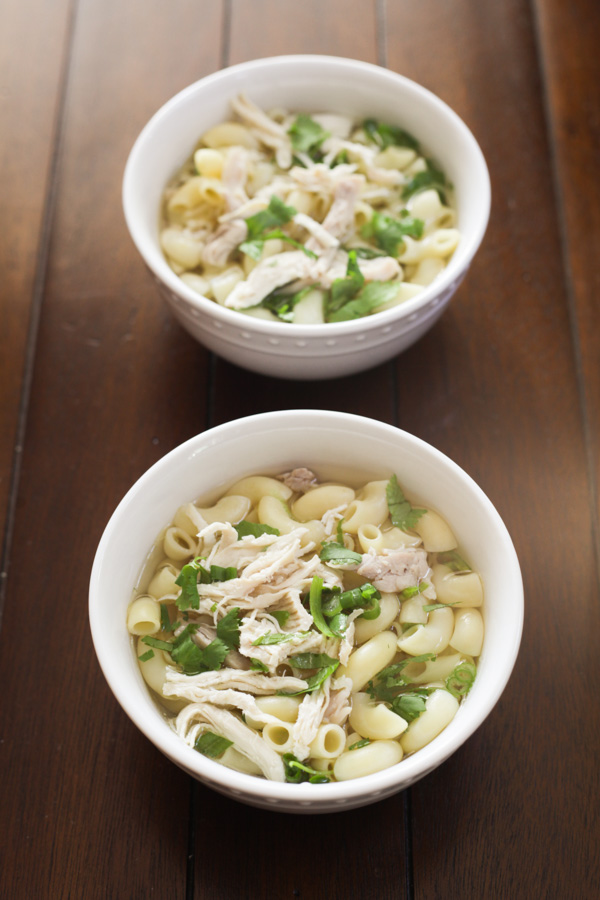 The Luxury Of Options
Simple food like this soup is always very humbling to me.
Let's take a second and think about how fortunate we are to have food. How fortunate we are to have options at all. I have it on good authority (mom :)) that many of the folks in Vietnam grew up incredibly poor.
Consider this–it's common to have under 1/4 pound of meat shared between an entire family for a meal, if you were fortunate to have meat at all! Meanwhile in America, we have the option of things like 'Quarter Pounders,' 'Double-Doubles,' and all you can eat BBQ!
If you cooked at home each week, you really could pay for a whole month's worth of food with 1 day's worth of pay. The super-poor in Vietnam work their butts off for an entire month and still are forced to eat just rice with fish sauce.
I'm sure I was told some version of that repeatedly as a child, but it was never processed. But yes, I'm fortunate and thankful for it! If you want a Filipino version of chicken soup, you can try my chicken tinola recipe.
Choosing Chicken
Choose chicken with bones and darker meat for better flavor. The more chicken you use to make the broth, the better it'll taste! The only problem you'll have is a ton of leftover chicken. You can use leftover boiled chicken to make Vietnamese chicken salad (goi ga), or bun thang (another Viet rice noodle soup)—recipes coming soon!
Anyway, here's how to make some of that humbling, Vietnamese chicken soup!
More tasty chicken soups to try
Vietnamese Chicken Noodle Soup Recipe (Súp Nui Gà)
The easy to make and comforting Vietnamese twist on chicken noodle soup that I ate as a child growing up.
Ingredients
4

lb

(

1.8

kg

)

of chicken bone-in

preferred or 3 pounds of boneless chicken

1

large yellow or white onion

or 2 medium sized onions, quartered.

2

tbsp

salt

1

tbsp

sugar

1

tsp

MSG (monosodium glutamate)

optional

16

oz

dried elbow macaroni
Garnish
cilantro

chopped

scallion

chopped
Instructions
Add chicken, onion, salt, sugar, and MSG into a large pot. Add enough water to cover, bring to a boil, then reduce to a simmer. It should take about 10-15 minutes of simmering to finish.

Meanwhile, boil your macaroni in a separate pot of water until al dente, then drain.

Check the doneness of the chicken as each 1-2 minutes pass. The chicken should be white in the center and have the juices run clear. Adjust seasoning as needed.

Remove chicken, let it cool, then pull into shreds with your fingers or a fork.

Add to a bowl macaroni, some broth, chicken, and garnish with chopped cilantro and scallion. Top with sambal and serve!
Nutrition Facts (per serving)
Serving:
0
g
|
Calories:
246
kcal
|
Carbohydrates:
3
g
|
Protein:
20
g
|
Fat:
16
g
|
Saturated Fat:
5
g
|
Cholesterol:
82
mg
|
Sodium:
1823
mg
|
Potassium:
226
mg
|
Fiber:
1
g
|
Sugar:
2
g
|
Vitamin A:
152
IU
|
Vitamin C:
3
mg
|
Calcium:
15
mg
|
Iron:
1
mg
Nutrition Facts
Vietnamese Chicken Noodle Soup Recipe (Súp Nui Gà)
Amount per Serving
% Daily Value*
* Percent Daily Values are based on a 2000 calorie diet.
Like this recipe? Subscribe to my newsletter!