This mì khô recipe, aka dry egg noodles, is one of those amazing comfort foods that somehow just always hits the spot.
The bulk of the bowl is egg noodles with a concentrated seasoning (that you don't get in the soupy version!), flavor infused xa xiu/char siu pork, fresh scallions, crisp bean sprouts, a side of hot soup broth with chives and pork spare ribs, and of course topped with crispy fried pork fat (tep mo).
It's easily mistaken for something super simple [yet delicious], but when you make these noodles, you'll realize how many layers of flavors and textures go into making it. This is an incredible noodle bowl and totally worth the effort!
I used to eat these noodles with my parents all the time when I lived with them, at a place downtown. After 20 something years I went back and the same guy was still running the place!
All restaurants that serve this these egg noodles serve it soupy or with soup on the side and is usually a smallish, no-frills joint, which I'm definitely ok with. As long as the food is good, and no frills means a lower food bill I can live with that!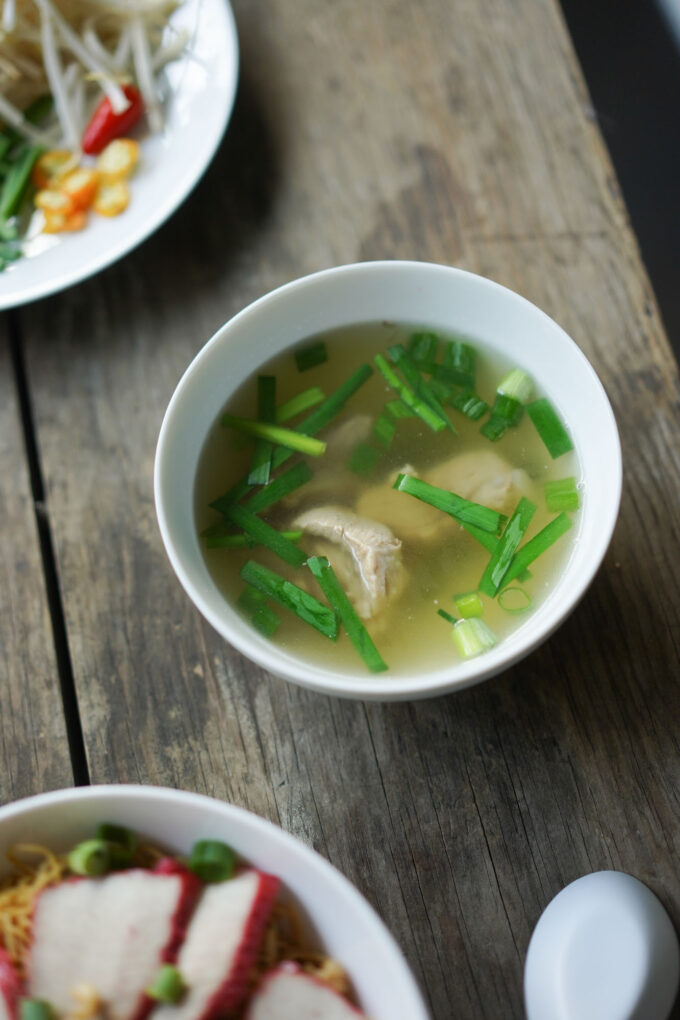 This is also perfect for me since even in other soups like pho or bun bo hue, as amazing as the broths can be, I'm not about to drink the whole bowl of liquid (there would be no room left for coffee or dessert).
So a tiny bowl of heavily chived soup on the side is perfect. Take a few bites of seasoned and spicyish noodles, take a little hot soup sip break, and repeat.
For toppings or variations on these noodles, the place I now frequent in Southern California offers roasted duck (yum!), shrimp, banh xep (like a battered and fried shrimp thing), seafood, or combo options.
I prefer the simple, and flavorful xa xiu option just about everything, and that's what we're making in this recipe! It's extremely similar to the recipe I already have up for xa xiu for Vietnamese sandwiches, except you don't use belly, and you don't need to tie or roll it up before cooking.
Ahh what would any Vietnamese dish or soup be without a heaping pile of veggies? I prefer my bean sprouts and chives blanched a bit. It softens both, and takes away a bit of the chive's bite.
This photo is actually incomplete. The bowl of noodles is NOT ready to eat until I add a splash of vinegar, a squirt of spicy Chinese style mustard, and a few spoonfuls of broth to the noodles.
I can't speak to authenticity of this, but it's basically what I've been taught over the decades by my family. It is a DIY, scale to your own liking type of thing so feel free to try it out!
The local restaurant I frequent serves these green peppers soaked in vinegar. Basically light pickled. But I like to take em out and let it swim in soy sauce for a few minutes before taking itty bites out of them.
Lots of little details to sort out, but where's the fun without the fuss? I LOVE mì khô and hope you do after trying this out too. Drop a comment below once ya try and let me know what you think.
How do you eat Vietnamese dry noodles?
Deconstructed Vietnamese noodles that come with an additional bowl of broth are fun to eat and great for those who don't like to eat too much of the soup or like to keep their noodles dry. There are various ways to eat dry noodles: using a soup spoon to add some broth into your bowl or adding some broth into your soup spoon and using chopsticks to add some noodles on top and taking a mouthful.

I like to add a splash of vinegar and spicy Chinese-style mustard to it too, and eat with soy sauce soaked pickled jalapenos too. I also love eating this dish with some youtiao on the side for an extra crunchy texture.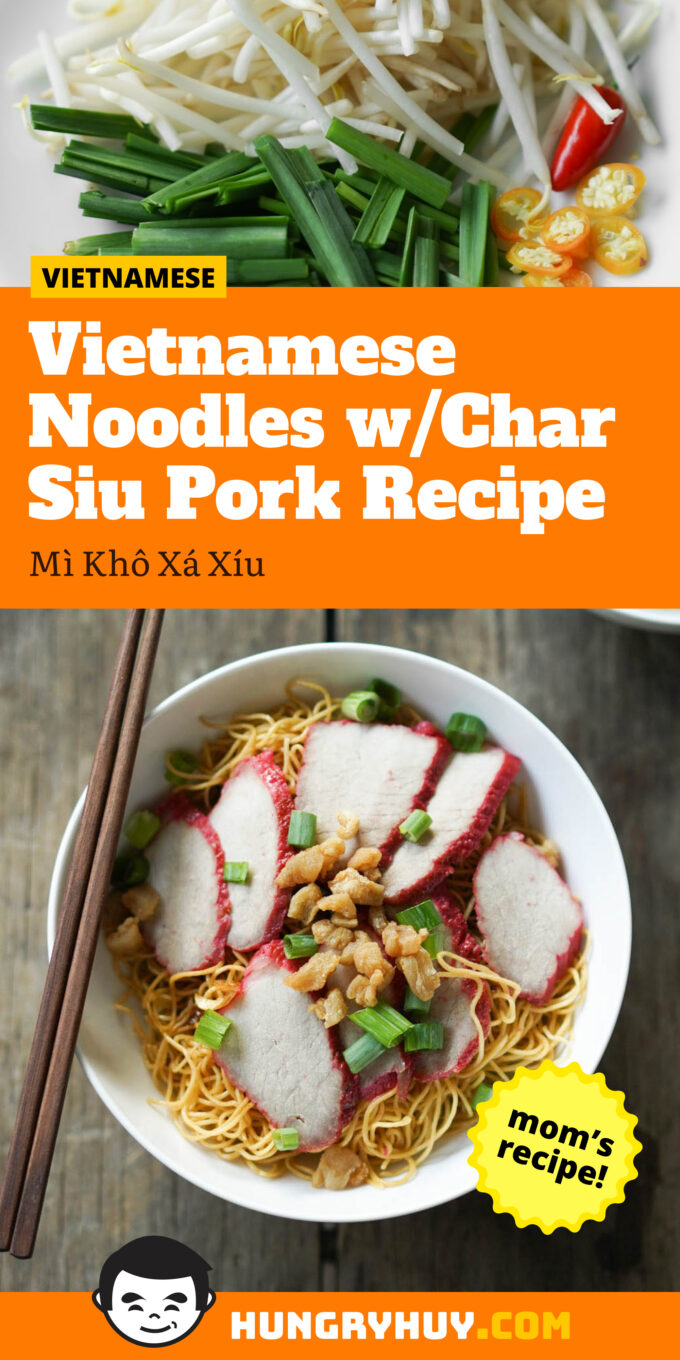 Mì Khô Xá Xíu (Vietnamese Dry Noodles with Char Xiu Pork)
This mì khô recipe, aka Vietnamese dry egg noodles, is an amazing dish that always hits the spot, with char siu pork, spare ribs, and crispy pork fat.
Ingredients
Xa Xiu (Char Siu Pork)
2

lb

pork shoulder

1

cup

filtered water

2

Tbsp

cooking wine

2

Tbsp

light soy sauce

2

tsp

garlic powder

2

tsp

onion powder

1/2

tsp

salt
Broth Prep
2-3

lb

pork bones or pork spare ribs

(I like half of each)

2

Tbsp

salt

tap water
Broth
14

cups

filtered water

2

medium onions

peeled, and left whole

2

Tbsp

dry squid or dry shrimp

toasted 3 min, then rinsed until clean

2

Tbsp

salt

2

Tbsp

sugar

1

tsp

MSG (monosodium glutamate)
Noodle Seasoning
2

Tbsp

neutral cooking oil

1

Tbsp

minced garlic

4

Tbsp

oyster sauce

4

Tbsp

soy sauce

2

Tbsp

Chinese cooking wine

2

Tbsp

sugar

2

Tbsp

rice vinegar

8

Tbsp

water
Tep Mo (fried pork fat)
1/2

lb

raw pork fat

for tep mo
Accoutrement
1

lb

bean sprouts

blanched

2

bunches

chives

cut into 2" pieces

rice vinegar

to taste

spicy Chinese mustard

to taste
Instructions
Xa Xiu
Add all ingredients into a pan. Heat on high until boiling, then lower to medium high and cook for ~15 minutes while flipping the pork every ~5 minutes. Turn heat to medium-low and continue rotating the pork every ~5 minutes so it cooks and abosrbs the seasoning evenly, until just about all the water has evaporated.
Broth
Add all pork bones or pork ribs to a pot and fill with tap water until just covered. Add 2 Tbsp salt and bring to a boil on high heat. Once it hits a boil, let it boil for 30 seconds and then turn off the heat, and drain. Rinse under running water until clean and drain the water.

Return the pot to the stove and add all the broth ingredients. Turn the heat to high until it hits a boil, then lower to around medium so it maintains a low boil. Cook until the meat or meat around the bones is soft–approximately 2 hours.

Remove the lid, discard the onion and squid, then check the pork for doneness if using pork meat and not just bones.
Tep mo (fried pork fat)
Cut the pork fat into 1/2" cubes and saute on medium high heat until crisp, drain and set aside.
Noodle Seasoning
Add oil and shallot to a small sauce pan and saute on medium until fragrant. Add the remainint ingredients and bring to a boil on high. Taste, and adjust as needed, then remove from heat.
Noodles & Assembly
Boil noodles according to package instructions, drain and split into 8 bowls. Assemble your bowl with accoutrement, sliced xa xiu, fried pork fat and add a bit of seasoning on top of each bowl. Serve with a small bowl of soup on the side.
Nutrition Facts
Calories:
927
kcal
|
Carbohydrates:
97
g
|
Protein:
36
g
|
Fat:
42
g
|
Saturated Fat:
14
g
|
Cholesterol:
211
mg
|
Sodium:
4974
mg
|
Potassium:
685
mg
|
Fiber:
5
g
|
Sugar:
13
g
|
Vitamin A:
126
IU
|
Vitamin C:
11
mg
|
Calcium:
99
mg
|
Iron:
4
mg
Like this recipe? Subscribe to my newsletter!