This Vietnamese thịt kho recipe is a low and slow braise with suuuper tender and flavorful pork, with hard-boiled eggs that have absorbed all the seasoning too. It's traditionally served around the lunar new year because of how well it keeps after cooking.
It's savory, salty, and slightly sweet seasoned mainly with fish sauce and soy sauce paired with hard-boiled eggs. Served atop a large mound of steamed white rice, and a side of pickled mustard greens, these are the flavors and memories of my childhood.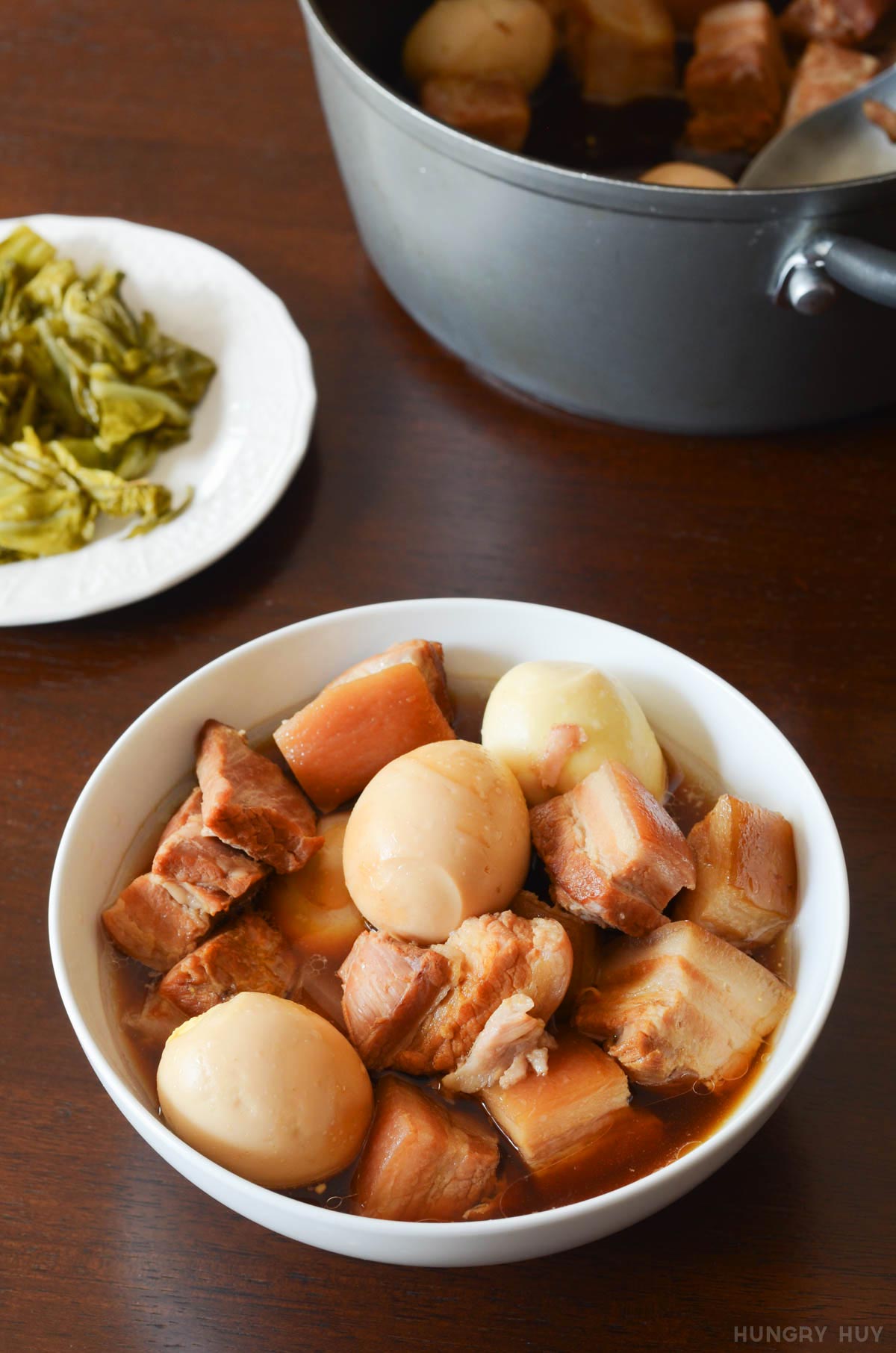 The pan-asian pork & egg dish
This dish is seen in very slightly modded variations across other ethnic cuisines, not just Vietnamese. I've seen variations in Japanese food, Chinese food, and Taiwanese food. In fact, it's extremely similar to the recipes I have for Filipino pork adobo and chicken adobo.
I don't know the actual connection–why all these Asian cuisines have this. Perhaps is the readily available and common ingredients for a simple recipe. It keeps well, and is delicious too.
Cuts of meat to use
If you can get pork belly with the bones, you'll have even better results than just belly, but you can also substitute for whatever cut you prefer especially if you like it leaner. My ideal ratio of pork for this dish is actually 3/4 pork belly and 1/4 of a leaner cut like shoulder.
Pork belly and fat is tasty, but sometimes when the fat to meat ratio isnt right in it, im left with just hunks of fat and nothing to balance it out with. If you pay close attention when selecting the cuts with a ratio you like, it could work out.
Near me in Southern California's Little Saigon, you can get a higher quality of pork belly at Quang Minh Mini Market. It costs more, but there seems to be a consensus that its worth the cost–something I need to check out! However, I'm having excellent thit kho results from using nearby Vietnamese and Filipino supermarkets in the meantime.
The seasoning & sauce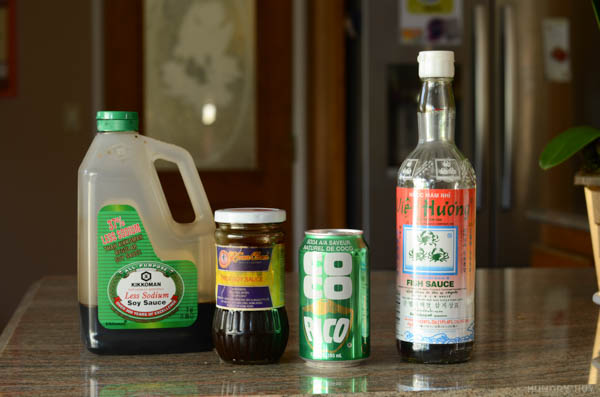 Here are the brands I use for the seasoning: Rico coconut soda, Kikkoman soy sauce, and Three Crabs Brand fish sauce. The thick soy sauce brand is Koon Chun, to be used in a pinch for color, but you really should be making your own simple caramel coloring (nuoc mau).
Cooking notes
I have tried adding slices of yellow onion too and it adds a nice layer of flavor to this dish. You can remove the onion at the end of the braise if you prefer since it will have given up all its flavor to the broth.
Adjust the seasoning again after the liquid has reduced to a consistency you like: tinker with the soy sauce, fish sauce, and salt again to taste and write it down so you know what to do next time. This dish scales very well too if you want to make larger quantities for the family. I love the eggs with this, personally, at almost a 1:1 ratio so it's hard to have too many.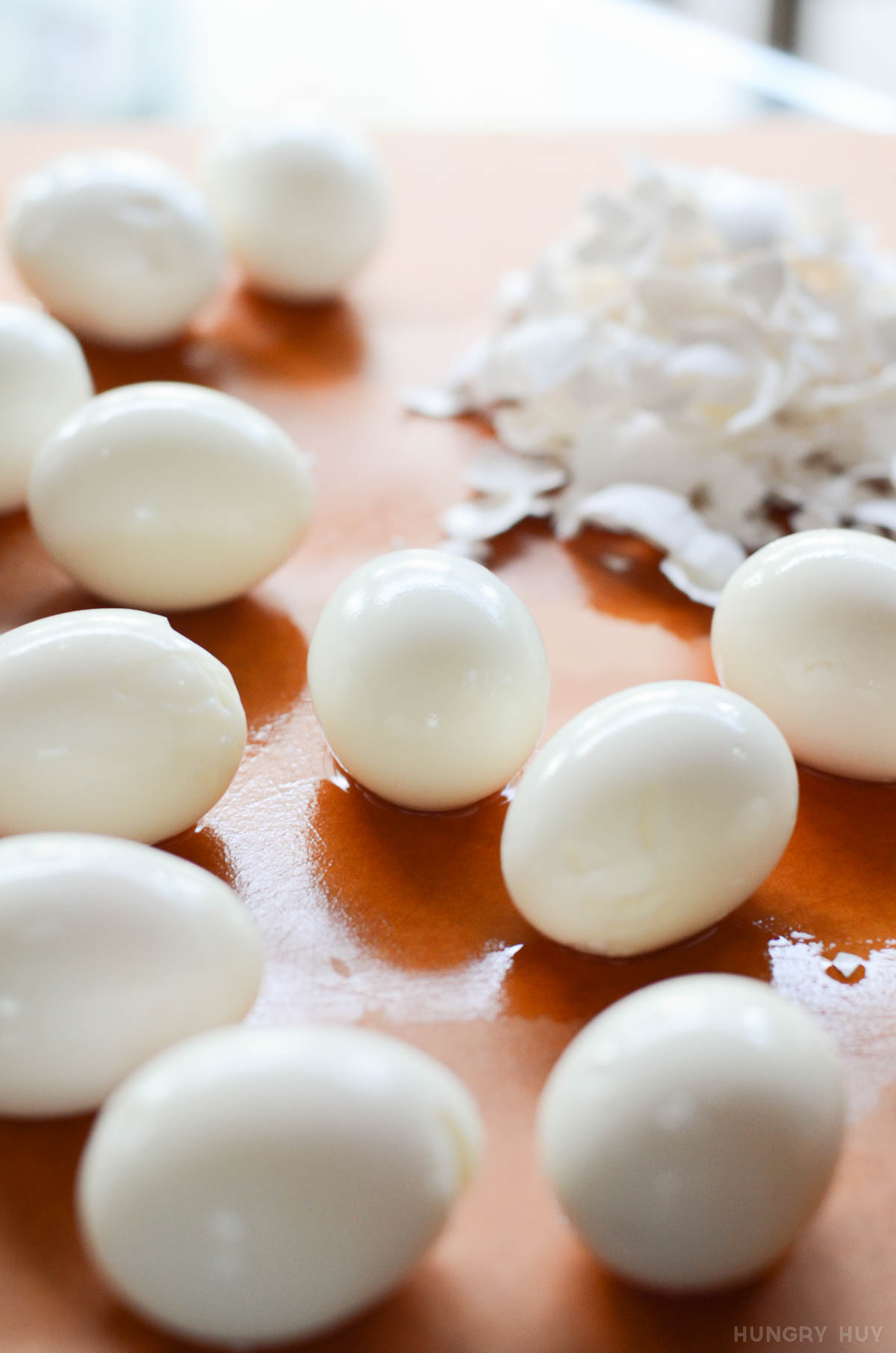 Egg upgrade. If you're feeling extra fancy, instead of boiling these for hard yolks, you can follow the steps on my ramen egg recipe for gooey, jammy yolks instead, and marinate in the sauce in this recipe before serving the eggs.
Serving & storage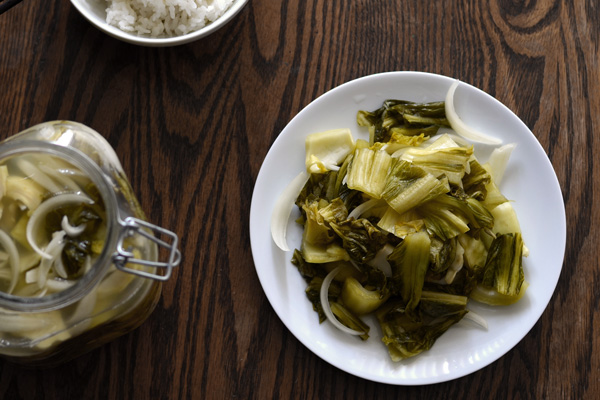 As a kid I enjoyed separating parts of this dish, mashing the yolk with the rice and spooning sauce over it. My cousins were always requesting grandma to make this dish, and even as they grew older. They'd request this dish with "extra sauce" for y'all salt fiends. It is an easy and effective way to stretch the dish with more rice too.
This dish is commonly eaten with a side of dua chua (pickled mustard greens) which provides a fresh and crunchy balance. Any kind of salty meat like this pairs well with a pungent, vinegary pickle.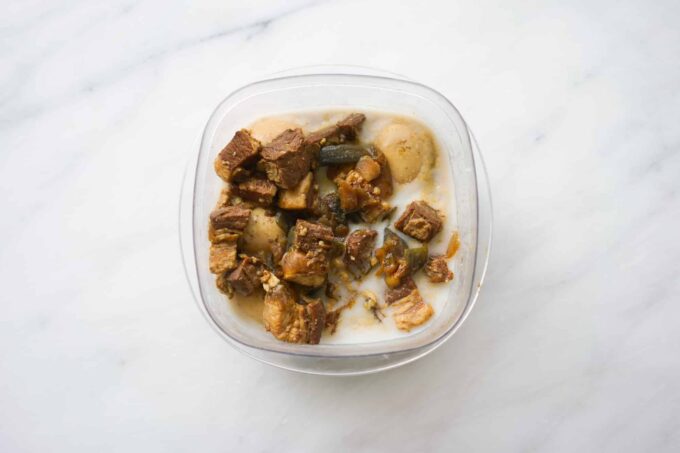 Once you refrigerate this dish, all the fat will solidify at the top. Since we typically use pork belly for this, I will scrape some of this off. The dish and meat overall are still super tendy and fatty without it! To learn more easy Asian recipes, click here.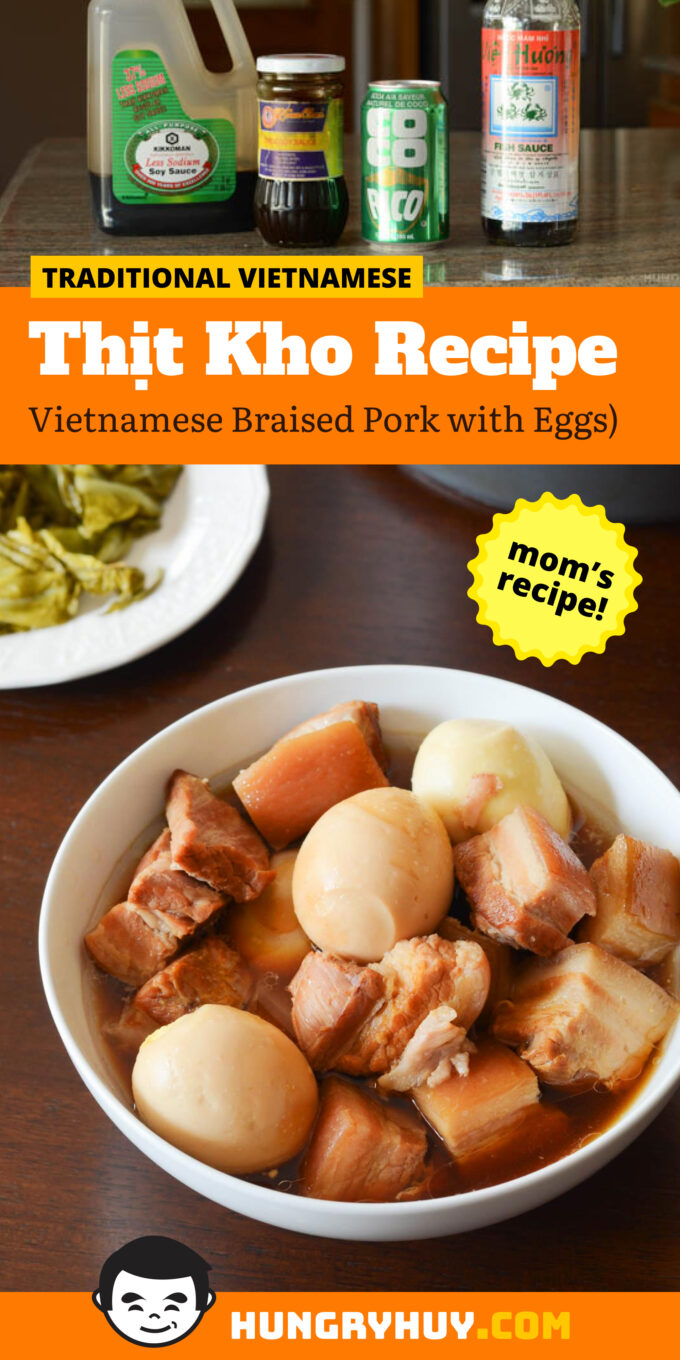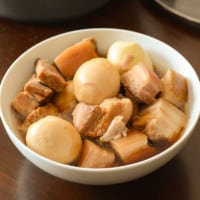 Thịt Kho – Vietnamese Braised Pork with Eggs
Super tender pork, and seasoned hard-boiled eggs, thịt kho is really easy to make, and the comforting, traditional Vietnamese dish that reminds me of my childhood.
Ingredients
2

lb

(

907.2

g

)

pork

I like 50% belly 50% shoulder

tap water

for first boil

6

fl oz

Rico coconut soda

Coke or 7-Up works in a pinch

3

tbsp

fish sauce

2

tsp

salt

filtered water

4

tbsp

caramel color (nuoc mau)

Depending on how dark your caramel sauce gets, you may not need to use all of it.

8

large hard-boiled eggs

1

yellow onion

split into 8 large chunks
Instructions
Cut the pork into 1.5" cubes. I like this size for ease of eating, and it cooks faster than 1 huge chunk of pork.

Bring 2-3 quarts of tap water boiling on high, or enough to fully submerge the pork. When the water's boiling, add the pork for 1-2 minutes just to clean it. Drain then rinse the pork under running water until the water is clear.

Add the coconut soda, fish sauce and salt to the pot, then add filtered water so it just about covers the pork.

Turn the heat to high. When boiling, lower heat to about 25% heat or until you still see a low boil. Simmer for about 1.5 to 2 hours total, leaving covered for the first 40 minutes. Check and stir the pot every 20 minutes. The longer you cook it, the softer the pork gets. After 40 minutes, remove the cover to let the liquid reduce so you get a more concentrated sauce later.

Make the hard-boiled eggs: add the eggs to a pot and cover the eggs with cold water by 1 inch. Bring to a boil on medium-high heat. Remove from heat and let it sit for 8 minutes. Cool under running water and peel the shells.

The final goal is to reduce the liquid about 1/3 of the starting amount, but you can do it based your own taste of the sauce and pork softness. When the pork hits a doneness you like, re-season with salt or fish sauce, or add water to thin out to your taste. Remember you want it a bit saltier since it will dilute when eating with rice.
Notes
3/11/2021 changes:
Removed optional soy sauce–stick with the fish sauce :).
Added pork shoulder 50/50 split with belly since I like it this for more lean pieces instead of all belly, but you can choose whichever cuts you like!
7/1/2021: Added new photos, same recipe 🙂
Nutrition Facts (per serving)
Serving:
0
g
|
Calories:
1128
kcal
|
Carbohydrates:
16
g
|
Protein:
28
g
|
Fat:
105
g
|
Saturated Fat:
38
g
|
Cholesterol:
429
mg
|
Sodium:
1941
mg
|
Potassium:
500
mg
|
Fiber:
1
g
|
Sugar:
15
g
|
Vitamin A:
434
IU
|
Vitamin C:
2
mg
|
Calcium:
59
mg
|
Iron:
2
mg
Nutrition Facts
Thịt Kho – Vietnamese Braised Pork with Eggs
Amount per Serving
% Daily Value*
* Percent Daily Values are based on a 2000 calorie diet.
Like this recipe? Subscribe to my newsletter!