Tender and juicy pieces of chicken thighs swimming in a creamy, and tomato-based curry that fills your house with aromatic smells of sweet and pungent spices–butter chicken is definitely one of my most favorite Indian dishes. This recipe will teach you how to make butter chicken that is even better as leftovers the next day.
What is butter chicken?
Butter chicken is a well-known and loved curry that originated from India around the mid 20th century. It was created at Moti Mahal Restaurant in New Delhi and was a combination of leftover marinade and tandoori chicken stewed together to make a creamy and tender curry.
It's named murgh makhani, or "butter chicken," and made with ingredients that include chicken, tomatoes, ghee, cream, and a lot of other flavorful spices. My all-time favorite dish to order at local Indian restaurants like Annapoorna in Southern California, I knew I needed to figure out how to make this on my own.
Butter chicken vs tikka masala
Some say that butter chicken and tikka masala are very similar, but they actually have some differences. What distinguishes the two is that butter chicken is more creamy (due to the addition of heavy cream and ghee), whereas tikka masala has more of a gravy consistency.
While butter chicken was created in India, the other was made in a completely different continent. Tikka masala is actually the national dish of Britain and its origin stories are from somewhere in the United Kingdom where Bangladeshi chefs created a new type of curry with butter chicken influences.
Type of chicken to use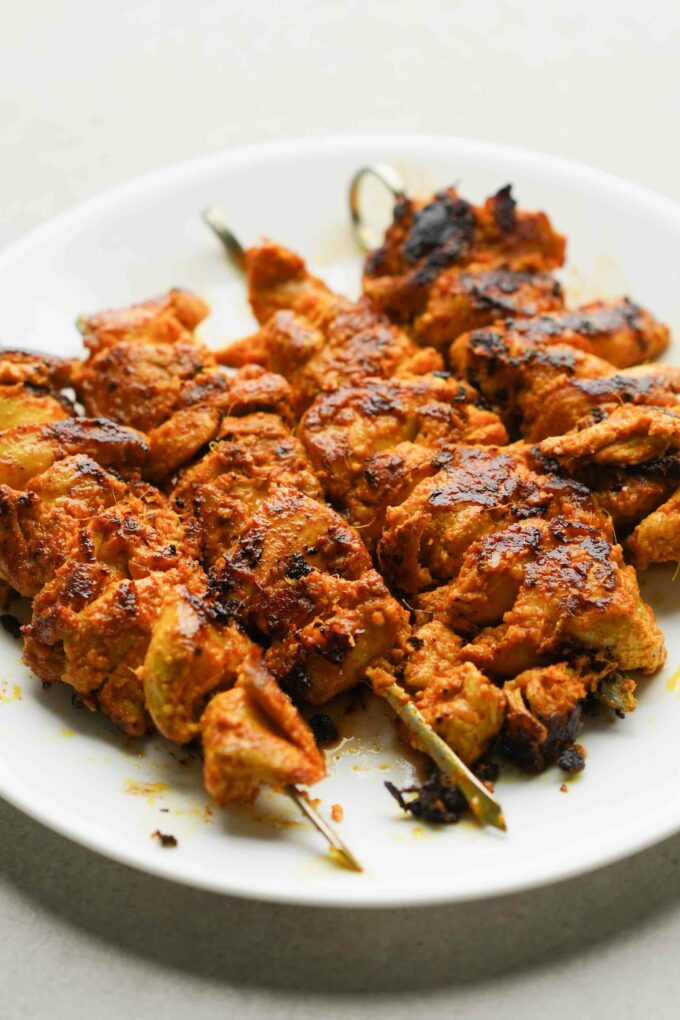 This recipe calls for skinless chicken thighs because you get such juicy and tender pieces from this cut of chicken. I like to cut them into evenly thick pieces so they sear and cook at the same time while cooking. To get somewhat of a similar tandoori style sear on the chicken, I like to skewer and sear them on a hot cast iron pan before braising them in the sauce.
Butter chicken ingredients
While the main ingredients of butter chicken are chicken thighs, ghee, yogurt, cream, garlic ginger paste, and tomatoes, some spices add that extra flavorful taste to the curry.
Garam masala is one of the ingredients but this is like saying "spices." Each type of garam masala can vary wildly in taste. I used the brand Laxmi Brand garam masala I purchased from my local Indian market for this recipe.
Other spices for this recipe include turmeric, Kashmiri powder, paprika, and cumin. Kashmiri powder helps give the butter chicken a vibrant red hue, but it's also fairly spicy. Since I like my curry mild, I added a little paprika so I could have the same coloring, but less of the heat. You can choose to add more Kashmiri powder if you want a bigger kick.
How to make Indian butter chicken
To make the juiciest butter chicken, here are some tips:
Marinate the chicken in the fridge for at least 4 hours (ideally overnight.) This will give you super moist and tender pieces of chicken.
Skewer the meat and sear on a really hot cast iron pan. This will help get you a really nice sear on the meat and also mimic the crispy outside pieces like the tandoori chicken in the original recipe.
Add all your spices in the pot (except the garam masala) and let them cook for about 1 to 2 minutes with the onions and garlic ginger to get a bolder flavor. You don't want to cook down the garam masala because it will get too bitter.
Use a blender to get an extra smooth texture in your curry before adding in the chicken to the pot. This also helps aerate the tomato puree, blend the cashews to create a thicker curry, and gives you a smoother texture.
We're going to use a regular pot here, but there are Instant Pot or pressure cook variations of this recipe we may explore later.
What does butter chicken taste like?
Butter chicken is a somewhat mild curry made of lots of ghee, cream, and tomatoes. It's also got a hint of sweetness that makes it even more addicting when paired with spices like Kashmiri powder, garam masala, turmeric, and cumin.
Is butter chicken really Indian?
Yes, butter chicken (or murgh makhani) was created in New Delhi at Moti Mahal Restaurant. The chefs at this restaurant combined leftover tandoori chicken with some marinade, cream, ghee, and other spices to create this new curry.
Why is butter chicken so good?
Butter chicken is so delicious because it's got a great balance between the tanginess of tomato puree, fattiness of the ghee and cream, a mild spiciness of Kashmiri chili powder (among other spices), and a slight sweetness of sugar. It's best served with simple basmati rice (on the stove, in an Instant Pot, or rice cooker) and garlic naan. 
For other delicious types of curry, you can also make Vietnamese chicken curry (cà ri gà) or beef Penang.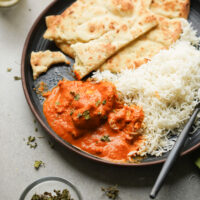 Indian Butter Chicken (Murgh Makhani)
Learn how to make butter chicken at home and savor the tender chicken pieces stewed in a buttery, tangy, and sweet tomato and cream curry.
Ingredients
Garlic ginger paste
40

g

(

6

inches

)

ginger

80

g

(

30

cloves

)

garlic

2

fl oz

(

4

tbsp

)

water
Marinade
480

g

(

16

oz

)

chicken thighs

skinless

120

g

(

½

c

)

full fat yogurt

2.4

g

(

1 ¼

tsp

)

garam masala

3

g

(

1

tsp

)

turmeric

80

g

(

4

tbsp

)

garlic ginger paste

2.6

g

(

1

tsp

)

Kashmiri chile powder

2

g

(

1

tsp

)

cumin

.75

fl oz

(

4

tsp

)

lemon juice

7

g

(

2

tsp

)

salt
Curry
56

g

(

4

tbsp

)

ghee

140

g

(

1

small

)

yellow onions

80

g

(

4

tbsp

)

garlic ginger paste

3.6

g

(

1 ¼

tsp

)

garam masala

3

g

(

1

tsp

)

turmeric

1.2

g

(

½

tsp

)

Kashmiri chile powder

1.2

g

(

½

tsp

)

paprika

2.5

g

(

1

tsp

)

cumin

18.5

g

(

4

tsp

)

white granulated sugar

9.75

g

(

3

tsp

)

salt

19

g

(

2

tbsp

)

cashews

28

fl oz

(

3 ½

c

)

tomato puree

16

fl oz

(

2

c

)

filtered water

4

fl oz

(

½

c

)

heavy cream

fenugreek leaves

optional topping
Equipment Used
knife and cutting board

mixing bowls & airtight container

spatula or spoon

skewers (metal or wooden)

cast iron pan (or frying pan)

pot or dutch oven

blender
Instructions
Garlic ginger paste
Marinade
Cut your chicken thighs into thin slices about ¼ inch thick and 2-3 inches long. Add all the pieces in a container with a lid.

In a bowl, combine the marinade ingredients and stir until mixed.
Butter chicken
Remove your chicken from the fridge at least 30 minutes before cooking so it will cook more evenly.

Put all the meat on skewers evenly.

Preheat your pan on medium-high heat and drizzle a little vegetable oil (or neutral oil) if necessary. Pan fry your skewers for about 1-2 minutes on each side until they are seared and golden brown. Remove them from the heat once all the sides are done (and register at 135 °F with a meat thermometer) and set them aside until later.

In a dutch oven add half the ghee and all the onions. Saute the onions for 30 seconds or until slightly softened.

Add the garam masala, tomato puree, cashews, sugar, salt, and water to the pot and stir until combined. Bring the liquid to a boil and lower to a simmer for 10 minutes.

Transfer the liquid to a blender and pulse until it's evenly blended with no chunks. Transfer back into the pot and add the chicken.

Bring to a boil and lower to a simmer for 10 minutes to allow the chicken to finish cooking. Then add the heavy cream and the rest of the ghee.
Nutrition Facts (per serving)
Calories:
466.64
kcal
|
Carbohydrates:
27.8
g
|
Protein:
18.67
g
|
Fat:
32.88
g
|
Saturated Fat:
14.72
g
|
Trans Fat:
0.07
g
|
Cholesterol:
131.9
mg
|
Sodium:
1220.23
mg
|
Potassium:
1011.34
mg
|
Fiber:
4.53
g
|
Sugar:
12.33
g
|
Vitamin A:
1373.46
IU
|
Vitamin C:
22.84
mg
|
Calcium:
114.94
mg
|
Iron:
4.61
mg
Nutrition Facts
Indian Butter Chicken (Murgh Makhani)
Amount per Serving
% Daily Value*
* Percent Daily Values are based on a 2000 calorie diet.
Like this recipe? Subscribe to my newsletter!