Vietnamese chicken curry (cà ri gà) is a hot bowl of comfort packed with FLAVOR. Although there is some wait time involved with the marinade to season the chicken, and frying the potato and carrot so they hold their shape, this curry recipe is hard to mess up.
This is, yet another recipe, that I have been lucky enough to grow up eating as a child. I'd love dipping the curry with freshly toasted baguette, and sometimes finishing off the last bits by adding rice instead too.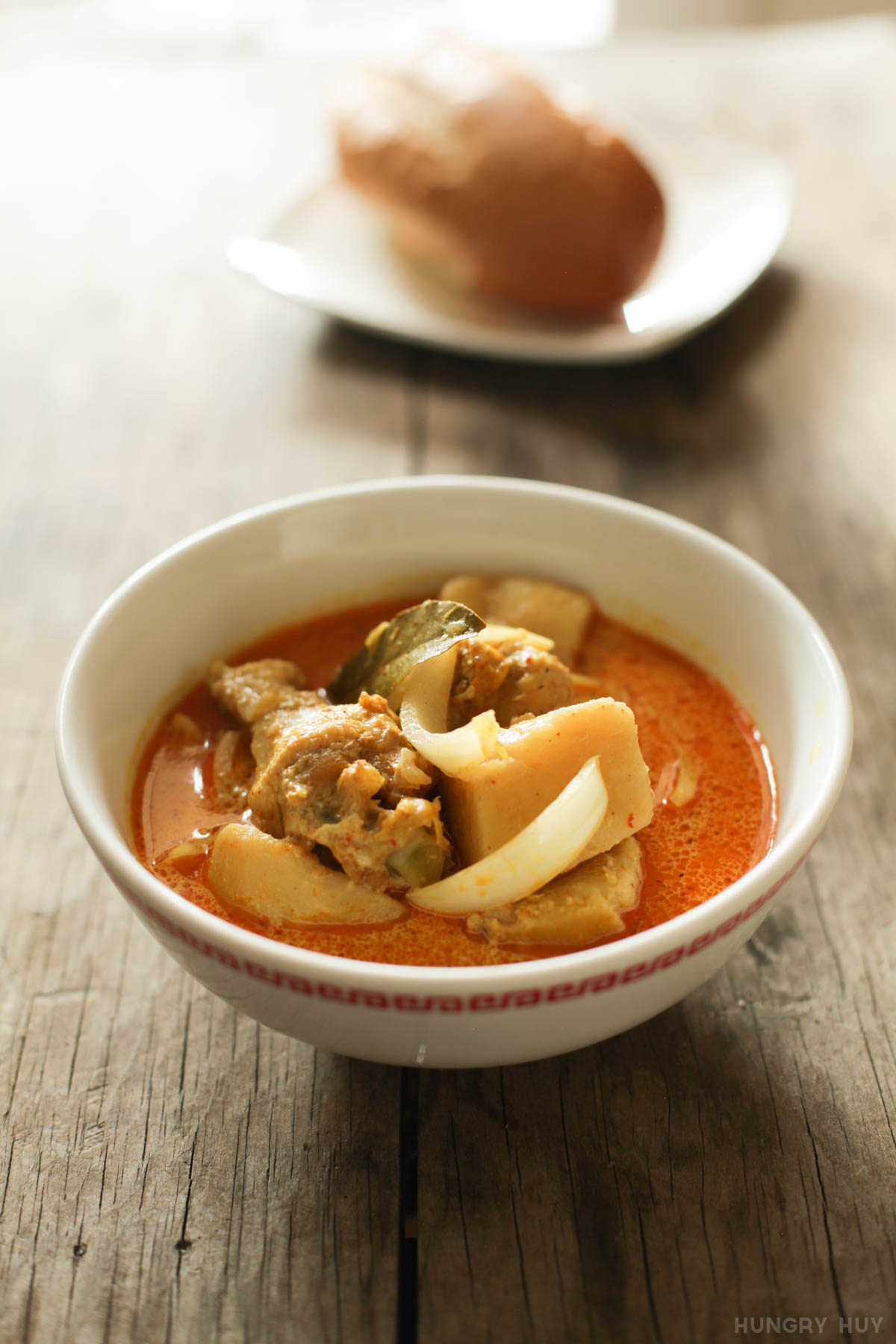 Whether its lemongrass and chile heavy Thai, aromatic and thick Indian, or the homogenous gravy-like Japanese curry, you can be sure that curry is going to punch you in the mouth with flavor, and have an aroma that envelops the whole room.
This post comes after a long hiatus–about 14 months after getting my first "real" (non-self-employed) job, so Hungry Huy has been a bit neglected, but I'M BACK.
I started to cook at home a lot less, which meant eating out more. It's quite a bit more expensive to eat out and usually not as healthy (fun though!), but I've decided to reel it in a bit and start cooking more often.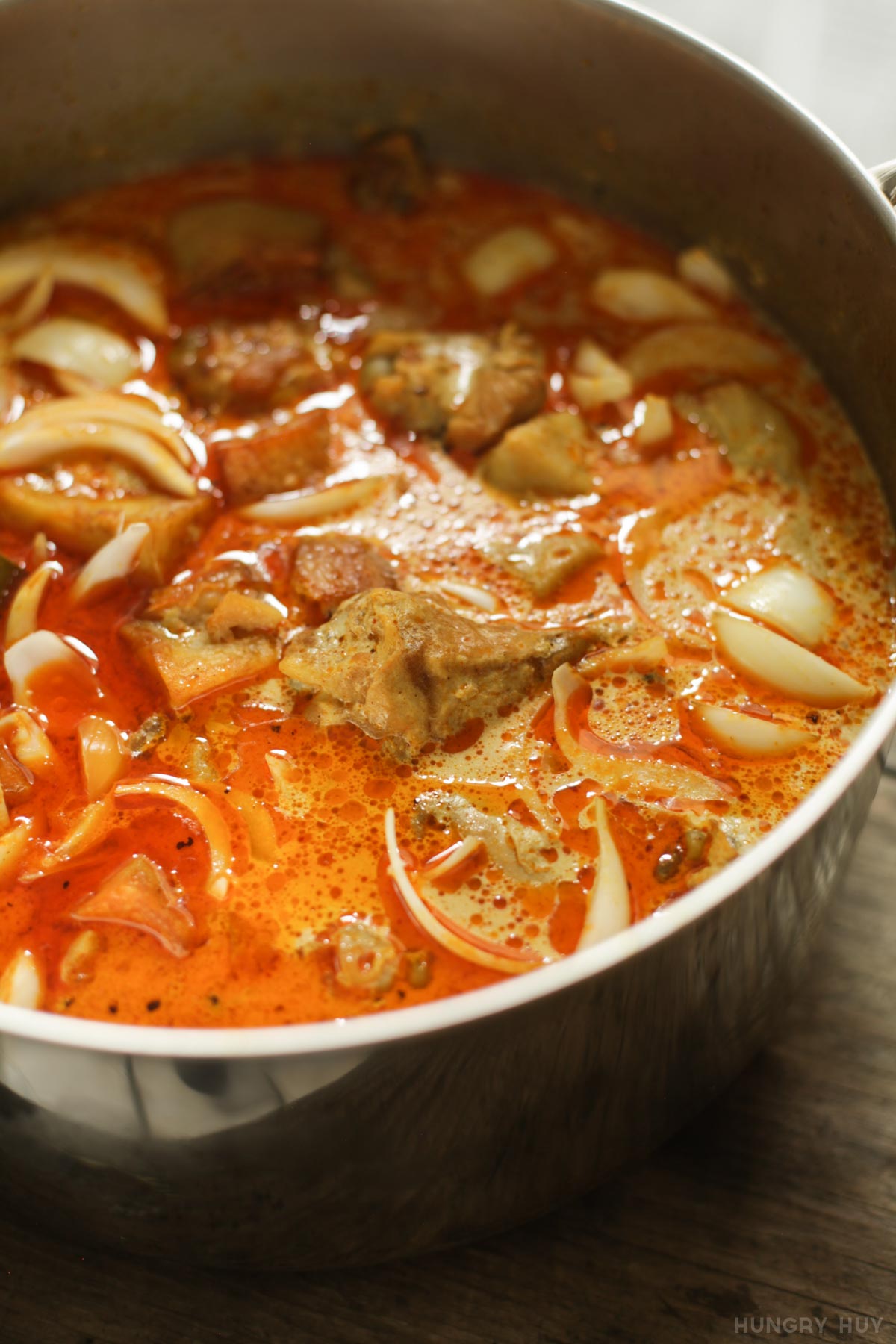 Cuts of chicken to use
You can use any cut of chicken you like for this Vietnamese curry recipe, however getting one with bones gives the chicken some size or bulk so it isn't bullied around by the potatoes and carrots. Use wings, thighs, drumsticks, or even whole or half chickens. Just use a cleaver to split large pieces into about 3″ ones so they are uniform and finish cooking at the same time.
Using a cut of chicken here with skin will taste better and add fat so you can brown these in the pan without using any additional oil.
The curry powder
For this recipe, I use the D&D Gold Product "madras curry powder" found in Vietnamese grocery stores. This is what my mom uses in her curry. It's the one with the three bells logo, although there are some competitors that look very similar with that logo too.
If you can't find this specific brand, you can go with other Vietnamese alternatives, or even other Indian brands if you truly can't source this. In fact the label on the recommended brand says in Vietnamese "Indian curry". If you're trying to find something similar you can try to match the ingredients for a similar flavor profile.
Remember, ingredients appear in the order of weight in the package, so the order is important if you're trying to find an equivalent curry powder. D&D Gold Product has these ingredients: Curry, Tumeric, Chili, Coriander, Cumin Seeds, Cinnamon, Cloves, Bay Leaves, Allspice and Salt.
Carrots and potatoes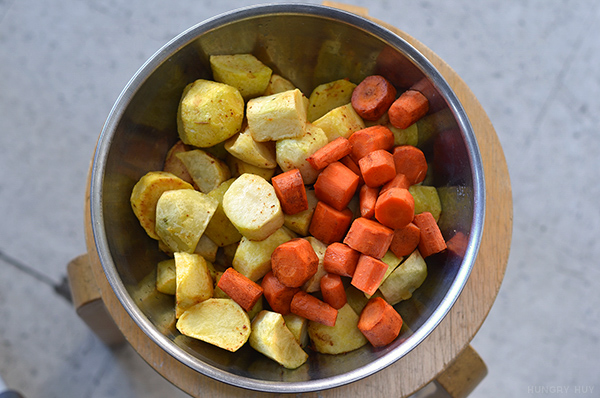 We'll be deep frying the potatoes and the carrots, so that they form a skin on the outside and don't disintegrate into the curry during cooking over stirring the pot. Deep frying them also par-cooks it so they don't need to stew as long in the broth.
Lemongrass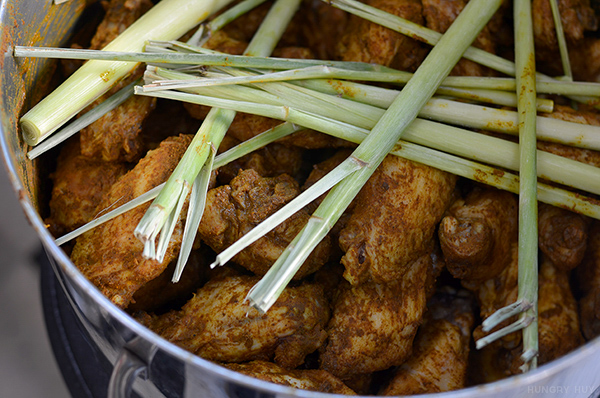 Lemongrass is super tough and woody, and it's fairly cheap to buy in bunches. Just cut these down to keep in the freezer bags. They store quite well.
The vibrant yellow color from this curry is enhanced with coconut milk! Don't add this until the end though, to keep the color from getting all murky. If you can't hang with, or are allergic to coconut, some people like to sub in half & half or milk for this. It obviously tastes a little bit different, but for the Vietnamese flare, stick with coconut.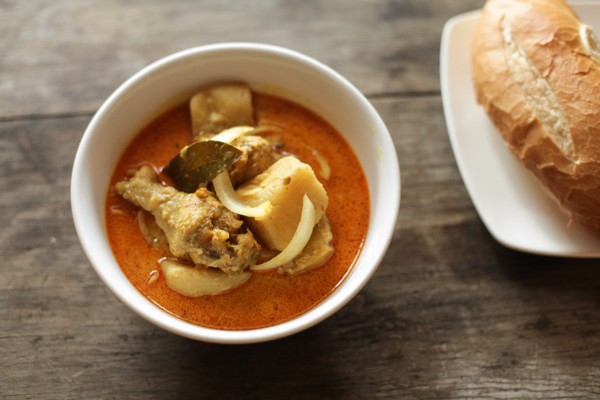 How to serve Vietnamese curry
This curry goes well with a fresh loaf of bread. Those french style baguettes you find at Vietnamese bakeries are perfect for this–kind of airy but still crusty. If you don't happen to be around any Vietnamese baguette shops, any crusty baguette will do.
I love eating this with rice too (also see: how to cook rice in a rice cooker), although if I rarely find Vietnamese restaurants serving it that way. It's more of a Japanese or Thai practice in that sense. For other types of curries, you can also make butter chicken or beef Penang.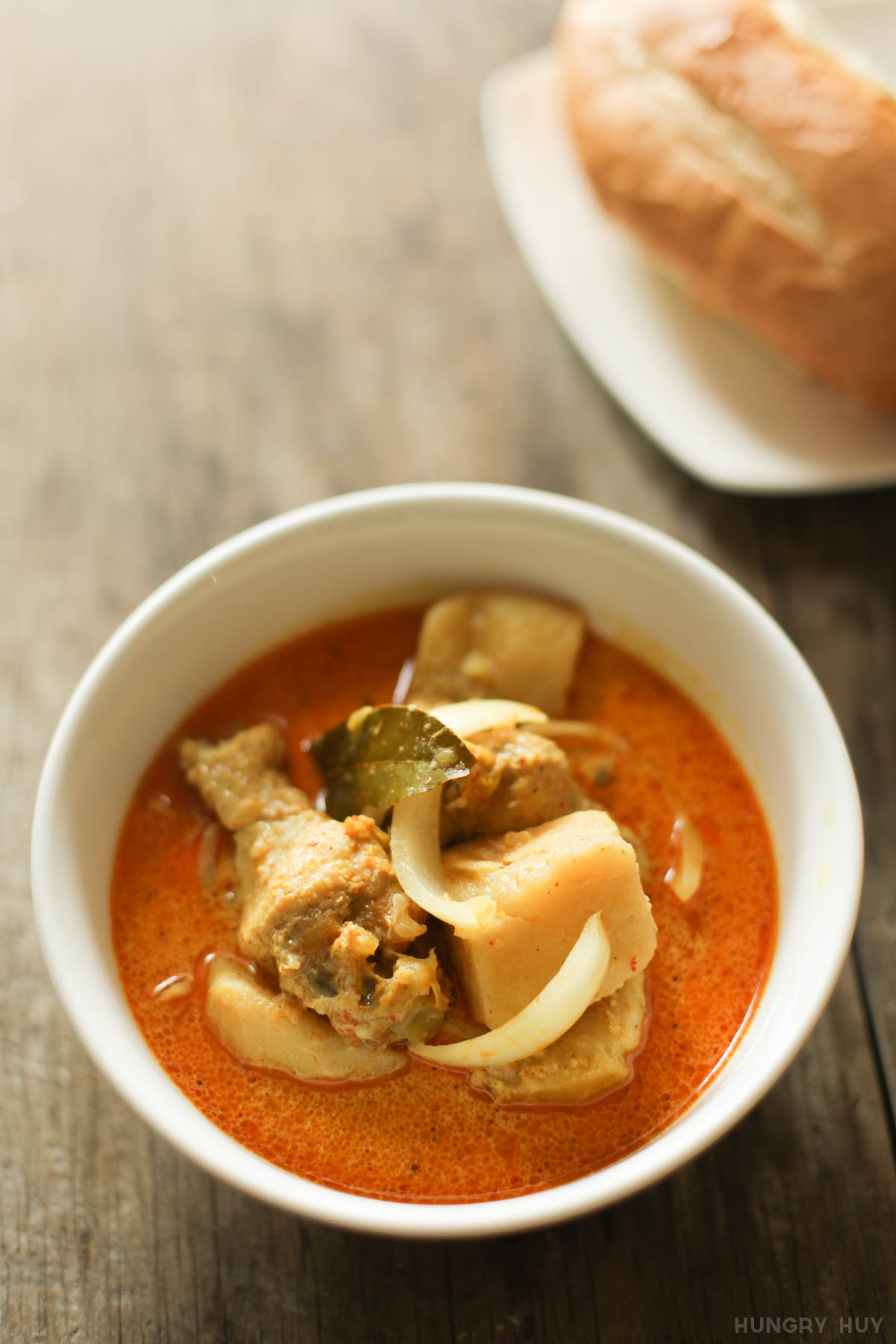 Do Vietnamese eat curry?
While curry originated from South Asia, curry has made its way to a lot of Southeast Asian cuisine. In Vietnamese culture, curry is made with variants of coconut milk, chicken and served with a baguette that marks the historical influence of French cuisine in Vietnam.
Is Vietnamese curry spicy?
You can adjust the spiciness level of Vietnamese curry by adding more or less of the curry powder.
Vietnamese Chicken Curry Recipe (Cà Ri Gà)
Easy Vietnamese comfort food with marinated chicken, carrots, potatoes, and a ton of flavor from curry powder and lemongrass. Perfect to make large batches of and served with fresh, toasty baguette or rice!
Ingredients
2

lb

(

907.2

g

)

chicken

any cut, chopped into large 2-3″ pieces

1 1/2

lb

(

680.4

g

)

potatoes

1/2

lb

(

226.8

g

)

carrots

1

medium-sized onion

4

garlic cloves

finely chopped

2

stalks lemongrass

cut into 5″ pieces then split lengthwise, smashed to expose more leaves

3

bay leaves

1/2

cup

coconut milk

oil for frying

2

tsp

sugar

2-3

cups

chicken broth

2-3

cups

water
Optional flavor accents
1

lemon

sliced

1/4

tsp

sambal / vinegary chile paste
Instructions
Cut chicken into large 2-3″ chunks if using large pieces.

Add salt, onion powder & curry powder to chicken. Marinate for 2-4 hours.

Cut onions, potatoes and carrots into 1.5-2" chunks.

Deep fry potatoes and carrots until lightly browned so they hold their shape.

After marinating, brown chicken on all sides in small batches in a pot, skin side down first. Add oil if you're using skinless.

Remove chicken, drain fat and clean off any burned residue in the pot.

Add some oil to the pot on low heat and sweat onion until soft, then add garlic until lightly brown.

Return chicken to the pot with lemongrass, bay leaves, and sugar.

Add 50% water and 50% chicken broth to the pot until all ingredients are fully submerged.

Put the flame on high until boiling, reduce to medium-high heat to maintain a low boil.

After 5 minutes of low boil, taste the broth and adjust with salt, sugar, and curry powder to taste if needed.

Add potatoes and carrots, and more water and chicken broth to cover (50/50 ratio).

Return the flame to high heat until it hits a boil, then reduce to a low simmer until the chicken is fully cooked, and the potatoes and carrots reach desired doneness.

Add coconut milk, stir and raise the heat to high until it hits a boil, then turn off the heat.

Serve with bread, accent with a squeeze of lemon and sambal for heat.
Nutrition Facts
Serving:
0
g
|
Calories:
498
kcal
|
Carbohydrates:
48
g
|
Protein:
27
g
|
Fat:
24
g
|
Saturated Fat:
10
g
|
Cholesterol:
82
mg
|
Sodium:
1733
mg
|
Potassium:
1425
mg
|
Fiber:
8
g
|
Sugar:
8
g
|
Vitamin A:
9654
IU
|
Vitamin C:
65
mg
|
Calcium:
105
mg
|
Iron:
5
mg
Like this recipe? Subscribe to my newsletter!