If you've never been to Japan, but are an avid anime or YouTube watcher of popular Japanese snacks, then you know what I'm talking about.
Tamago sando is a popular Japanese egg salad sandwich that has a rich, buttery egg filling that's encased in between two fluffy and soft milk bread slices.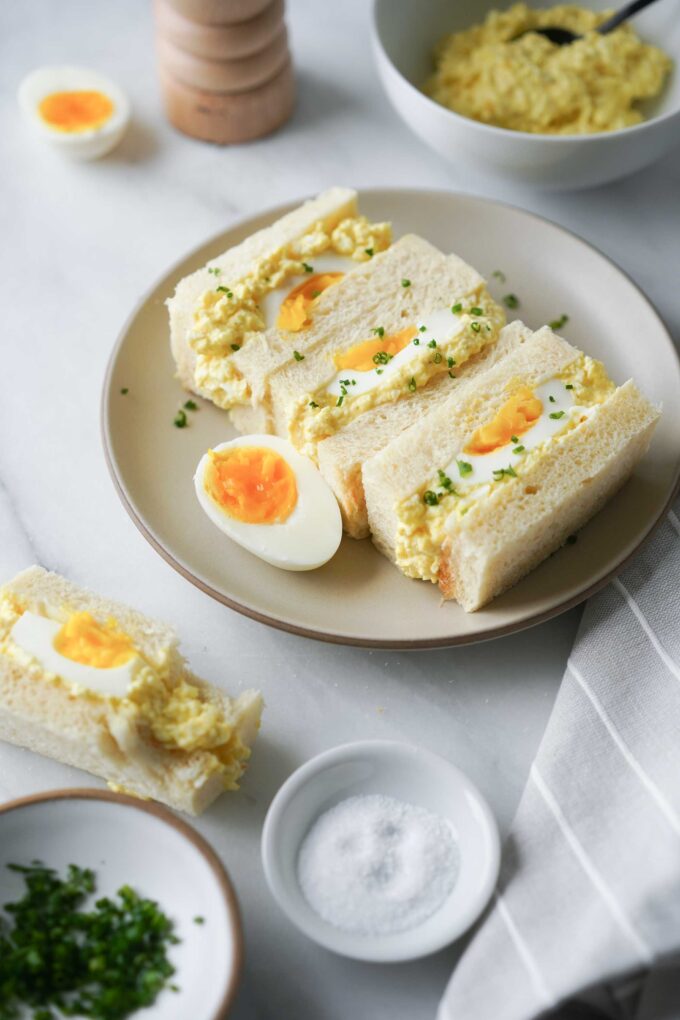 What is tamago sando?
Tamago sando, or "egg sandwich" in Japanese, is a very popular egg salad sandwich that can be found in many konbini (or convenience stores) for a fast and easy snack on the go. Some of the most popular tamago sando is sold at 7-Eleven and Lawson stores in Japan.
I first came across tamago sando watching YouTube videos where people posted their experiences eating the famous egg sandwiches and fruit sando of Japan. If you've never experienced a tamago sando and are only familiar with western egg salad sandwiches, you might be questioning the relevancy of this post.
While I've always enjoyed a good egg salad sandwich, I know some people are deterred by its soft consistency and overly eggy flavor, but the tamago sando is a completely different experience. Japanese egg sandwiches are known for their ultra-soft shokupan (milk bread) pieces that encase a super-rich egg filling.
Hardboiled and soft-boiled eggs
The eggs are one of the most important part of this recipe and I like using organic, pasture raised eggs from Happy Eggs because you get this beautiful golden yolk. When boiling eggs, you want to make sure to also use eggs that aren't too fresh because it will be more difficult to remove the shells. The boiling process is very similar to my ajitsuke tamago (or ramen egg), grated egg avocado toast, and deviled eggs recipes except it's boiled for a few more minutes.
Since I want to add sliced eggs with a gelatinous center in addition to the egg salad, I use both medium-boiled eggs and hard-boiled eggs. The boil time for each type is very specific, so I boil them separately. Please note that I use large-sized eggs, so if you end up using extra larger or smaller eggs, the timing for your eggs could differ.
After you peel the hardboiled eggs, they should feel firm if you slightly squeeze them. The soft-boiled, gelatinous eggs are softer when you squeeze them, but are still firm and don't feel watery inside. If your eggs are larger, you may need an additional time or if your eggs are smaller, you may need to reduce the boiling time. I would suggest adjusting the timing with 30 second incremental changes.
The Japanese mayonnaise: Kewpie
Another special ingredient that really makes this sandwich is the mayonnaise. It is technically an egg mayonnaise sandwich, so the mayo is quite important! Kewpie Japanese mayonnaise differs from traditional American style mayonnaise because it's got an eggier flavor, it's slightly sweeter, and includes other flavors and seasonings like msg. Other popular recipes that include Kewpie are spicy tuna roll, spicy mayo and karaage (Japanese fried chicken) dip.
It truly makes a difference to use Japanese mayonnaise in this recipe, but you also want to make sure to use the Japanese version of Kewpie. I've seen American versions of Kewpie in my local American grocery stores these days and the difference is that the American version removes the msg.
You can tell the difference between American Kewpie and Japanese Kewpie because of the packaging. Japanese Kewpie comes in a plastic bag and the bottle itself does not have a label, while the American Kewpie only has a label on the bottle. You can definitely use the American version if you cannot find the original Japanese Kewpie.
The Japanese bread: shokupan
Bread is the third main ingredient for this sandwich because it uses soft, pillowy pieces of Japanese milk bread, also called shokupan. Many konbini use shokupan for the bread and you'll find most if not all tamago sando in these stores are crustless.
While you can either make or buy shokupan at your local Japanese bakery or grocery store, you can also use white bread as an alternative. I would recommend trying to find white bread that is soft and fluffy, but not overly sweet.
If you have a loaf to slice, try to cut your slices in about ½ in thick slices and cut off the crusts—I like to do this before assembling so I don't worry about crushing or spilling the egg filling. You don't want to have too much bread to filling ratio when making these sandwiches.
Tips for making tamago sando
Try using eggs that are at least 4-5 days old in your fridge because they are easier to peel. Here's the science to boiling older eggs vs. newer eggs if you're interested. 
Salt the egg filling properly and taste it as you make the filling. 
Fridge the egg filling for about 10-15 minutes to allow the flavors to marry with each other and thicken. This will make assembly and cutting much easier.  
Soften some unsalted butter and brush them onto each piece of bread. This acts as an extra flavor, but it also serves an additional purpose to prevent the bread from getting too mushy from the filling.
If you're a big egg sandwich fan, you'll also want to try Korean egg drop sandwiches.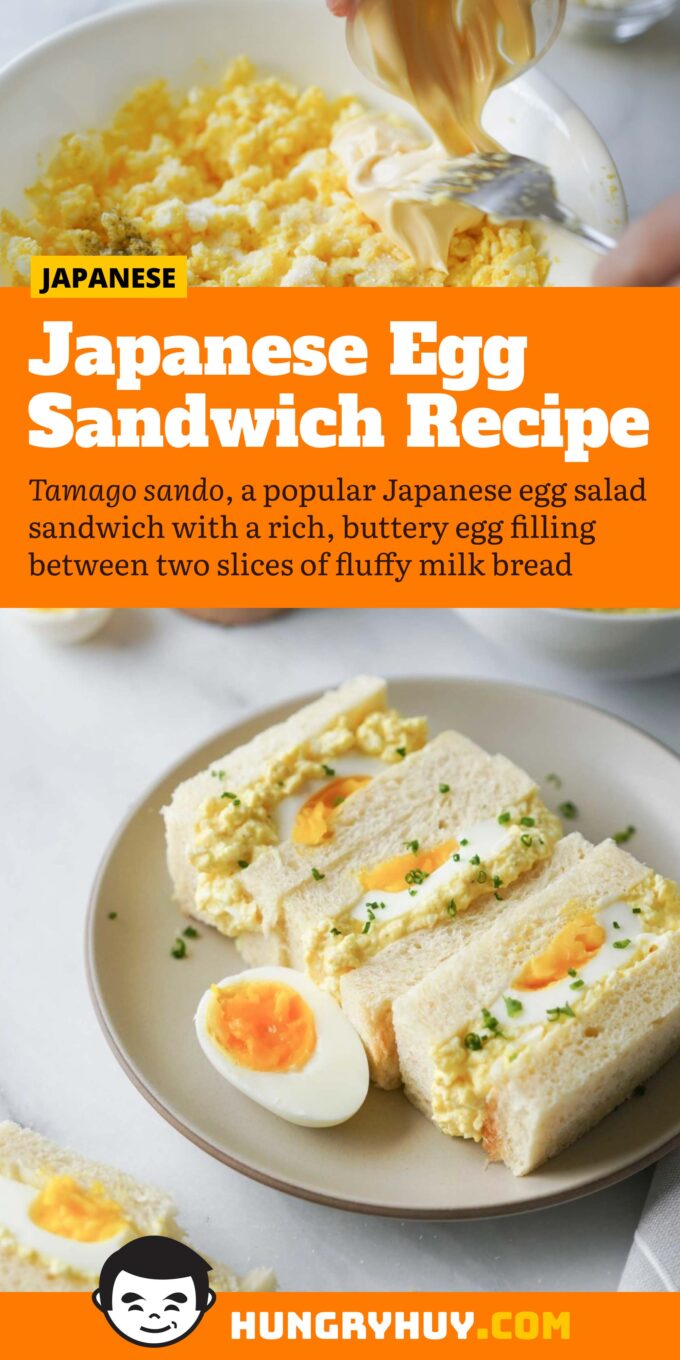 Japanese Egg Sandwich (Tamago Sando)
Rich and buttery egg mayo filling in between super soft shokupan slices—this tamago sando is super easy to whip up for your next snack! You don't have to go to Japan's 7-Eleven or Lawson for your next egg sandwich.
Ingredients
Boiling eggs
6

large-sized eggs

room temperature for hard boiled

1

large-sized egg

room temperature for medium boiled (optional)

water

ice
Filling & assembly
2

tsp

whole milk

4

tbsp

Kewpie Japanese Mayonnaise

½

tsp

white granulated sugar

¾

tsp

salt

Diamond Crystal brand preferred

¼

tsp

black pepper

4

slices shokupan

with crusts removed

unsalted butter

softened

1

tbsp

chives

finely chopped (optional)
Equipment Used
timer

small pot

fork

sharp knife
Instructions
Boiling eggs
NOTE: For this recipe, I chose to boil the eggs separately since the timing was very close and I didn't want to rush. You can choose to boil the eggs in the same pot and remove one egg at the appropriate time too.

Medium-boiled egg: In a pot of boiling water over medium-high heat, add all eggs and boil for 7 minutes and 30 seconds exactly. Prep a bowl with cold water and ice. At 7 minutes and 30 seconds, remove ONE egg and place it in the ice bath for 2 minutes. Remove the egg, peel it carefully, and set it aside.

Hard-boiled egg: Refill the ice in the ice bath if they melted. At 9 minutes, remove the rest of the eggs from the pot and place them in the ice bath for 2 minutes. Remove the eggs and peel them.
Filling & assembly
Take your hard-boiled eggs and slice them in half, adding them into a mixing bowl. Use a fork to mash up the eggs into minced pieces.

Add the milk, kewpie, sugar, salt, and black pepper to the eggs and mix until combined. Place this mixture in the fridge for 10 minutes to chill and thicken.

Cut the crusts from your shokupan and spread the butter on one side of each bread slice.

Remove your filling from the fridge and add the filling on either side of the medium-boiled egg so that it's surrounding and covering the egg on top. Take another slice and add it on top to complete your sandwich. Repeat with the other sandwich
Nutrition Facts (per serving)
Calories:
580.71
kcal
|
Carbohydrates:
27.16
g
|
Protein:
24.2
g
|
Fat:
38.42
g
|
Saturated Fat:
8.26
g
|
Polyunsaturated Fat:
12
g
|
Monounsaturated Fat:
6
g
|
Cholesterol:
623.38
mg
|
Sodium:
1548.49
mg
|
Potassium:
270.02
mg
|
Fiber:
1.35
g
|
Sugar:
4.39
g
|
Vitamin A:
896.89
IU
|
Vitamin C:
0.87
mg
|
Calcium:
221.89
mg
|
Iron:
4.49
mg
Nutrition Facts
Japanese Egg Sandwich (Tamago Sando)
Amount per Serving
% Daily Value*
* Percent Daily Values are based on a 2000 calorie diet.
Like this recipe? Subscribe to my newsletter!