I was first introduced to this Filipino pork stew with veggies by my girlfriend's mom, who is always juggling multiple dishes in the kitchen. Linat-ang baboy is a dish commonly eaten in Cebu. It's a pretty simple stew with pork base (I like pork belly or ribs), flavored with garlic and onion, and loaded up with vegetables and kabocha squash.
While sinigang na baboy is a more famous Filipino stew, this warm, hearty stew with rice is pretty easy to make and now one of my favorite comfort foods which I make quite often!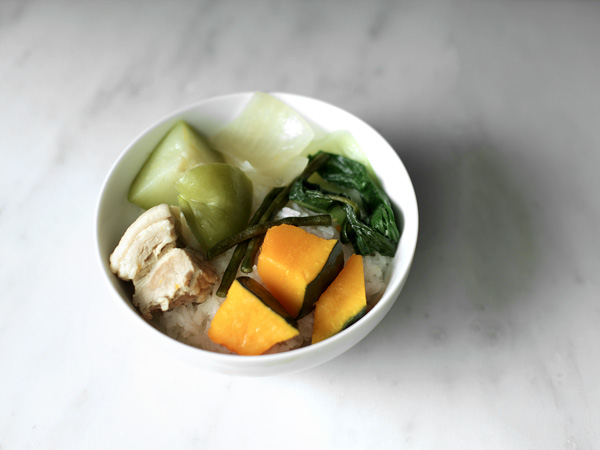 Some background
I found out from having meals with my girlfriend and her family that I ate soups and stews a bit differently than they do. I tend to go heavier on the broths in my bowl and even have spoonfuls without rice. However all the other Cebuanos at the table merely used the broth to soak the rice on their plate.
Ingredients and cooking tips
I found out that these kangkong leaves (on-choy) are not really supposed to be in this recipe, but more traditionally used in sinigang. I'm sure this soup has a hundred variations in Cebu, but I really like these leaves anyway so I still add it to the soup.
These leaves are found in many Asian and Chinese supermarkets. The chayote is found in many of these Asian markets too, but I was surprised to see it at an American megamart.
This kabocha squash is insanely difficult to cut when raw. It's heavy and tough as a rock. You could jam your knife in it half way and swing it around with the squash on the end and it would not come off. See: how to cut kabocha squash.
You can maybe try wedging the knife in and tapping it with a wooden mallet. I just cut it by putting body weight into the knife and rock back and forth until the kabocha yields.
The only ingredient in this dish that needs to be stewed is the pork. We want to boil that and then simmer until it's tender. This takes anywhere from 1.5 to over 2 hours depending on the cut you use and how tender you want it. I used cut pork ribs and stewed for about 1.5 hours.
If you want to season the pork, you can marinate it ahead of time. The rest of the ingredients are fully cooked in about 10-20 minutes in the pot so they are all added after the pork is done.
Serve your linat-ang baboy with a side of rice. Or on top of rice–however you like your stews!
Filipino Pork Stew with Mixed Vegetables (Linat-Ang Baboy) Recipe
A simple and very comforting Filipino stew I learned from my girlfriend's mom. It's more of a homestyle recipe that is delicious paired with rice.
Ingredients
2

lbs

pork ribs

6

cloves

garlic

chopped

1

medium onion

chopped

1/2

kabocha

cut into large cubes

1

chayote

cubed

2-3

cups

kangkong leaves

on-choy

2-3

cups

string beans

sitaw

salt
Instructions
Rinse meat under running water, add to pot and cover with water. Bring to a boil, dump water and rinse meat again. Cover with water, add about 4 tbsp. salt. Bring to a boil, then reduce to a simmer. Simmer until tender, about 1.5 to 2 hours.

You can saute the onion + garlic separately if you want. When the meat is just about done, add onion, garlic, chayote, string beans and kabocha into the pot. Add enough water to cover and salt to taste.

In the last 1-2 minutes add kangkong leaves.
Notes
12/16/14: I used more ripened kabocha, so it's sweeter. It's still very good, but I prefer the taste of slightly greener kabocha.
Also new tip!: Instead of adding veggies in slowly one at a time and hoping they all finish cooking at the same time, take out some pork broth into another pot and cook each vegetable 1 at a time and add into the main pot so each one is perfectly cooked.
Nutrition Facts
Serving:
0
g
|
Calories:
350
kcal
|
Carbohydrates:
13
g
|
Protein:
19
g
|
Fat:
25
g
|
Saturated Fat:
8
g
|
Cholesterol:
85
mg
|
Sodium:
114
mg
|
Potassium:
721
mg
|
Fiber:
3
g
|
Sugar:
4
g
|
Vitamin A:
2454
IU
|
Vitamin C:
28
mg
|
Calcium:
78
mg
|
Iron:
2
mg
Like this recipe? Subscribe to my newsletter!