Sticky rice, otherwise known as glutinous rice or sweet rice, is a very popular variety of rice all across Asia and shouldn't be confused with what we know as "white rice" (a term that can be used for anything in between Jasmine rice to short grain non-glutinous white rice and more).
It's a delicious, sticky type rice that's used very commonly in both dessert and savory dishes. Luckily, it's super easy to cook perfect sticky rice at home!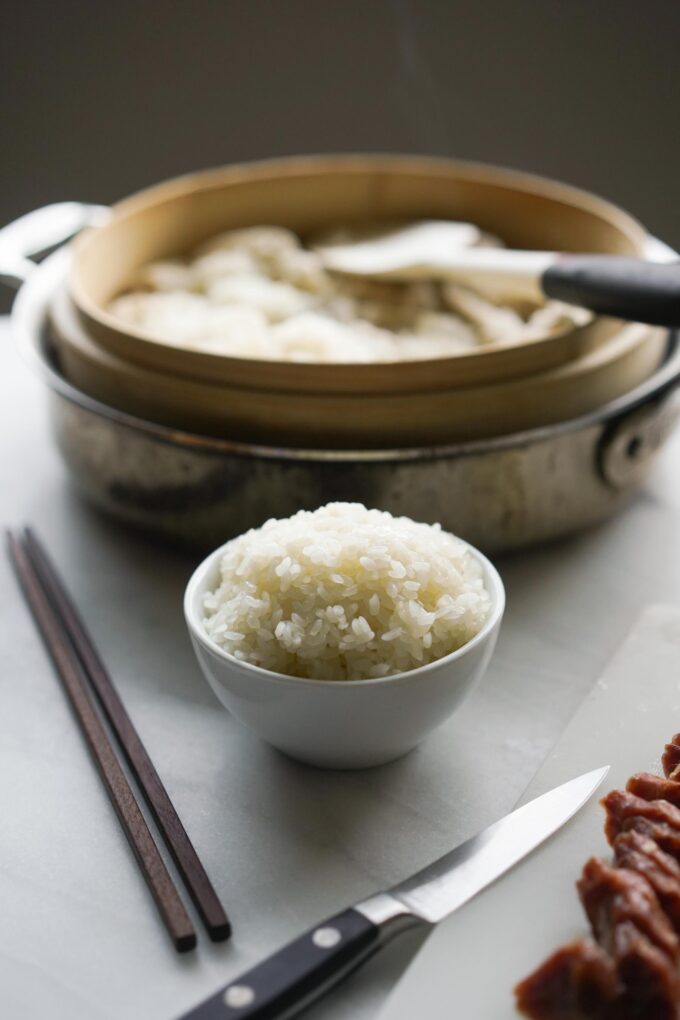 What is sticky rice aka glutinous rice?
It's important to note that this rice does not contain any gluten. It's called glutinous rice because of its sticky, glue-like texture. This really sticky texture is what sets glutinous rice apart from other types of white rice.
Most rice contains up to two types of starches that determine the texture of the rice once it's fully cooked: amylose and amylopectin. The more amylose starches a type of rice contains, the more separated the grains will be after cooking. The more amylopectin starches the rice contains, the stickier and more gelatinous the grains will be.
For example, Jasmine rice has higher amounts of amylose and has separate granules when cooked. Sticky rice is special because it doesn't have any amylose and contains the highest amount of amylopectin; This is what makes it great for super sticky desserts and recipes.
What to eat with sticky rice
Sticky rice and dessert go hand in hand and there are so many ways to enjoy it: biko, pandan sticky rice, champorado, and so many more. One of my favorite ways to enjoy glutinous rice is eating mango sticky rice—um does this even need an explanation?
Don't be fooled, you can also eat sticky rice with savory dishes. Growing up, my mom and grandma made me sticky rice with a side of Chinese sausages and it was the best quick snack when I got hungry. These days, you can find sticky rice on the menu at your local Thai, Vietnamese, Filipino, and other Asian restaurants and convenience stores.
What methods can you use to cook sticky rice?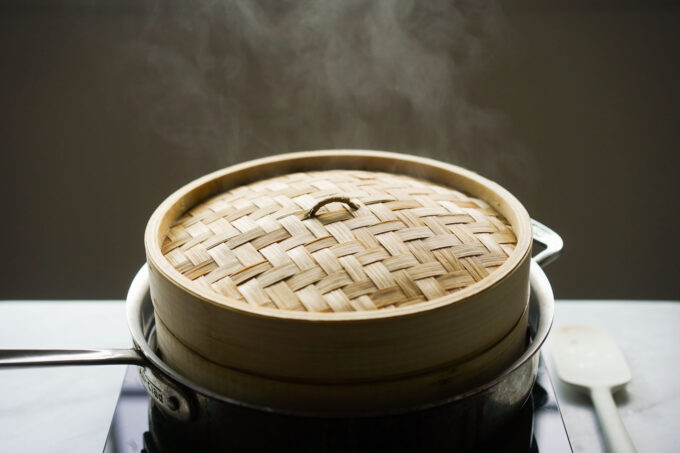 Like other types of rice, there are various ways to make sticky rice at home the next time you're craving it: stovetop (similar to how I cooked it for biko), rice cooker, instant pot, or steamer. Often times, I've found that the easiest method to make sticky rice at home is to soak the rice overnight before steaming.
Although waiting overnight can seem long, it does definitely cut down on the active cooking time and gives you plump and chewy rice grains. I like using a steamer to cook the rice too because it's easier to achieve perfectly cooked sticky rice. Since it doesn't sit in a pool of water, you can't add too much water–simply just add more steaming time until it's done. You won't mess up the cooking process, like with a pot or rice cooker, by simply opening the lid, which you can do as often as you need to check doneness, as it coasts to the finish line.
Cooking tips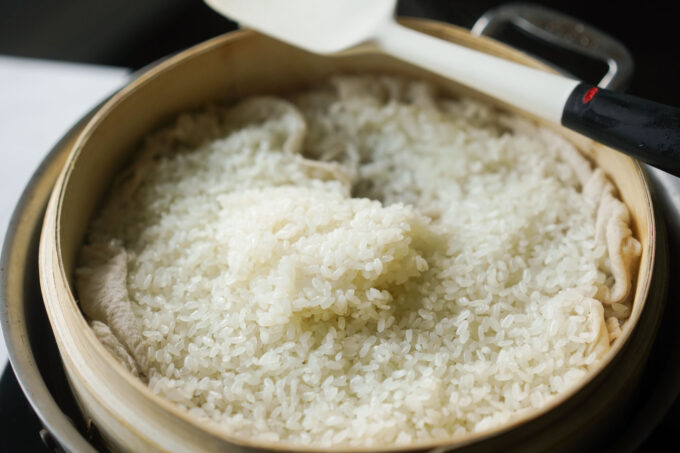 Soak the glutinous rice before cooking to reduce the active cooking time you're standing in front of a stove. 
If you are using bamboo steamers, presoak and preheat the steamers to get more moisture and accurate heating during cooking.  
Try not to open the lid before it finishes cooking to not lose out on the steam and heat inside the steamer. Although if it's your first time and you're trying to get the timing down first, it's fine. You won't mess up the cooking process, only extend the cook time, by opening the lid. 
Storage and preheating
To store extra sticky rice, place it in an airtight container in the fridge for up to 4-5 days. To reheat the rice, place it in a microwavable bowl, add a few drops of water, and add a damp paper towel over. I like to preheat it in 30-second intervals to prevent it from overcooking and drying out.
If you want to learn how to cook non-glutinous rice like jasmine rice, you can learn how to cook rice on the stovetop, rice cooker, or even the microwave.
How to Make Sticky Rice (Easy & Foolproof Method)
This recipe will give you glossy, plump, and chewy sticky, glutinous rice for your next dessert or savory side. 
Ingredients
208

g

glutinous sticky rice

6

c

water

plus more for steamer
Equipment Used
mixing bowl

cheese cloth or hand towel

pot/pan
Instructions
In a mixing bowl, combine the glutinous rice and water. Cover with a lid or towel and let rest for at least 8 hours.

In a pot of water over medium-high heat, add the steamer and line with the cheesecloth. Preheat the steamer for about 2 minutes or until you start to see steam rising above the steamer.

Cover with the lid and steam for 17-18 minutes. Make sure to add water to the pot throughout the steaming process so the pot doesn't run out of water.

Open the lid and check the texture of the rice, it should be plump, soft and chewy. The rice should not be mushy or too hard. If the texture is too al dente for your preference, you can close the lid and continue to cook for an additional 2 minutes before checking the texture again. Cook until it reaches the final desired texture because it will not continue to cook once you remove it from the heat.
Nutrition Facts (per serving)
Calories:
384.8
kcal
|
Carbohydrates:
84.94
g
|
Protein:
7.08
g
|
Fat:
0.57
g
|
Saturated Fat:
0.12
g
|
Sodium:
42.77
mg
|
Potassium:
80.08
mg
|
Fiber:
2.91
g
|
Calcium:
32.73
mg
|
Iron:
1.67
mg
Nutrition Facts
How to Make Sticky Rice (Easy & Foolproof Method)
Amount per Serving
% Daily Value*
* Percent Daily Values are based on a 2000 calorie diet.
Like this recipe? Subscribe to my newsletter!