Razon's style of halo-halo is different than the traditional–and it is DELICIOUS. It's a collaboration of sweet and icy layers of caramelized banana sauce, rich coconut strings of macapuno jam, refreshing shaved ice, sweetened evaporated milk, and topped with slices of creamy leche flan.
Halo-halo in Tagalog means "mix mix" as in this dessert is meant to be mixed together before eating–if you're into that. Honestly, as a child, I would eat the ice cream on top and fish whatever I liked best from the bottom. I know, I know, how horrible.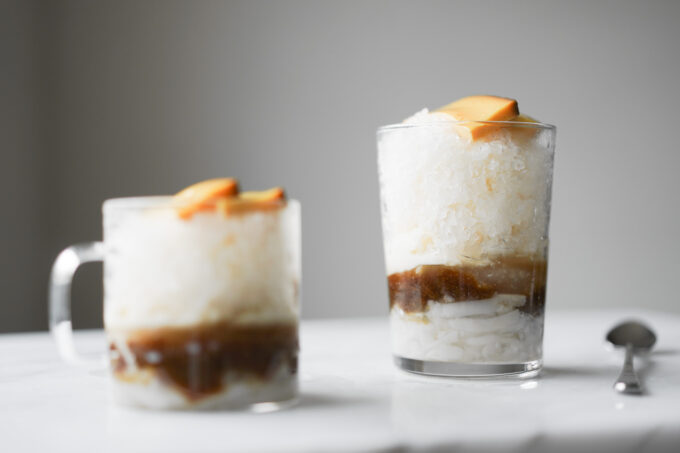 In 2011, I was incredibly lucky to be able to visit the Philippines with my girlfriend's family. Of the many, many food stops we had over the six week trip, we got to eat Razon's of Guagua style halo-halo. Mind blown, I ate all of it!
Unfortunately, I haven't been able to find this style of halo-halo in the US, so I recreated a similar version with this recipe and am now reliving the days of being back on the islands!
Traditional halo-halo
This traditional Filipino dessert is a great spring and summertime treat (really it's an anytime treat if you ask a Filipino). Interestingly, its origins can be traced back to pre-war Japanese migrants, who made kakigori (a Japanese shaved ice dessert) and settled in the Philippines during the early 20th century. Halo-halo is also very reminiscent of the Vietnamese dessert, chè ba màu.
Traditional halo-halo versions include many more fillings like sago, sweetened beans, ube halaya, crispy rice, fruit slices, and more–really this list can be endless. Although there has been some controversy over people adding a little much in halo-halo, but I digress.
Different styles of halo-halo also change depending on the restaurant or the home you're eating at, whether that's in the Philippines or in America. For instance, Razon's style halo-halo is specific to this restaurant.
What makes this halo-halo recipe different?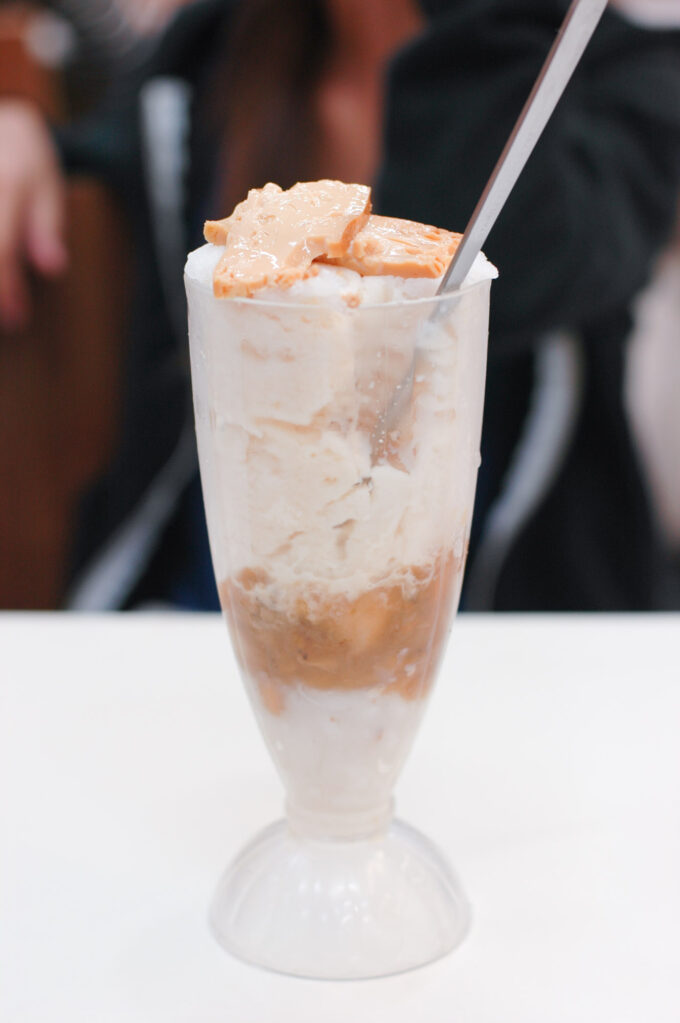 While I've had plenty of halo-halo throughout the years, I reaaallly loved Razon's (a chain style restaurant in the Philippines) style halo-halo because of the flavor profile and simplicity of the basic five ingredients: coconut strips (macapuno), caramelized banana sauce, shaved ice, evaporated milk, and leche flan (Filipino style flan). I like to amp it up a notch and also add ice cream because why not? 
Ingredients
Like many halo-halo recipes, this recipe calls for a lot of premade ingredients that you can buy in your local Asian grocery store or even online.
The caramelized banana sauce
For the caramelized banana layer, I made a simple sauce by adding brown sugar and water in a pan over medium heat and waited for it to begin to boil. Stir occasionally and continue to cook until it thickens to the consistency of honey. This should take about five minutes from the start.
Reduce heat to medium-low and add the banana slices. Cook for another six minutes while stirring continuously. You should stop when the thickness is the consistency of molasses. Remember the sauce will continue to thicken while it cools down. Remove from the heat and add a little salt at the end to balance out the sweetness.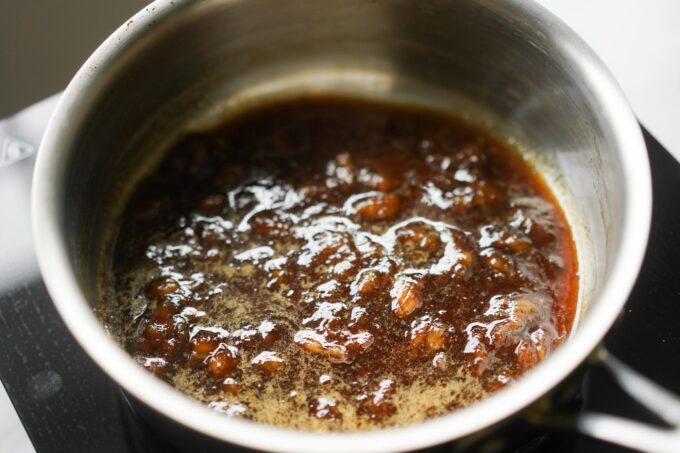 Have the sauce chill on the counter before placing it into the fridge for about 30 minutes–you don't want this to melt your snow during assembly. You can definitely make this sauce a day ahead of time and keep it in the fridge until you want to eat. If you find your sauce too thick, you can add a teaspoon of water and stir vigorously.
Assembly
When you're ready to assemble your halo-halo, first gather all your ingredients. There's nothing worse than melting ice on your table. Layering the ingredients as follows:
Macapuno
Caramelized banana sauce
Shaved ice
Evaporated milk (I also like to top a little more shaved ice for extra chill)
Leche flan slices (I like to add about two slices per serving)
Optional: while ice cream is not on the traditional Pampangan style of halo-halo, I truly live for any dessert a la mode, so I had to add avocado ice cream on top, but you can also add ube, too. I prefer Magnolia brand ice cream that you can now find in local American grocery stores!
Serve and enjoy your halo-halo immediately, it's best fresh before the ice melts too much. While you can "mix-mix" the ingredients so you can get every ingredient in one bite, I like to keep them somewhat separated to get distinct flavors with fewer combos in each bite.
How would you describe Halo Halo?
Halo-halo is a traditional Filipino cold dessert that has a shaved ice base with various types of fillings that range from ube halaya (jam), coconut strings and jelly, sweetened beans, fresh jackfruit, and more. It's often topped with Filipino ice cream flavors like ube macapuno or mango.
Why Halo Halo is popular?
Halo-halo is a traditional Filipino dessert and you can find it at many well-known Filipino restaurant chains like Chowking (who popularized the spelling of halo-halo) or Jollibee. These restaurants have expanded from the Philippines and are now located all around the world. Halo-halo has also been featured in many magazines and food television shows that prompted its rise in popularity. When Anthony Bourdain relishes in halo-halo on mainstream tv–popularity is inevitable.
Are you supposed to mix Halo Halo?
Halo-halo is translated as "mix mix" because you are supposed to mix all the ingredients together. By mixing all the ingredients, you can a bite of each ingredient in each spoonful. However, like any food, you can choose how to eat halo-halo based on preference. Personally, I like to take bites of 2-3 ingredients at a time so the flavors are more distinguished.
What is the purple ice cream in Halo Halo?
The purple ice cream is ube, which is a Filipino purple yam. Finding ube ice cream used to be a bit difficult, but these days ube is becoming a very popular flavor. Magnolia brand ube ice cream is a favorite, which can be found in some American grocery stores. Recently, even Trader Joes offers ube ice cream! If you want more ube desserts, check out my ube crinkle cookie recipe.
Filipino Halo-Halo (w/ Leche Flan)
Halo-halo is a Filipino dessert that is a mix of shaved ice, evaporated milk, and many other ingredients. This specific style is also delicious, but not tradtional–riffing off the Filipino food chain Razon's take on halo-halo.
Ingredients
Caramelized banana sauce
110

g

(

1/2

c

)

dark brown sugar

¼

c

water

1

banana

sliced

⅛

tsp

salt
Instructions
Caramelized banana sauce
In a saucepan over medium heat, add ½ c cup of dark brown sugar and ¼ cup of water together. The liquid will begin to bubble so you will need to stir consistently to prevent the caramel from burning. Cook for about five minutes or until the liquid has the consistency of honey.

After you get this consistency, reduce the heat to medium-low heat and add the sliced bananas into the pan. I like to spread the slices throughout the pan evenly. Continue to cook and stir for about six minutes or until the sauce has the consistency of molasses (see photo for consistency just as you stop cooking and remember that the sauce will continue to thicken as it cools).

Remove the sauce from the heat and place into a glass container to cool to room temperature. Stir in the ⅛ teaspoon of salt and taste. If you want it less sweet, you can add water. If you want it sweeter you can add more sugar.

Move the sauce into the fridge to chill before assembly.
Assembly
Gather all your ingredients and your glass. I like to use a tall glass so I can layer all the ingredients properly. I also like to chill all my ingredients in the fridge for at least 30 minutes before assembly so that I can enjoy a nice and cold dessert. It also prevents the shaved ice from melting.

Banana sauce: this may thicken in the fridge, you can just stir it around to loosen it for easier layering. If it's too thick, add one teaspoon of water and stir vigorously.

Flan: slice the flan into about one by two-inch slices so it fits on top of the glasses.

Shaved ice: use a strong blender to make shaved ice out of ice cubes OR use a snow cone/shaved ice machine. I used about four cups of ice for two servings.

Assembly: (Please note these portions are suggestions, you can adjust however you please) Add about two tablespoons of macapuno to the bottom layer of glass. Then, add two tablespoons of the caramelized banana sauce on top. For the third layer, add half of the shaved ice (or how much you would like to add). Carefully, spoon ⅛ cup of evaporated milk over the shaved ice. At this point, I like to add a little bit more of shaved ice on top–about two teaspoons if you're really counting. Finally, top with flan slices and a scoop of ice cream.

Serve and eat immediately.
Nutrition Facts
Calories:
563.5
kcal
|
Carbohydrates:
116.1
g
|
Protein:
5.2
g
|
Fat:
9.9
g
|
Saturated Fat:
6
g
|
Cholesterol:
38.3
mg
|
Sodium:
378.5
mg
|
Potassium:
512.7
mg
|
Fiber:
2
g
|
Sugar:
104.9
g
|
Vitamin A:
392.1
IU
|
Vitamin C:
5.7
mg
|
Calcium:
213.6
mg
|
Iron:
0.5
mg
Like this recipe? Subscribe to my newsletter!