Chicken inasal is the perfect balance of smoky, peppery, and citrus flavored chicken legs marinated to tender perfection and traditionally charcoal grilled.
This chicken is served with steamed rice, a salty soy and vinegar dipping sauce, and goes great with some Filipino pickles too. This is an easy and delicious Filipino barbecue idea for your next grilling party or boodle fight!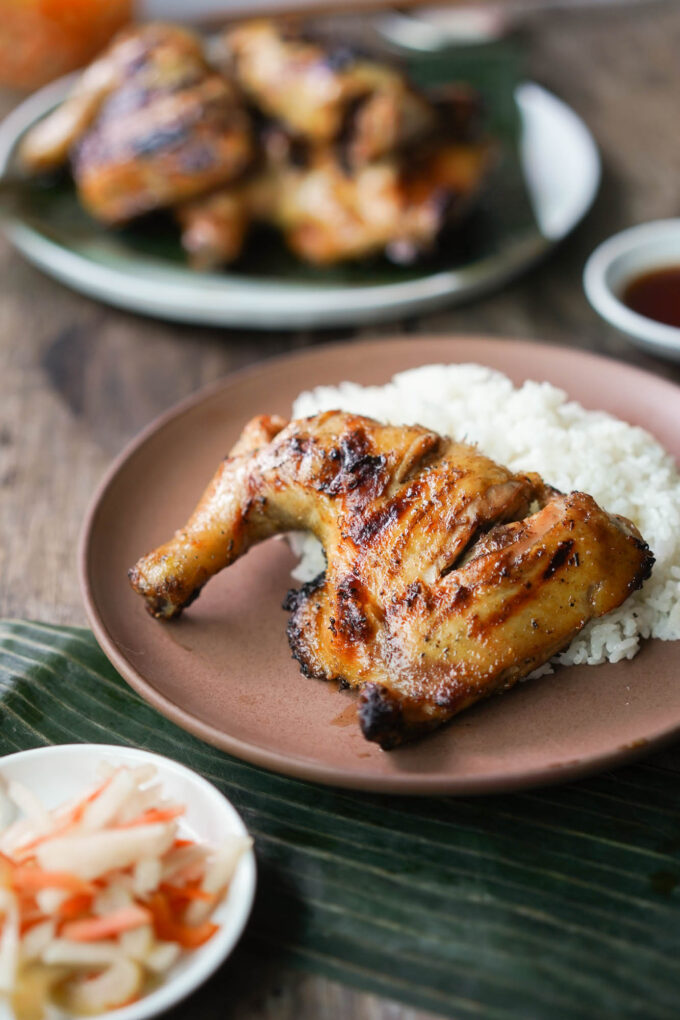 Background
This traditional Visayan dish from the Bacolod region of the Philippines is also known as "char-grilled chicken" or "roasted chicken." I remember seeing street carts selling chicken inasal on sticks and grilling them over charcoal–they looked so mouth-wateringly good. Like chicken adobo, it's become so popular that you can find it in many large Filipino chain restaurants like Mang Inasal in the Philippines or Grill City in America.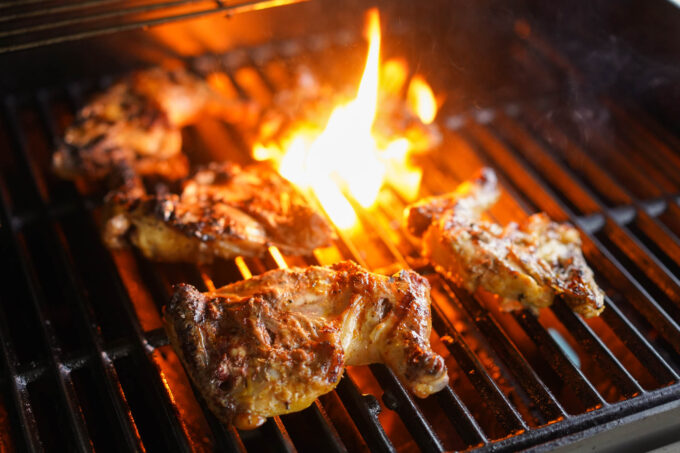 Some of the hallmarks of chicken inasal is that it incorporates very traditional ingredients like calamansi (small, sour citrus), coconut vinegar (less acidic and more sweet vinegar), and achiote oil (an oil made from the peppery annatto seeds of an achiote plant).
For this recipe, I substituted a few ingredients which were not available to me: limes for calamansi and cane sugar vinegar for coconut vinegar. Since coconut vinegar is slightly sweeter than cane sugar vinegar, I added some light brown sugar to the marinade.
Annatto / achiote oil
One of the most important ingredients in chicken inasal and where it gets its slight red coloring is the use of achiote oil. This oil is made from super red annatto seeds from the achiote plant. They have a peppery flavor with some heat. If you can't find annatto oil in your local grocery store, you can find annatto seeds typically in the international aisle and make your own oil.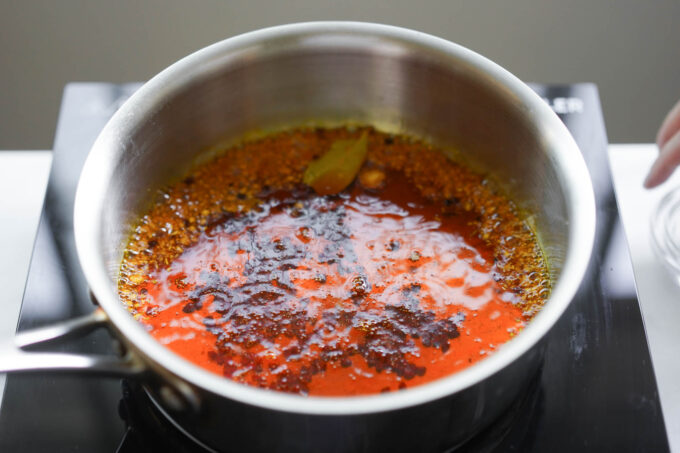 Making the oil is fairly easy–all you have to do is simmer and infuse a neutral flavored oil (I like to use vegetable oil) with annatto seeds and any other spices you would like to add. This is almost identical to the way you'd make the annatto oil for Vietnamese bún bò Huế. You can also use it in powdered form as food coloring too, like for pork tocino.
As a garlic fiend, I added lots of garlic, minced lemongrass, and a bay leaf for extra flavor. This recipe will give you enough for marinating the chicken and for the basting sauce.
It's important to note that annatto seeds are often used as a natural food coloring ingredient (like saffron or paprika) so it goes without saying to be careful when making the oil to prevent making stains in your kitchen–speaking from experience!
Chicken and marinade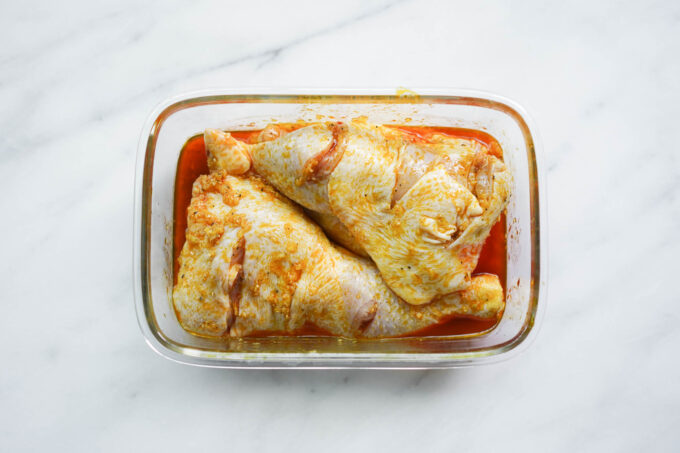 Traditionally, chicken inasal can be different parts of the chicken–if you grew up in an immigrant household you know that you can't waste any part of the chicken (or any meat for that matter). I like to use whole chicken legs because bone-in pieces are more tender and juicy. They also pre-cut them into these pieces at our local Filipino grocery store, Seafood City.
The marinade for this recipe is also easy to follow, you just combine the chicken legs, achiote oil, vinegar, lime juice, light brown sugar, garlic, lemongrass, salt, and pepper in a bowl. I am a big believer in marinating chicken overnight to get the most moist and juicy pieces. Just remember to pull the chicken from the fridge about 30 minutes before grilling to make sure they cook evenly.
How to grill the chicken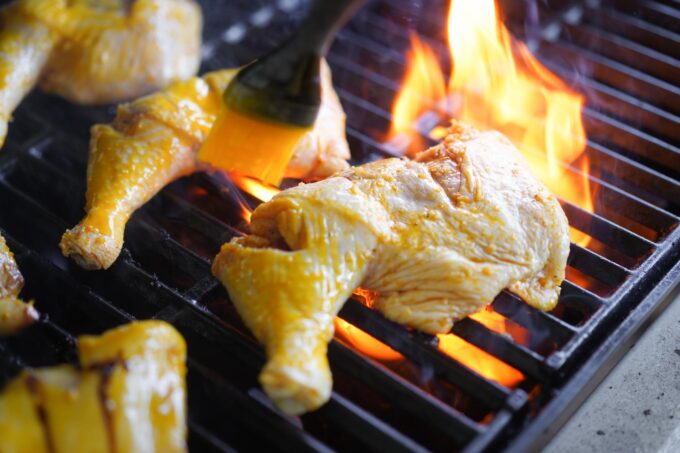 Grilling over charcoal is common in the Philippines, but I went the easier route and used my gas grill. However, you can also use charcoal and follow these instructions to cook your chicken too. Preheat your grill and while you wait, make your basting sauce by combining achiote oil, melted butter, light brown sugar, lime juice, and salt.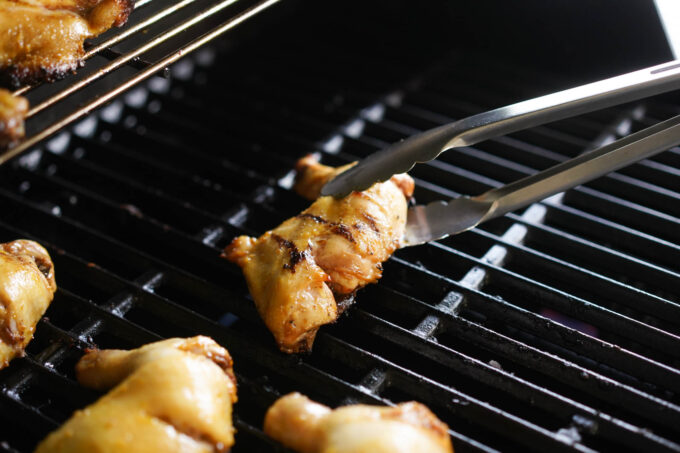 I've grilled chicken before, and sometimes it can be a bit difficult to prevent burnt skin so I made a few mistakes along the way and found some tips to share: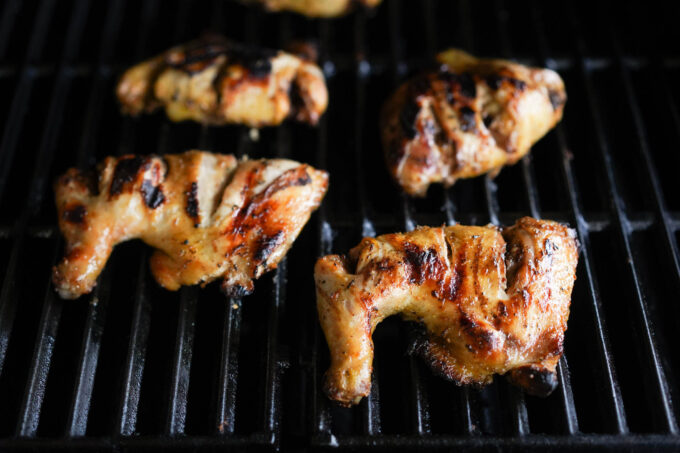 Expect it to take 30-40 minutes to finish cooking the chicken. Each piece should be removed when the deepest part registers 160 °F with an instant-read thermometer, so we can sear it later.
Preheat your grill on medium for about five minutes, then clean down your grill from previous cooking sessions. 
Place the chicken skin side up over low heat cooking with the lid closed, only opening it to baste or check chicken temperature. Your grill's internal temperature should be around 300-325 °F. My grill is too hot with three flames on low, so I shut one off leaving two burners on low.
Baste the chicken every 10 minutes to keep a moist outer layer occasionally measuring temperatures of the deepest part of each piece of meat, removing any piece that registers 160 °F, so we can sear it later.
If you find your chicken is burning, move them to the top tier rack (if you have one), or move them to a section of the grill with the lowest heat, or with the flame off.
Once all the chicken is removed, crank all the flames to medium for about 3 minutes with the grill closed, then sear each piece with the skin side down just to get nice browning, remove from the grill and serve.
The best way to serve chicken inasal is with a side of steaming rice (garlic rice if you're fancy) and a dipping sauce made of half soy sauce, half vinegar, and some lime juice. If you're having a party, I would definitely add some Filipino bbq pork skewers and a side of atchara (Filipino pickles) to this menu!
For other grilling recipes, you can make whole grilled fish, grilled corn in foil, grilled clams, and Japanese yakitori.
What does inasal mean?
Inasal in Tagalog means "char-grilled" or "roasted meat."
Is annatto and paprika the same?
Annatto seeds come from the achiote plant which have an earthy and peppery flavor. Paprika is made from ground chili peppers and has a smoked and spicy flavor. While they are both red in color, they have different flavor profiles.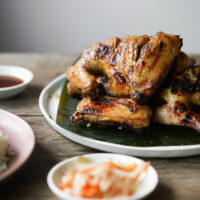 Chicken Inasal (Filipino Marinated and Grilled Chicken)
This citrus, vinegar, and pepper infused barbecue recipe will give you tender and flavorful chicken inasal (or char-grilled chicken). Your guests will love this traditional Filipino recipe at your next party!
Ingredients
Achiote oil
½

c

vegetable oil

½

tbsp

garlic

minced

¼

tsp

lemongrass

minced

½

tbsp

annatto seeds

1

bay leaf
Marinade
3 ½

lb

(

1.6

kg

)

chicken legs

or thighs or drumsticks

¼

c

achiote oil

1

tbsp

lemongrass

minced

1

tbsp

ginger

grated

1

tbsp

garlic

minced

2

tbsp

light brown sugar

1

tbsp

lime juice

or calamansi juice

2

tbsp

cane sugar vinegar

Datu Puti brand preferred

1

tbsp

salt

½

tsp

(

1

g

)

pepper
Basting sauce
4

tbsp

butter

1 ½

tbsp

achiote oil

½

tsp

lime juice

¼

tsp

salt

½

tbsp

light brown sugar
Instructions
Achiote oil
In a saucepan over medium heat, add the vegetable oil, minced garlic, and minced lemongrass. Lightly simmer for one minute until they begin to lightly brown on the edges.

Add the annatto seeds and bay leaf. Cook for another minute or until there are bubbles surrounding the seeds. Remove the pan from the heat and steep for one hour.

Strain the oil and transfer into a glass container like a mason jar.
Marinade
Pat your chicken dry with paper towels. In a glass container with an airtight lid, combine the achiote oil, lemongrass, ginger, garlic, light brown sugar, lime juice, vinegar, salt, and pepper. Stir until the sugar is dissolved.

Add the chicken into the container. Turn chicken to make sure it's thoroughly coated. Cover with an airtight lid and place in the fridge to marinate overnight. I like to shake the chicken in the container every 5 hours to make sure the chicken is thoroughly coated and the marinade doesn't separate. Remove the chicken from the fridge for 30-60 minutes before grilling so it can warm up to room temperature and cook more evenly.
Basting sauce
In a microwave safe bowl, combine butter, achiote oil, lime juice, salt, and sugar. Heat in the microwave for 20 seconds or until the butter is completely melted.

Stir to mix all the ingredients.
Grilling
Preheat your grill to medium heat for about 5-10 minutes, then clean your grill.

Grilling chicken legs takes about 30-40 minutes total, depending on the thickness, or when the chicken measures at 160 °F. Be careful to not burn your chicken by leaving it directly over the fire.

Note: My grill is too hot with three flames on low, so I shut one off leaving two burners on low.

Place the chicken skin side up over the lowest heat setting and close the lid. The grill's internal temperature should be around 300-325 °F. You will not be turning the chicken until the end for searing.

Only open the lid, every 10 minutes for basting. Simultaneously, also make sure to test the internal chicken temperature and remove pieces when they reach 160 °F in the thickest part of the chicken.

TIP: If your chicken is burning, move them to the top tier rack (if you have one), OR move them to a section of the grill with the lowest heat, OR with the flame off.

When all the chicken has reached 160 °F and you've removed them from the grill, raise the heat to medium and close the lid for three minutes. Open the lid, then sear each piece of chicken with the skin side down for about one to two minutes or until you get a nice brown color.

Remove from the grill and rest for a few minutes.

Combine ingredients for the dipping sauce and serve with chicken and with steamed rice or garlic rice immediately.
Nutrition Facts
Calories:
693.8
kcal
|
Carbohydrates:
8.6
g
|
Protein:
30.7
g
|
Fat:
59.9
g
|
Saturated Fat:
31.5
g
|
Cholesterol:
192.7
mg
|
Sodium:
2149.6
mg
|
Potassium:
382.7
mg
|
Fiber:
0.1
g
|
Sugar:
6.1
g
|
Vitamin A:
450.4
IU
|
Vitamin C:
2.9
mg
|
Calcium:
25.9
mg
|
Iron:
1.5
mg
Like this recipe? Subscribe to my newsletter!