While you can find inari sushi or inarizushi at sushi restaurants, this super simple recipe is here to fulfill your cravings and it's only made up of two simple ingredients: sushi rice and sweet and savory seasoned, deep-fried tofu pockets.
What is inari sushi?
The plain deep-fried tofu pockets are called "aburaage" and are made of soybeans. When aburaage are seasoned with a dashi broth that gives them a sweet and flavorful outer layer they are called "inari age." Inari sushi, or Inarizushi, is named after the Shinto deity, Inari, who protects crops, fertility, and general prosperity.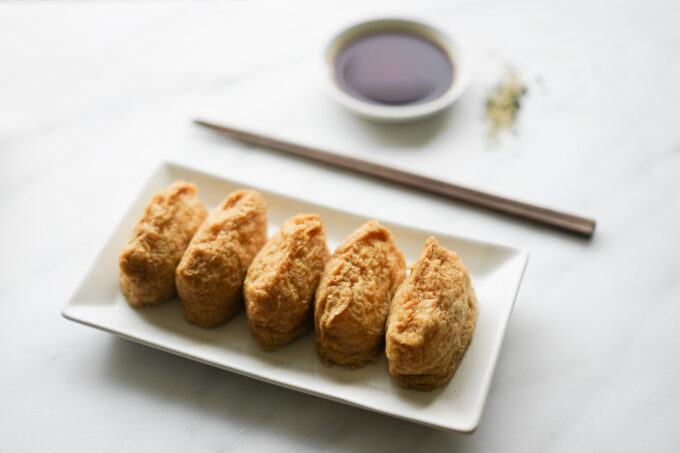 People would give offerings of inari sushi and aburaage to the Inari shrines in Japan because the brown pouches were thought to represent the shape of a fox, an animal associated with the Inari deity. Different regions in Japan also have different shapes of inari sushi, too. For example, there are rectangle inari sushi that resembles fox ears, or triangle shaped sushi.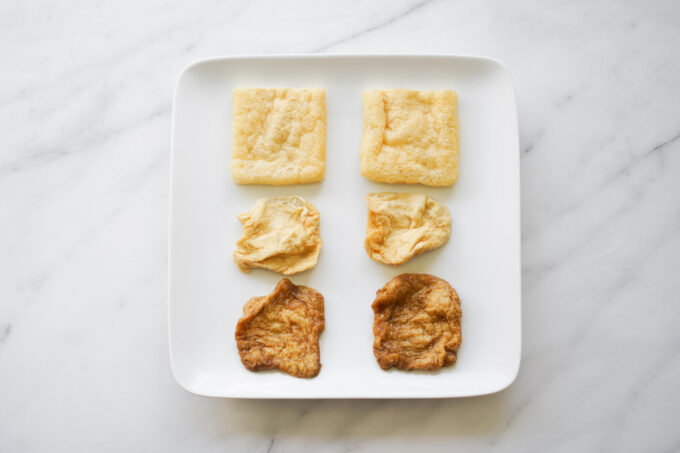 How to make inari age
While many Japanese grocery stores sell pre-seasoned inari age, for this recipe I chose to season the aburaage at home so that I could adjust the levels of sweet and savory flavors.
To make inari age, get your hands on aburaage from your local Japanese grocer, and then boil them in water to remove the oil in the tofu. After removing the aburaage from the water, have them cool and then squeeze out the excess water.
Then you bring a simple sauce of dashi broth, soy sauce, sugar, and miso to a simmer and then add your tofu pockets, which will soak up all that flavor.
After about ten minutes, remove them from the sauce, cool them down, and press out the excess liquid. You can use the inari age as soon as possible, or keep them in an airtight container to use for later.
Filling options
Typically, you can add sushi rice inside your inari sushi–it's a pretty basic, on-the-go snack. What's great about inari sushi is that you can choose to add any fillings and mix them in with your sushi rice. I have seen variations of adding tamago, spicy tuna, tobiko, and more.
Since I like to add furikake with my sushi rice to give my inari sushi a bit more umami flavor and crunchy texture, I've adjusted my inari age seasoning to accommodate this extra seasoning in the furikake.
How to serve
The best thing about inari sushi is that it's super low-key and you can serve it on a plate, bento, or take it straight into your hands and eat it all up–no wonder they always feature this in anime! Similar to other sushi, you can also serve this with soy sauce and wasabi if you want that extra kick.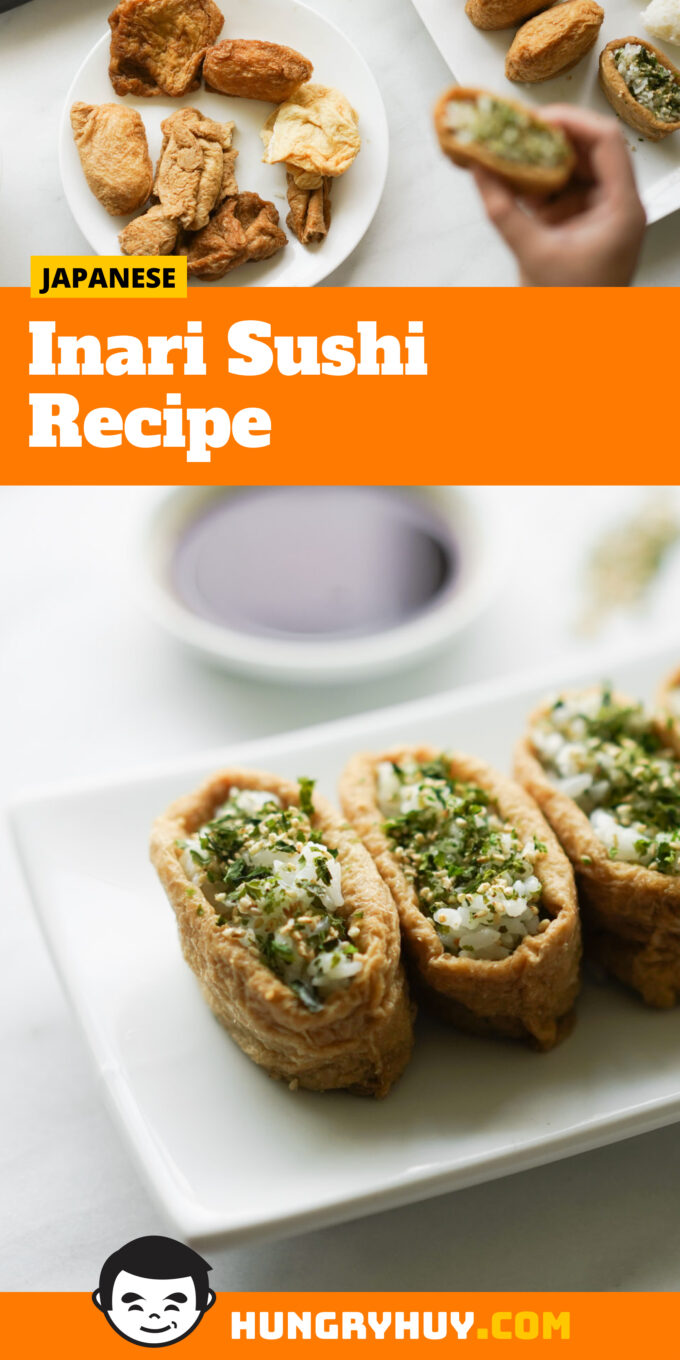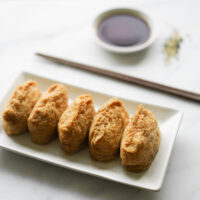 Inari Sushi Recipe
Inari sushi is an easy dish made of two main ingredients, sushi rice and inari age. This is the perfect snack for the middle of the day where you can get both sweet and savory flavors in one bite.
Ingredients
2

c

sushi rice

1

package aburaage (5 tofu pieces cut in half to make 10 pieces)

4

c

water for boiling

1

c

dashi broth

3

tsp

miso

2

tbsp

soy sauce

1 ½

tbsp

sugar
Instructions
Take the aburaage pieces and cut them in half to make ten pockets.

In a medium pan, boil four cups of water and then add the aburaage. Boil for about two minutes. Remove the aburaage pieces and allow them to cool in a strainer. Once they are cool to the touch, carefully squeeze out the excess water with your hands. Try not to tear the pockets by squeezing too hard.

In the same pan over medium-high heat, add the dashi broth, soy sauce, sugar, and miso and mix thoroughly. Once it hits a boil, lower the heat to medium-low and add the pressed aburaage. Make sure the sauce covers all of the tofu pieces and leave this to simmer for ten minutes or until the tofu pieces have absorbed a majority of the sauce.

Remove the tofu pieces from the pan and leave it in the strainer to cool. Carefully press the excess liquid from the inari age pockets.

To make it easier to add rice into the balls, I like to make sushi rice balls (weighing out about 35g per ball on a scale for uniformity), then take an inari age and carefully place the sushi log into the pocket. You can move the rice around to get a cylindrical inari sushi shape.

For furikake sushi rice, add as much furikake into the sushi rice as you want, then repeat by making sushi rice logs before placing them inside the inari age pockets.
Nutrition Facts (per serving)
Calories:
150
kcal
|
Carbohydrates:
33
g
|
Protein:
3
g
|
Fat:
1
g
|
Saturated Fat:
1
g
|
Sodium:
271
mg
|
Potassium:
40
mg
|
Fiber:
1
g
|
Sugar:
2
g
|
Calcium:
5
mg
|
Iron:
1
mg
Nutrition Facts
Inari Sushi Recipe
Amount per Serving
% Daily Value*
* Percent Daily Values are based on a 2000 calorie diet.
Like this recipe? Subscribe to my newsletter!