There's something so satisfying about making and eating spicy tuna rolls at home. These delicately wrapped bites of tuna, soft rice, and crisp nori will melt in your mouth, but also give you a subtle kick of heat with the addition of Kewpie and sriracha.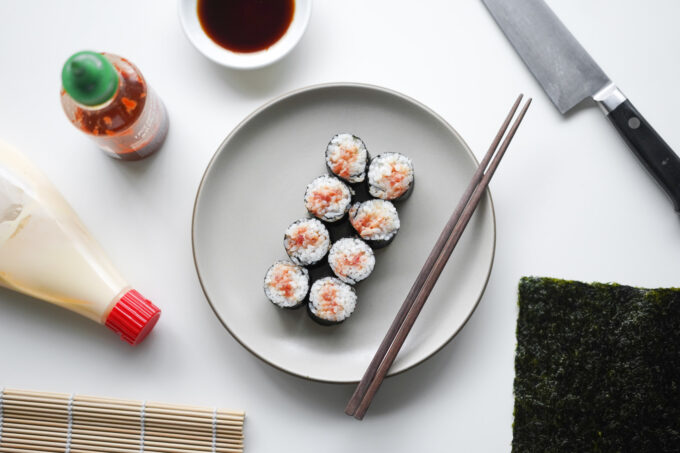 While the origin of the spicy tuna roll is not well documented (some say it was Los Angeles in the 1970s), it has now become a staple in many Japanese restaurants all over the country.
Tuna fish
Traditionally, spicy tuna rolls are made by mixing "tuna scrape"–the leftover pieces of scraped meat found near the bones of the tuna–and a spicy sauce, and then wrapping the mixture on a bed of nori and sushi rice.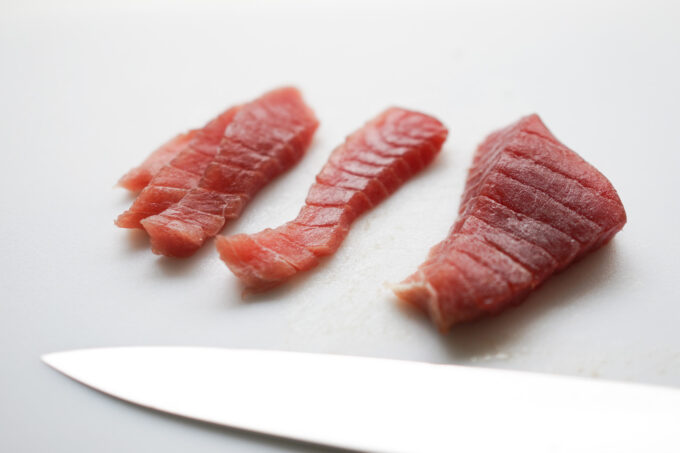 I like to stop by my local Japanese market to buy "tuna scrape" for an affordable price, or sushi grade tuna filets that I can mince at home. Three oz of fish can make about two to three rolls depending on how big you want to make the rolls. You can also get good quality tuna from Catalina OP.
Typically, the spicy tuna rolls I order at Japanese restaurants have a one inch diameter. Smaller rolls are also easier to wrap and cut.
Seaweed / nori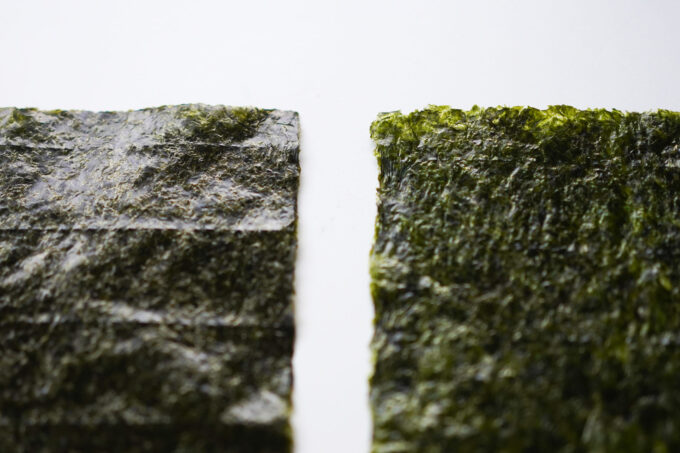 While much attention is often given to the fish, nori is also an important part of sushi. Nori comes in various grades that distinguishes the quality based on color: green (lower quality meant for salads), blue, silver, gold (highest quality), and more.
The silver or gold grade nori are perfect for sushi. Gold standard nori should be jet-black in color, have a uniform thickness throughout, and a crisp and naturally sweet flavor out of the bag.
Sushi rice
For the rice, you want to make sure to buy short-grain, white rice at your local Japanese market. While making rice is tricky, you can follow my sushi rice recipe to learn the appropriate ratios of rice, vinegar, and sugar.
Spicy tuna sauce
Japanese Kewpie mayonnaise is a very important ingredient in many recipes like Sriracha mayo (a dipping sauce for karaage or seasoning for salmon poke bowls) or tamago sando, and this spicy tuna recipe is no different. Kewpie differs from western mayonnaise due to its rich egg and sweetened flavor. To learn more about Kewpie, read more about it here.
I use a mixture of Japanese mayonnaise (Kewpie) and sriracha to make the spicy tuna sauce. I have also seen variations of spicy tuna rolls that omit Kewpie, or use other types of hot sauce, but I prefer the sweet, fatty, and spicy flavor of Kewpie and Huy Fong sriracha.
Rolling and cutting
To wrap your roll, use a sushi mat (I like to cover mine with cling wrap for easier clean up). After taking a sheet of nori, place the shiny side face down. Dip clean hands into a bowl of water and grab a handful of sushi rice and lay the rice evenly on about half of the nori sheet.
At one inch above the bottom edge, leave a shallow, horizontal indent and place a spoonful of spicy tuna mix along this line. Take the bottom edge of the sushi mat and begin to move your mat and sheet in an upwards motion to create your roll. Apply even pressure to create a tight small roll.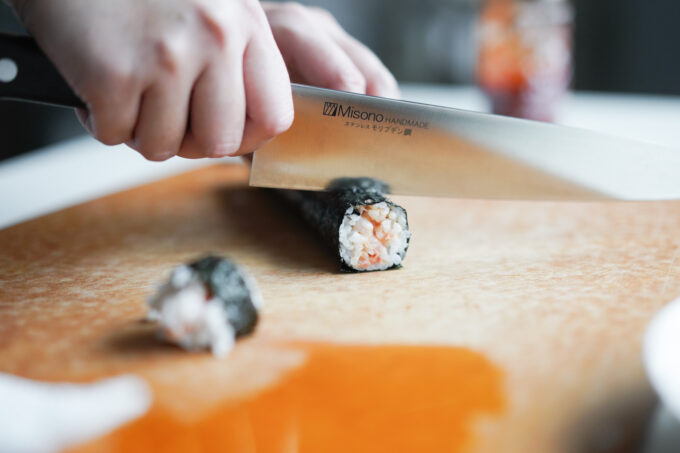 After a few tries, I got the hang of rolling the nori tightly enough so that it kept the ingredients encased and made it easier to cut the rolls with a knife. To make clean cuts, use a very sharp knife and keep it clean by wiping it down after every slice.
After all that hard work, you're ready to eat! I like to serve this with a side of soy sauce, gari, and a dab of wasabi for some extra heat. Enjoy!
For other types of sushi, you can also make temaki (hand rolls) or California rolls. You can also learn more about sushi rolls vs. hand rolls in an informative post. If you like eating tuna, you can also try making traditional ahi tuna poke bowls that are equally as delicious.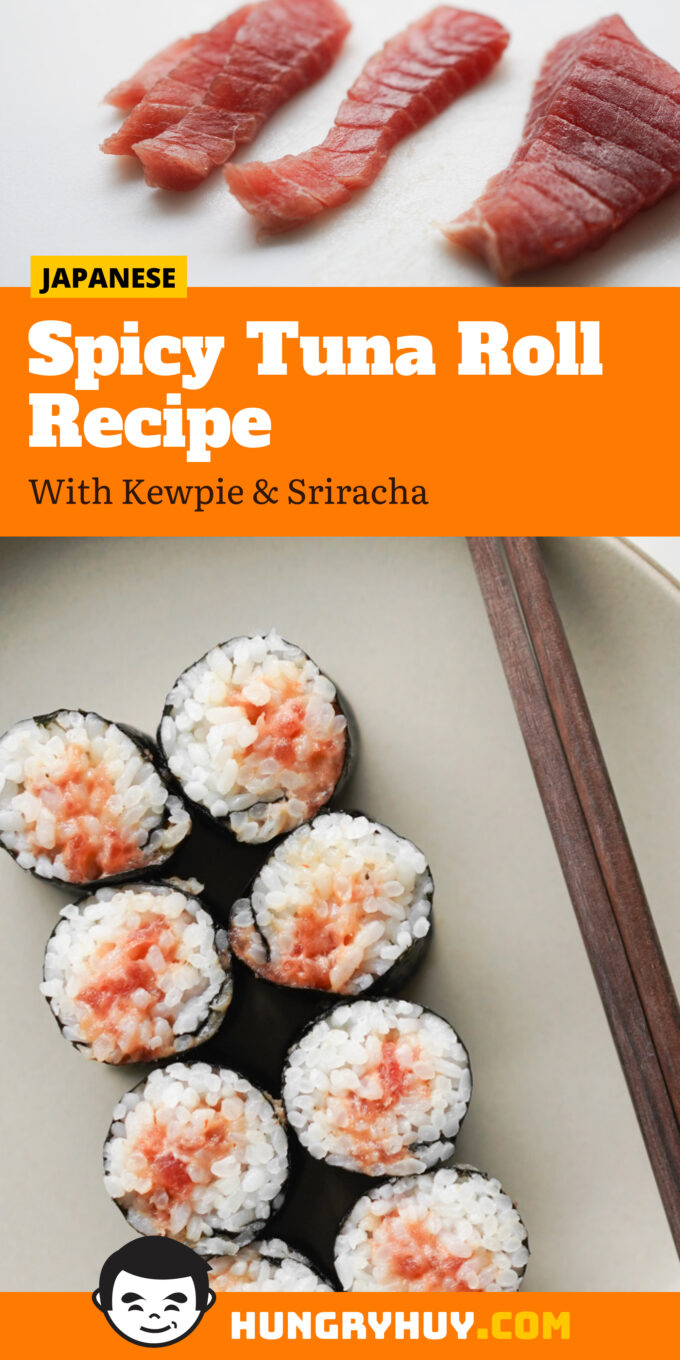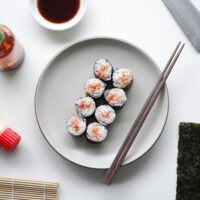 Spicy Tuna Rolls
These melt in your mouth spicy tuna rolls are simple to make at home.
Ingredients
2

c

cooked sushi rice

3

oz

sushi grade tuna

minced

2

tbsp

Kewpie

Japanese mayonnaise

½

tbsp

sriracha

Huy Fong Foods

nori sheets

silver or gold grade

water bowl

for dipping your hands
Optional sides for dipping
soy sauce, gari (pickled ginger), or wasabi
Instructions
Cook two cups of sushi rice and add vinegar and sugar mixture.

In a bowl, mix together the tuna, Kewpie, and sriracha. Add more hot sauce or Kewpie if needed.

Cover your sushi mat with cling wrap to keep your mat clean.

Take your one sheet of nori and place it with the shiny side face down.

Take ¼ cup of rice, and using your hands, layer the rice evenly on the sheet. Dip your hands in the water bowl to keep your hands from sticking to the rice. I try to make a horizontal indent on the rice to make room for the spicy tuna mix.

Add one scoop of the spicy tuna mix horizontally on the bed of rice, leaving about half an inch of room from the bottom of the nori. The key is to add less fish than you think.

Take the bottom edge of the sushi mat and slowly move the nori sheet over the filling, completely wrapping the spicy tuna and rice in the sheet. Use an upwards motions with the sushi mat to guide your spicy tuna roll upwards. Try to keep the roll tight by applying even and gentle pressure while rolling upwards. Be gentle to prevent your nori from breaking or having rice or fish from coming out the sides.

Continue this motion until your roll comes away from the mat. You may need to cut the additional nori at the end.

Using a very sharp knife, cut the roll in quick and steady slices. Wipe down the knife in between cuts to prevent mangling your roll.

Serve immediately and enjoy!
Nutrition Facts
Calories:
340
kcal
|
Carbohydrates:
37
g
|
Protein:
14
g
|
Fat:
13
g
|
Saturated Fat:
2
g
|
Polyunsaturated Fat:
6
g
|
Monounsaturated Fat:
3
g
|
Cholesterol:
41
mg
|
Sodium:
216
mg
|
Potassium:
107
mg
|
Fiber:
2
g
|
Sugar:
1
g
|
Vitamin A:
928
IU
|
Vitamin C:
2
mg
|
Iron:
1
mg
Like this recipe? Subscribe to my newsletter!