This is some of the crispiest fried tofu you'll ever try. I've often ordered crispy tofu at our local Szechuan restaurants and wanted to know how to get that perfectly fried outer layer, and this recipe finally shows you how!
In general, tofu is soybean milk and water cooked with a salt-based or acidic coagulant. Once they are cooked together, the whey and the curds begin to separate. Tofu is made when the curds are pressed.
There are many different types of tofu to choose from and you can find many varieties in your local grocery or Asian market, or even fresh from a local tofu maker. You can learn more about tofu in my previous post here. For frying, you want to buy EXTRA firm, non-silken tofu because it keeps its shape well during frying.
After opening your tofu, you will need to press the tofu to remove excess water. This is a pretty important step because too much water can prevent your tofu from achieving optimal crispiness.
Slice the tofu into 1/2 inch thick sheets and place them in between two cutting boards and a few sheets of paper towels or dish towels. You want to place a few cans of soup on the top of the cutting board for more pressure. Press for about 15-20 minutes. After pressing, cut the pieces of tofu into one inch bite sized pieces.
Crispy fried tofu can be made by frying the tofu directly into neutral cooking oil without batter like we do for my dau sot ca recipe, but here I prefer using a wet batter to make your tofu extra thick and crispy. Using cornstarch also produces a lighter and crispier crust.
Like anything you deep fry, you want to use an oil with a high smoke point and a neutral flavor, like vegetable oil. In a heavy-bottomed pot (like a cast iron), heat one and a half inches of oil to 350 °F. Take the battered tofu pieces and slowly lower each piece into the oil. The tofu will cook fairly quickly, about three to four minutes per batch.
Once the tofu has achieves a slight golden color (very faint), remove them from the oil and place on towels to drain the excess oil. Don't forget to taste test! The tofu should have a nice crunchy bite, lightly seasoned with the batter, and tender on the inside.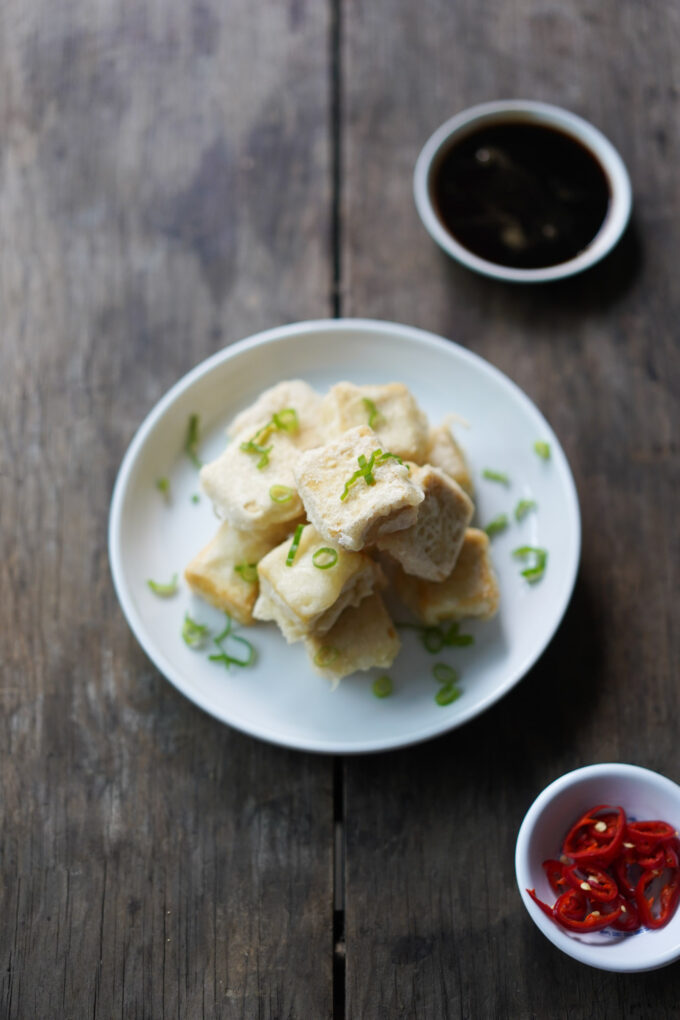 Crispy fried tofu is best served right away with a soy sauce-based dip. In this sauce, I cooked down soy sauce, sugar, water, and cornstarch for thickener. The lighter flavored crispy fried tofu pairs really well with the syrupy sweet and salty dip.
If you prefer a sweeter sauce, you can also dip these crispy little morsels in a different type of brown sugar, soy glaze.
Crispy Fried Tofu Recipe
You can now make extra crispy fried tofu at home with this recipe and impress your friends at your next dinner party.
Ingredients
Dry Batter
1

lb

firm tofu

3

tbsp

cornstarch

½

tsp

white ground pepper
Wet Batter
⅔

c

cornstarch

½

tsp

baking powder

½

c

all-purpose flour

2

tsp

kosher salt

4

fl oz

(

c

½

)

cold water

4

fl oz

(

c

½

)

vodka
Dipping Sauce*
5

fl oz

soy sauce

2 ½

tbsp

sugar

5

fl oz

water

1

tsp

potato starch
Instructions
Tofu Instructions
Remove the firm tofu from the package and cut into ½ inch slices.

Line paper towels or hand towels on a cutting board and place the tofu slices individually. Place another paper towel on top of these slices and then another cutting board on top. Add four of the same sized cans on top of the cutting board evenly to add more pressure. Press for 15-20 minutes. Make the dipping sauce while this is pressing.

Remove tofu from the press and cut them into bite sized pieces. I like to cut them in about one inch square bites.

In a heavy-bottomed pot, add about one and a half inches of oil and heat to about 350 °F.

Prepare your dry batter by combining the cornstarch and white ground pepper in a shallow bowl.

Prepare your wet batter by combining and mixing all the dry ingredients first: cornstarch, baking powder, all-purpose flour, and kosher salt. After mixing, add in your cold water and vodka. Mix thoroughly until the batter is smooth.

Take tofu pieces and roll them in the dry batter until all sides are evenly covered, this step will help the wet batter stick to the tofu. Then, dip the tofu into the wet batter and cover evenly. Lift the tofu to remove excess batter and carefully place the battered tofu into the oil.

Cook tofu for about three to four minutes, or until it's crispy. (If you think the tofu pieces are sticking to the bottom of the pot, try to give it some time to cook. I found that after 2 minutes, the tofu will crisp and you can easily remove it from the bottom without tearing the crispy batter.)

Remove tofu pieces from the oil and rest them on a towel lined wire rack to help remove excess oil.

Enjoy with the dipping sauce and serve immediately!
Dipping Sauce Instructions
In a pot on the stove over medium-high heat, add the soy sauce, ⅔ of water, and sugar, and stir until boiling.

While you are waiting for your soy sauce to boil, in a separate bowl mix the rest of the water and the potato starch.

Once it has reached boiling, lower the heat to a simmer and add the water and potato starch mixture.

Continue to cook until the sauce becomes thicker, about 15-20 minutes. The consistency of the sauce should be similar to maple syrup. Once you reach the right density, transfer the sauce to a heat safe bowl and let rest. The sauce will continue to thicken after resting.
Notes
This recipe was influenced by Serious Eats recipe for fried tofu, but I wanted to add a little bit more flavor to the batter by including white pepper and adjusting the cornstarch for a thicker batter.
*Dipping sauce: If you want to double the recipe, please note that it may not be necessary to double this sauce recipe. I've found that with double the tofu, it's a good amount of sauce since you don't need much of the saltiness with the tofu. 
Nutrition Facts
Calories:
379
kcal
|
Carbohydrates:
50
g
|
Protein:
16
g
|
Fat:
5
g
|
Saturated Fat:
1
g
|
Sodium:
3214
mg
|
Potassium:
92
mg
|
Fiber:
2
g
|
Sugar:
8
g
|
Calcium:
183
mg
|
Iron:
3
mg
Like this recipe? Subscribe to my newsletter!