Why bother buying boxed seasoned rice at the store when you can make your own extra fluffy grains of rice seasoned with spicy paprika, savory garlic and onions, with earthy herbs like thyme and parsley. This easy stovetop rice pilaf recipe can also be customized based on the seasonings you have on hand too!
What is seasoned rice or rice pilaf?
Rice pilaf is a form of seasoned rice that is made with a stock (like chicken) and mixed with spices like garlic, onions, paprika, and more. There are a few origin theories about rice pilaf. From South Asia to Iran and the Middle East, there are multiple stories of where the first seasoned rice dish was created, but it's spread throughout the rest of the world due to colonization and trade.
And now we have variations of rice pilaf like Spanish paella and Indian pulao. This can be more commonly known as rice pilaf in the US, but also just seasoned rice. Brands like Rice A Roni and Uncle Bens have been a staple in tv commercials for decades and are widely available in grocery stores. They have different flavored rice styles like basic chicken, garlic, butter, and Spanish style.
How to make plain white rice taste better
Being Asian, I eat plain white rice with almost every savory meal. But after making seasoning rice with my everyday spices at home, it's become a game-changer in my meals. To make plain white rice taste better, you can start by adding fat (either butter or oil) and swapping the water for chicken stock or broth. If you've got dietary restrictions, you can also use olive oil and mushroom powder (or vegetable stock) in replacement for chicken or beef stock.
Spices & seasonings to add to rice
I love this recipe because you can use everyday spices that are already in your pantry or adjust it based on your preferences. This recipe uses garlic powder, onion powder, paprika, thyme, parsley, chicken bouillon powder, salt, and pepper. Here are other spices and ingredients you can add to change up the flavor:
For more spiciness: red pepper flakes or cayenne pepper
For an Italian twist: oregano and basil
For an Asian inspired version: five-spice, turmeric, or lemongrass
Types of rice to use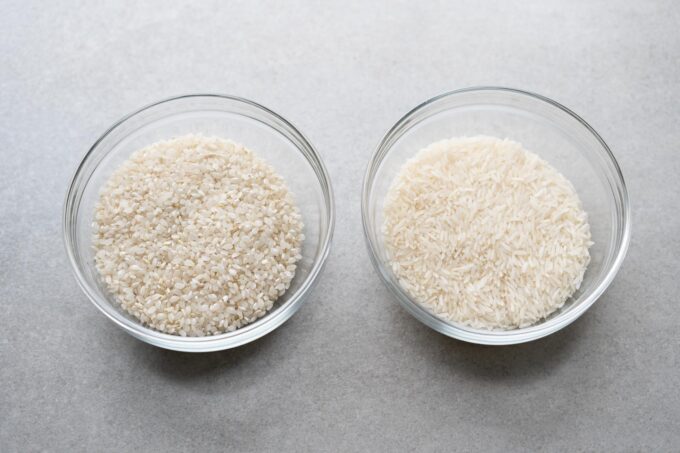 Rice pilaf variations can have different types of rice depending on the region they're made from; biryani uses basmati long-grain rice, and in Bangladesh, they make polao that uses short-grain rice. Our recipe specifically uses white jasmine rice, so the measurements and timing will reflect this long-grain rice variety.
Best methods to cook seasoned rice
You can cook seasoned rice in many different ways, like using a rice cooker or Instant Pot because you just add in all the ingredients and cook it like plain rice. My favorite way of cooking seasoned rice is using a regular pot on the stovetop. It doesn't require any additional appliances; you don't need to melt the butter beforehand, and it takes under 20 minutes to cook.
Note: this recipe only accounts for long grain rice time and method for cooking on the stovetop. If you are using short grain rice or brown rice, your timing may differ.
What to serve with seasoned rice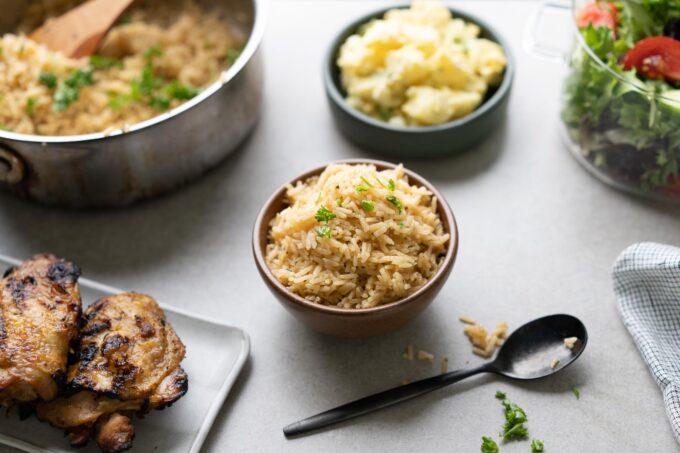 The best part of seasoned rice is you can serve it with just about anything like vegetables! You can serve seasoned rice with various dishes like spicy sriracha shrimp, miso-glazed salmon, and steamed cauliflower. If you have leftovers, leave it on the counter to cool for about fifteen minutes and transfer it to an airtight container. You can keep it in the fridge for up to three to four days. I like to reheat the rice using a microwave in 30-second increments.
Easy, Buttery Seasoned Rice
Learn how to make your own seasoned rice for your next dinner and ditch the boxed version with this easy stovetop recipe from scratch.
Ingredients
1

c

long-grain white rice

2

tbsp

unsalted butter

1½

c

chicken stock

1

tsp

chicken powder

or bouillon

½

tsp

onion powder

½

tsp

garlic powder

½

tsp

paprika

½

tsp

dried parsley

½

tsp

dried thyme

½

tsp

kosher salt

½

tsp

black pepper
Equipment Used
Strainer

4-quart saucepot & lid

spatula

liquid measuring cup

dry measure cups & spoons
Nutrition Facts (per serving)
Calories:
513.1
kcal
|
Carbohydrates:
82.2
g
|
Protein:
11.74
g
|
Fat:
14.38
g
|
Saturated Fat:
7.99
g
|
Polyunsaturated Fat:
1.07
g
|
Monounsaturated Fat:
4.25
g
|
Trans Fat:
0.46
g
|
Cholesterol:
35.63
mg
|
Sodium:
1085.19
mg
|
Potassium:
336.57
mg
|
Fiber:
1.74
g
|
Sugar:
3.25
g
|
Vitamin A:
614.27
IU
|
Vitamin C:
0.66
mg
|
Calcium:
47.77
mg
|
Iron:
1.67
mg
Nutrition Facts
Easy, Buttery Seasoned Rice
Amount per Serving
% Daily Value*
* Percent Daily Values are based on a 2000 calorie diet.
Like this recipe? Subscribe to my newsletter!