Luxuriously gelatinous yolks of the ramen egg, aka ajitsuke tamago, are worth getting excited over. They add a firmer texture and seasoning to the whites, as well as mamking the yolks much more mesmerizing and jammy.
In fact, I am pretty disappointed when a ramen shop doesn't have these. (Santouka you are my favorite ramen spot but but what are you doing with fully hard-boiled eggs?) I get it, it can be a bit of a waiting game with some timing tricks and marinating the egg, but once you figure it out it's pretty easily repeatable.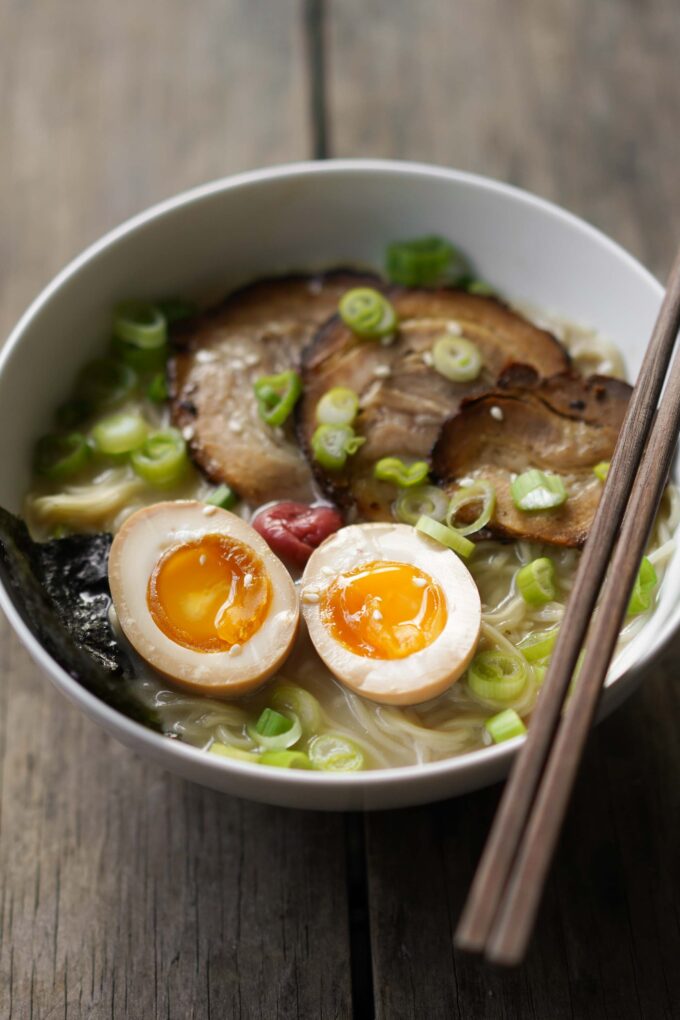 Even if your favorite ramen shop won't go through this trouble doesn't mean we'll be deprived of this delicious egg.
Let's learn how to make some ramen eggs!
Egg sizes
For this recipe, use only 'large' size eggs. Other ones will work but you'll have to adjust cooking times for them. 'Large' is a specific size rated by the USDA which means the eggs weigh about 24 ounces per dozen. Here's the rest of the USDA sizes for comparison:
Small: 18 ounces
Medium: 21 ounces
Large: 24 ounces
Extra-Large: 27 ounces
Jumbo: 30 ounces
Preparation
Boil water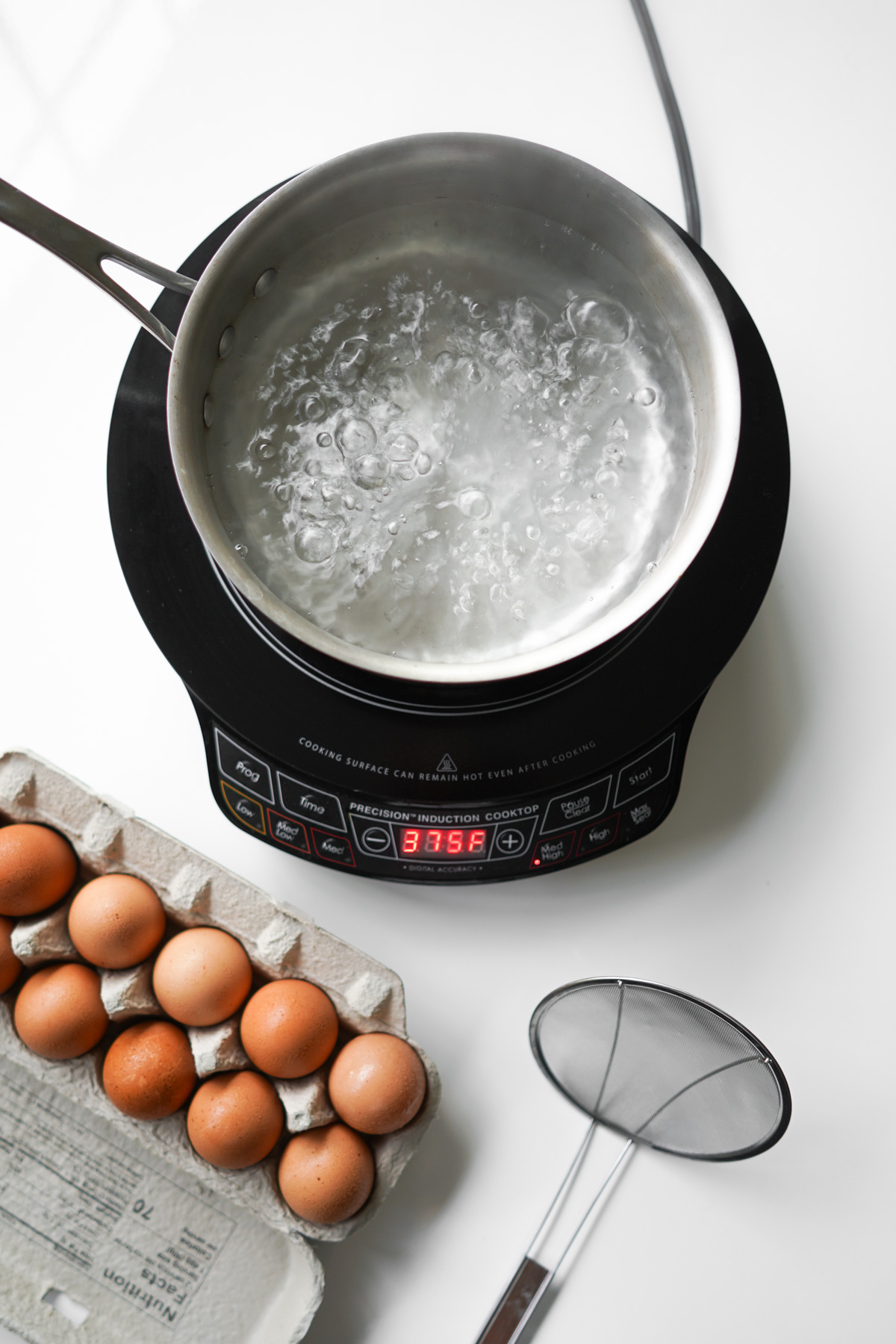 Use a pot large enough so the eggs can all fit on the bottom. Add enough water so after you submerge your eggs, there's at least half to one inch of water above the eggs. If you need to drop your eggs in temporarily to figure this out you can.
Remove the air gap
Use a thumbtack to poke a hole on the larger end of the eggs. This will remove the air gap inside the egg and give you more perfect looking eggs after you peel them, but you can skip this if you want to.
Egg temperature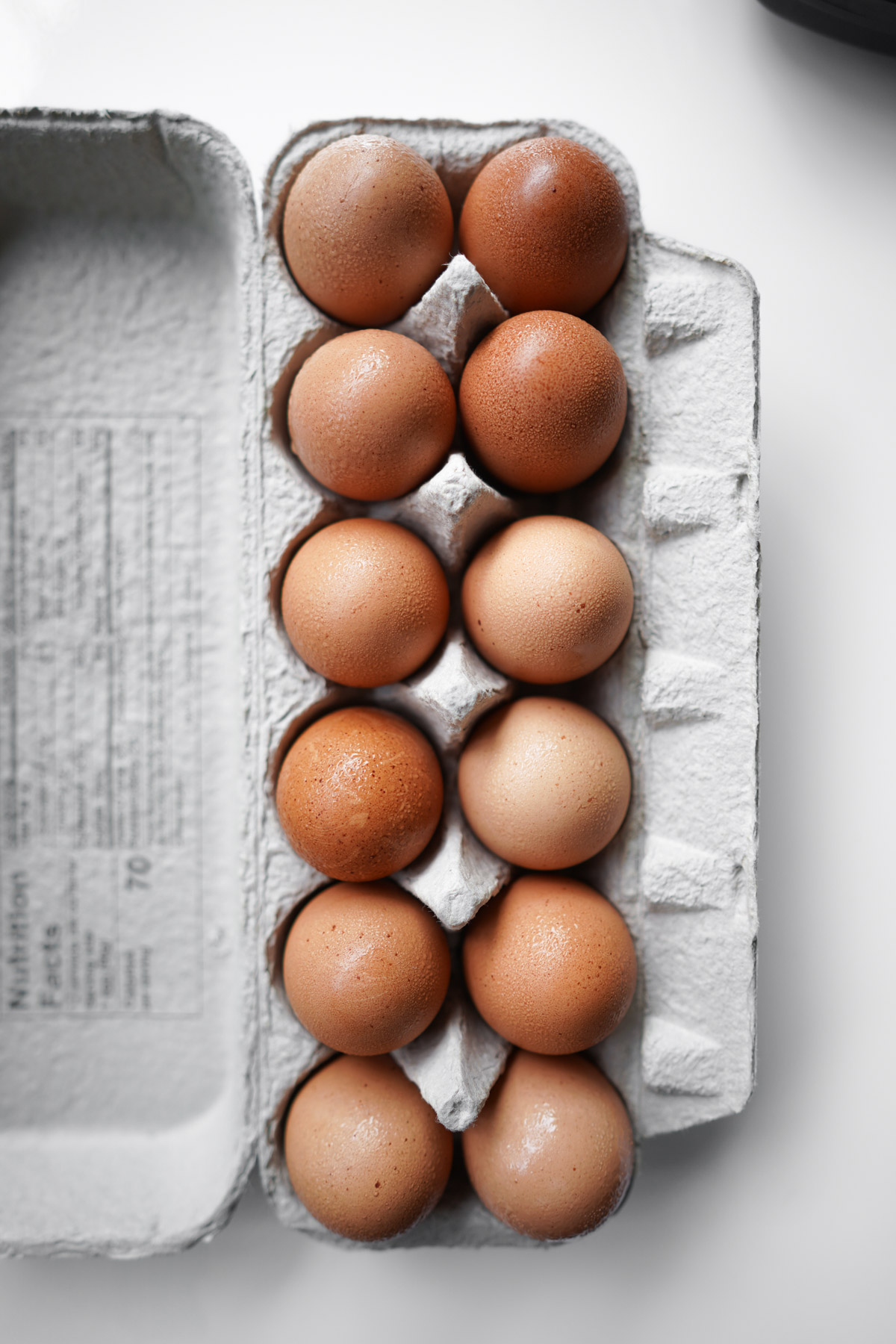 Leave the eggs in the fridge until your water is boiling and you're ready to drop em in. This ensures more predictable egg temperatures and cooking times. If your fridge is set properly it should be below 40 °F, likely around 35 °F based on normal fridge settings for food safety.
Yes, I know starting from 'room temperature' can vary depending on where you live and what season it is, something this recipe doesn't account for so you may have to do some tweaking.
However if we start with fridge temp eggs they will be too cold–this makes it so if you want jammy yolk centers, the outer edge of the yolks will be overcooked.
Ice water bath

Prepare an ice water bath so you can dunk the eggs in after boiling to stop them from cooking. Two cups of ice, and one cup water will be plenty. If your water is really cold you could just put the eggs under running water for two minutes.
Cooking
Lower the heat from high to a medium-high or medium. Quickly add eggs to the pot one at a time, either by hand or with a ladle. Immediately start your timer for 6 minutes 30 seconds. When the timer is up, transfer the eggs to the ice bath for two minutes.
Marinating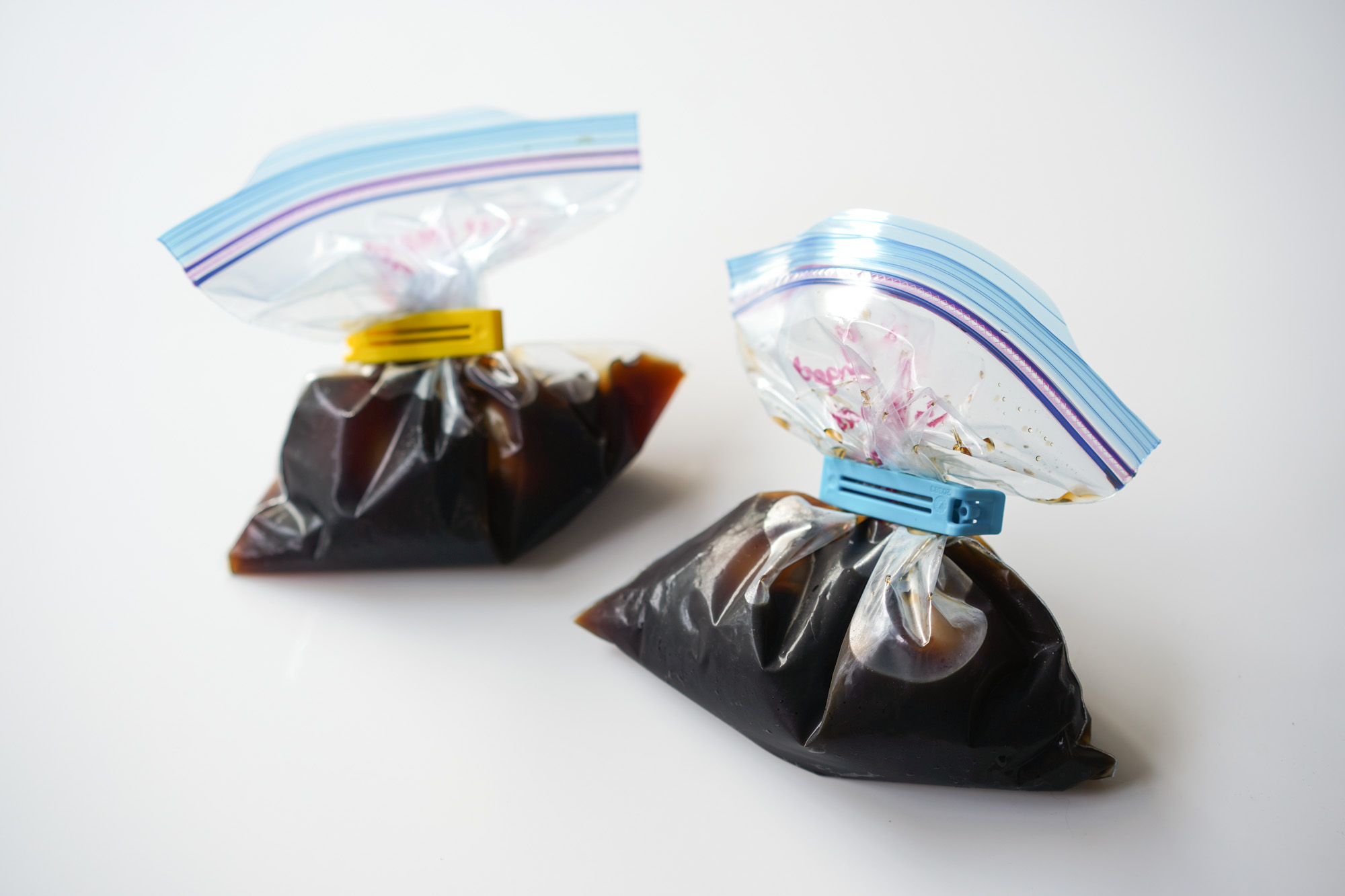 Marinating adds seasoning and flavor to the egg that completely changes the experience. Feel free to tweak the recipe according to your tastes. Some of the variations I tried were too sweet, or too bitter.
So you may need to experiment with a ratio of sugar, alcohol, or timing that you enjoy best. I'm sharing with you my favorite recipe here, and a timing of about three days provides the best texture for the eggs and yolk.
Dashi is one ingredient I added that I was actually unable to tell the difference in taste, but adding the recipes with dashi in it had a lighter, more even color for some reason. So if you can't find dashi easily, you can skip this.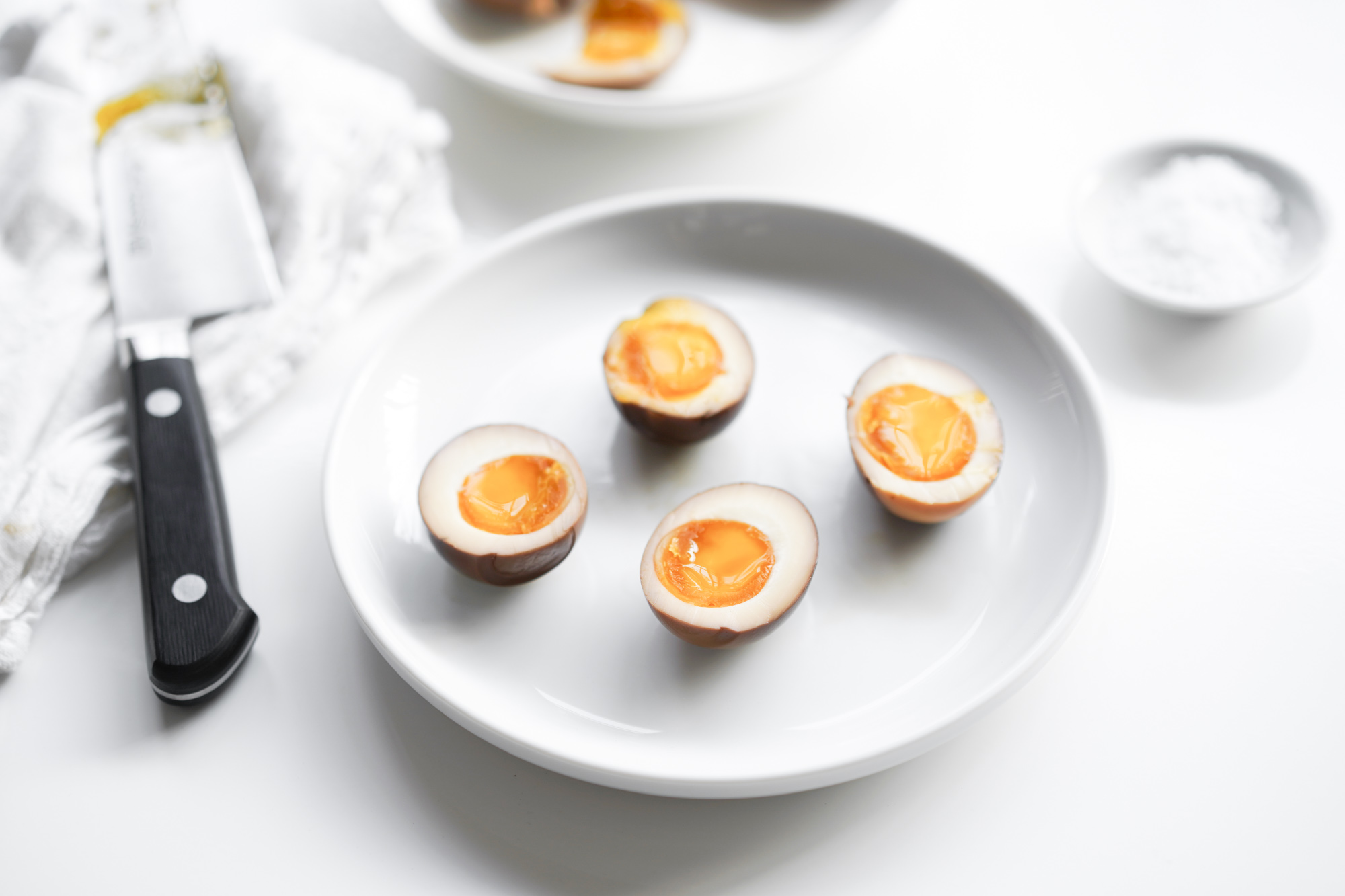 It's still edible beyond three days but the texture starts to get weird pretty quickly so if you need more time before eating, pull them out of the marinade.
Either warm these in a water bath or simply pull out of the fridge, slice in half and serve with a hot bowl of your favorite ramen! I had so many of these during testing that I ate them with just about anything… rice bowls, homemade Korean BBQ, or just by themselves.
Also these would also go great with thit kho (Vietnamese braised pork and eggs), if you have the patience to marinate these in the broth for that recipe instead!
What is ajitsuke tamago?
Ajitsuke tamago are soft boiled and marinated eggs that are typically eaten with ramen or other foods.
What is a ramen egg?
A ramen egg is a soft boiled egg and then marinated with a blend of soy sauce, dashi, sugar, mirin, and sake for a few days in the refrigerator. They are delicious in ramen or other soups and dishes.
How long are ramen eggs good for?
You should eat them within two to three days to get optimal flavor.
How do you peel an egg?
After boiling, I always put them in an ice bath. I lightly tap the egg and roll it slowly to get an even crack along the middle of the egg. Then I return the egg back into the water so I can crack it evenly without making a mess of all the egg shells. This is a similar process to my deviled egg and grated egg avocado toast recipes.
Ramen Eggs (w/ Jammy Yolks) aka Ajitsuke Tamago
Deliciously marinated, hard boiled eggs, with a thick and jammy yolk.
Ingredients
8

large eggs

Large size, and room temperature is crucial!

water for boiling
Marinade
1

cup

prepared warm dashi (or just warm water)

Instant is ok.

3

tbsp

sugar

8

tbsp

light soy sauce

4

tbsp

mirin

4

tbsp

sake
Equipment
1

timer

1

gallon sized sealable plastic bags

1

large bag clip
Instructions
Pull your eggs out of the fridge for 1-3 hours to get them to room temperature.

Prepare an ice bath in a large mixing bowl with about 2 cups of ice and 2-3 cups of water.

Get enough water boiling in a pot on high heat so that after you add the eggs there's at least one inch of water above the eggs. Once it hits a boil lower the temperature slightly so it maintains a low boil.

Gently lower the eggs into the boiling water one at a time so they don't crack. You can do this quickly with a large ladle so timing on all the eggs are even. Start your timer immediately for exactly 6 minutes 30 seconds.

When the timer's up, take out all the eggs as quickly as possible and transfer to the ice bath. Ladle the ice water over the eggs, and gently stir to evenly chill, for exactly 2 minutes. Remove the eggs from the bath, gently remove the shells, and set aside.

In a mixing bowl, make the dashi according to the packet instructions, so that you have 1 cup of prepared dashi. This should be done with warm water. If you're substituting dashi for just water, also make sure it's warm.

Add the sugar first, and stir so it dissolves, then add the rest of the marinade ingredients and stir to combine.

Pour the marinade into the bag, and add the eggs. The clip will help the marinade completely cover the eggs. If you don't have a bag or clip you can marinade in a bowl or tray, but it will take more liquid to completely cover the eggs. You can also use that method and just rotate the eggs every half day or so, but the results will be slightly different.

Transfer to the refrigerator for at least two days. Eat within 2-3 days as the optimum window, but remove from the marinade after 3 days if you can't use them all right away.
Notes
The weird thing about the dashi is that you can barely taste the difference. It did make a difference with a lighter more even color on the eggs though. If you can't find dashi, feel free to skip it.
Egg size is crucial to the timing! If you must use larger eggs, boiling time may be longer, and for smaller eggs boiling time may be shorter. This will affect the ice bath time too.
Getting the eggs to room temperature first also helps us precisely get the egg timing down. I found that if you do it straight out of the fridge, it was harder to get the center of the yolks cooked without overcooking the outer edges of the yolk.
Nutrition Facts (per serving)
Calories:
886
kcal
|
Carbohydrates:
78
g
|
Protein:
59
g
|
Fat:
31
g
|
Saturated Fat:
10
g
|
Cholesterol:
1146
mg
|
Sodium:
9779
mg
|
Potassium:
940
mg
|
Fiber:
1
g
|
Sugar:
56
g
|
Vitamin A:
1663
IU
|
Calcium:
274
mg
|
Iron:
9
mg
Nutrition Facts
Ramen Eggs (w/ Jammy Yolks) aka Ajitsuke Tamago
Amount per Serving
% Daily Value*
* Percent Daily Values are based on a 2000 calorie diet.
Like this recipe? Subscribe to my newsletter!