Sweet and salty umami-packed glaze over flaky salmon filets over a bed of rice and greens–miso-glazed salmon is a quick and easy weeknight dinner for even the busiest people!
While many of us are familiar with Cheesecake Factory's famous miso-glazed salmon, myself included, this recipe uses a more traditional Japanese take by using sake, mirin, and miso.
This recipe is also similar to my miso-marinated black cod recipe, except there's only a 30 minute marinade time and it's also much easier and cheaper to find salmon than black code, otherwise known as sablefish.
Choosing and preparing the salmon
When choosing a salmon filet, I prefer wild-caught salmon because of its health benefits and it's better for the environment. Since wild salmon is also leaner than farmed salmon, which tends to have a higher fat content, I like to pick at least one inch thick cuts. Since wild salmon is leaner, it also cooks a little faster than farmed salmon, so keep this in mind.
To prep the filets, all you need to do is pat them dry so they can soak up lots of marinade. Salmon does not need to be marinated for very long, about 15-30 minutes because it's a flaky fish. If you marinate salmon for too long, you could end up with mushy fish.
Type of miso to use
Since salmon has a relatively strong flavor, I like to use inaka or red miso in this marinade. Inaka miso is a rustic style of aged miso that is used in rural or countryside regions of Japan. It's robust and salty flavor goes well with salmon. If you can't find inaka miso, you can also use other forms of red miso. I've tried to use lighter or white miso in the past, but the flavor profile of rich red miso fits better with salmon. To learn more about miso, learn about it on this post.
The miso marinade & glaze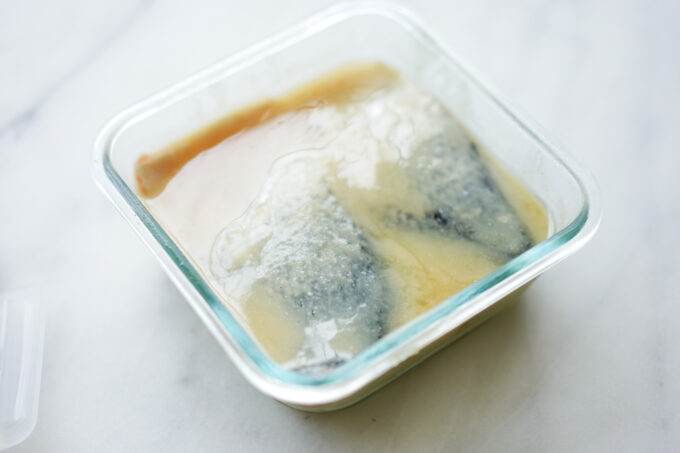 To make the miso marinade, add equal parts sake and mirin in a saucepan over medium-high heat. Wait for the liquid to reach a simmer–you can start to smell the alcohol of the sake burning off. This should be anywhere from 30-60 seconds.
Add the inaka miso into the pan and lower to medium heat. Use a spatula to thoroughly dissolve the miso into the liquid and cook for another minute. Then, add the sugar into the pan and cook for two to five minutes depending on your stove, or until the marinade has a similar consistency to honey. Transfer the marinade into another container and let it cool for about 10 minutes on the counter.
After your marinade has cooled, place your salmon filets in a glass container or Tupperware and add your marinade, covering all sides of the fish. Marinate the fish on the counter for 30 minutes.
Tips for baking the salmon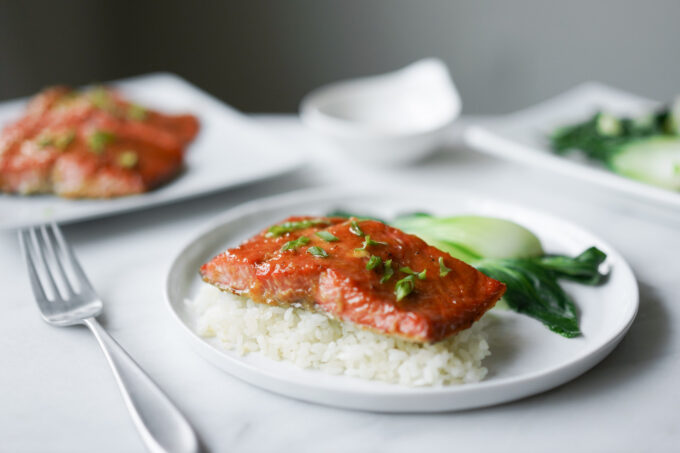 Preheat your oven on broil at 400 °F and adjust the oven rack so that it sits on the second tier (mine sits about six inches away from the broiler). Place the filets skin side down over a parchment paper-lined sheet pan and add a little bit more of the marinade on top of the fish.
Broil for five minutes before checking on your fish and adding more time if you like it more cooked. After five minutes, I move the fish to the top tier to broil the fish for an additional two to four minutes. For a one inch filet, I broiled it for a total of 7-9 minutes with a temperature of about 125-130 °F (it will continue to cook after you remove it from the oven).
Cooking fish is a pretty delicate topic, so here are some tips I have for baking:
Wild salmon is often leaner than farmed salmon, so the cooking time is shorter. Make sure to check on this appropriately so you don't end up with dry salmon.
Broil for five minutes first, then check on your fish to see its progress. Add about two minutes to the cooking time from there and recheck.
If you want a moist piece of fish, use an instant-read thermometer and pull your fish before it reaches the doneness temperature of 145 °F since it will continue to cook outside of the oven. I pull it about 125-130 °F, but you can choose to pull it before this too.
If you don't have a instant-read thermometer, you can use a knife to peek in the middle of the filet to look at its coloring. If it's flakey and slightly translucent in the middle, you can pull it out of the oven. Note: slightly translucent does not mean raw.
If you end up with miso salmon leftovers, we recommend making TikTok salmon rice bowls the next day, it's even more delicious!
What does miso taste like?
Depending on the type of miso you use, it can range from a rich saltiness to sweet and salty. Miso is fermented and aged soybeans and koji and sometimes fermented with rice, barley, or other ingredients.
If you don't like using miso or don't prefer the taste, you can also make this dish with an easy soy glaze.
What do you use miso paste for?
Miso paste can be used for a variety of recipes including soup, marinades, salad dressings, and more. It's a great ingredient to add a savory or salty flavor to any dish.
Does miso go bad?
Since miso is fermented with lots of salt, it does have a long shelf life, but that doesn't go to say it never expires–it just lasts longer than other condiments and ingredients. Make sure to look over your miso package to check for expiration dates or best buy dates.
Miso Glazed Salmon
Sweet and savory miso salmon is an easy and quick weeknight meal and you only need a handful of ingredients.
Instructions
Pat dry your fish and place it on a parchment paper-lined sheet pan.

In a saucepan, combine the mirin and sake. Bring the liquid to a boil and then lower to medium heat.

Add the inaka or red miso and combine thoroughly until the miso is dissolved.

After one minute, add sugar and continue to cook for about two to five minutes or until the mixture is the same consistency as honey. Stir throughout this thickening to make sure the sugar doesn't crystalize on the sides or burn at the bottom of the pan. Remove the marinade from the pan and let sit to cool for about 10-15 minutes (it should also thicken after cooling).

In a glass container, place the filets and thoroughly coat with cooled marinade. Leave to marinate skin-side up for up to 30 minutes on the counter.

Preheat your oven to 400 °F on broil and place a rack in the second tier of your oven (this is about six inches away from the broiler in my oven).

After marinating, place the fish skin-side down on a parchment paper-lined sheet pan and put the pan in the oven.

Broil for about five minutes and then check the temperature or progress of your fish. Since my filets are about an inch thick, they measured to be about 110 °F at the five-minute point. To get a hotter broil over the glaze, move the rack and filets to the top rack of the oven and broil for an additional two to four minutes. Broiling your fish can take about 7-9 minutes, but use a thermometer to measure the doneness of your fish if you are worried because it will be based on the thickness of your filets and also your preference. I pull my fish around 125-130 °F since it will finish cooking outside of the oven. Fish is technically fully cooked at 145 °F.

Serve with a side of rice and bok choy.
Notes
Wild salmon will cook faster in the oven because it's usually leaner and thinner, adjust your broiling time based on this and the thickness of your filets.
Nutrition Facts (per serving)
Calories:
469
kcal
|
Carbohydrates:
42.5
g
|
Protein:
37.9
g
|
Fat:
12.8
g
|
Saturated Fat:
2.1
g
|
Cholesterol:
93.6
mg
|
Sodium:
1603.2
mg
|
Potassium:
904.9
mg
|
Fiber:
1.8
g
|
Sugar:
28.1
g
|
Vitamin A:
97.6
IU
|
Calcium:
39.8
mg
|
Iron:
2.2
mg
Nutrition Facts
Miso Glazed Salmon
Amount Per Serving
Calories 469
Calories from Fat 115
% Daily Value*
Fat 12.8g20%
Cholesterol 93.6mg31%
Sodium 1603.2mg70%
Potassium 904.9mg26%
Carbohydrates 42.5g14%
Protein 37.9g76%
Vitamin A 97.6IU2%
Calcium 39.8mg4%
Iron 2.2mg12%
* Percent Daily Values based on a 2000 calorie diet.
Like this recipe? Subscribe to my newsletter!