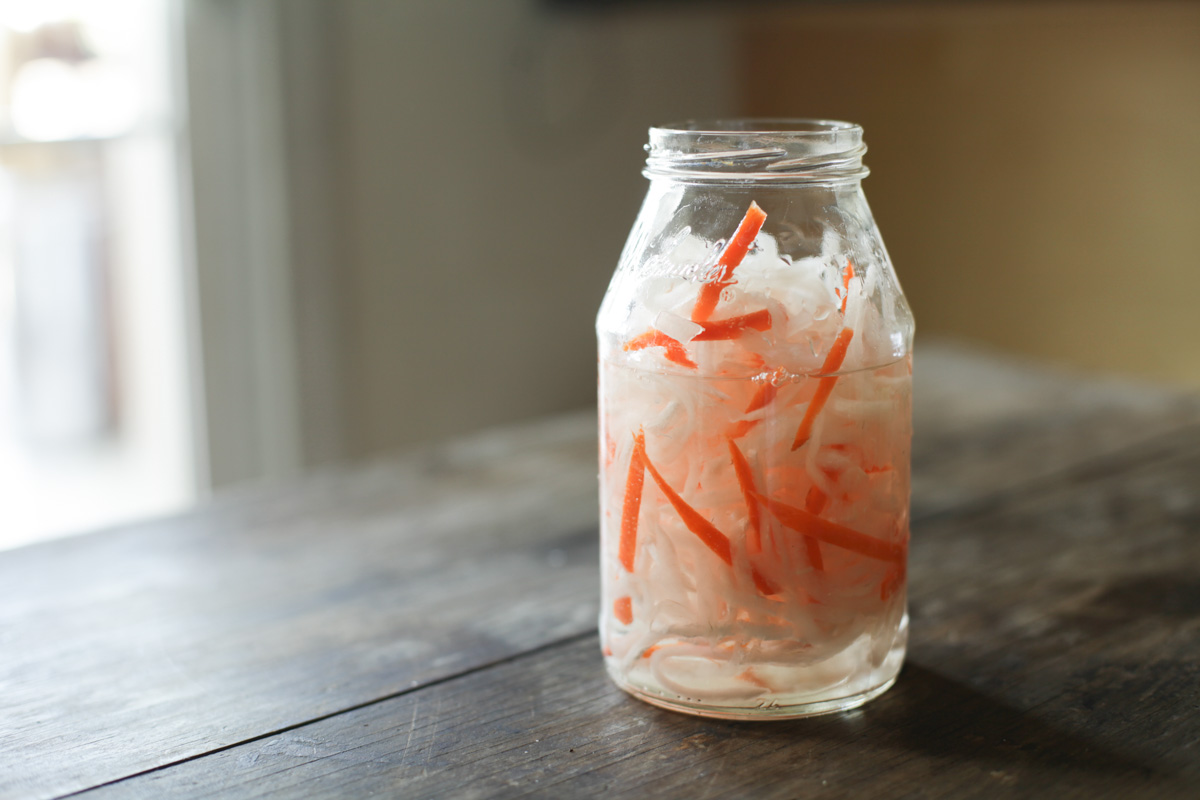 If you've had Vietnamese food, you've probably at some point caught a whiff of these pungent pickles. Đồ chua literally means "pickled stuff."
Weird right? It makes no sense to have such a generalized name because the vegetables in it don't change–it's always carrots and daikon.
But anyways, like pickles in other cuisine, they go well with salty or fatty foods. It's great on Vietnamese sandwiches (bánh mì), savory crepes (bánh xèo), grilled pork and noodles (bún thịt nướng), egg rolls (chả gìo), and the list goes on. Larger cuts are usually found next to cuts of meat, while finer shreds are put in nước chấm (dipping sauce).
Daikon vs. Carrot Ratios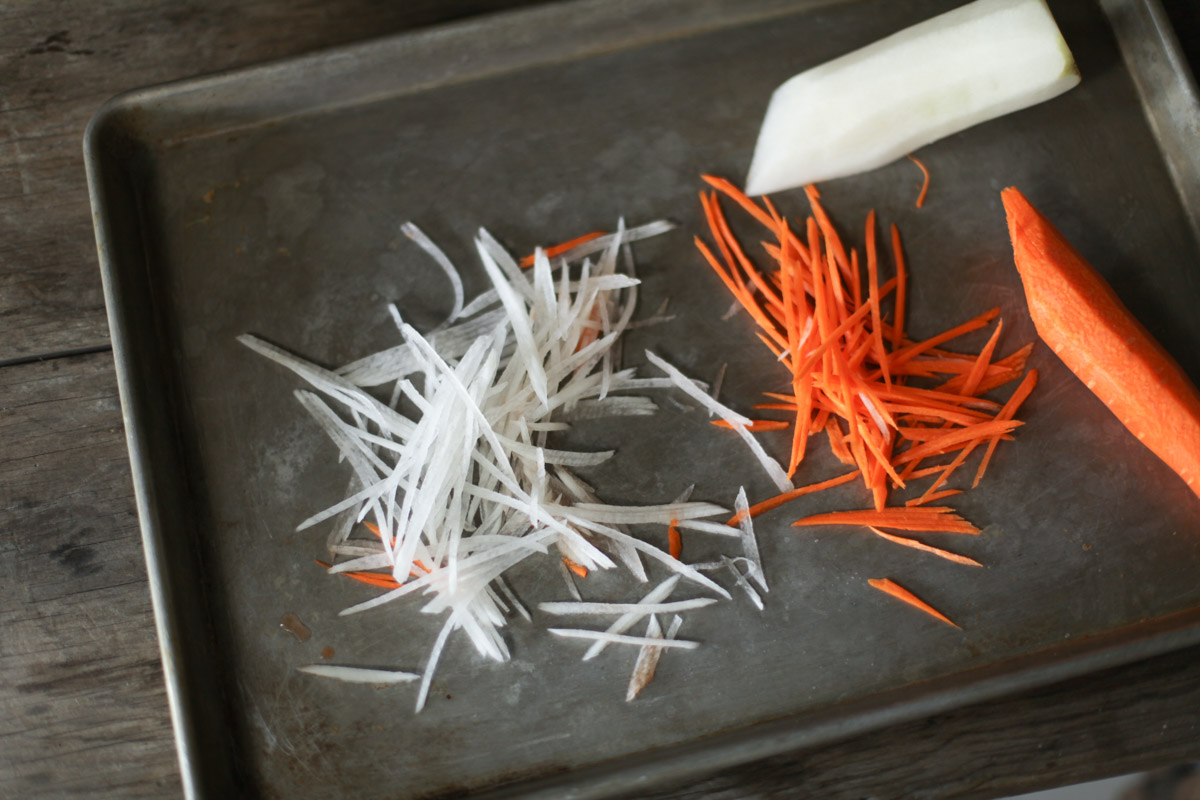 I learned that in Vietnam, đồ chua is mostly daikon simply because it is cheaper and carrots were added mainly for color. Here in the US the costs of these veggies are flipped so cost-conscious restaurants and shops will load up on the cheaper carrots.
In fact, when my parents first emigrated to the US, most restaurants in California didn't use daikon at all.
Today, most restaurants I visit use a 50/50 mix of daikon and carrots. It's what I grew up with and in this recipe, we'll stick with that for familiarity. Before we get started, here's a few notes on how to make đồ chua.
A Customized Recipe
This recipe was specifically formulated by my Mom to be slightly less pungent and less sweet compared to the recipe you will find at most Vietnamese shops. This less vinegary formula is simply a matter of preference, and it will make your đồ chua last longer in the fridge before it expires.
Following this recipe also creates đồ chua that's ready to be added to nước chấm to taste–you won't need to ring out or rinse the pickles beforehand.
If you're in a rush and want to eat these within a few hours and don't care to save extras for another day, adjust the solution for a higher vinegar to water ratio.
Preparation Tips
So peel and then shred your veggies to the size you want. Smaller matchstick cuts will get more sour than larger ones. Use a mandolin slicer for more uniform cuts. A good mandolin like the one I linked is extremely sharp.
My aunt admitted she gave up and donated her mandolin cutter after trying it out, but she did it bare-handed! Make sure to use a (magical) cut-resistant glove so you can cut all the veggies down to the little bits and reduce waste.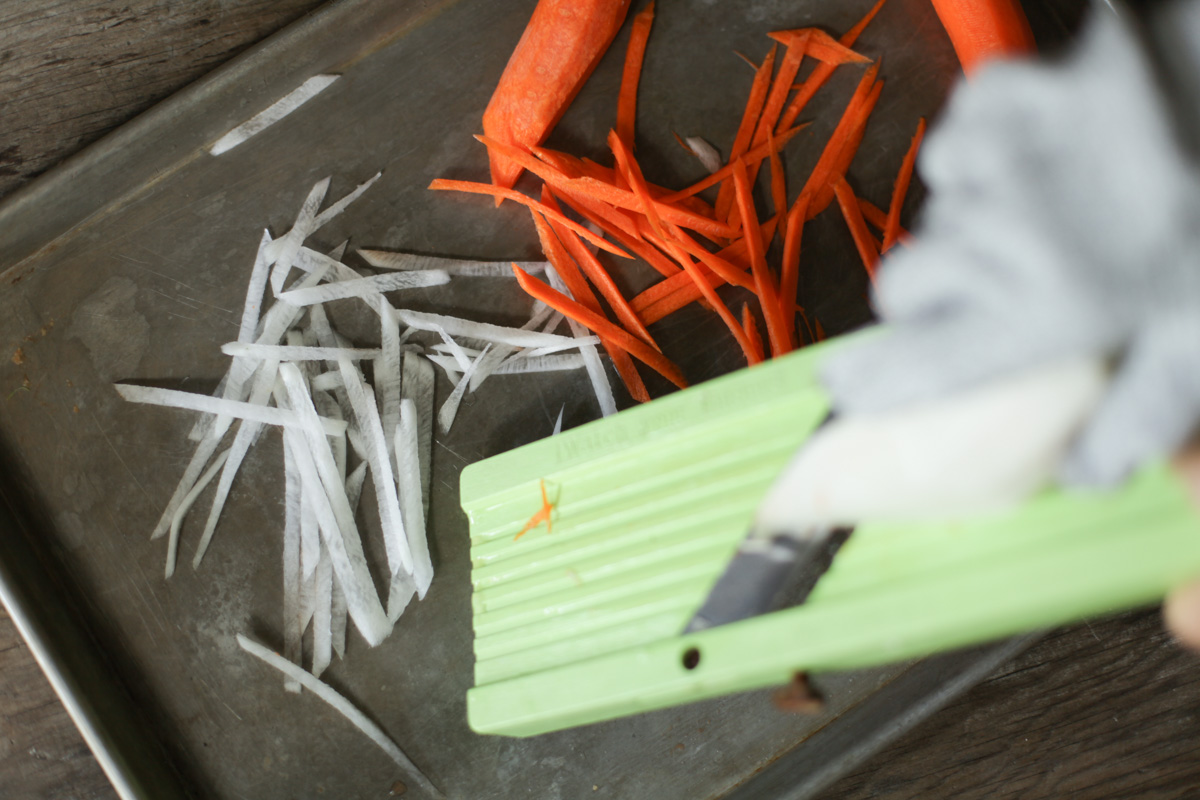 Next, we want to sprinkle salt on the daikon and carrots and mix it thoroughly. This removes some of the odor, and color. If you let it sit longer than 15 minutes, more salt will be absorbed.
Note how the carrots and daikon lose their rigid shape, get a little softer and wobblier after the salt gets to work on them. They release water too. Rinse thoroughly and lightly squeeze in batches to remove excess moisture. Drain and dry.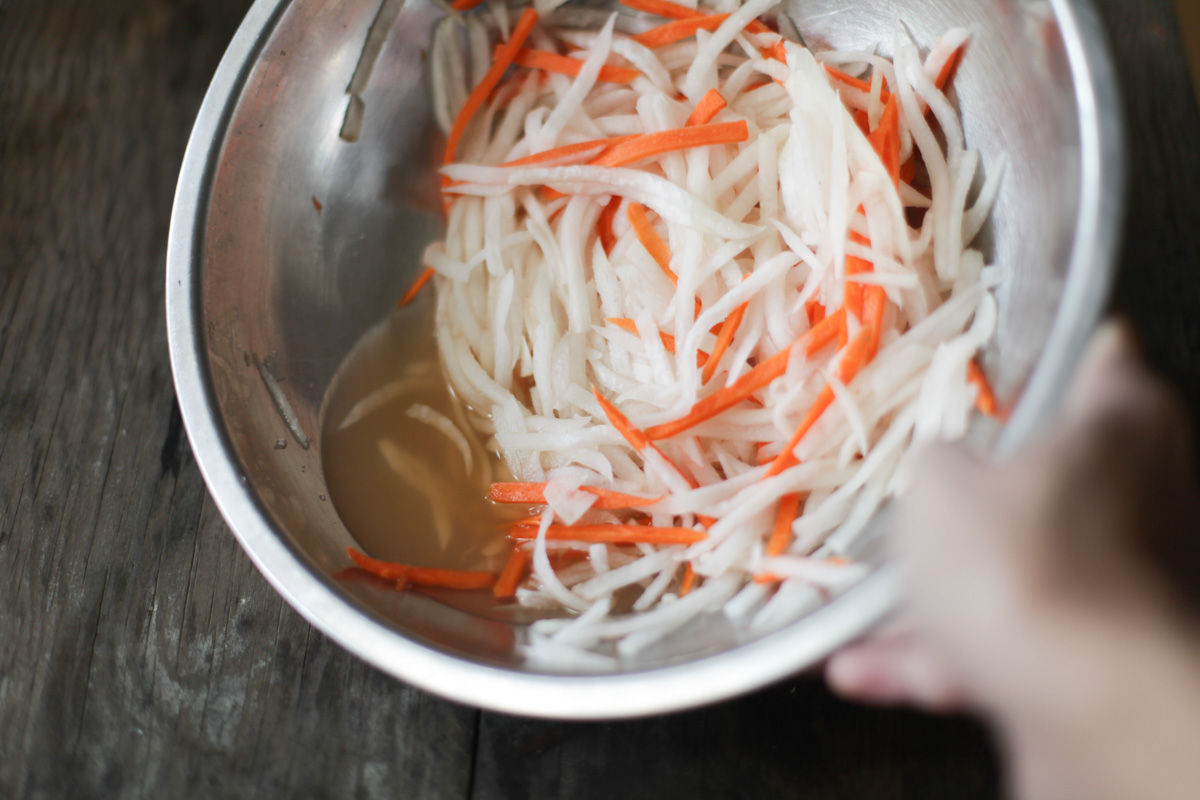 Transfer into jars and top off with the vinegar solution.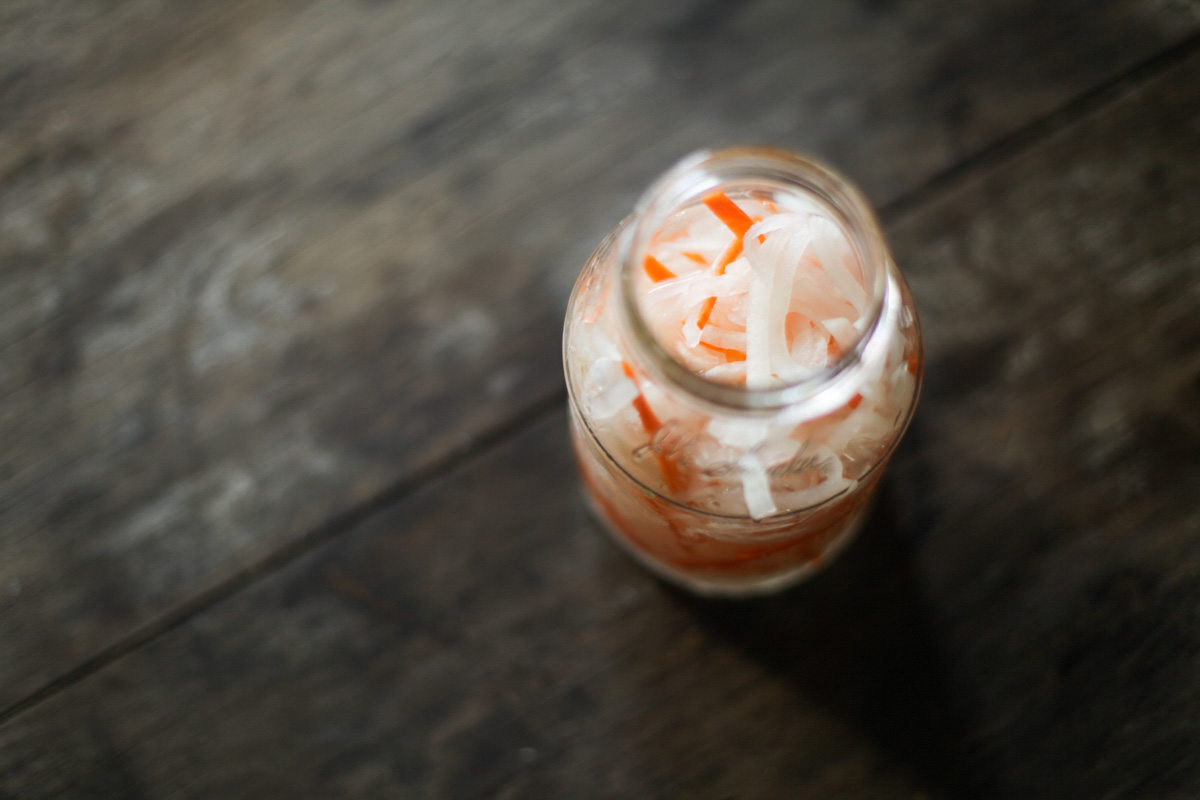 Depending on the weather or where you store these jars, it should take about 2-3 days until its sour enough and ready to eat. Taste a piece every 12 or 24 hours to check on the progression of pickling.
What do you eat with Đồ Chua?
Đồ chua is great on Vietnamese sandwiches (bánh mì), savory crepes (bánh xèo), grilled pork and noodles (bún thịt nướng), egg rolls (chả gìo), and the list goes on. Larger cuts are usually found next to cuts of meat, while finer shreds are put in nước chấm (dipping sauce).
How long do pickled carrots last?
Pickled carrots can last up to five months in the refrigerator, but as long as they haven't become too sour its ok to eat.
Are pickled vegetables good for you?
Pickled vegetables, like đồ chua, have a lot of healthy benefits due to the fermentation brine that creates good bacteria for your gut and overall body.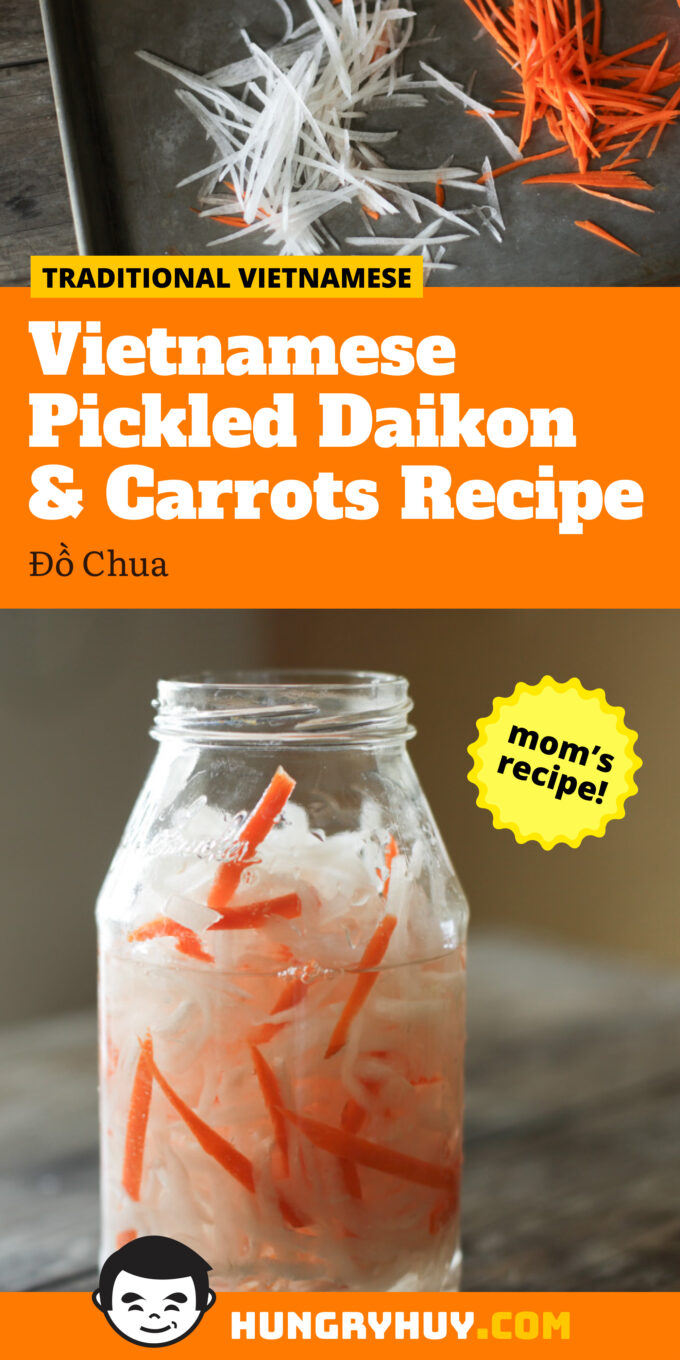 Vietnamese Daikon & Carrot Pickles Recipe (Đồ Chua)
The pickly crunch you should master since it's in so many Vietnamese recipes. Luckily Vietnamese pickles (Đồ Chua) is cheap and easy to make!
Print
Pin
Calories / serving:
532
kcal
Ingredients
1/2

lb

(

226.8

g

)

daikon radish

1/2

lb

(

226.8

g

)

carrots

1

tbsp

salt
Vinegar Solution
1/2

c

boiling water

5

tbsp

granulated white sugar

1

cup

water

4

tbsp

distilled vinegar
Instructions
Peel daikon and radishes, then cut with mandolin slicer medium to small matchsticks. Smaller cuts will pickle faster.

In a large bowl, sprinkle with salt evenly and toss to coat. Soak for 15 minutes.

Rinse thoroughly to remove the salt and in small handfulls, squeeze to remove as much moister as you can.

Add to jars, filling almost to the top.
Vinegar Solution
Boil water then add sugar, mix to dissolve, then add vinegar.

Add the liquid to jars to fully submerge daikon & carrots. Add extra water if needed to cover the veggies.

Screw on the lids, store at room temperature until pickled to your taste, checking every 12 or 24 hours. It usually takes 2-5 days depending on the temperature.

Refrigerate when ready, for up to 3 weeks, or until too sour or veggies lose their crunch.
Notes
12/6/2012 - I prefer the taste of daikon to the carrots in this. You can mix up the ratios of each to your own liking. I like around 85% daikon and 15% carrots.
Nutrition Facts (per serving)
Serving:
0
g
|
Calories:
532
kcal
|
Carbohydrates:
131
g
|
Protein:
3
g
|
Fat:
1
g
|
Saturated Fat:
1
g
|
Sodium:
7195
mg
|
Potassium:
1241
mg
|
Fiber:
10
g
|
Sugar:
116
g
|
Vitamin A:
37889
IU
|
Vitamin C:
63
mg
|
Calcium:
136
mg
|
Iron:
2
mg