This is a simple garnish of scallion and oil for Vietnamese foods. It's found on a lot of dishes such as bún chả giò (egg rolls with noodles), thịt nướng (grilled pork), bánh hỏi, sườn nướng (pork chops), bánh bèo, cơm tấm bì and many others. So it goes very well with grilled meats or rice noodle dishes.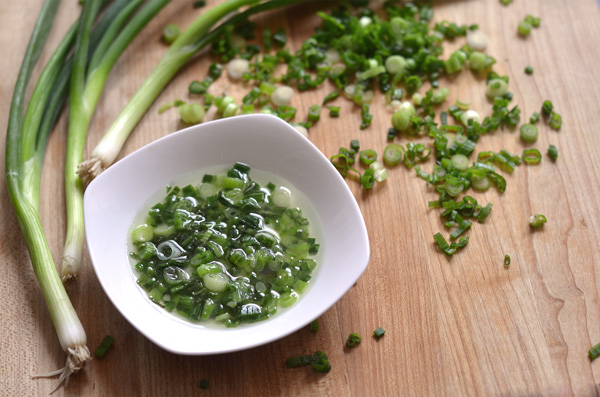 What is it?
Mở hành litterally means onion oil in Vietnamese. It's a good way to add a nice aroma and some richness to a dish. The vibrant green color creates a nice color contrast too.
The green onions
Try to find onions that have leaves no longer than half an inch wide. These are easier to work with and look much nicer in the final dish.
For some reason, lately, many markets I've gotten these at are jumbo sized, maybe 3/4″ wide each when flattened. They're a bit harder to slice when bunched and looks a bit older, but still are fine if you have no other choice.
Green onions are shockingly cheap at the Asian and Mexican markets near me, sometimes ranging from 4 or 5 stalks for $1 or $1.25. American supermarkets or Trader Joe's I shop at never get anywhere near this.
I have a post that goes into how to cut green onions in different ways, but for mỡ hành applications, these circular or bias cuts work just fine.
Some people like to use only the green part of the onion, but I include the white portion too. I think it looks nicer, and it tastes good. No point in wasting it! You also have the option to regrow green onions from the leftover white bulbs and roots for unlimited green onions in the future.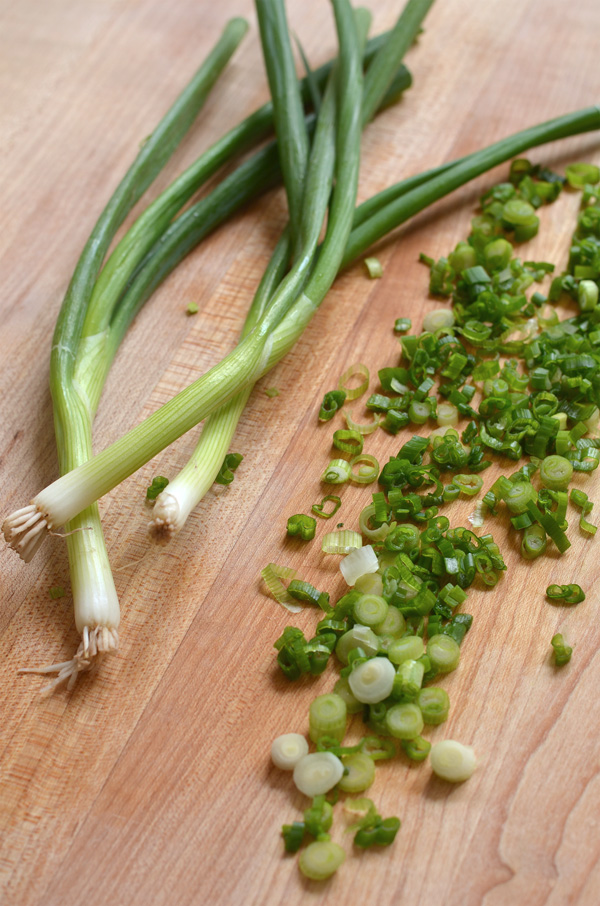 The oil
You want to use a neutral oil for this since mỡ hành is used to accent dishes that are pretty forward in flavor already.
This means sticking to oils like vegetable, or canola oil since their flavors are more tame, and will absorb and highlight the aroma of these green onions better.
Oils like olive oil, or coconut oil impart a very strong aroma, which are good for some recipes, but not typically Vietnamese recipes that require mỡ hành.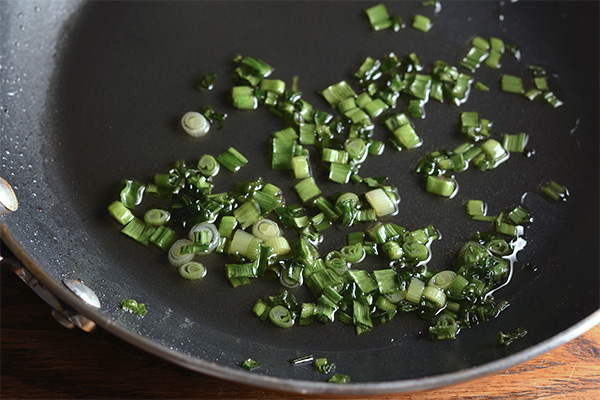 Storage in the fridge
Mỡ hành stores incredibly well, just put it in an airtight container and fridge it–it will probably outlast whichever dish you're using it on to accent, whether it's grilled clams, thịt nướng (grilled pork) or sườn nướng (pork chops).
Sliced green onion that you haven't cooked down stores much better in an air tight container that being exposed to the air. It tends to wilt much less this way.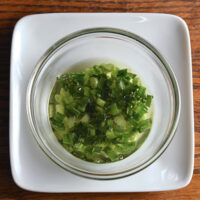 Vietnamese Scallion & Oil Garnish Recipe (Cách Làm Mỡ Hành)
This is a quick and easy little Vietnamese garnish of oil and scallions which is used on a lot of Vietnamese recipes!
Ingredients
4

stalks scallion

green onion

1/4

cup

oil

neutral one like vegetable, canola oil
Instructions
Wash and thinly slice scallions

Heat oil over medium heat. After 30 seconds, test heat by dropping in one piece. If it sizzles, it's ready.

Add all the sliced scallions, mix scallions in the pan for about 30 seconds or until softened.
Nutrition Facts (per serving)
Serving:
0
g
|
Calories:
510
kcal
|
Carbohydrates:
4
g
|
Protein:
1
g
|
Fat:
56
g
|
Saturated Fat:
4
g
|
Sodium:
8
mg
|
Potassium:
132
mg
|
Fiber:
1
g
|
Sugar:
1
g
|
Vitamin A:
479
IU
|
Vitamin C:
9
mg
|
Calcium:
35
mg
|
Iron:
1
mg
Nutrition Facts
Vietnamese Scallion & Oil Garnish Recipe (Cách Làm Mỡ Hành)
Amount per Serving
% Daily Value*
* Percent Daily Values are based on a 2000 calorie diet.
Like this recipe? Subscribe to my newsletter!