Nutty and warm toasted sesame seeds can add the extra crunch and a potent hit of flavor you need to boost salads, roasted veggies, and meat or even dessert. This post will teach you how to easily toast sesame seeds in your oven, microwave, and stovetop.
What are sesame seeds?
Sesame seeds come from the flowering sesame plant, also known as benne. There has been historical evidence of the sesame plant in East Africa and Asia over 5,000 years ago. Many cultures around the world these days use the sesame plant in the form of raw or toasted seeds, or sesame oil.
Sesame seeds come in various varieties, like white or black sesame seeds. You can find raw and roasted sesame seeds (both white and black) in many Asian and American grocery stores–they're typically in the herb aisle in either easy-to-use canisters or prepackaged bags. I like to buy them from Asian grocery stores because they come in bigger sizes and are often cheaper.   
Raw vs toasted sesame seeds
You can most definitely eat sesame raw seeds, but many prefer toasting or cooking the seeds to bring out their stronger nutty flavor profiles. Raw seeds are good eaten in fresh salads that pair well with Asian salad dressing, Chinese cucumber salad, or Sunomono cucumber salad.
Roasted sesame seeds are my preferred way to eat them because I really like the nuttier and bolder flavor than raw sesame seeds. For toasted sesame seeds, I love sprinkling them onto steamed or roasted vegetables like Chinese broccoli with oyster sauce for an added crunch or a dessert topping like mango sticky rice.
How to toast sesame seeds in the oven
There are various ways to toast sesame seeds and if you have a large amount you want to toast, I would recommend using the oven because you have more surface space. I like to use a sheet pan for toasting because it has a nice even surface. This type of toasting seeds also gives you more evenly browned sesame seeds.
Preheat the oven to 350°F and evenly spread out the sesame seeds onto the sheet pan. Bake the seeds for about 8-10 minutes and then use a spatula to mix the seeds and stir with a spatula every 2 minutes until they are light brown. Transfer them immediately onto a plate and let them cool otherwise they may continue to cook too much from the sheet pan's residual heat.
How to toast sesame seeds in the microwave
If you have a smaller amount of seeds you want to toast, you can use the microwave too. While this is not my favorite way to toast seeds because it can be a bit finicky depending on your microwave, it's a good option for those who don't have a stove or oven. For reference, I am using a 900-watt microwave.
Microwave the seeds in a microwave-safe glass pie pan or plate with a high setting at 1-minute intervals until it turns light brown. Watch over the seeds and do 1-minute intervals in between stirring up the seeds. 
How to toast sesame seeds on a stovetop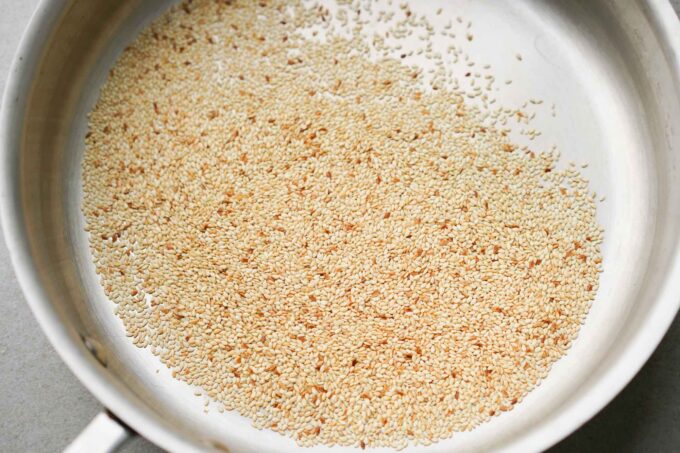 Toasting seeds on a stovetop and saute pan works best for small to medium amounts of seed based on the size of your pan. In a 12-inch pan, I can fit ¼ cup sesame seeds and it takes about 6 minutes to toast.
Over medium heat, place your seeds in the pan and continually stir and move around the seeds until they start to smell nutty and turn light brown. Transfer the seeds onto a plate to cool.
How to toast black sesame seeds on the stove
Toasting black sesame seeds are similar to white sesame seeds, and I prefer to use the stovetop to control the cooking. Toasted black sesame seeds should look slightly darker, and sometimes the black hulls are removed during the cooking process so there may be white seeds mixed in.
Since the black seeds are already dark it may be difficult to see when they are done in the oven. With the stovetop, you can also use your sense of smell to see when to stop cooking–it should be nutty, but not smell burnt.
How to Toast Sesame Seeds (Oven, Stove & Microwave)
Toasted sesame seeds are perfectly golden with a nutty flavor and goes great with any roasted veggies or as a dessert topping. With this recipe, you can make homemade roasted sesame seeds in an oven, microwave, or stovetop.
Ingredients
Oven
¼

c

raw sesame seeds

per ¼ pan sheet pan
Microwave
2

tbsp

raw sesame seeds

per 9 inch glass pie pan or vessel
Stovetop
¼

c

raw sesame seeds

per 12-inch saute pan
Equipment Used
sheet pan

glass plate/pie pan

pan

spatula
Instructions
Oven
Preheat the oven to 350℉.

Place the sesame seeds on a baking sheet and cook in the oven for about 8-10 minutes per batch. Stir the seeds in the pan every 2 minutes or until it's light brown.

Transfer the seeds to a plate and allow to cool. The seeds will continue to cook from the residual heat.
Microwave
NOTE: For reference, I am using a 900-watt microwave.

In a microwave safe glass plate or bowl, add the sesame seeds so that they are evenly spread out. If not all the seeds fit evenly, do this in batches.

Microwave on high for 1-minute intervals and use a spatula to mix the seeds. Continue to microwave in 1-minute intervals until the seeds are light brown and smell nutty. This should be about 6 minutes per batch.

Transfer to a new plate and let cool.
Stovetop
In a large pan over medium-low heat, spread your sesame seeds evenly on the pan. If not all the seeds fit evenly, do this in batches.

Cook the seeds until they smell nutty and are light brown. Use a spatula to stir the seeds to prevent them from burning. This should be about 4-6 minutes per batch.

Transfer the seeds to a new plate and allow them to cool.
Notes
NOTE: Nutrition is based on 1/4 cup of white sesame seeds
Nutrition Facts
Calories:
53.72
kcal
|
Carbohydrates:
2.2
g
|
Protein:
1.66
g
|
Fat:
4.66
g
|
Saturated Fat:
0.65
g
|
Sodium:
1.03
mg
|
Potassium:
43.88
mg
|
Fiber:
1.11
g
|
Sugar:
0.03
g
|
Vitamin A:
0.84
IU
|
Calcium:
91.41
mg
|
Iron:
1.36
mg
Like this recipe? Subscribe to my newsletter!