This stovetop recipe for jasmine rice will give you slightly sticky, fluffy, and aromatic jasmine rice steaming right off the pot in under 30 minutes, you don't even need a rice cooker!
What is jasmine rice?
Jasmine rice is a type of long-grain rice that is typically grown in areas of South East Asia like Thailand, Cambodia, and Vietnam. Like many other types of rice, jasmine rice is made up of two types of starches: amylose and amylopectin.
The more amylose starches the rice has, the more separate the grains will be after cooking. Amylopectin starches gelatinize during the cooking process and contribute to the overall sticky texture of rice. Jasmine rice is long-grain rice, which means it contains a low amount of amylopectin and therefore is less sticky than short-grain rice varieties that have more amylopectin starches.
You can find jasmine rice in white or brown varieties, the only difference is that the brown rice variety still has its outer bran layer intact. Since brown rice has a bran layer, it will be even less sticky than jasmine rice when cooked.
What cuisines or dishes use Jasmine rice?
Many Asian recipes have jasmine rice as a staple side dish. Jasmine rice is paired with some of the most delectable dishes because its simple flavor gives a great balance to savory, spicy, and tangy dishes like char siu, sweet and sour pork, pork adobo, lemongrass chicken, and more.
Jasmine rice is also great in fried rice, whether that's traditional fried rice with lap cheung or Filipino fried garlic rice (sinangag)–it always hits the spot when I'm having a craving.
Rice to water ratio for jasmine rice
To get fluffy and perfect jasmine rice, use these proportions for 1 cup and 2 cup measurements. Both of these ratios use weighted measurements for the most accurate measurements since not all measuring cups are created equal.
1 dry measuring cup long-grain rice (205 grams): 16 fluid ounces water (480 grams) 
2 dry measuring cup long-grain rice (410 grams): 26 fluid ounces water (780 grams)
Rinsing or washing the rice
To rinse or not to rinse, there are so many articles around the Internet these days discussing if rinsing is necessary. To figure out if you need (but really want) to rinse your rice, you need to keep in mind the type of rice grain you are using, if it's enriched, and what overall texture you prefer your rice.
Most rice grains are made up of two types of starches that determine their texture once cooked: amylose and amylopectin. The more amylose starches in the rice, the separated the grains (like long-grain rice). The more amylopectin starches in the rice, the more sticky the grains are after cooking (like short-grain rice).
Since Jasmine rice is long-grain rice, you should get plump, separate grains and a slight stickiness. I like to rinse Jasmine rice to remove any excess starches or debris. If your rice is fortified and enriched, you may want to refrain from rinsing because you would be removing any additional vitamins the company added. 
How to cook Jasmine rice on the stovetop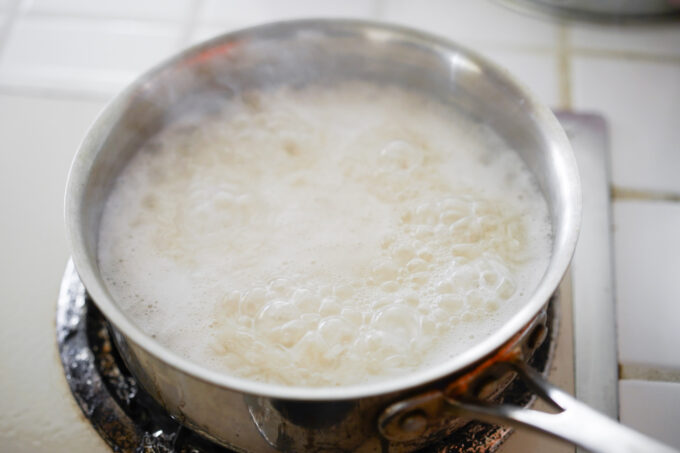 This recipe will give you perfectly fluffy jasmine rice in under 30 minutes straight from your stovetop. Before cooking the rice, I wash the excess starches of the rice with running water until it runs clear. I like doing this with a strainer for faster washing.
After adding the rice and water to a small pot, bring it to a boil. Once you begin to see pockets of rice peek through the surface, add the lid and bring down the heat to low. Active cooking at this point is only 10 minutes. You want to begin to steam the rice so it cooks properly and doesn't overcook–this can give you mushy rice. 
After cooking, you want to rest the rice in the pot for an additional 5 minutes to get supple rice grains. Then you uncover the lid and fluff your rice with a paddle–this will get the excess moisture off and slightly cool down the rice.
Your rice should be evenly cooked, and soft without being too mushy or hard.
Troubleshooting common issues
If your rice is burned at the bottom that means the heat was too high. Not all stoves will cook at the same temperature, so keep this in mind and lower the heat next time.
If your rice is too hard, there is either not enough water or you need to cook it longer. You can add additional water to the pot, stir and bring it back to the stove for another minute or two.
If your rice is too mushy, unfortunately, there is no coming back from this and you need to start again with a lower amount of rice. Instead of throwing away the rice, you can make it into rice pudding or cháo gà.
Cooking Jasmine rice on the stovetop is just the beginning, there are an infinite amount of ways to cook rice:
How to Cook Jasmine Rice on the Stovetop
Fluffy and perfectly cooked jasmine rice is at your fingertips and you only need a pot and a stovetop! This recipe will get you aromatic and soft jasmine rice in under 30 minutes.
Ingredients
1 cup serving (enough for ~1 person)
480

g

(

16

fl oz

)

filtered water

plus tap water for washing

205

g

(

1

c

)

jasmine rice
2 cup serving (enough for ~2 people)
780

g

(

26

fl oz

)

filtered water

plus tap water for washing

410

g

(

2

c

)

jasmine rice
Equipment Used
strainer (optional)

saucepot

stove
Instructions
Measure the filtered water and set aside. Measure the rice then pour into a strainer.

In the sink under running water, briefly wash the rice in the strainer until the water turns clear.

Add the washed rice and water into a saucepot. Level the rice with your hands so it's an even layer.

Put the pot on the stove and heat to medium-high heat. Bring to a boil and cook for about 4 minutes and 30 seconds or until you begin to see the water level get very close to matching the rice. This happens because the rice soaks the water, and the water evaporates a bit.

Lower the heat to low and simmering, put the lid on the pot, and cook for 10 minutes.

Turn off the stove, and allow it to rest for 5 minutes covered. (Please excuse my ill-fitting lid.)

Uncover the pot. Here's what it should look like fully cooked.

Use a rice paddle or a fork to fluff up the rice, and serve immediately.
Notes
Note: the nutritional values is based on the 1 cup of rice serving.  IMPORTANT: Do not scale this recipe up or down using the recipe card's serving size scaling feature. The amount of water needed to cook the rice does not scale proportionally. Use the ingredient ratios to cook either 1 or 2 cups of rice. In other words, do not scale this up for 3, 4, 5 cups of rice, etc since the results will not turn out right.
Nutrition Facts
Calories:
374.13
kcal
|
Carbohydrates:
81.95
g
|
Protein:
7.31
g
|
Fat:
0.68
g
|
Saturated Fat:
0.18
g
|
Sodium:
17.13
mg
|
Potassium:
117.88
mg
|
Fiber:
1.33
g
|
Sugar:
0.13
g
|
Calcium:
35.9
mg
|
Iron:
0.82
mg
Like this recipe? Subscribe to my newsletter!