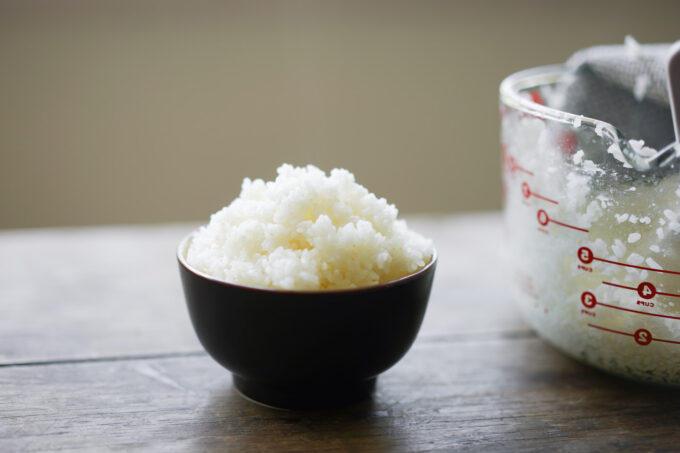 While there are many ways to cook rice, using a microwave is a practically hands-off technique to make rice and sometimes it takes a shorter amount of time than cooking in a rice cooker, Instant Pot basmati rice, or on the stove. It's also a good option if you don't have a rice cooker at home and you're not too keen on cooking on the stove.
All you need to make microwaved rice are five things: a microwave, rice, water, a large microwavable bowl, and a dishtowel.
I tested this using a 900 watt microwave. So if your microwave wattage is higher you may need to reduce the cooking time slightly, or conversely, if you have a lower wattage microwave you may need to increase times. Once you get the timing down, you'll get consistent results every single time.
Water to Rice Ratios
The most important part of cooking rice is the ratio between rice and water. Since you don't touch the rice after you put it in the microwave, this ratio will help you cook the rice evenly. After SO MANY TESTS in the kitchen, I've found these ratios work best for me with the different rice grains.
Long grain white rice: 2 cups to 3 cups water
Medium grain white rice: 2 cups to 2 ⅔ cups water
Short grain white rice: 2 cups to 2 ½ cups water
Note: You can also cook brown rice in the microwave with a different ratio. Alternatively, you can also cook brown rice in an Instant Pot too.
Step 1. Prep your rice
Measure out your rice, rinse once under running water, then drain. Then, add your rice to the microwavable bowl and add the appropriate amount of filtered water. Make sure the surface of the rice is level. I like to use a Pyrex mixing bowl because I can see the rice through the bowl and it's made of glass.
Step 2. Microwave on high, uncovered
Place your uncovered bowl into the microwave and set the timer for ten minutes on the highest power. On my microwave, its power level will be ten.
Step 3. Microwave on medium, covered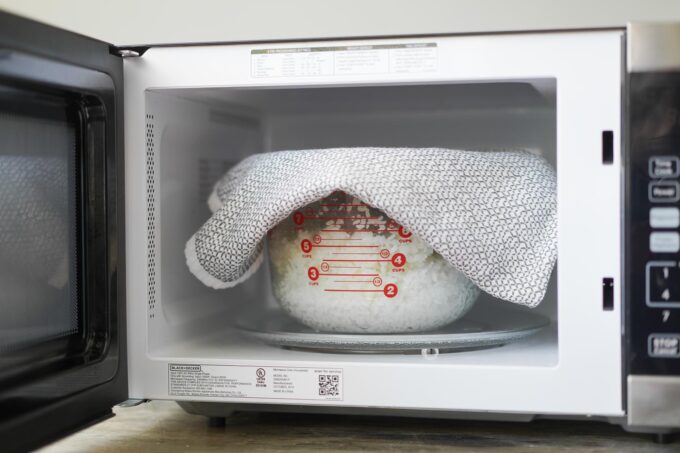 After ten minutes, open the microwave and take a peek at your rice. The rice should be just about even with the water level now. If you don't see the rice touching the edge of the water, remove enough water to adjust this. Cover your bowl with a dish towel and microwave for an additional 15 minutes on medium-level power. In my microwave its power level will be five.
Step 4. Rest, covered
After microwaving in the above step, it's really important to leave your bowl to rest undisturbed in the microwave for five minutes. This allows the grains to absorb the steam and allow them to plump even more.
Step. 5 Fluff and serve
Remove the bowl of rice from the microwave carefully because it will be very hot. I like to use hand towels or oven mitts to prevent burning myself. Fluff the rice to make sure it's nice and evenly cooked throughout and serve immediately.
To learn how to properly eat rice with chopsticks, you can read my chopstick tutorial.
Troubleshooting
If your rice grains are too hard, this means there is not enough water in your rice. In this case, you can still fix your rice. Add about one tablespoon to your rice and microwave for two-minute intervals until it fully cooks. You can add more water if need be depending on how dry the rice is. For the future, I would adjust the amount of water in your rice before you begin to microwave.
If your rice is too soft, this means that you've used too much water for the amount of rice you've added. Typically, it's very hard to fix rice that's over-watered and I would suggest using this type of rice for other recipes, like porridge or rice pudding. In the future, I would reduce the amount of water you added to your rice before microwaving. I like to adjust in ¼ c measurements based on my results from the previous time.
For a slightly healthier option, I also have instructions on learning how to cook brown rice in a rice cooker or in a microwave, too.
How long does rice go in the microwave for?
It takes about 30 minutes to cook rice in the microwave. To reheat rice from the fridge, I like to add a couple of teaspoons of water, cover the rice, and microwave for about 30 seconds to one minute for every cup of rice I heat.
How much rice do I need for one person?
The appropriate rice serving per person is about ½ cup of uncooked rice per person, which means it's closer to one cup per person when rice is plumped and cooked. When I cook rice, I like to make at least two cups because it fridges well and we can reheat it in the microwave the next day.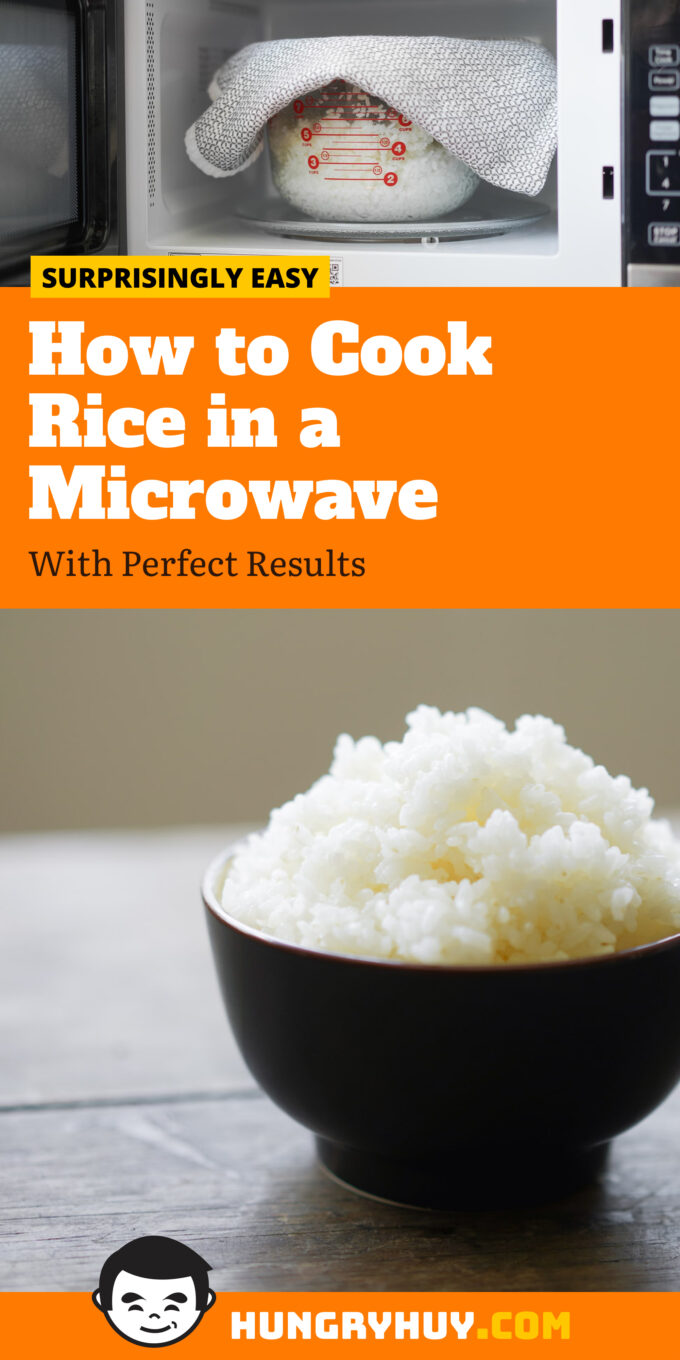 How to Cook Rice in a Microwave
Microwaveable rice is perfect for those who don't have a rice cooker at home or want to stand in front of a stove and cook rice. This hands off method is just as quick as making rice in a rice cooker!
Ingredients
Long grain rice
2

c

long grain rice

3

c

water
Medium grain rice
2

c

medium grain rice

2 ⅔

c

water
Equipment Used
microwave

microwavable bowl
Instructions
Measure your rice and rinse under running water. I like to use a strainer so it's faster. Add the rice into your microwavable bowl.

Measure your water and add to the microwavable bowl.

Place the bowl inside the microwave and microwave on high for ten minutes.

Then, open your microwave to check on the rice. The water should now have evaporated a bit and lowered to be matching the level of the rice. If there is too much water, remove some so the rice barely peeks through the top of the water.

Take a dish towel and cover your bowl and continue to microwave at half power for 15 minutes.

Then, leave the rice to rest for five minutes.

Carefully remove the rice bowl with oven mitts or towels and fluff the rice to make sure it's evenly cooked. Serve and enjoy!
Nutrition Facts (per serving)
Calories:
1119.1
kcal
|
Carbohydrates:
246.7
g
|
Protein:
20.8
g
|
Fat:
1.7
g
|
Saturated Fat:
0.5
g
|
Sodium:
31
mg
|
Potassium:
272.3
mg
|
Fiber:
7.3
g
|
Sugar:
0.1
g
|
Calcium:
46.9
mg
|
Iron:
10
mg
Nutrition Facts
How to Cook Rice in a Microwave
Amount per Serving
% Daily Value*
* Percent Daily Values are based on a 2000 calorie diet.
Like this recipe? Subscribe to my newsletter!