Nothing heals the body, mind, and soul like a steamy bowl of chicken soup even if you aren't under the weather. Vietnamese cháo gà is another delicious take on chicken soup with rice that can feed a large group a delicious meal at a very low cost.
This is a dish I ate allll the time growing up at home and at Chinese restaurants. And on a recent trip to Vietnam just before the world shut down, we had Vietnamese rice porridge at every single hotel breakfast.
Oddly, it was the safest and most predictable offering at the hotels, with lots of add-ins that varied depending on the hotel. There are many ways to dress up this chicken rice porridge, but at the core of it, it's chicken, rice, onion, and ginger. And it's extremely simple and way better when made at home too in my opinion :). Let's take a look!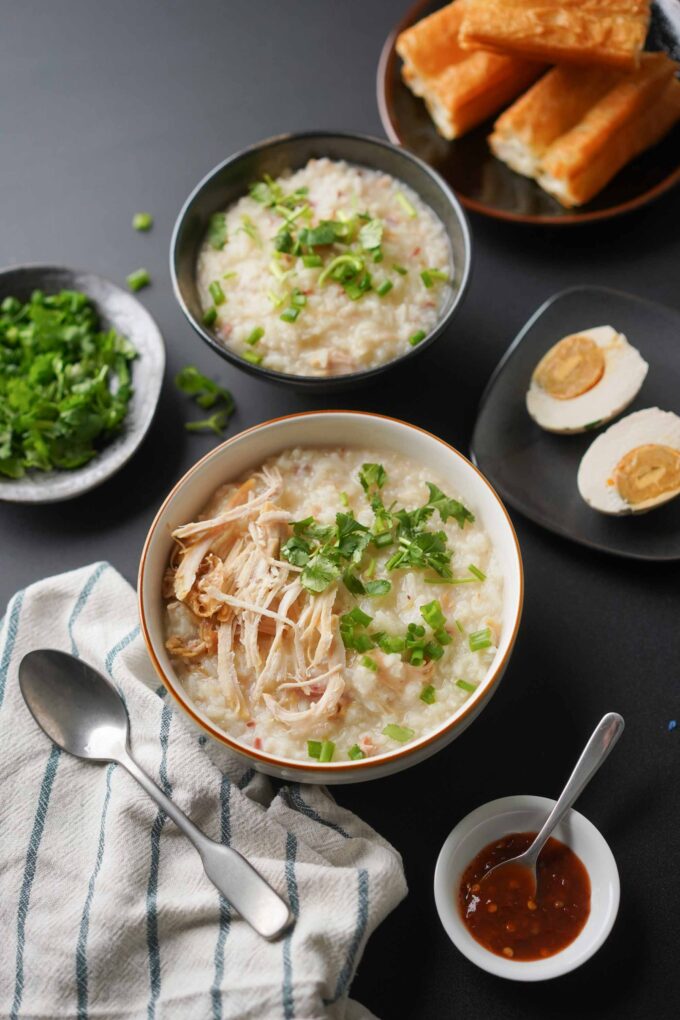 Traditions with Vietnamese rice porridge
Right around the winter holidays is when my relatively large paternal side of the family gathers to celebrate. This means gifts, lil kiddos running around, getting badgered about why one is too over or underweight, and of course, there will always be food.
My parent's generation all emigrated from Vietnam, so the cousins are all first generation born here. Even though typically the parents have prepared the entire Christmas and Thanksgiving meals, we've for whatever reason done it American style, with stuffing, cranberry sauce, honey-glazed ham, and of course a massive turkey.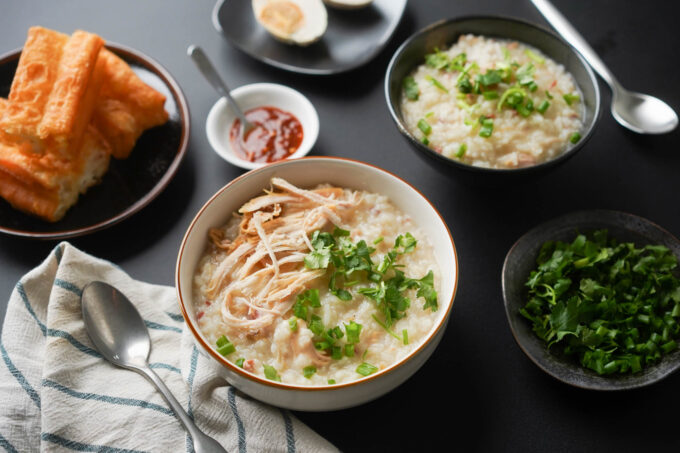 The turkey always seems to be three times the size that we never end up eating all of it on the first day, but that's ok! This leftover turkey serves as the base for our yearly tradition of the morning after holiday cháo gà. I typically brine my turkey and chicken with herbs and spices, and even then those flavors don't owerpower this cháo recipe, but the chicken is moist and flavorful.
The chicken, turkey, and broth
Leftover turkey – this is perfect for making porridge. Slice off and remove most of the meat now, while it's not piping hot and you can more easily see what's what. After simmering, the bird gets extremely hot and soft, so separating meat from the many many bones inside can be more difficult.
Brand new raw chicken or turkey – if you don't have a leftover bird layin around, of course, this works too. You can use a whole bird, or select whichever parts you like best. I prefer skin on and bone-in thighs for more dark meat and more flavor from the fat. The bones will also add more flavor to the broth too.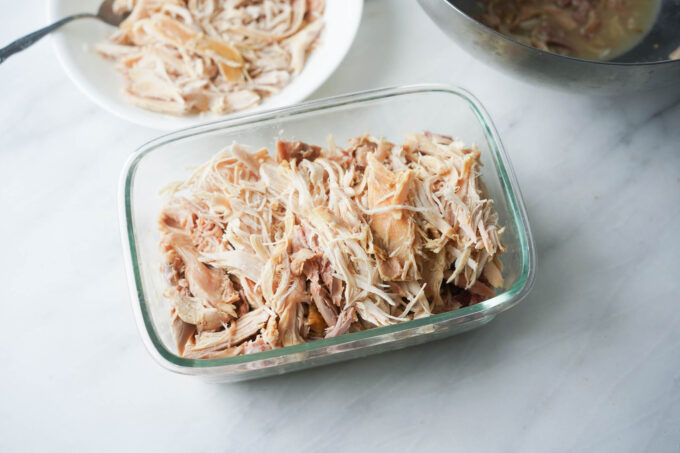 Broth – if you have canned broth laying around, you can use it to supplement the cháo to boost its flavor if you think you don't have enough meat. You can also entirely use canned broth for this, but won't be left with any shredded chicken or turkey that typically goes with this dish.
Types of rice to use
Use white rice. My family typically only eats long-grain white rice for their meals such as jasmine rice, so this is what they use in their porridge. But you can mix it up with other types of rice, like basmati rice, for great soup too.
Recent versions I've made with this substitute 50% of the long-grain with 50% short-grain rice. I usually only stock short-grain since I love how much stickier it is and how it maintains more moisture than long-grain when eaten for sushi, or just normal rice dishes. Short-grain releases more starch into the cháo / porridge so you can have a thicker soup, with softer and less distinct grains.
I've seen it at restaurants and at mom's house where they use broken rice too. This is not something I keep stocked in the pantry, but it can be good too!
Aromatics and seasoning
Whichever type of bird you use, just put this into a large stockpot with a halved onion, sliced ginger, salt, fish sauce, and let it simmer for 2-4 hours or until the meat is soft and falling off the bone.
Peel the onion, and cut it in half. Since it will be simmering for so long, the entire onion will cook through and will give up all it has to the broth in 2+ hours.
You'll want to peel the ginger and rinse it to make sure it's clean. I like using a spoon to scrape it since you can work quickly without the risk of cutting yourself. Then smash or slice the ginger so more surface area of the root is exposed to the broth.
Final add-ins & accoutrement
Fried donut / dầu cháo quẩy / youtiao – this "donut" is usually in the shape of a long stick, but always comes in pairs. It's deep-fried bread essentially. With a seemingly unlimited amount of ways to spell this in Vietnamese, it's clear that the name and the food are Chinese. This is amazing when fresh: crispy, chewy, fatty, a great addition of texture and flavor to the cháo. We usually pick it up from our local Chinese spot, but have been ordering this via food delivery service
Salted duck egg – this is a delicious addition that is verrrry salty. If you plan to serve it with this, consider pulling back the salt or fish sauce levels in the congee so it's not overwhelming with the duck egg. They look like normal chicken eggs, sometimes individually sealed–I get mine from the local Ranch 99 market.
Deep-fried shallots or garlic slices – crispy little hits of allium, there are very few foods that aren't made more exciting by adding these. But these go great with Vietnamese cháo!
Sambal – that red chile paste that's in so many Vietnamese dishes, usually in the fish sauce, or marinade, or whenever you want to add a garlicky chile paste to anything. You'll find it on the side in the dipping sauce for Vietnamese pork chops, spring rolls or bò bía, in the sauce for lemongrass chicken or into Vietnamese chicken & macaroni soup.
Chopped scallions and cilantro – the famous combo of herbs signature to Vietnamese cuisine, found again in the Viet chicken & macaroni soup or chicken phở.
Serving and storing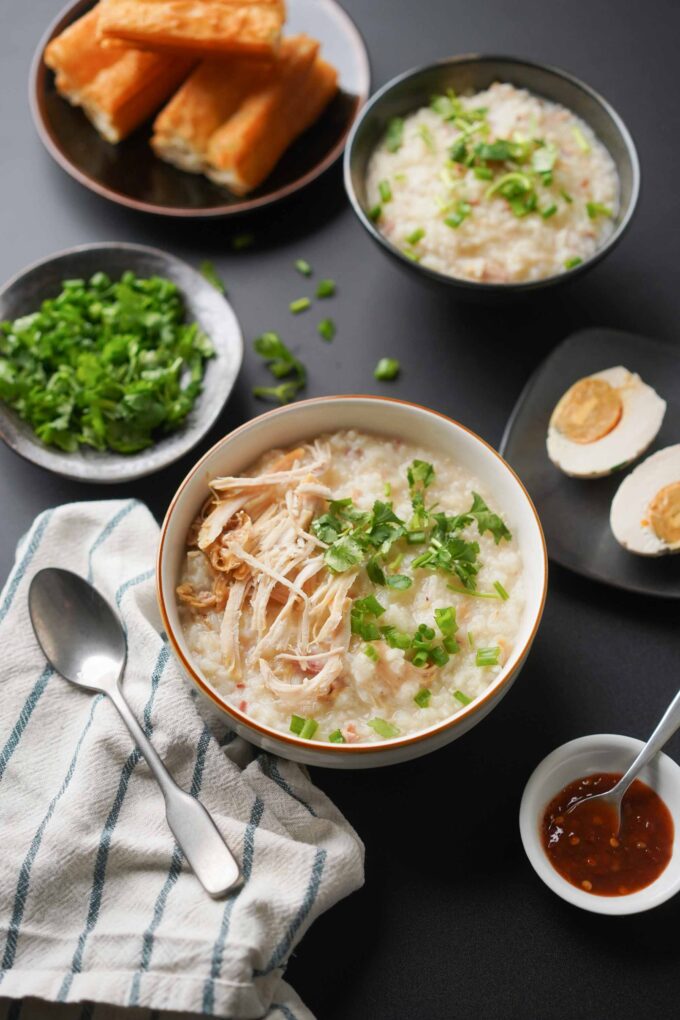 You can serve this soup right away, but since it's hot off the stove, the water in it will continue to evaporate and the soup will thicken. Monitor this, and add more water to it as necessary to hit the consistency and salt levels you like.
It keeps great in the fridge in an airtight container for about 4-6 days, but as usual the fresher the better.
Other tasty chicken soups to try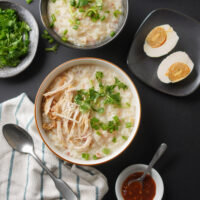 Cháo Gà (Vietnamese Chicken Rice Porridge / Congee)
A simple, and nourishing Vietnamese rice porridge called cháo gà. Perfect for when you're under the weather, or when you simply want a delicious rice porridge that can easily feed a large group.
Ingredients
3

lb

chicken or turkey

bone in, cooked or raw

28

c

filtered water

87

g

fresh ginger root

peeled, sliced into 1/4" pieces

1

large yellow onion

halved

2

tbsp

salt

2

tbsp

fish sauce

334

g

(

2

scoops

)

long grain white rice*

334

g

(

2

scoops

)

short grain white rice*
Garnish
2-3

tbsp

ginger

peeled, finely julienned

3

stalks

green onions

thinly sliced

1

bunch

cilantro

chopped into 1/3" pieces

sambal chile paste
Instructions
If you're using leftover or roasted chicken or turkey, remove about 75% of the meat and reserve this to add to your soup / cháo when serving.

In a large stock pot, add the chicken or turkey, 85% of the filtered water, ginger, onion, salt and fish sauce over high heat. Once it hits a boil, reduce the heat so its at a low to medium simmer. The water should just about cover all the meat and bones. If your pot is very wide, keep in mind you may be using more water than listed, and you may need to add less in the final steps later when adjusting for consistency. Skim off any scum if necessary during the boil. Keep adding water to the pot as it evaporates so the bones remain covered.

After about 90-120 minutes or when the meat has softened enough to easily be pulled off the bone, remove the poultry and let cool for about 10 minutes. Using your hands or a fork, remove the rest of the meat from the bones. Add the meat back into the pot. Discard the bones, onion, and ginger, since they've given their all to the broth at this point.

Rice method A (saves time): While your broth is going, cook your rice in a rice cooker. Use equal scoops rice to water, it should finish cooking before your broth above is ready. Add the cooked rice to the pot and simmer on medium to soften the rice. About 10-20 min.

Rice method B (less things to wash): Add all the raw rice to the pot and return to the heat on high until it hits a boil. Then lower the heat to a low-medium simmer until the rice is cooked and hits a soft consistency you like. It will take about 45-60 minutes depending on your stove. Here's the consistency after boiling, but before adjusting with more water.

Once the rice is cooked to the doneness you like, which should be very soft way beyond al dente and beyond how you'd eat it outside of soup, adjust the water level. Fun fact, for my family soup thickness is a huge point of contention. Do what you want. Personally, I don't want the soup like a thick paste, but also don't want it so thin that you only see water when looking down at the pot. I want the soup to have a little substance and feel filling.

Reseason the soup. Reseason with just salt, just fish sauce or equal parts of both to taste. The seasoning measured above is intentially less salt than we need so we can reseason here based on how thick you decided to make the soup.
Notes
*For the rice scoop, I used the scooper included with my rice cooker. For the most accurate way to follow this recipe, please weigh your rice in grams.
3/2022: Added a rice cooker step to speed up the recipe. Clarified some recipe steps, added garnish ingredients.
Nutrition Facts (per serving)
Calories:
690.14
kcal
|
Carbohydrates:
70.23
g
|
Protein:
33.89
g
|
Fat:
28.84
g
|
Saturated Fat:
7.78
g
|
Cholesterol:
166.69
mg
|
Sodium:
2274.25
mg
|
Potassium:
506.61
mg
|
Fiber:
2.16
g
|
Sugar:
0.98
g
|
Vitamin A:
132.68
IU
|
Vitamin C:
1.56
mg
|
Calcium:
56.98
mg
|
Iron:
3.37
mg
Nutrition Facts
Cháo Gà (Vietnamese Chicken Rice Porridge / Congee)
Amount per Serving
% Daily Value*
* Percent Daily Values are based on a 2000 calorie diet.
Like this recipe? Subscribe to my newsletter!