Gà xào sả ớt is an aromatic blend of chile sauce, lemongrass, tender chicken, and veggies, but more importantly it's a fast and easy, one-pot dish that you can make during the week.
Also known as Vietnamse spicy lemongrass chicken, this dish is more commonly made at-home in Vietnam vs. restaurants (even though it was the most popular dish at my mom's Vietnamese restaurant).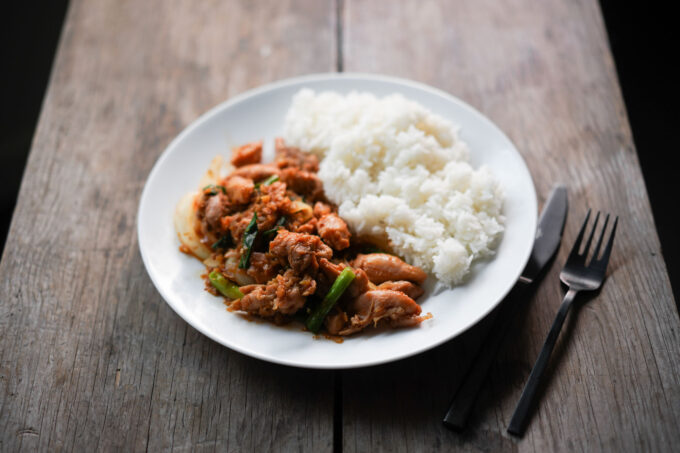 The lemongrass
Lemongrass (sả), also known as citronella grass, is an herb with a flavor similar to its namesake with a mixture of spicy ginger notes and very popular in South Vietnam. While it's known for its medicinal uses in southeast Asia, it's also known for its unique flavor. This distinct, strong, aromatic flavor pairs well with lots of shallots, garlic, and onion to balance it out.
To choose lemongrass at the grocery store, find stalks that are nice and firm with a yellow colored base and bright green husks at the top. When you prepare the lemongrass, you need to clean your stalks and peel the tough outer layers to reveal the bottom yellow leaves on the inside.
The yellow bottom portion is more tender. You want to grind the yellow leaves until they're smooth and fine, then add them into the chicken. For soups and stews like bò kho or chicken curry, you can simply trim the leaves off and smash the roots for quicker prep.
Usually you throw away more than 50% of the lemongrass stalk to use only the bottom part. You can save the tops on the freezer if you want for the recipes above. But these are cheap, about four stalks for $1.00.
If you can't find this fresh in the store, many markets sell lemongrass in various forms: pre-ground, frozen, and in plastic cans or bags. While fresh lemongrass smells a lot better, the frozen option is still pretty good when you're in a pinch.
Preparation tips
To make this dish, we need to unlock the aromatics by sauteing in a pan. We'll do it in order by starting with the items that take longer to brown (ones with more water content) and slowly adding others the the pan as they brown.
When that sweet aroma of lemongrass floods your kitchen, add the chicken to brown, then add the sauce and simmer on medium until fully cooked. You can adjust the spiciness level in this dish to your own taste.
The chile sauce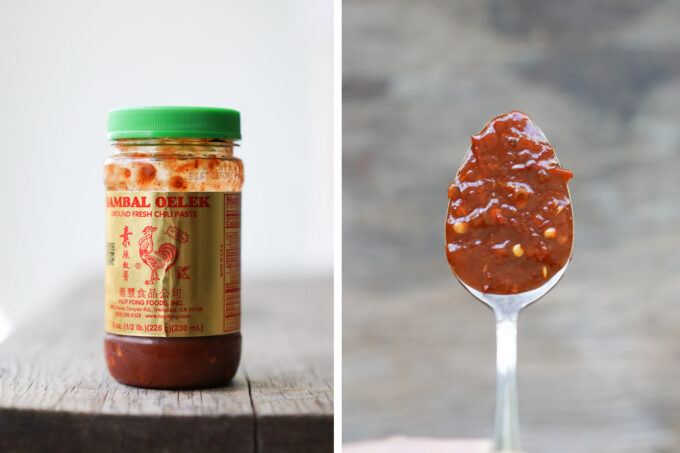 This spicy stuff is used in all sorts of Vietnamese food because it's premade, and it tastes great. It's often used to add a quick hit of spice to like adding a quick hit of spicyness to prepared fish sauce (nước chấm), rice porridge (cháo), and certain, but not all soups.
For this recipe, it gives us that amazing, deep red color in the marinade.
The chicken
In Vietnam, this dish usually includes bone-in chicken because that is the easiest, most natural form to serve meat–you don't get a choice to waste any parts of the chicken! However, In my mom's old restaurant this recipe was the most popular item amongst the Silicon Valley locals because it was very accessible.
For this recipe, my ideal combination is thigh and chicken breast to get the best of both worlds. Another option if you're vegetarian and needing that lemongrass high is using crispy fried tofu instead of chicken.
Serving
I like to add green onion to the pan at the final moments just to slightly soften then and add a pop of green. Otherwise, you just have a single color of chicken and sauce (which tastes great, if you don't otherwise care about looks). Spicy lemongrass chicken is best served with this sweet and acidic mango salad and a simple side of rice.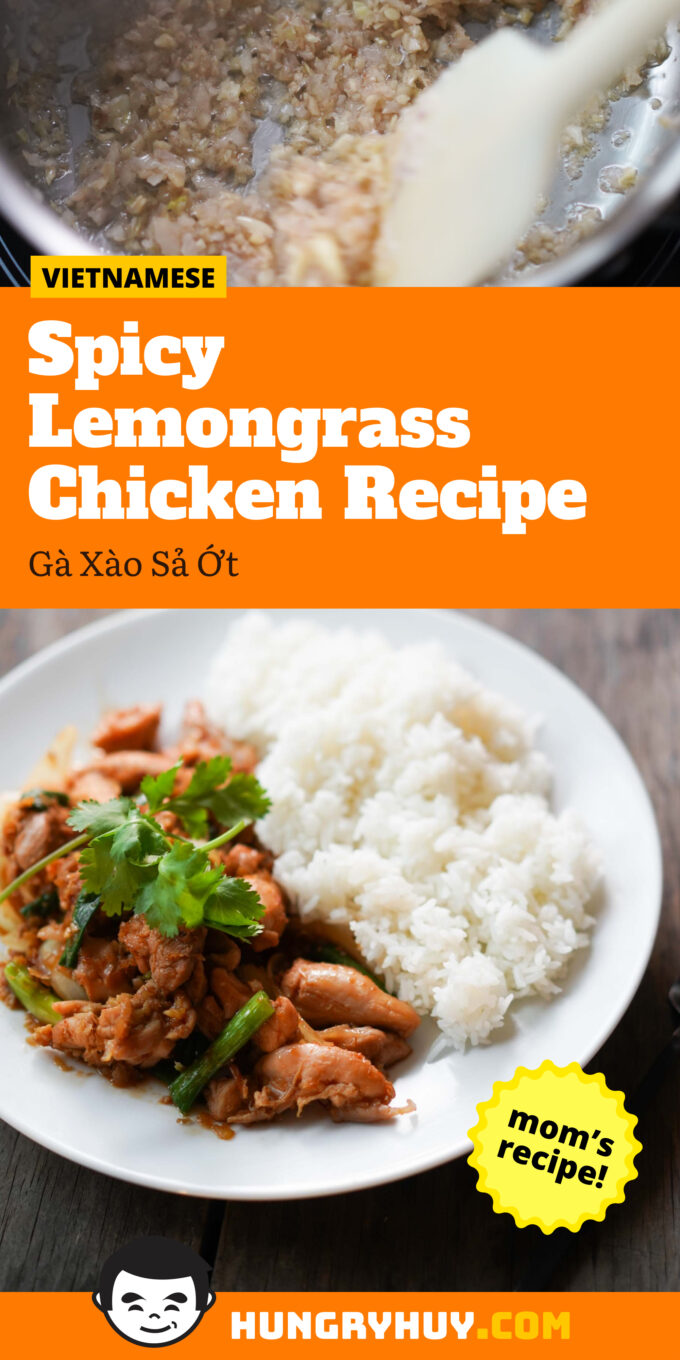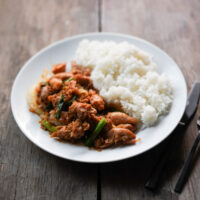 Vietnamese Spicy Lemongrass Chicken (Gà Xào Sả Ớt)
Spicy lemongrass chicken is an aromatic and easy, one-pot recipe that is perfect for a shared family meal.
Ingredients
Chicken & marinade
1

lb

chicken

cut into bit-sized pieces

1

tsp

salt

2

tsp

sugar

⅓

tsp

MSG or chicken bouillon

optional
Aromatics
4

tbsp

neutral cooking oil

3

tbsp

shallots

minced

1

tbsp

garlic

minced

4-5

tbsp

lemongrass

minced
Chile Sauce
2

tbsp

fish sauce

1

tbsp

sambal

½

c

coconut juice

or lemon-lime soda, or water
Garnish
½

medium

onion cut into slivers

optional

1

stalk

green onion cut into 2 inch pieces

optional
Instructions
Marinade: Combine chicken and marinade ingredients, and let it sit to marinate for 15 minutes.

Mince aromatics: Clean the lemongrass, remove the outer layers of rough leaves and find the yellow leaves inside. Slice the lemongrass roots into ⅛" slices first, then add to a food processor to finely mince and set aside. Mince/process the garlic then set aside. Mince/process shallots and set aside.

Make the chile sauce: Combine fish sauce, sambal, and coconut juice and mix to combine.

Pat dry your chicken, cut into bite size pieces.

In a pan over medium-high heat, add four tbsp of oil and add the shallots and saute until light brown. Add the garlic and saute until light brown. Add lemongrass and stir until fragrant. Add the chicken and brown it a little.

Lower to medium heat, add the Chile Sauce. Stir to mix, taste and adjust as necessary, then cover with a lid. After about five minutes, stir a bit, retaste and reseason if necessary, add more cooking time if needed.

Add the garnish about 1-2 minutes before the chicken finishes cooking to soften a bit. The dish is done once the chicken reaches an internal temp of 165 °F, or until the center of the chicken is no longer pink.

Serve with a side of rice.
Nutrition Facts (per serving)
Calories:
556
kcal
|
Carbohydrates:
17
g
|
Protein:
23
g
|
Fat:
45
g
|
Saturated Fat:
7
g
|
Cholesterol:
82
mg
|
Sodium:
2892
mg
|
Potassium:
570
mg
|
Fiber:
2
g
|
Sugar:
9
g
|
Vitamin A:
212
IU
|
Vitamin C:
14
mg
|
Calcium:
60
mg
|
Iron:
2
mg
Nutrition Facts
Vietnamese Spicy Lemongrass Chicken (Gà Xào Sả Ớt)
Amount per Serving
% Daily Value*
* Percent Daily Values are based on a 2000 calorie diet.
Like this recipe? Subscribe to my newsletter!