Light, airy, and extra crunchy deep-fried Chinese doughnuts are the way to go if you want something to eat for breakfast or your next meal with cháo (rice porridge).
I'll give you an easy-to-follow youtiao recipe and show you how to handle a high hydration dough so you can have fresh dầu cháo quẩy anytime at home.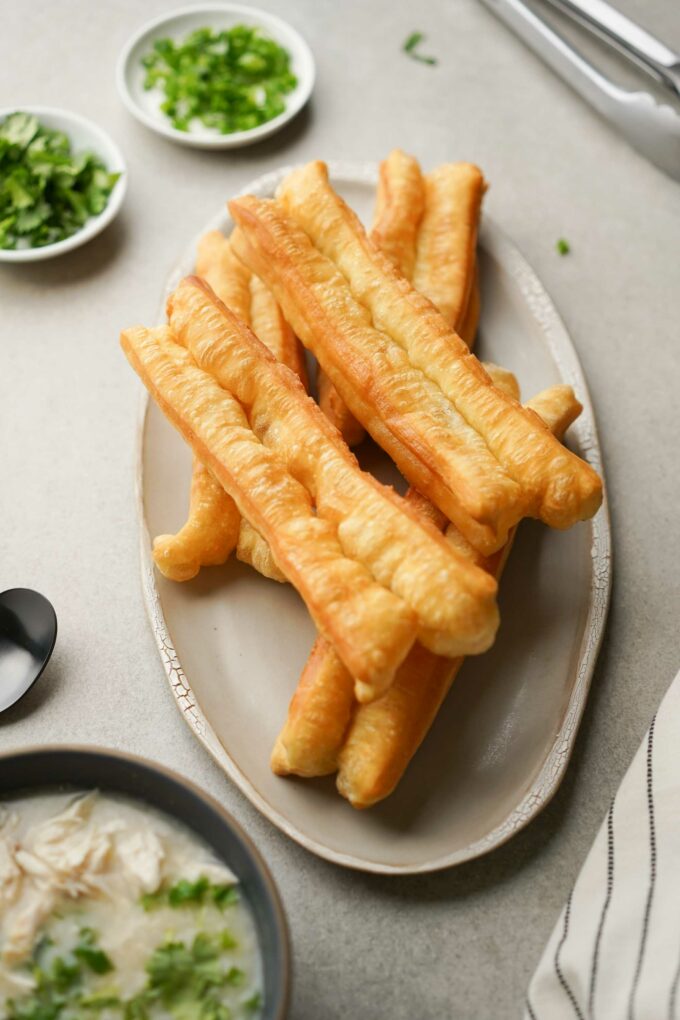 What is youtiao?
Youtiao is a traditional Chinese breakfast snack and looks like two strips of crunchy deep-fried dough. I've heard it called many different types of names in the past: Chinese crullers (not to be confused with the traditional sweet deep-fried pastry), Chinese fried breadsticks, Chinese doughnuts in Vietnamese: dầu cháo quẩy.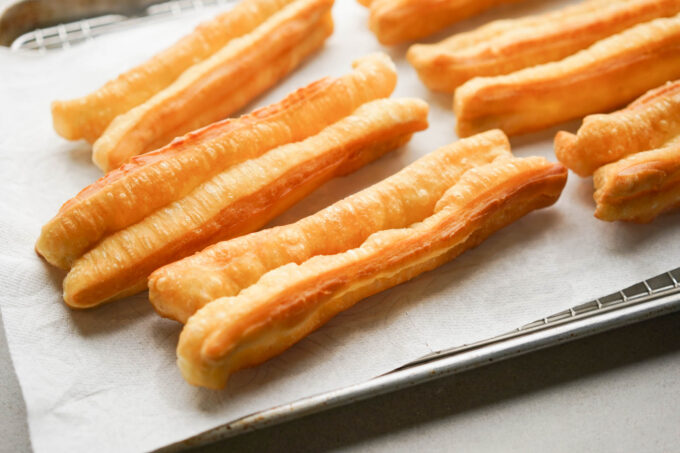 The fried doughnuts themselves were thought to have originated from folklore during the Song Dynasty. An official by the name of Qin and his wife framed a popular patriot, General Yue, and caused an uproar. It's said that a dough maker layered two strands of dough together and made an indent in the middle to represent Qin and his wife–and then promptly dropped them in boiling oil.
In China, you can find them sold at many street vendors, but in the US, I've found them at some of my favorite Asian restaurants, like Capital Seafood or Mi La Cay. You can eat youtiao in so many different ways, for example dipped in soybean milk or soy sauce, wrapped in cheung fun rolls, and many more.
Like many foods and snacks from Chinese culture, youtiao also made its way to other Asian cuisines. In Vietnamese cuisine, youtiao is known as dau chao quay and it's paired with cháo gà.
Youtiao dough ingredients & leavening
The dough for this recipe is a little different from the other dough recipes I've worked on for this blog because it relies on baking soda and baking powder completely for leavening power. AKA there is no yeast necessary in this recipe.
I believe that some traditional youtiao recipes include ammonia bicarbonate as a leavening agent, but I've replaced that with baking powder and baking soda because it's more readily available (and potentially safer to consume).
To achieve the light and crispy fried fritters, it's really imperative to rest the dough overnight in the fridge. This allows the dough to rise at an even temperature, but it's also handy because you can pre-make the dough up to two days before you fry them.
Other ingredients for this recipe include all-purpose flour, salt, egg, vegetable oil, and water.
How to make youtiao
Here are some quick tips on how to make youtiao at home:
Use a scale to measure out all the ingredients. Baking and making dough requires precision and it's best to use a scale to make sure you measure out ingredients properly because measuring with spoons and scoops compresses ingredients giving inaccurate results.
Due to the amount of liquid in this recipe, it's a high-hydration dough which means it has a lot of liquid in the dough (in comparison to the flour) and can be a bit stickier to handle. Try not to add too much flour into the dough, and let it rest for about 20 minutes after the initial mixing to make it easier to knead before resting overnight.
Preheat your oil to 390 °F and use a high smoke-point neutral oil like vegetable oil. The high heat makes contact with the dough and puffs it up super fast. If the heat is too low it won't puff up enough. If it's too hot, it will burn the oil and the dough will cook unevenly.
When layering the youtiao, add a very little amount of flour in between to make sure the dough does not stick. I found that sticking dough layers meant it wouldn't puff up as much during frying.
What do you serve with Chinese donuts?
It's best to eat youtiao straight from the fryer–you want to experience that extra crunch! Traditionally, youtiao is eaten at breakfast in China and it's dipped in savory (or sweet) soy milk. My favorite way to eat youtiao is by itself (duh), but also with cháo gà, cheung fun rolls, or any type of noodle soup, like mì khô.
If you have extra youtiao, you can place them in an airtight container for up to 3-4 days. To reheat them, just pop them in the toaster oven for about 1-2 minutes until they're crispy again. You can also freeze these donuts after they've cooled down to have these on the ready!
Is Youtiao sweet?
Youtiao typically has a slightly salty and alkaline flavor. These deep-fried donuts are typically simple and plain in flavor and eaten dipped in soybean milk or cháo gà.
Do they eat Chinese donuts in China?
Chinese donuts, otherwise known as youtiao, are eaten in China and sold by many street vendors. You can also purchase them in many dishes like cheung fun at restaurants and street carts. There are a variety of ways to eat Chinese donuts in China and all over the world.
Are Chinese donuts traditional?
Youtiao are traditional deep-fried donuts that originated in China and are eaten as a snack during breakfast and sometimes dipped with soybean milk.
Chinese Donut Recipe (Youtiao / Dầu Cháo Quẩy)
Learn how to make extra crunchy and light youtiao at home with this recipe. You'll have fresh and piping hot Chinese crullers at the palm of your chao bowl sooner than you think!
Ingredients
220

g

(

1¾ c

1 tbsp & 1 tsp

)

all purpose flour

5

g

(

1

tsp

)

baking powder

1.6

g

(

½

tsp

)

kosher salt

1.4

g

(

¼

tsp

)

baking soda

50

g

(

1

large

)

egg

12.3

g

(

1

tbsp

)

vegetable oil

plus more for resting

89

g

(

3

fl oz

)

filtered water

neutral cooking oil

for frying (preferably vegetable oil)
Equipment Used
weighted scale

mixing bowls

spatula

airtight container with lid

knife

chopstick

Pot

tongs

cooling rack and paper towels
Instructions
Stir in the dry ingredients and mix until it's formed a ball. Cover the ball with a towel or bowl and let it rest for 20 minutes at room temp.

Transfer the dough to a very lightly floured surface or cutting board. Knead the dough with the heel of your hand and push the dough upwards. Turn the dough 45 degrees and repeat the kneading method about 3 or 4 times until the dough is slightly smoother. Try not to add too much flour at this point or work the dough too much.

Drizzle vegetable oil (about 1 tbsp) in an airtight container. Place the dough in the container and move it around so it's covered in oil. Cover with a lid and place it in the fridge to rest overnight or up to 2 days.

Fill a pot with neutral cooking oil about 2 inches from the bottom and pre-heat it to 390 °F.

Flour a flat surface very lightly. Take the dough and carefully stretch it out about 6-8 inches wide and place it on the floured surface.

Take a rolling pin and and roll the dough in the same direction (horizontally) until it's about 13 inches wide and 5-6 inches tall.

Use a knife to evenly make 12 vertical strips of dough. You can choose to cut the rounded sides before making these strips.

Sprinkle a little more flour on top of the strips and then layer one strip of dough to another. Repeat until you have 6 pieces.

Take one chopstick and make an indent in the center of one strip of dough vertically. Press firmly and release. It should concave in the middle. Repeat until all youtiao are indented.

Lift on youtiao and hold the sides and bottom with your fingers. I like to use my index and ring fingers to carry the bottom of the youtiao while holding the edges with my pointer finger and pinky. Gently pull the youtiao until it's about 3-4 inches longer than the original size. I only pull the youtiao RIGHT before I lower it into the oil so that it doesn't dry out or end up sticking too much to each layer (this can prevent it from puffing up).

Carefully lower the youtiao into the oil and watch as it rises to the top. Let it fry for about 5 seconds once it rises, then use tongs to repeatedly turn it in the oil to fry. The youtiao should begin to puff up and double in size immediately. Cook for about 1-2 minutes or until it's golden brown.
Nutrition Facts (per serving)
Calories:
163.5
kcal
|
Carbohydrates:
28.27
g
|
Protein:
4.83
g
|
Fat:
3.2
g
|
Saturated Fat:
1.99
g
|
Trans Fat:
0.01
g
|
Cholesterol:
31
mg
|
Sodium:
268.84
mg
|
Potassium:
50.92
mg
|
Fiber:
0.99
g
|
Sugar:
0.13
g
|
Vitamin A:
45
IU
|
Calcium:
59.64
mg
|
Iron:
1.94
mg
Nutrition Facts
Chinese Donut Recipe (Youtiao / Dầu Cháo Quẩy)
Amount per Serving
% Daily Value*
* Percent Daily Values are based on a 2000 calorie diet.
Like this recipe? Subscribe to my newsletter!