Super tender and rich chunks of pork belly braised in a tangy and savory sauce–this traditional Filipino pork adobo recipe is easier to follow than you would imagine!
If you love salt & vinegar chips where the flavor just punches you in the mouth, then you'll love the flavor of this pork adobo which, much like chicken adobo, unsurprisingly goes great with a big serving of steamed rice.
Background
While Filipino adobo has the same name as Spanish adobo, it is a completely different dish. The latter has a spicier flavor from the paprika, oregano, and other spices, while Filipino adobo is based on a vinegar and soy sauce marinade so it's tangy and savory. This is also similar to Vietnamese thịt kho.
Historically, Spanish colonizers named the dish "adobar de los naturales" or adobo of the natives because they recognized the marinating technique of using vinegar with meat. Before refrigerators were invented, Filipinos used vinegar and soy sauce to marinate meat and vegetables as a way to preserve foods.
Filipino adobo is one of, if not the most, famous dishes from the Philippines, just like siopao asado or pancit palabok. You can find it in many Filipino restaurants all over the world, but what's special about this dish is that each region has its own variation, and even each family. Chicken adobo is one of the more popular recipes, but you can also make fish adobo, adobo with coconut milk, and more.
My girlfriend's mom likes to add hard boiled eggs and lots of onions to her pork adobo and it makes it feel like home every time we eat it. This recipe is an ode to one of my favorite chefs Tita Grace.
Vinegar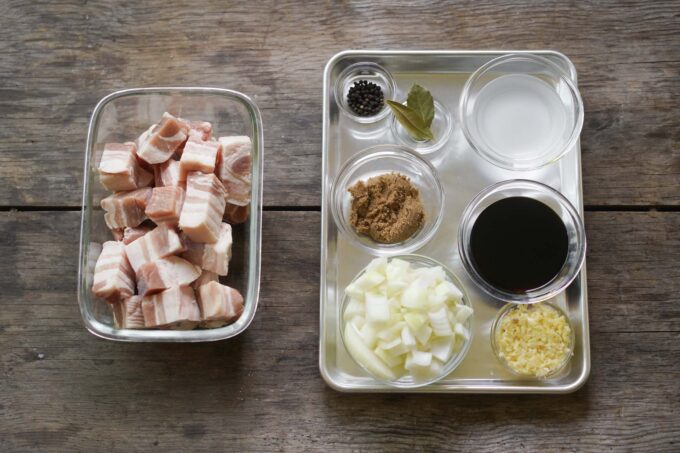 Like all adobo recipes, it comes down to the vinegar. Like my chicken adobo recipe, I am using cane sugar vinegar because it's traditional and has a nice mellow and less acidic flavor than white distilled vinegar. You still get the tangy flavor, without the pungent strength of white vinegar, too.
I like using Datu Puti's Sukang Maasim cane sugar vinegar from local Filipino stores like Seafood City, but you can also substitute with white wine vinegar (this has a similar flavor profile and acidity). Some recipes do allow for white distilled vinegar, but I would recommend tasting your adobo sauce throughout the cooking process and adjusting with water and/or sugar if it comes out too pungent.
Pork and marinating
For this recipe, I like to use pork belly because it's got nice fatty and tender layers that go well with the tangy flavor of adobo. You can also use pork shoulder or pork butt as well. You want to cut the pork shoulder in one inch cubes that will keep their shape during braising.
I would definitely recommend marinating the pork belly for about an hour before cooking because it helps to tenderize and flavor the meat, especially if you choose to use pork shoulder or butt.
Tips
Cut your pork into cubes no smaller than one inch so they don't disintegrate while braising, but are also small enough to marinate and cook evenly.
Use cane sugar vinegar or a vinegar that has the same mellow flavor to get a tangy adobo without it being overly pungent or sour.
Marinate for at least one hour in the fridge to help tenderize the meat and lessen the time when braising over the stove.
Keep the marinating liquid to use for braising in the pot, this will give you all the tangy and savory flavors in your pork adobo.
Taste test your adobo sauce throughout the braising process to check on the flavor progress. Remember that adobo is best served with rice to balance out the strong savory flavors, so keep in mind that the longer you cook and reduce the liquid the stronger the flavor will be.
If your adobo tastes too pungent or too much like vinegar, add one teaspoon or dark brown sugar and re-taste. Add more if need be based on your preference. If your adobo tastes too salty, add one tablespoon of water and re-taste. Add more if it's still too salty.
Skim the fat layer on top of the adobo sauce, this will give you a less oily adobo. I use a spoon to scoop up the excess oils. The excess fat will be clear and look like oil, whereas the adobo sauce will be an opaque brown color.
Pre-boil the eggs for 10 minutes, peel them, and add them into the sauce in the last 10 minutes. You don't want to overcook them in the sauce, but still have a nice brown coloring on the skin.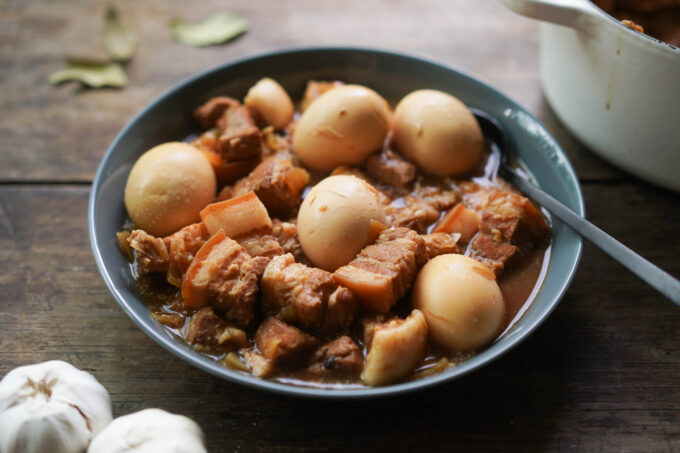 What is pork adobo in English?
The term "adobo" comes from the Spanish word "adobar," which means "marinade" or "pickle." Pork adobo is a traditional tangy and savory dish from the Philippines that includes marinating and braising pork, vinegar, soy sauce, garlic, bay leaves, peppercorns, and other ingredients.
Where is pork adobo from?
Pork adobo originates from the Philippines and differs from Spanish adobo that uses different spices, such as paprika. Adobo is considered an "unofficial" national dish.
What does pork adobo taste like?
Pork adobo tastes tangy, savory, and slightly sweet. These flavors are balanced out by ingredients like cane sugar vinegar, soy sauce, dark brown sugar, garlic, peppercorns, and bay leaves. I would say that it tastes similar to Vietnamese thịt kho.
What do you eat pork adobo with?
Pork adobo is best eaten with fresh jasmine rice (garlic rice if you're fancy) to balance out the strong flavor. It's even better the next day after the meat has soaked up more of the adobo sauce.
Is adobo Filipino or Mexican?
Filipino adobo is different from adobo that came from Spain. Filipino adobo is based on a combination of cane sugar vinegar, soy sauce, and other ingredients, whereas Spanish adobo has other spices like paprika and oregano.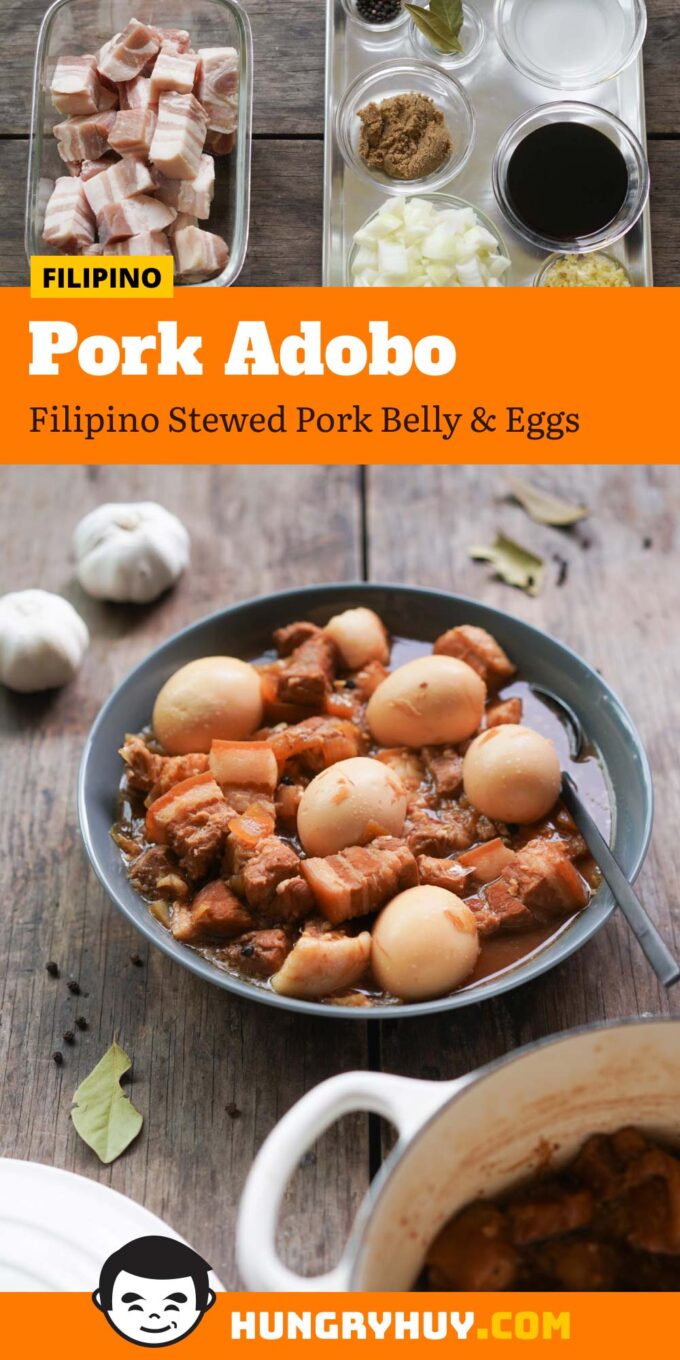 Pork Adobo (Filipino Stewed Pork Belly w/ Eggs)
If you have a love for vinegar like I do, then this Filipino pork adobo recipe will do ya right. It's packed with tangy, savory, and sweet flavors with super tender chunks of pork belly.
Ingredients
Marinade
2

lb

(

907.2

g

)

pork belly or pork shoulder/butt

cut into one-inch cubes

¼

c

cane sugar vinegar

Datu Puti brand preferred

⅓

c

soy sauce

2

tbsp

garlic (about 10 cloves)

minced

1

medium onion

chopped

1

tbsp

dark brown sugar

2

bay leaves

1

tsp

peppercorns
Cooking
1

tbsp

vegetable oil

2 ½

c

water

8

boiled eggs

optional
Instructions
Marinade
In a mixing bowl, combine vinegar, soy sauce, garlic, onion, dark brown sugar, bay leaf, and peppercorns. Stir until the dark brown sugar dissolves.

In a glass container with an airtight lid, add the pork belly and pour the marinade over the meat. Turn the pieces to coat each piece evenly. Place the lid on top and marinate for one hour. (You can place it in the fridge for 40 minutes and place it on the counter the last 20 minutes to come to room temperature).
Cooking
In a pot over medium-high heat, add the oil and transfer the pork belly pieces into the pot. Brown the pork belly on each side for about 30 seconds and turn. You want a slight browning, but not golden brown.

Add all the pieces of pork belly and marinade liquid into the pot. Add enough water so that it slightly covers the meat (about two to three cups) and bring to a boil.

Remove the lid and stir the contents. Raise the heat back to medium-high and cook uncovered for another 20 minutes.

Check the pork adobo by stirring around the meat, checking the tenderness of the meat, and taste the liquid for flavor. You can also use a strainer or spoon to skim the top if you have any extra fat or oil floating. (I would recommend skimming the oil on top if you are using pork belly to remove excess fat).

In the last 10 minutes, add in the boiled eggs to soak up the adobo sauce. The total cooking time from searing to braising to adding the eggs is around one hour.
Notes
Tips:
Make sure to not overcook your meat or it will end up pulverized since pork belly has a lot of fat.
Adobo is supposed to have somewhat of a strong flavor because it's meant to be eaten with rice.
Nutrition Facts (per serving)
Calories:
559.5
kcal
|
Carbohydrates:
3.4
g
|
Protein:
14.5
g
|
Fat:
53.7
g
|
Saturated Fat:
20
g
|
Cholesterol:
214.5
mg
|
Sodium:
514.6
mg
|
Potassium:
256.5
mg
|
Fiber:
0.4
g
|
Sugar:
2.2
g
|
Vitamin A:
217.1
IU
|
Vitamin C:
1.1
mg
|
Calcium:
32.3
mg
|
Iron:
1.2
mg
Nutrition Facts
Pork Adobo (Filipino Stewed Pork Belly w/ Eggs)
Amount per Serving
% Daily Value*
* Percent Daily Values are based on a 2000 calorie diet.
Like this recipe? Subscribe to my newsletter!