The name bò bía is likely a Vietnamese adaptation of the Chinese roll "popiah." These two foods are quite different though. It's plausible to think bò bía was adapted by the Vietnamese and ingredients were substituted with what was available.
The first noticeable change is the Vietnamese use a rice paper wrapper instead of a wheat-based one. Other changes include the sauce and removal of ingredients like yams, green beans, and bean sprouts. Popiah also has fried variations.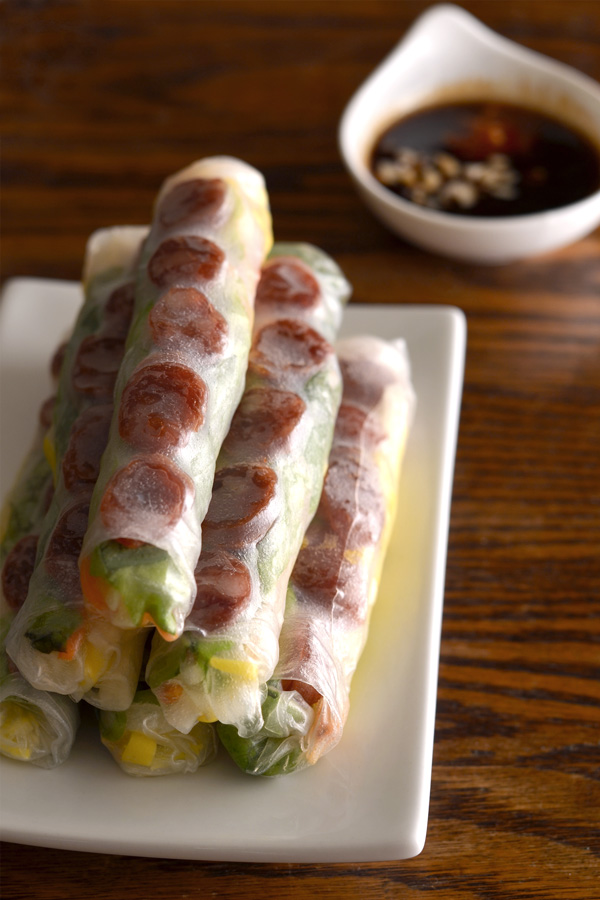 Bò bía is a fresh type of spring roll, packed with vegetables. Despite containing Chinese sausages, these rolls are fairly light, so you can eat a ton of em! Or ya know for easy snacking. They aren't typically served as full meals, but if you have 3 of them like I just did, you can forget about eating anything else.
Eating Bò Bía Street-side in Vietnam
My mom clearly recalls that in Vietnam, these rolls never had carrots in them for the same reason dồ chua didn't–it was too expensive. Even though bò bía is designed as portable food, she says most of them were eaten at the stand where they're made. How fun does that sound?
Since these were simple street snacks, vendors didn't fuss with any sauce containers. Any on-the-side extras we're used to Stateside were usually put directly into the roll. When business was slow, these rolls would slightly dry out, so the cart owners would revive rolls by dipping them in the hot water used to steam the veggies. Clever!
How To Make Bò Bía
Start with the dried shrimp since it takes the longest. The typical way to use this is to soak it in water. This takes around 2 hours if you use hot or warm water, or you can soak overnight to prep for this recipe. We soak it so they're not super hard to chew.
Next we start peeling and julienning jicama and carrots. I didn't want carrots to take over in these rolls so I went with about four times as much jicama as carrots. Add salt and water, bring to a boil and then reduce to a low boil for about 15 minutes. We want them to be softened but still retain a slight crunch. Steaming would be a better way to cook these since you can control it better, but I don't have a steamer.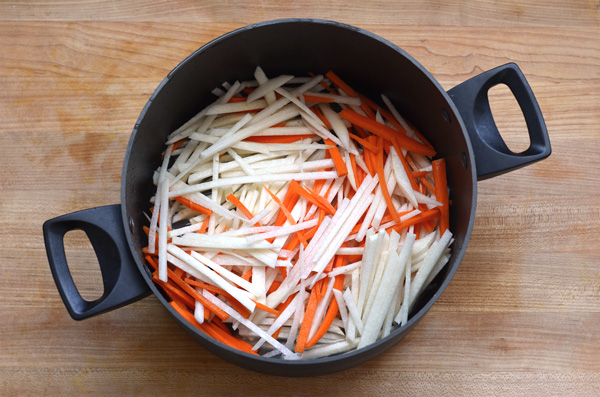 Meanwhile, whisk together the eggs and season with a little salt. Heat a pan and pour a thin layer of the eggs on to cover. We want it thin enough so there is no need to flip the egg. This means you might need to do 2 or more batches. Then roll it up and cut into ribbons.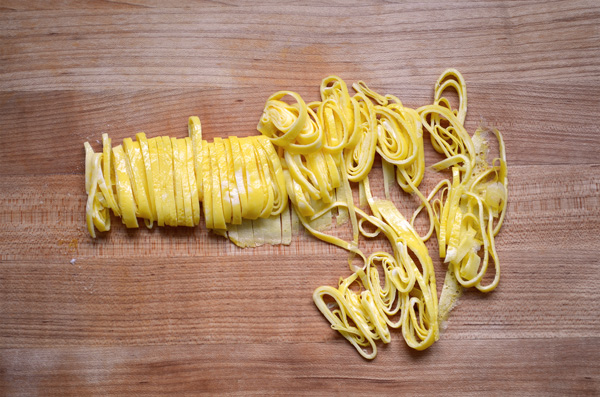 For the Chinese sausage (lạp xưởng), slice at an angle so the pieces are longer and look nicer in the roll. You can also cut it lengthwise but I don't like the fact that each piece isn't going to be uniform. Saute on medium heat and flip until lightly browned on both sides. These sausages have a lot of fat that will render, so if you cook it too much they will shrivel. To keep the shape of the sausage you can also bake or boil it (which my mom prefers).
Wash and dry the mint and red leaf lettuce.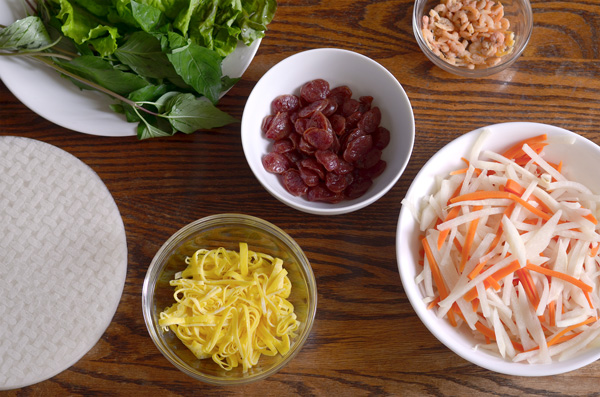 To roll, start with mint, a small piece of lettuce to cover the length. Add jicama and carrot, egg, shrimp, and sausages. I was determined to make a plumper roll so I loaded up on the filling. With this smaller sized rice paper (22 cm), it was harder to roll, but I made it work. If you want to one-up my method, make your rolls about an inch shorter or use larger rice paper.
To get a more in-depth tutorial on how to wrap spring rolls, read about my tips and tricks on this post.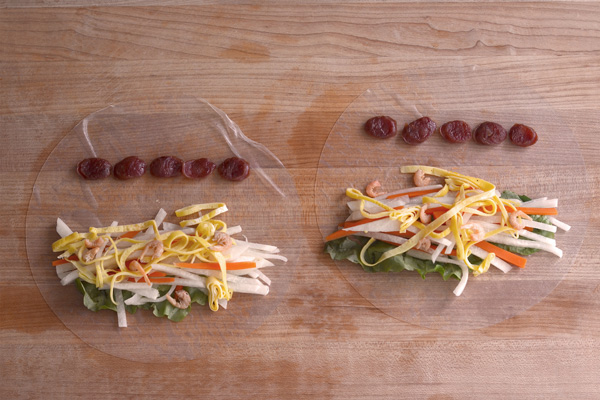 The dipping sauce I used (recipe below) is more concentrated and has crushed peanuts on top.
I used sambal chili paste on top. Just add peanut butter if you like it creamier and adjust the consistency by adding water. Nomnom… that's a wrap.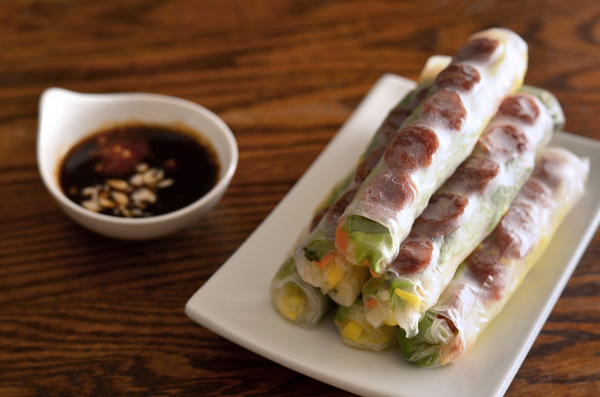 Can you make Vietnamese spring rolls ahead time?
Yes you can, but fresher is better. The longer the spring rolls sitting the drier the wrapper can get. Some restaurants that cater individually wrap these rolls in plastic wrap to keep them from drying out.
What is a spring roll wrapper made of?
Spring roll wrappers are made of rice flour and water. To learn more about springs rolls and egg rolls, visit this article.
How do you roll a Vietnamese spring roll?
A general rule to wrapping spring rolls is to add less filling than you think. Layer your filling ingredients in horizontal lines and add more layers from the bottom up. To roll, wrap up your spring roll similar to a burrito: fold in the left and right sides towards the middle and fold up the bottom flap, and keep rolling in an upwards motion.
Are spring rolls bad for you?
Spring rolls can be considered healthier than fried egg rolls, but it also depends on the fillings you use.
How do you keep Vietnamese spring rolls from sticking?
Use a plate larger than your rice papers and add some warm water to this plate. Dip the rice paper for about five seconds to soften the paper, but remove it before it becomes a soggy mess. I like to use a damp cutting board or towel to place my soften rice paper on, this helps to prevent the paper from sticking too much to the surface and also keep it soft.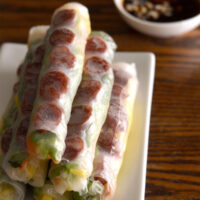 Bò Bía – Vietnamese Spring Rolls With Chinese Sausage, Jicama, Carrot, Egg
This makes about 8-10 rolls, depending on size. This recipe easily doubles.
Ingredients
3-4

tbsp

dried shrimp

1/2

lb

jicama

jullienne

1

small carrot

juilliend

2

tsp

salt

3

Chinese sausages

lạp xưởng – I like the Kam Yen Jan brand

2

large eggs

2-3

leaves

of red leaf lettuce

1

package rice paper

bánh tráng – I used 22 cm
Dipping Sauce
1

garlic clove

finely chopped

1/2

tsp

oil

2

tbsp

hoisin sauce

2

tbsp

water

more or less, to desired thickness

1

tsp

sugar

crushed peanuts

Sambal Oelek chili paste
Instructions
Bò Bía Rolls
Soak dried shrimp in warm water for 2 hours, or overnight in the fridge

Peel and julienne jicama and carrot, add to pot with 2 tsp salt and 1 cup water. Bring to a boil on high, then reduce to very low boil for about 15 minutes or until soft but slightly crunchy.

Whisk eggs to combine. Make a thin omelette in a non-stick pan on medium heat. Split into 2 batches if necessary. Roll up and cut into ribbons.

Slice Chinese sausages on an angle (about 45 degrees) and pan-fry on medium until cooked through (but not burned or shriveled)

Wash and prep the vegetables.

Dip rice paper into a plate of warm water for about four seconds to soften. It will soften more after you remove it from the water.

Assemble ingredients (as shown above) with a little bit of each ingredient.
Dipping Sauce
Heat minced garlic in a pan with oil until it starts to brown

Meanwhile, in a bowl, mix hoisin sauce, water, and sugar

When garlic is ready, pour the hoisin mixture into the pan and heat just until just boiling. Remove from pan, top with crushed peanuts and chili paste
Nutrition Facts (per serving)
Serving:
0
g
|
Calories:
395
kcal
|
Carbohydrates:
14
g
|
Protein:
25
g
|
Fat:
26
g
|
Saturated Fat:
8
g
|
Cholesterol:
270
mg
|
Sodium:
2295
mg
|
Potassium:
400
mg
|
Fiber:
4
g
|
Sugar:
5
g
|
Vitamin A:
3367
IU
|
Vitamin C:
13
mg
|
Calcium:
81
mg
|
Iron:
3
mg
Nutrition Facts
Bò Bía – Vietnamese Spring Rolls With Chinese Sausage, Jicama, Carrot, Egg
Amount Per Serving (0 g)
Calories 395
Calories from Fat 234
% Daily Value*
Fat 26g40%
Cholesterol 270mg90%
Sodium 2295mg100%
Potassium 400mg11%
Carbohydrates 14g5%
Protein 25g50%
Vitamin A 3367IU67%
Vitamin C 13mg16%
Calcium 81mg8%
Iron 3mg17%
* Percent Daily Values based on a 2000 calorie diet.
Like this recipe? Subscribe to my newsletter!