Creamy, rich, and savory crab cake sauce with a kick of spice is the best combination with any fried seafood in my opinion. This recipe will show you how to make a homemade and simple crab cake sauce in under 5 minutes!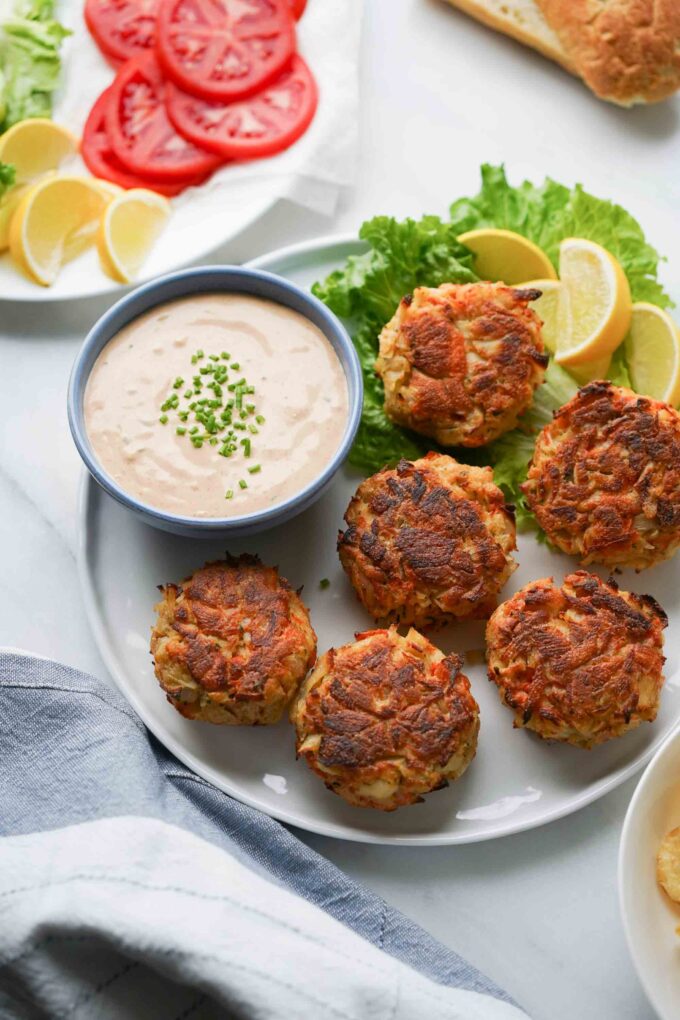 What's a remoulade sauce?
Crab cake sauce is a remoulade–this condiment is a basic mayo-based sauce that originated in France and is often compared to tartar sauce because of its mayonnaise base. Whereas tartar sauce was a seafood companion and made with pickles, remoulade was originally intended to be eaten with meat and made with vinegar, mustard, and/or horseradish.
These days, remoulade is often used as a general dipping sauce for seafood too and has different variations throughout the world. One of the most popular versions is Louisiana-style remoulade and it's made with creole style mustard, creole seasoning, and/or hot sauce. It's the best sauce for crab cakes, in po'boys, and with french fries.
This crab cake sauce recipe is a remoulade sauce similar to this New Orleans condiment and is super quick to whip up at home!
Ingredients in crab cake sauce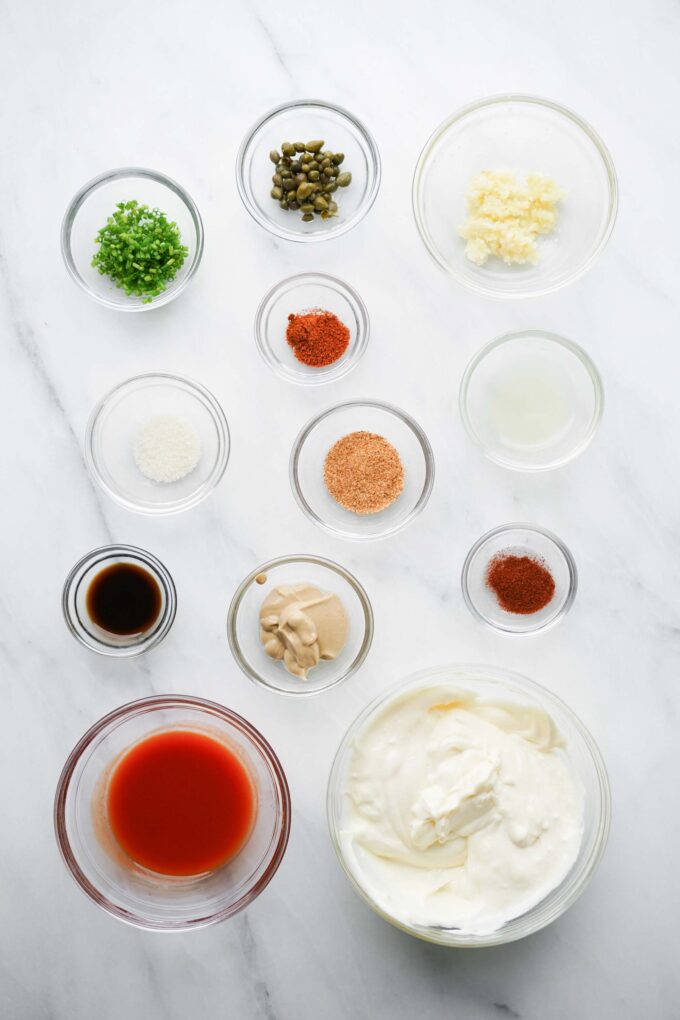 To make this crab cake topping you need the base of sauce: mayonnaise, mustard, lemon juice, Worcestershire, and most importantly creole seasoning and hot sauce. I also included garlic, chives, sugar, paprika, and cayenne to amp up the flavors.
Traditionally, Louisiana-style remoulade uses Creole mustard (or stone-ground mustard), but I didn't have any available nearby, so I adjusted the recipe using dijon mustard. To make up for the mustard, I added Creole seasoning–I used the brand Tony Chachere's.
How to make crab cake sauce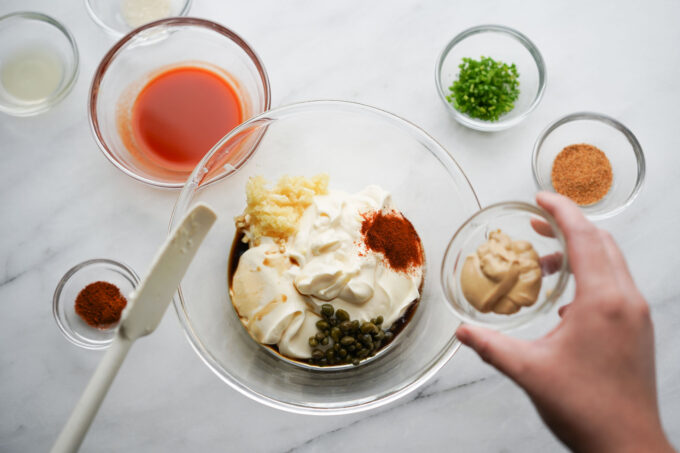 Even though this crab cake sauce has what seems like a lot of ingredients, it's super simple to prep. What's great about making this sauce at home is that you get a customizable sauce that you can make in under 5 minutes. All you have to do is gather your ingredients, place them in a mason jar (or mixing bowl), and stir.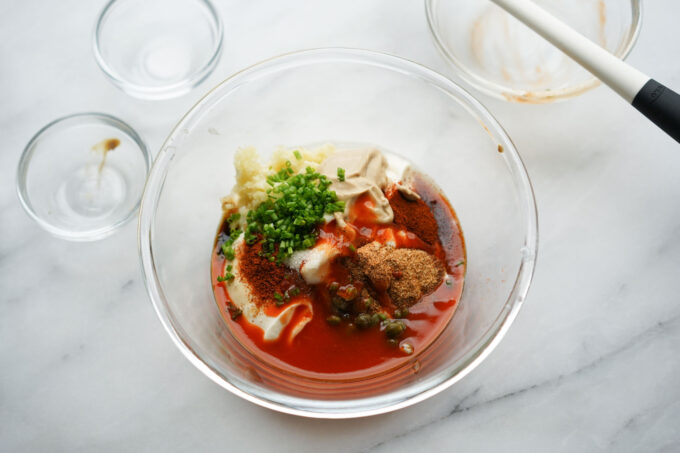 Taste test your crab cake sauce and adjust from there. For more acidity, add more lemon; for more fattiness, add more mayonnaise; for more saltiness, add more mustard or creole seasoning. And of course, you could always add more heat to amp up the spice level.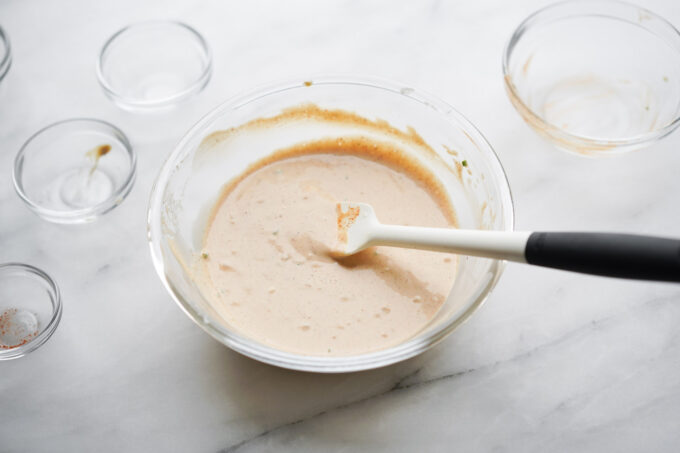 When you're prepping this simple sauce, keep in mind what you're adding it on top of. For instance, if you're dressing up crab cakes that are already fairly salty, lay off the saltiness in the remoulade to balance out the flavors.
How to serve and store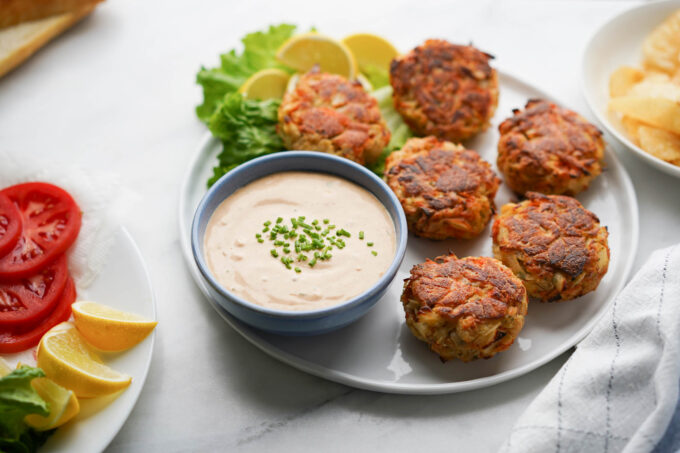 Before using the sauce, I like to chill it in the fridge for 10-15 minutes because I like a nice cold dipping sauce on top of my steaming hot crab cakes or even fresh Dungeness crab. It also thickens the sauce up a bit. It's also great as a spread for po'boy sandwiches directly on the bread or on fried catfish too!
I like to make it in a mason jar so that if I have leftovers, I can put a lid on top and store it in the fridge for later use. You can store the crab cake sauce in the fridge for up to 3-5 days.
Other types of sauces to eat with crab cakes
If you don't have these ingredients at home to make remoulade, there are also other things you can make that go well with crab cakes. For example, my go-to sauce is even ratios of mayonnaise and ketchup–this is the bootleg remoulade sauce.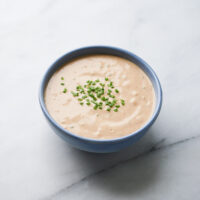 Crab Cake Sauce / Remoulade
Here's how to make a creamy and rich crab cake sauce in under 5 minutes. You can easily customize it to fit your personal taste too!
Ingredients
224

g

(

1

c

)

mayonnaise

17

g

(

1

tbsp

)

dijon mustard

8

g

(

2

tsp

)

lemon juice

7

g

(

1

tsp

)

Worcestershire sauce

28

g

(

2

tbsp

)

Crystal hot sauce

7

g

(

1

tsp

) Creole seasoning

Tony Chachere's preferred

1

g

(

½

tsp

)

cayenne

.6

g

(

¼

tsp

)

paprika

2.4

g

(

½

tsp

)

white granulated sugar

9

g

(

2

tsp

)

capers

no juice

12.5

g

(

1

tbsp

)

garlic

minced

3

g

(

1

tbsp

)

chives

sliced into thin pieces
Instructions
Notes
You can customize this recipe in the following ways:
For more heat and spiciness: add more hot sauce and creole seasoning (note: adding more seasoning will also raise the saltiness so keep this in mind)
For more fattiness or to even out the saltiness and heat: add more mayonnaise
For more tartness: add more lemon. 
Other ingredients you can add: flat-leaf parsley, sweet relish, horseradish, other types of pickles. 
Nutrition Facts (per serving)
Calories:
200.36
kcal
|
Carbohydrates:
2.07
g
|
Protein:
0.65
g
|
Fat:
21.26
g
|
Saturated Fat:
3.32
g
|
Trans Fat:
0.05
g
|
Cholesterol:
11.76
mg
|
Sodium:
334.79
mg
|
Potassium:
51.28
mg
|
Fiber:
0.46
g
|
Sugar:
1.13
g
|
Vitamin A:
497.19
IU
|
Vitamin C:
4.67
mg
|
Calcium:
10.03
mg
|
Iron:
0.3
mg
Nutrition Facts
Crab Cake Sauce / Remoulade
Amount per Serving
% Daily Value*
* Percent Daily Values are based on a 2000 calorie diet.
Like this recipe? Subscribe to my newsletter!