Spicy, sweet, and fatty–is there really anything else to say about spicy mayo, the hotter cousin of mayonnaise. Maybe it's the added sriracha helps give heat to burgers and fries, or sushi, but this sauce amps up any dish.
You can find spicy mayo in so many different places these days; from American restaurants selling trendy lobster rolls or spicy, flavorful burgers to sushi restaurants selling spicy tuna rolls or dynamite seafood plates.
Spicy mayo ingredients
While you can buy spicy mayo in grocery stores, you can also make this super easy and homemade recipe at home, all you need is two basic ingredients.
sriracha or another hot sauce
mayonnaise (American or Japanese)
You want to start off with a basic four to one ratio of mayonnaise to hot sauce and increase the amount of hot sauce as needed. For additional flavors, you can also use garlic, soy sauce, different types of hot sauce other than chile, limes, smoked salt, and more.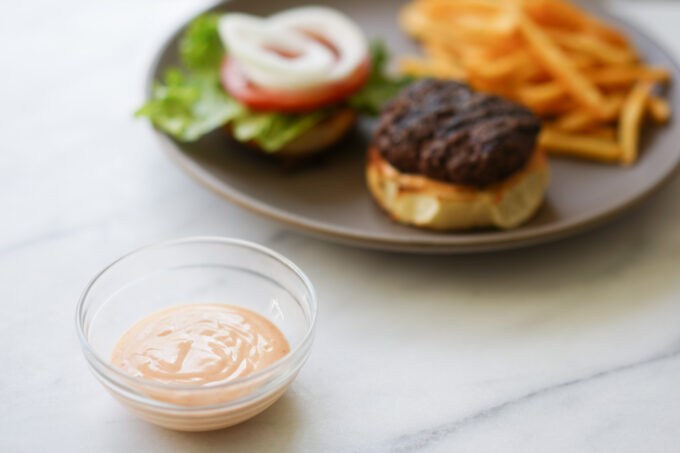 Sriracha & other hot sauces
Although you can make spicy mayo with any type of hot sauce, the most popular brand is by far Huy Fong Foods' sriracha. Its cult-like background has made sriracha into a household name and now you can even find larger brands, like Trader Joe's, creating their own types of "sriracha."
You are also free to try different types of hot sauces, too, but I really prefer the sweet and spiciness of sriracha.
Japanese mayonnaise
While you can use any type of mayonnaise in this recipe, I prefer using Japanese mayonnaise. Kewpie is a brand of Japanese mayonnaise that has a slightly sweeter flavor than American mayonnaise.
The difference in flavor is due to the substitution of apple or rice wine vinegar instead of distilled vinegar in American mayonnaise brands. Japanese mayonnaise also uses egg yolks instead of whole eggs. This contributes to a richer and creamier mayonnaise than your standard Hellman's. To learn more about Kewpie mayonnaise, read about it in my Kewpie post.
While Kewpie is typically used as a dipping sauce for chicken karaage, mixing with eggs for tamago sando, salmon poke bowls, or spicy tuna rolls, I like to add this spicy sriracha mayo to burgers or using it as a dipping sauce for french fries too!
Sriracha Mayo
If you've ever wanted a extra spice to your burgers or french fries, this sriracha mayo recipe is quick and easy to whip up at home!
Instructions
In a small bowl, combine the mayonnaise and sriracha and mix thoroughly.

Taste and adjust based on your personal preferences. If you want to add more heat, add more sriracha in one tablespoon increments.
Nutrition Facts (per serving)
Calories:
56
kcal
|
Carbohydrates:
1
g
|
Protein:
1
g
|
Fat:
6
g
|
Saturated Fat:
1
g
|
Polyunsaturated Fat:
3
g
|
Monounsaturated Fat:
2
g
|
Cholesterol:
13
mg
|
Sodium:
396
mg
|
Potassium:
19
mg
|
Sugar:
1
g
|
Vitamin C:
10
mg
Nutrition Facts
Sriracha Mayo
Amount per Serving
% Daily Value*
* Percent Daily Values are based on a 2000 calorie diet.
Like this recipe? Subscribe to my newsletter!