Savory, gingery, and nutty–this Asian dressing recipe is great for healthy and light salads any day of the week. Use this Asian style sesame vinaigrette on various roughage you have around the house when you need a quick meal.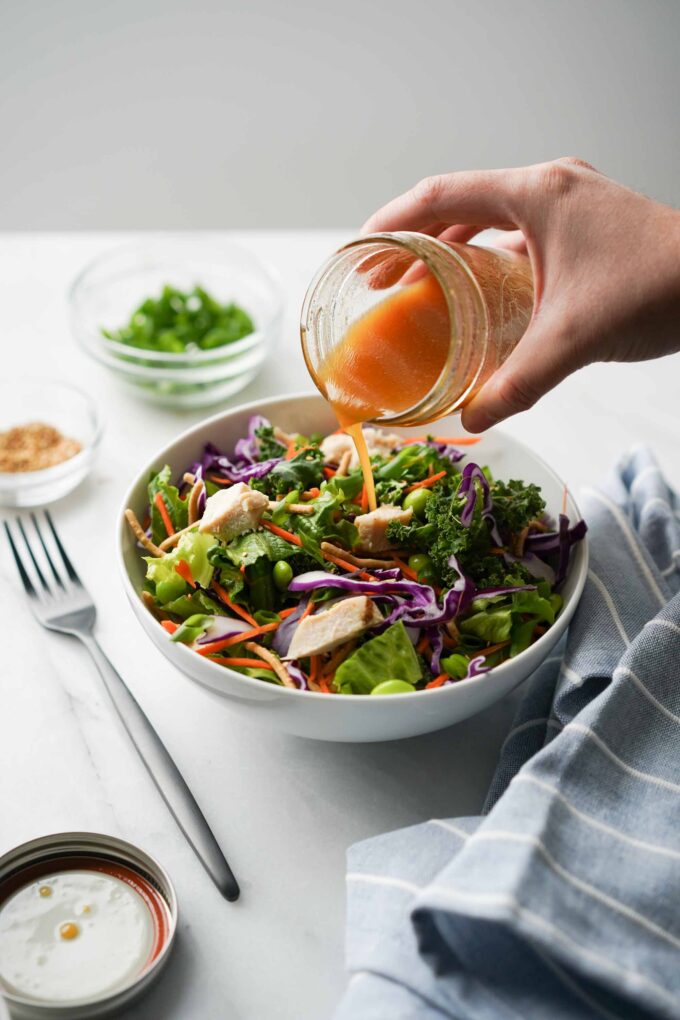 Background
Like most vinaigrettes and dressings, you want it to amp up the greens and toppings you have in your salad, but not overpower it. This dressing is perfect for those light and healthy dinners (or lunches) when you need some greens or a small side salad.
Funnily enough, I've only ever eaten Asian salads and dressings at American restaurants, like California Pizza Kitchen or Corner Bakery–and NOT at Asian restaurants. I always assumed that what made the dressings Asian style was some sort of combination of sesame, soy sauce, and ginger.
For years, I've bought Asian sesame or ginger dressings at the grocery stores (like Costco or other well known American grocery stores), but found that I often bought too much or there were too many preservatives in them. After making my own homemade dressing, I realized how nice it was to customize and I was even more surprised at how easy it was to replicate at home.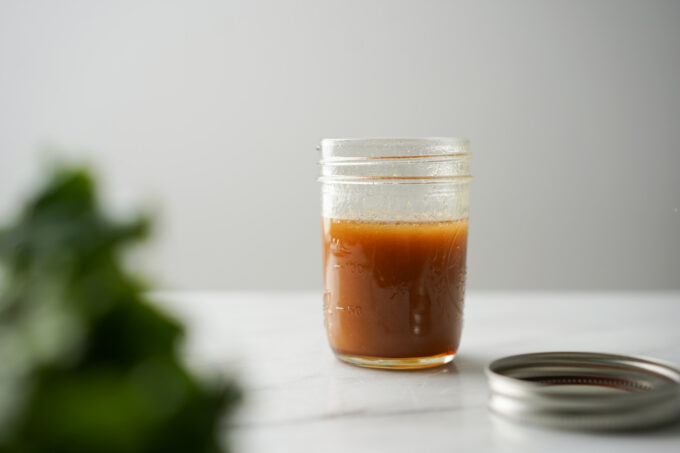 What makes this dressing Asian or Chinese?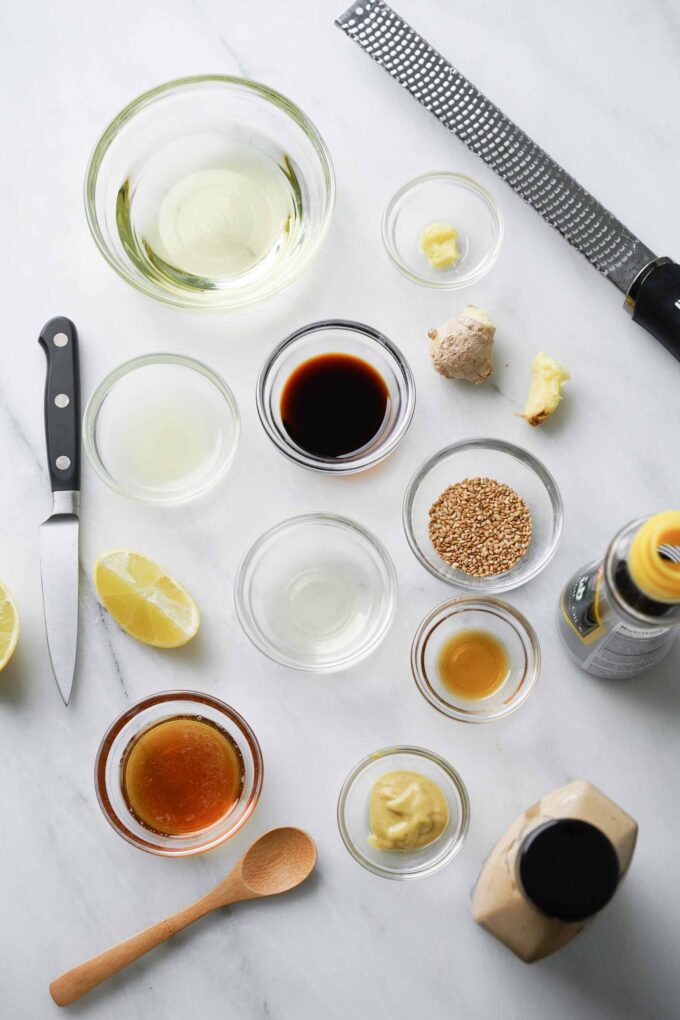 To make this easy dressing recipe, it has a few main ingredients that give it a nice and savory Asian flavor. I like to include sesame oil, rice vinegar, soy sauce, ginger, and lime.
While there are some ingredients that you can substitute, for instance rice vinegar for apple cider vinegar, there are two ingredients I wouldn't substitute to keep this Asian style flavor: sesame oil and freshly grated ginger.
What's a vinaigrette dressing?
A basic vinaigrette is emulsification of oil and acid (primarily vinegar). You can use lots of different types of vinegar too like white wine vinegar or rice vinegar. Vinaigrettes are one of the most healthy types of dressing because it can have a low-calorie count depending on what other add-ins you have in the dressing.
What's great about vinaigrettes like this dressing is that you can add more flavor to it by adding other ingredients, for example, soy sauce and honey. Since vinegar and oil typically separate from each other (something you don't want them to do in your salad), I like to add dijon mustard to my Asian vinaigrette as an emulsifier. Another emulsifier you can use in this recipe is also mayonnaise, although it may give you more calories.
How to use & customize this salad dressing
The easiest way to make this salad is to throw all of the ingredients into a glass mason jar, close the lid, and shake until the ingredients are mixed. After I mix the greens and add the toppings onto my salad, I just slowly pour the mixed dressing over my salad and store it in the fridge if I have leftovers.
I like to pair this dressing with red cabbage, green lettuce, and various toppings like crunchy wontons or chow mein pieces, edamame, toasted sesame seeds, sweet strips of carrots, and grilled chicken.
You can also customize this recipe like any other vinaigrette to your personal tastes. For example, you can add red pepper flakes or hot mustard to make it spicy or add other herbs like lemongrass to change up the flavor.
How long does this stay fresh?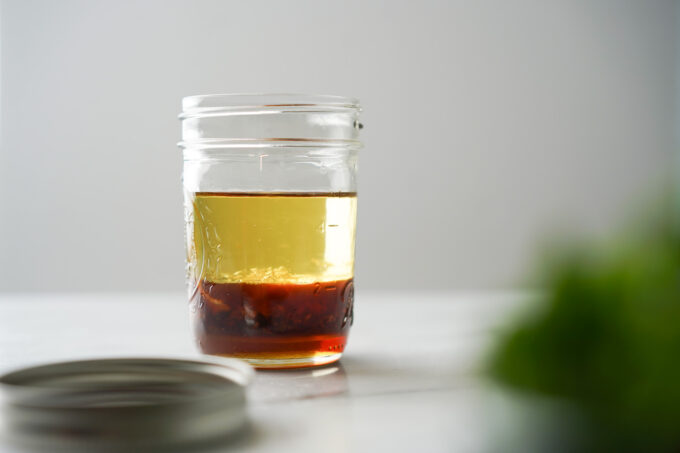 I like mixing and serving from a mason jar because it helps with clean up and it goes straight into its storage container. You can keep this with the lid on for up to one week in the fridge. When you take it out again it might separate, just remember to give it another shake to combine all the ingredients.
If you're fiending for more healthy salad ideas, check out these salad recipes green goddess salad, green papaya salad, Vietnamese mango salad (gỏi xoài), and Chinese cucumber salad.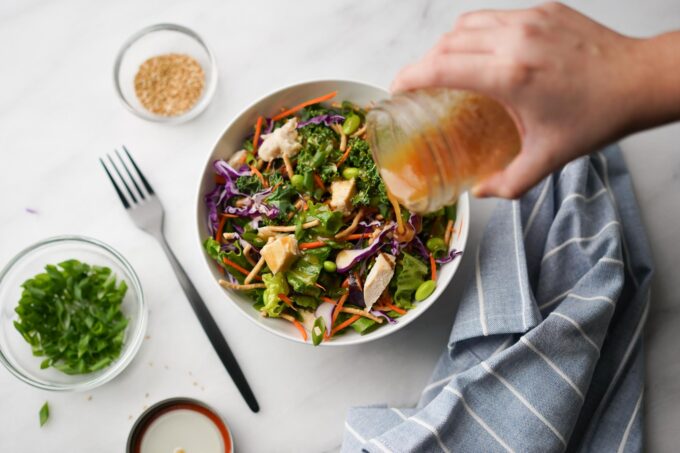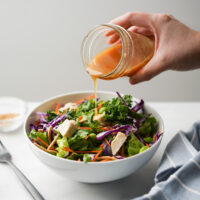 Asian Sesame Salad Dressing Recipe (Sesame Vinaigrette)
This Asian style dressing is full of savory nutty and gingery flavors that is great for any type of light and healthy salad.
Ingredients
Dressing
6

tbsp

neutral cooking oil

canola, vegetable, or extra virgin olive oil

½

tsp

sesame oil

1

tbsp

rice vinegar

1

tbsp

soy sauce

½

tbsp

dijon mustard

4

tsp

honey

¼

tsp

fresh ginger

grated

4

tsp

lime or lemon juice

2

tsp

sesame seeds

optional
Salad
1

head

green leaf lettuce

chopped

¼

head

red cabbage

shredded

1

large

carrot

shredded

½

c

grilled chicken

cubed

¼

c

edamame

deshelled

6

green beans

chopped

¼

c

fried chow mein pieces

1

stalk

green onions

sliced
Instructions
Combine all the dressing ingredients into a mason jar, cover with a lid, and shake to completely emulsify all the ingredients. You can also add everything into a bowl and use a whisk to combine.

Prep all the salad ingredients and use tongs to mix the salad. Add the dressing and mix again. Serve immediately.
Notes
**Note: the nutritional values are specifically for the dressing only and does NOT include the salad. 
Nutrition Facts (per serving)
Calories:
289.82
kcal
|
Carbohydrates:
8.75
g
|
Protein:
0.8
g
|
Fat:
28.78
g
|
Saturated Fat:
2.16
g
|
Trans Fat:
0.11
g
|
Sodium:
364.17
mg
|
Potassium:
29.62
mg
|
Fiber:
0.18
g
|
Sugar:
7.91
g
|
Vitamin A:
5.11
IU
|
Vitamin C:
2.09
mg
|
Calcium:
4.49
mg
|
Iron:
0.23
mg
Nutrition Facts
Asian Sesame Salad Dressing Recipe (Sesame Vinaigrette)
Amount per Serving
% Daily Value*
* Percent Daily Values are based on a 2000 calorie diet.
Like this recipe? Subscribe to my newsletter!