Getting the hang of making this Vietnamese dipping sauce (nước chấm) is an important step to making your cuisine just right. Since it's just about everywhere in Vietnamese cooking, it's simply referred to as "dipping sauce".
I used the Three Crabs brand fish sauce. Depending on the kind you use, you will need to adjust the amount used. This nước chấm deal is all about making it to fit your taste.
Commonly Eaten With…
Of course there other types of sauces Vietnamese people use, but this is the one primarily made with fish sauce. You'll usually find a bowl of this sauce next to to foods like chả giò (egg rolls), spring rolls or summer rolls, bánh xèo, bánh hỏi, bánh cuốn, grilled meats such as in this dish, and fried fish just to scratch the surface.
For different dishes there are slight variations on nước chấm, but we will use this as a base recipe that works great for most things. You can adjust it to your own taste if needed depending on what it's going with.
Brewing A Batch
Citrus – Start by mixing the water with sugar and lime or lemon. This is basically lemonade. If it's too sweet, add some water. If it's not sour enough add some more citrus. Citrus varies a lot from fruit to fruit, so use your taste buds. Following this recipe exactly each time can produce different results since limes or lemons can vary in liquid, pulp, acidity, etc. But don't even think about using bottled juice.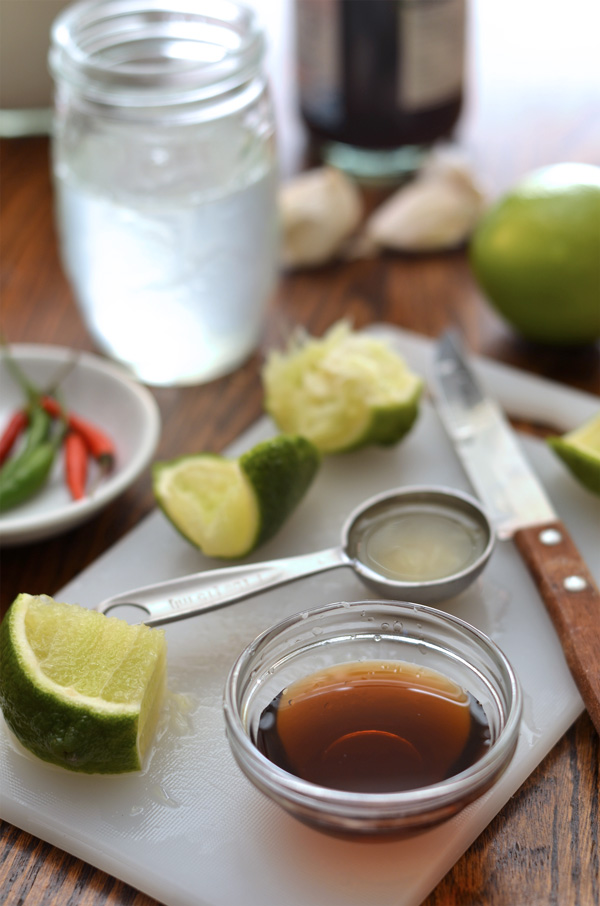 Fish sauce – Slowly add the fish sauce in increments to slowly reach what the recipe calls for and taste it along the way. After you get used to making this, you can start to tell by the color of the sauce when you are getting close.
Optional additions – Add chopped chilies or finely chopped garlic to the sauce if you like. Chilies are a must for me, and garlic is nice too.
If you live in a household in which each person is going to be picky about their nước chấm, having a mellow base dipping sauce is ideal for that. They can adjust in their own bowls if they want extra fish sauce, lime, sugar, chilies or garlic.
Keep in an airtight jar in the fridge so all your other food doesn't smell like this sauce.
Variations
Sometimes you'll see people put their own twists on this recipe. It's all about making it your own. I've seen some recipes that swap out sugar for some other juices.
In restaurants this is made in big batches. They'll typically use vinegar for bite instead of lemons since it's easier and cheaper.
Also, restaurants will not want to bother finely chopping garlic for your dipping sauce either. This is one you can easily add yourself at home.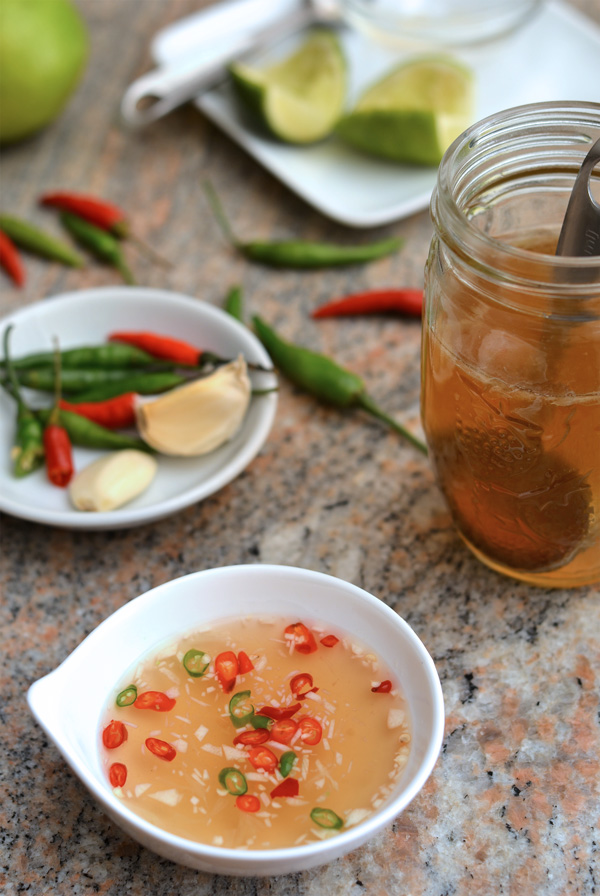 Vietnamese Dipping Fish Sauce Recipe (Nước Chấm/Nước Mắm Chấm)
Ingredients
6 tbsp. water
2 tbsp. sugar
1.5 to 2 tbsp. fresh lime or lemon juice
2 tbsp. fish sauce
Optional Ingredients
finely chopped garlic
bird's eye / Thai chilies
Instructions
Combine water and sugar in a bowl.
Add lime or lemon juice in increments until you like how it tastes
Add fish sauce in increments until you like how it tastes
Top with garlic and chilies