If you love smokey and tender grilled clams topped with scallion oil, rau ram, fried garlic, and roasted peanuts, then this Vietnamese grilled clam recipe is for you. Now you don't have to travel all the way to Vietnam or even go to your local seafood restaurant to make affordable and delicious grilled clams at home.
Background
When we got to visit Vietnam last year, I was super excited to load up on the street food–most specifically fresh grilled clams and I was not disappointed. From Hanoi to Da Lat to Saigon, I was able to try so many variations of this simple dish.
Here's a photo that really brings back feelings of nostalgia, and me missing Vietnam so much on our trip. This one's in Saigon in 2020, when we stopped by this bustling spot for clams at night with my parents, cousin and girlfriend.
Restaurant: Ốc Loan
Address: 12, Block C, Nguyen Thien Thuat apartment complex, Ward 1, District 3, Saigon / Ho Chi Minh City, Vietnam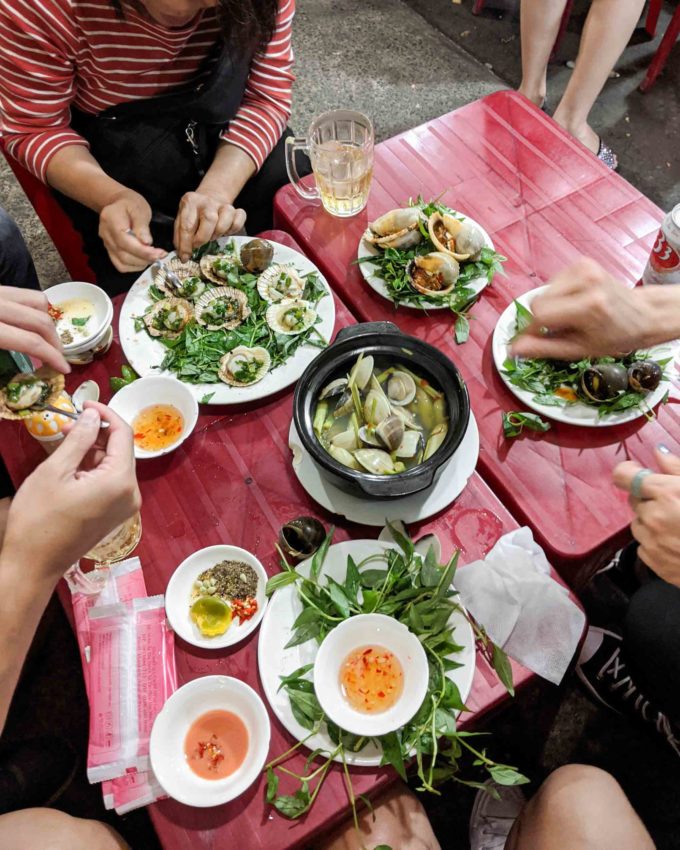 Luckily, there are many local restaurants nearby me at home that sell grilled clams like Artist's Cafe and Oc & Lau. But after watching the street vendors make the clams in Vietnam, I recreated this simple recipe at home and found that it was easier than ever.
Types of clams to use
In Vietnam and specialty restaurants in the US, you can find various types of clams used in similar grilled dishes like cherrystone, Manila, and razor clams. The most popular clam that I've seen at these restaurants and in Vietnam are the blood clams. In Vietnamese, these clams are called sò huyết.
Blood clams are known to be avid water filterers, so this gives the risk to containing more bacteria and health risks if they are farmed or living in an area that is less than sanitary. Blood clams from the US are typically imported from Mexico and are safe to consume, but it's always important to ask your fishmonger where the clams are from when you buy them.
If you can't find blood clams, you can also use other types of clams for this recipe. I would recommend finding clams that are about 2 inches (medium-sized) so that the meat is large and the shells are big enough to add additional toppings without spilling out.
Seasoning and toppings during grilling
In restaurants and street food stalls in Vietnam and the US, you can find various seasonings for grilled clams like thick oyster sauced-based seasoning or buttery garlic-based sauce. I wanted to keep a lighter style of seasoning on for these grilled clams so it doesn't overpower the flavor of the clams themselves.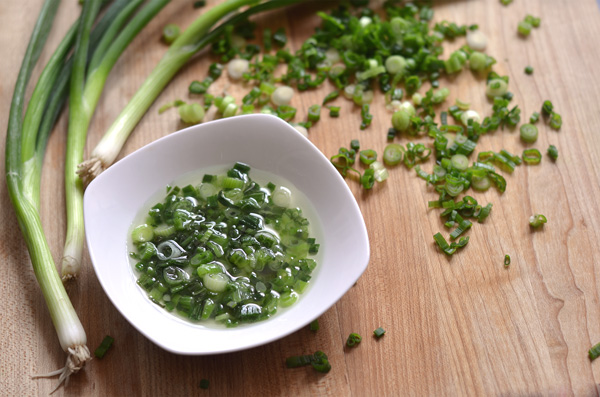 For this recipe, I made mở hành (scallion oil) to season the clams after steaming them. It's super easy to mix up in a saucepan and top while grilling the clams. After removing them from the grill, you can add your desired toppings and sides based on your preference.
How to grill the clams
Here are some quick tips on making the best grilled clams:
Pick the biggest shells to save: Bigger shells make it easier to add more seasoning and toppings to and can be easier to move around on the grill.
Since we're not really searing, you can start grilling as soon as you pour out the coals, if they're not too hot.
For some smoky flavor, use charcoal and close the lid while grilling.
There's lots of life in the coals so grill up some green onions, or corn on the cob with the extra coals.
How to serve & toppings after grilling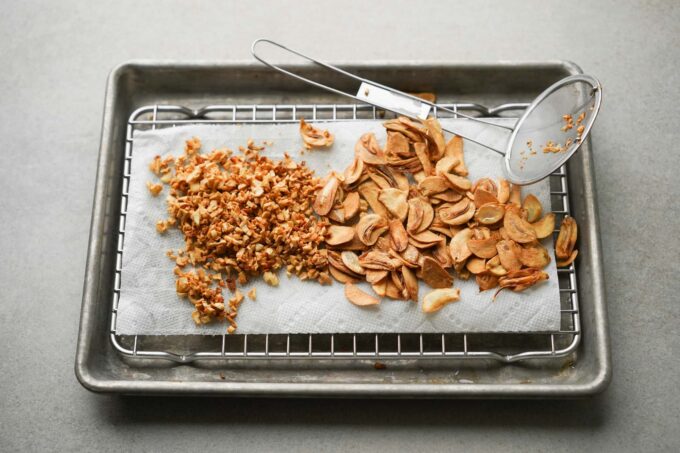 Sides and toppings are some of my favorite parts of this dish because there are so many choices! In Vietnam, they served fresh grilled clams with rau ram, chopped roasted peanuts, and a side of beer–what's not to love!
I also like adding a splash of lime juice and crunchy fried garlic or fried shallots on top of my clams. If you want some heat, you can also add some chile pepper slices to your clams too. The ways to top your grilled clams are unlimited, just remember to serve them fresh because no one likes day-old clams.
Some of my favorite dishes to serve with this are also seafood dishes: Dungeness crab, grilled whole fish and raw shucked oysters. (If you want to learn how to shuck oysters at home, read about it here.)
To learn more about other easy Asian recipes, click here.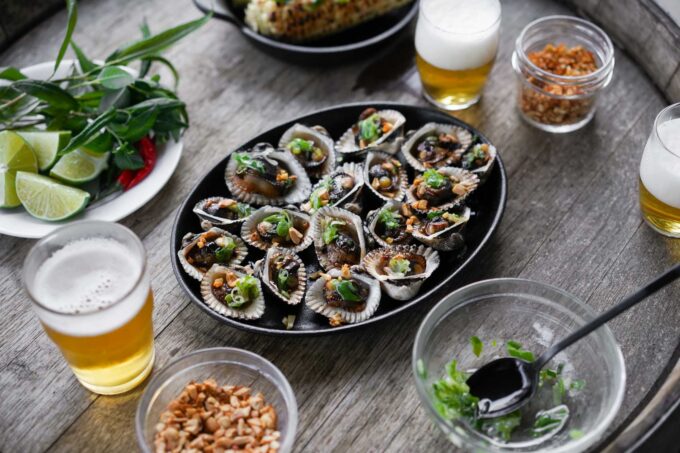 Grilled Clams (Vietnamese Style w/ Onions, Peanuts & Garlic)
This smoky Vietnamese grilled clam recipe is super simple to follow and will please everyone at your next dinner party. It's simple to whip up and you can customize it based on your preferred toppings.
Ingredients
Clams
2

lb

blood clams

or preferred clams

6

c

cold water

for soaking clams

3

tbsp

salt

6

c

filtered water

for cooking clams
Seasoning / Mở hành
2

stalks

scallions

sliced thinly

3

tbsp

vegetable oil

½

tsp

salt
Sides
salt

to taste

pepper

to taste

rau ram

Vietnamese coriander

1

tbsp

fried garlic

1

tbsp

roasted peanuts

chopped

limes slices

optional

chile peppers

optional
Equipment Used
Strainer

brush

mixing bowl

saucepan

knife

grill
Instructions
Clams
Under running water, use a stiff brush to scrub and clean the clams.

In a bowl, combine cold water and salt. Stir until the salt dissolves. Add the clams and let them sit for 25 minutes. If there is a lot of sand coming out, repeat this process until there is no sand coming out of the clams. Remove the clams from the bowl and run them over clean water one more time to rinse.

Fill a saute pan with water over medium-high heat, and add the clams. Once the water begins to boil, bring the heat to medium and cook until the clams open (about 8-10 minutes).

Transfer the clams to a plate and let them cool for about 3 minutes or until you are able to handle them with your hands.
Seasoning / Mở hành
Assembly
Combine the chopped clam meat with the sauce in a bowl.

Scoop the clam meat and sauce mix in half of a clamshell. Until all the clam meat is placed in the shells.

Over a grill in medium heat, place the clamshells with the meat on the grill and cook just enough to heat up and hit a boil, then remove from the grill.
Nutrition Facts (per serving)
Calories:
136.16
kcal
|
Carbohydrates:
2.09
g
|
Protein:
5.8
g
|
Fat:
12.06
g
|
Saturated Fat:
8.81
g
|
Trans Fat:
0.01
g
|
Cholesterol:
10.21
mg
|
Sodium:
5774.75
mg
|
Potassium:
52.75
mg
|
Fiber:
0.38
g
|
Sugar:
0.14
g
|
Vitamin A:
161.88
IU
|
Vitamin C:
1.13
mg
|
Calcium:
44.8
mg
|
Iron:
0.74
mg
Nutrition Facts
Grilled Clams (Vietnamese Style w/ Onions, Peanuts & Garlic)
Amount per Serving
% Daily Value*
* Percent Daily Values are based on a 2000 calorie diet.
Like this recipe? Subscribe to my newsletter!