Thai basil fried rice is packed full of sweet and spicy flavor from the Thai basil pieces and it pairs perfectly with the rich sweetness of oyster sauce and umami flavor of fish sauce seasonings. If you love fried rice with Chinese sausage or Filipino fried rice (sinangag), then you'll want to try this easy to make Thai basil fried rice.
What is Thai basil fried rice?
This authentic variation of Thai fried rice is just as good as traditional Chinese fried rice–and depending on my mood, even better. What makes it so flavorful is the addition of its namesake: Thai basil.
It's important to note that Thai basil is different from regular basil you can find at an American grocery store, which is usually Italian basil. Based on looks, Italian basil typically has bright green stems and leaves with round edges, whereas Thai basil has dark purple stems and dark green, narrow leaves.
Flavor is also a big difference when comparing these two cousins. Italian basil is more peppery in flavor, while Thai basil is a more spicy, savory, and bolder flavor. Some liken Thai basil to the same flavor as licorice or star anise. One of my favorite things to eat with Thai basil is phở.
Using Thai basil in this fried rice gives us a different type of savory flavor that pairs well with the other seasonings like Thai oyster sauce and fish sauce.
Ingredients in Thai basil fried rice
To make Thai basil fried rice, the main components that are different from traditional Chinese fried rice are Thai basil (obviously!), jasmine rice, oyster sauce, fish sauce, and Thai chilis. Everything else you would expect in fried rice is also included: garlic, onions, protein (chicken, pork, shrimp, tofu, etc.), eggs, and other options like bell peppers.
Oyster sauce
Unlike traditional Chinese fried rice that salts and seasons the rice with soy sauce as the main ingredient, Thai basil fried rice typically does not include soy sauce (and if it does, it doesn't use very much). Instead, Thai basil fried rice focuses on oyster sauce and fish sauce as its main liquid seasoning. I like using Thai oyster sauce to align with the Thai flavor profile: it's slightly sweeter than traditional Chinese oyster sauce.
Rice
Just like Thai basil, Jasmine rice is very important in this dish because of its fragrant and simple flavor, but also its texture. Using day-old (and cold) cooked jasmine rice in this fried rice helps soak up the seasoning.
Chilis
If you've ever been friends with a Thai person in your life, you know that spice level is a super important part of any Thai dish and that "Thai spice level" is very VERY hot. To add some heat to this fried rice (but not too much) are Thai chilis. These are the red and green tiny peppers you might see at an Asian grocery store.
Don't let their size fool you, they may be small, but they pack a very large punch of heat. For this recipe, I didn't want to overpower the fried rice with spiciness since we're already using Thai basil, so I opted for one Thai chili. If you love to spice up your life, you can add more.
Cuts of meat to use
For this recipe, I used deboned chicken thigh and cut into thin strips (about ¼ inch thickness) because it's a super tender and flavorful cut of meat. I don't marinade the meat because there's already so much flavor and saltiness in the seasoning.
If you want a leaner option you can always go with chicken breast too! Thai basil fried rice is also great with other forms of protein, like shrimp, pork, tofu, or beef.
Type of rice to use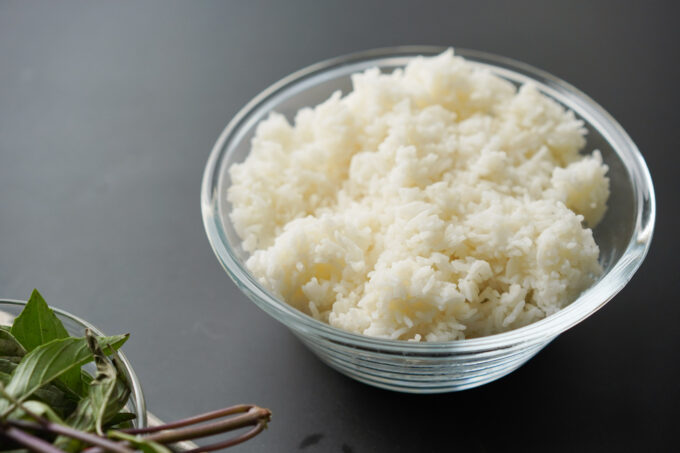 The best type of rice to use in Thai basil fried rice is day-old jasmine rice. Day-old and straight from the fridge is preferred because it's a little drier than freshly steamed rice and this allows the rice to soak up all the flavorful seasoning in the pan. Jasmine rice helps for this because it's not too sticky to stir fry in the pan, and is a variety common with Thai cuisine so you could buy a bag and enjoy this with other Thai recipes.
If you don't have day-old rice, you can still use fresh rice. I like to take the rice out of the rice cooker and spread it over a plate, put it in the fridge for about 15-20 minutes to cool down and dry out a bit.
How to make basil fried rice
The best way to cook Thai basil fried rice (well really ANY fried rice) is using a carbon steel wok because it's easier to move the ingredients around and mix. If you don't have a wok, you can also use a cast iron or a very large stir fry pan. 
Here's how to make it:
Garlic, Thai chilis, & vegetable oil: Sauteing garlic and chili in the wok/pan first to bring out the savory and spicy aromas
Protein: Add the protein into the pan to cook
Onions: Adding in the onions in the third step so you don't overcook it, keeping a crunchy texture
Eggs: Moving the protein and everything to the side of the pan, and cooking the eggs.
Sauce & sugar: Add the sauce into the pan and sprinkle on the sugar. Combine everything together.
Jasmine rice: Add the rice into the pan and stir until it's thoroughly coated in the seasoning. I like to get the rice a little crispy by cooking it for a minute.
Basil: Add the fresh basil and cook for an additional minute or until it wilts.
This process makes cooking Thai basil fried rice super simple and all you need is one pan!
Serving and storage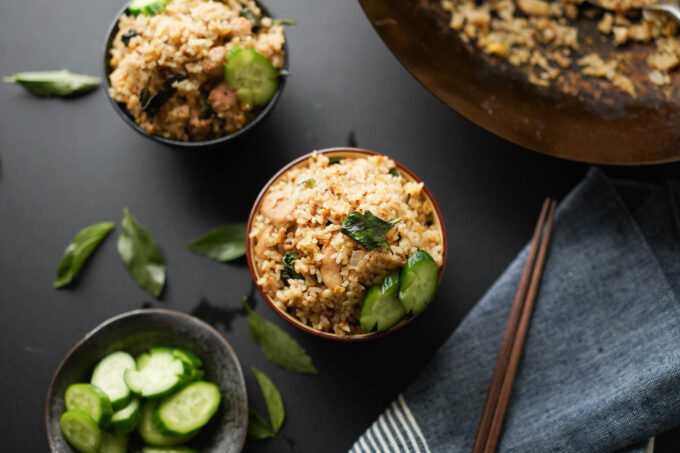 Thai basil fried rice is best served fresh off the wok or pan so you can enjoy it hot and steamy. It's traditionally served with crisp and cold slices of cucumbers on the side, but this is also optional. I like eating Thai basil fried rice with an iced cold glass of Thai tea, a side of pad see ew, Panang curry, and afterward, mango sticky rice for dessert–an absolute must!
If you have extra leftovers, you can pack it away in an airtight container and put it in your fridge for up to 3-5 days. I just reheat my leftovers in the microwave for about 1 minute on high, depending on how much rice you're heating up.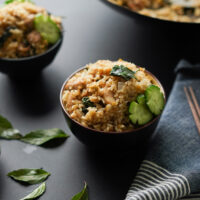 Thai Basil Fried Rice w/ Chicken
Savory, sweet, and spicy–this Thai basil fried rice is a one pan dish that is full of umami flavor. If you need a quick and different type of fried rice to spice up your life, this recipe is for you.
Ingredients
15

g

(

1

tbsp

)

garlic

minced

2

g

(

1

)

Thai chili

sliced thinly

24

g

(

2

tbsp

)

vegetable oil

150

g

(

8

oz

)

chicken thigh

cut into ¼ thick strips (or shrimp, tofu, pork belly, etc.)

77

g

(

1

medium

)

onion

chopped

2

large eggs

16

g

(

1

tbsp

) fish sauce

Thai fish sauce preferred

36

g

(

2

tbsp

) oyster sauce

Thai oyster sauce preferred

4

g

(

1

tsp

)

white granulated sugar

300

g

(

1

c

)

cooked Jasmine rice

day-old & cold preferred

20

g

(

1

c

)

Thai basil leaves

salt

cucumbers

sliced optional
Equipment Used
Large saute pan, wok, or cast iron
Nutrition Facts (per serving)
Calories:
383.07
kcal
|
Carbohydrates:
35.63
g
|
Protein:
15.75
g
|
Fat:
19.5
g
|
Saturated Fat:
9.78
g
|
Trans Fat:
0.05
g
|
Cholesterol:
158.12
mg
|
Sodium:
830.04
mg
|
Potassium:
279.3
mg
|
Fiber:
1.1
g
|
Sugar:
2.87
g
|
Vitamin A:
558.53
IU
|
Vitamin C:
6.32
mg
|
Calcium:
63.45
mg
|
Iron:
1.46
mg
Nutrition Facts
Thai Basil Fried Rice w/ Chicken
Amount per Serving
% Daily Value*
* Percent Daily Values are based on a 2000 calorie diet.
Like this recipe? Subscribe to my newsletter!