Cooking oil is one of the most important parts of every recipe–I mean you use it for so many things: stir frying, roasting, baking, emulsifying, deep-frying, and the list goes on. This post will give you a good starting point as to find the best neutral oil for your next recipe.
What's NOT a neutral oil?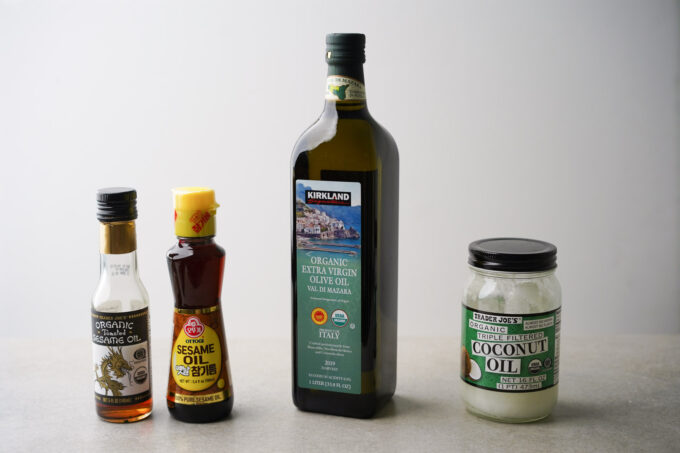 Whenever a recipe calls for neutral oil, you want to make sure to stay away from varieties that have a strong flavor and a smell, or else your recipe may end up tasting like the oil instead of the way the recipe developer intended.
For example, you want to NOT use coconut oil, sesame oil, or extra virgin olive oil because all three of these varieties are stronger smelling and tasting than most oils. These will most certainly add strong aromas and flavors to your dish, so mindfully use these only when you want to impart these flavors. Additionally if someone has a nut allergy or intolerance, you wouldn't want to use peanut oil or sunflower oil when cooking their next meal.
What is a neutral oil?
You've probably seen the term "neutral cooking oil" on various recipes in cookbooks and on the Internet. This is a really simple term to describe an oil that is neutral in terms of flavor and aroma. It doesn't add any additional or residual flavor or smell to a dish.
There are many instances while cooking you may want to use flavorless and odorless cooking oil to not overpower or distract from the flavors of other ingredients in a recipe like when you want to deep fry tempura or bake bread or steam dough like mantou. 
The best neutral oils to use for cooking
Vegetable oil — Best for everyday use and deep-frying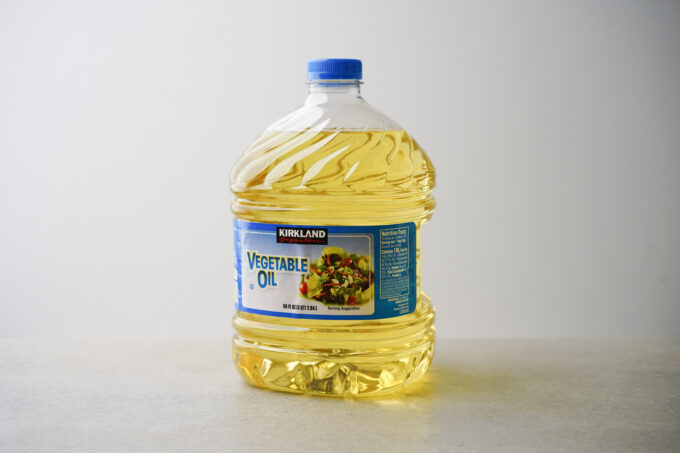 Vegetable oil is one of my favorite oils to use for sauteing and deep frying because it's completely neutral in flavor and it has a high smoke point of 400-450 ℉. One of the best things about vegetable oil is that it is very accessible, you can find it at many grocery stores and it's fairly inexpensive compared to other types of oil.
This is something to keep in mind when you need to use a lot of oil for deep-frying recipes like Korean fried chicken, tempura, or fried tofu. I also use vegetable oil in baking and steaming dishes where I add neutral flavored oil to create moist dough recipes like mantou.
My favorite brand to use is Kirkland Signature Vegetable oil because it's so inexpensive (you can get 6 quarts for about $10 locally) but the smaller bottles at large grocery stores are fine too.
Canola oil — 2nd most used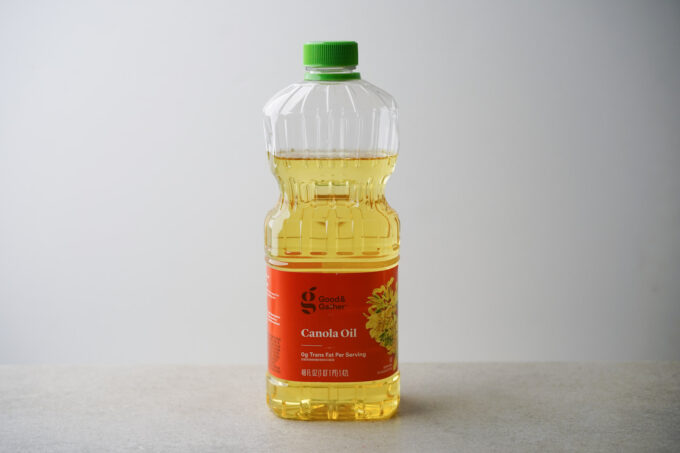 Canola oil is another good neutral oil similar to vegetable oil where it also has a flavorless characteristic and is inexpensive so it's far more available than other types of oil.
However, it's important to note that canola oil has a smoke point of about 400 ℉ so you may want to stick with using canola oil for lower heat applications like sauteing or salad dressings.
My favorite recipes to use canola oil in are Asian sesame salad dressing and Vietnamese scallion and oil garnish. Some brands I prefer to buy for canola oil are Wesson Canola Oil and Kirkland Signature Canola Oil.
Avocado oil — The healthiest cooking oil & most expensive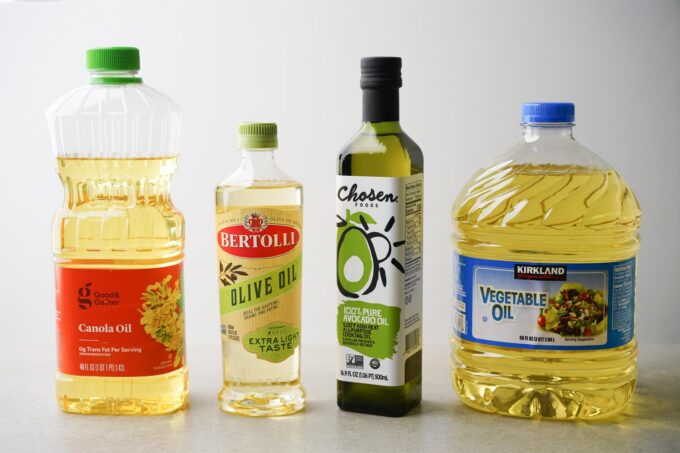 Avocado oil has one of the highest smoke points at 500 ℉ and its neutral flavor making it great for frying. While it's one of the healthiest oils available for consumption, it's also one of the most expensive cooking oils to purchase, so be mindful of how much you'll need for cooking.
When you want to find avocado oil, try to buy cold-pressed varieties since these have more nutrients still present in the oil. One study even found that avocado oil helps to reduce cholesterol and has a lot of antioxidants. One study by UC Davis found that the majority of avocado oils on the market were either rancid or were mixed with other "filler oils." Make sure to only buy reputable brands, like Chosen Foods.
Light refined olive oil — Honorable mention
Not to be mistaken with extra virgin olive oil, light refined olive oil has a neutral flavor and is on the opposite spectrum of smoke point because its smoke point is at 465 ℉ (compared to 350 ℉ where extra virgin olive oil is).
Light refined olive oil has one of the highest smoke points and you can easily use this oil for deep-frying large amounts of food. You can tell the difference between traditional EVOO and light refined olive oil through its light, yellow coloring. Bertolli sells a light refined olive oil that specifically states what it's best for: frying and roasting.
Neutral oils comparison table
Like this recipe? Subscribe to my newsletter!